Family recreation in nature is one of the best leisure activities that we can share with our kids. Not only because nature is a constant source of inspiration but also because it makes us all feel free. This camping planning guide is great for new campers as well as seasoned campers to help plan your camping trip.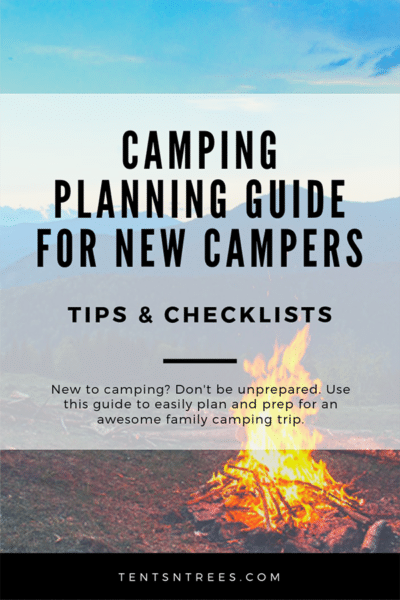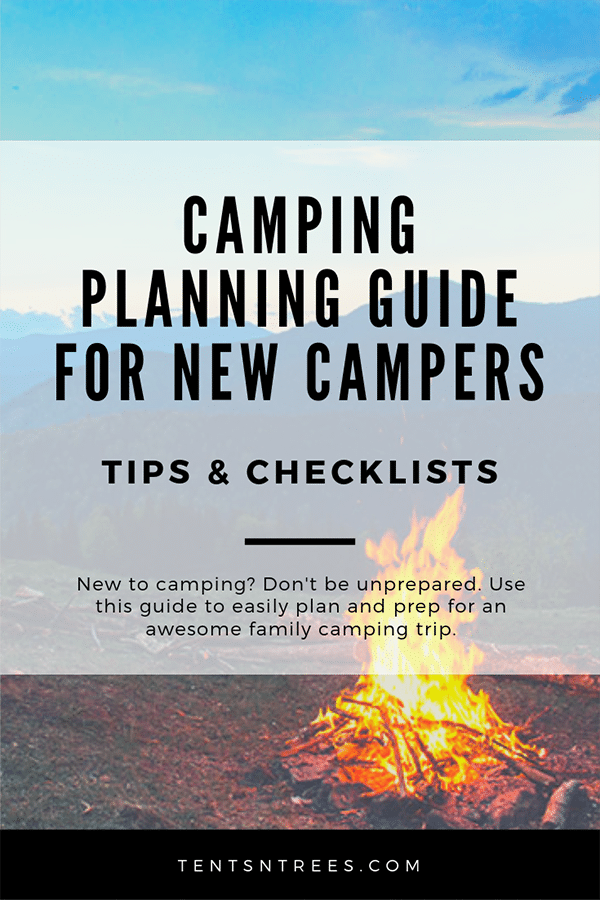 Tips for beginners
Check your car. You don't want to get out in the wood and have your car break down.
Plan in advance. It is better to book in advance if you are going to an organized camping site. If you're going to the wilderness/dispersed camping, it's a good idea to ensure camping in that area is still permitted.
Do a test run. Try sleeping in a tent in your backyard. Make notes of things you think you will need during a real trip.
Get a tent. You can either buy, borrow, or rent a tent, but this is a key piece of your camping gear. Check out our post about the best family camping tents to find great options.
Avoid excess weight. For your first camping trip, don't worry about bringing every possible piece of gear. Keep it simple and have fun.
Be prepared for any weather. Even if summer is hot, it can be cool at night; bring warm socks, windbreakers, or even beanies.
Unpack and camp while it's still light. Setting up camp in the dark is a lot harder when it's dark. If the timing works out, get there early and set up in the light.
Plan simple meals for the first day. When you first get to your campsite, there will be a lot going on, so keep your meals that first day simple and easy.
Stick to your usual routine as much as possible, especially with young children. Follow the same sleep rituals and daytime schedule to ensure a good night's sleep.
Do not unpack your devices. Let your smartphones, laptops, and tablets stay in the car, don't even take them out; you are here to enjoy nature, right?
Don't forget soothing bite and ointment remedies. There are insects in the wilderness, which can get really annoying if you don't have any way to relieve an itch.
Bring a hammock. One of the best things about camping is simply relaxing in the wilderness. Hammocks are great at helping you relax.
Now let's move from words to actions and make a checklist. This is not a comprehensive list but is intended to cover some basics. It is also a good place to start when creating your own checklist.
Basic Gear List
Tent
Sleeping bags (check out our list of the best sleeping bags for great options)
Inflatable mattresses, pump (if necessary)
Tables and folding chairs
Plastic bags with a clasp for storing food or any other object from getting wet
Kitchen utensils: dishes, can opener, and cleaning agents.
A basic set of tools
Extension cord (if you will have electricity)
Flashlights (this list compares the best camping flashlights)
Cooking grill (we don't recommend cooking every meal over the fire)
Rope (we always find use for extra rope)
Personal care items (don't forget the specifics of each family member)
Clothes and shoes that are appropriate for the place where you plan to camp
Rain gear (at least the basics, even if you don't think it'll rain)
Trash bags
Sunglasses, sun hat, sunscreen.
Insect repellent
Camera, electronic gadgets with appropriate chargers, spare batteries
Pillows
Spare blankets
T-shirts, shorts, pants, socks, waterproof clothes, warm clothes, swimwear
Frisbee, ball, and other games
Toilet paper
Food containers, bowl, cutting board
Knife (use this post to find the best camping knives)
Again, this is not a complete list but more of a list to get you thinking about items you might want to consider.
Essential Camping Gear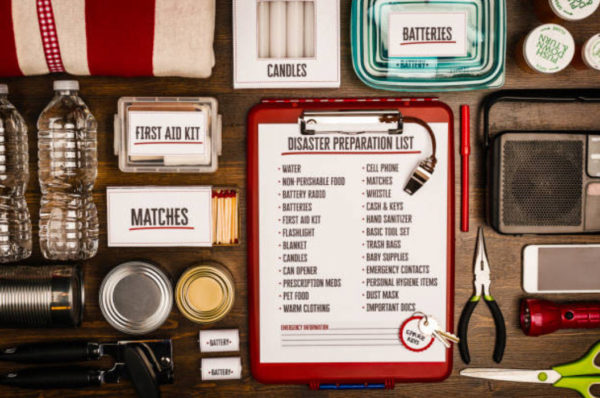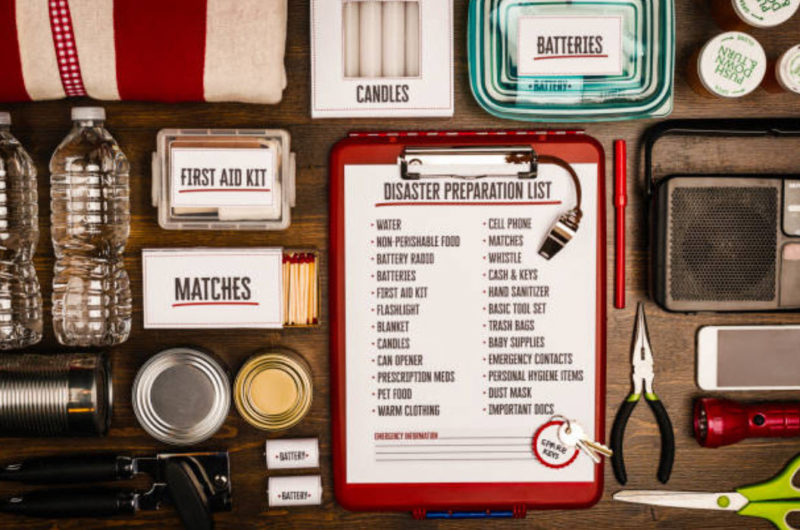 A camping planning guide wouldn't be complete without a list of the essential gear you will need. We consider these gear pieces necessary for everyone on all their camping trips. These items can make or break a camping trip, so make sure you find the ones that will work for you.
Camping mattress
One piece of gear we recommend having is a decent pad or mattress to sleep on. Poor sleep will cast a negative light on your entire camping trip. Find a pad or mattress that will help you sleep well. You won't regret it, we promise.
There are three main types of such mattresses:
Inflatable. These are probably the most popular mattresses. They are quite comfortable and have high thermal insulation properties. Additionally, they tend not to take up as much room as foam pads. So if space is an issue, an inflatable mattress is often a good choice.
Foam. Foam pads are what we like to use. They are very comfortable, and we don't have to worry about leaks. The drawback to foam pads is that they are bulkier and will take up more space when packing. Our favorite foam camping pad is this 3″ gel memory foam pad.
Self-inflating. These types of pads combine the foam and air mattresses into one. These self-inflating pads tend to be thinner but still reasonably comfortable.
Your Tent
The choice of tents nowadays is huge, and sometimes it is very difficult to decide what kind of tent is needed. In my opinion, the main thing is the size. You don't want to end up with a tent that is too small for your entire family. We recommend getting a tent that is sized for twice as many people than will actually be staying in it. Check out our post about the best large camping tents to find lots of great options.
Larger tents are great for car camping because you don't need to worry about the weight that comes with larger tents. If you have to pack your gear for a long distance, you won't want the larger tents that often weigh a lot more.
We had a tent similar to this Coleman 8-person tent for a long time. It seemed huge when we first assembled it at home. I thought we'd be laughed at by everyone at the campsites – being so small with such a big tent. It turned out that people aren't limiting themselves at all – we saw families that built entire tent palaces.
We also recommend setting up and repacking your tent at least once before heading out camping. You don't want to end up out in the woods to find out you don't have everything you need to set up/pack up your tent. I once watched four guys struggling with a freshly unpacked tent for more than an hour, even though it takes 10-15 minutes to set.
Sleeping bag
Another really important piece of gear is your sleeping bag. As it turns out, some national parks get pretty good even during the summer. For example, in Yosemite in July, temperatures can drop down into the 30's. So it is better to choose a sleeping bag for the most extreme temperature you expect to encounter.
We really like our Teton Sports sleeping bags. My wife and I use the Fahrenheit XXL, and our kids use the Celsius Regular. Both are rated for 0 degrees and are great for colder temperatures.
If this is your first sleeping bag, it's best to find a bag that works in multiple situations. Check out our comparison list and reviews of the best sleeping bags for camping to find the right one for you.
Cooking stove
After you plan out your living/sleeping arrangements, it's time to figure out your cooking situation. You have a few options to choose from. You can either cook over the fire, you the bbq (many campsites have them), or use a propane stove.
If you plan on camping for more than a day, I recommend bringing a propane stove. While it is fun to cook over the fire, you probably won't want to do it for every meal. Meal prep is a lot easier when you can quickly start a propane stove instead of having to build a fire every time.
We started with a smaller tabletop stove like this Coleman stove. Later, when we started camping for longer stretches, we decided to upgrade to a larger stove. We now use the Camp Chef 2 burner stove. We also bought the skillet that goes along with it. We love cooking on it, and makes meal prep super easy.
First Aid Items
Safety is also a very important part of camping that should be planned out. We recommend buying a good first-aid kit or at least building your own. If you want to build your own, check out our post on how to build a DIY first aid kit. Here are a few items we recommend bringing. This is not a complete list, just a few items to consider.
Bandages (elastic)
Sterile gauze tampons
Means for a cold compress
Cotton Buds
Thermometer
Non-latex gloves
Large plastic bag
Pins
Scissors
Tweezers, needles (to remove splinters or ticks)
Antibiotics for pain relief (e.g., Neosporin)
Antihistamines (e.g. Diphenhydramine)
Iodine
Hydrogen peroxide
Deep spray
Bandage, elastic bandage
Bruise cream
Activated carbon
Drotaverine
Anti-inflammatory medication such as acetaminophen or ibuprofen, hydrocortisone ointment (1%)
Alcohol wipes
Liquid soap, an antiseptic for wound cleaning
Meals & Food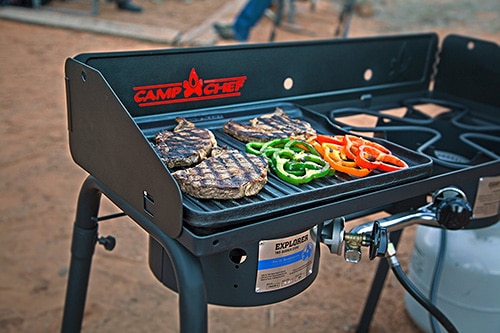 This area is where you can be the most creative. You can cook almost anything you'd like with a decent stove and a few cooking utensils. We recommend planning at least a few simple meals so that lots of prep isn't needed every time. You can get more recommendations and tips from our family camping food & cooking guide post.
Now it's time to get plan your camping trip. Grab the gear you need, get out, have fun, and grow closer.