One of my biggest hesitations about going camping was the idea of eating campfire-cooked hot dogs for days. Still, I began the adventure of camping, and over time, I learned many ways to make camping food for families fun and diverse. Read on for some of my favorite tips and ideas for cooking while camping with your favorite people.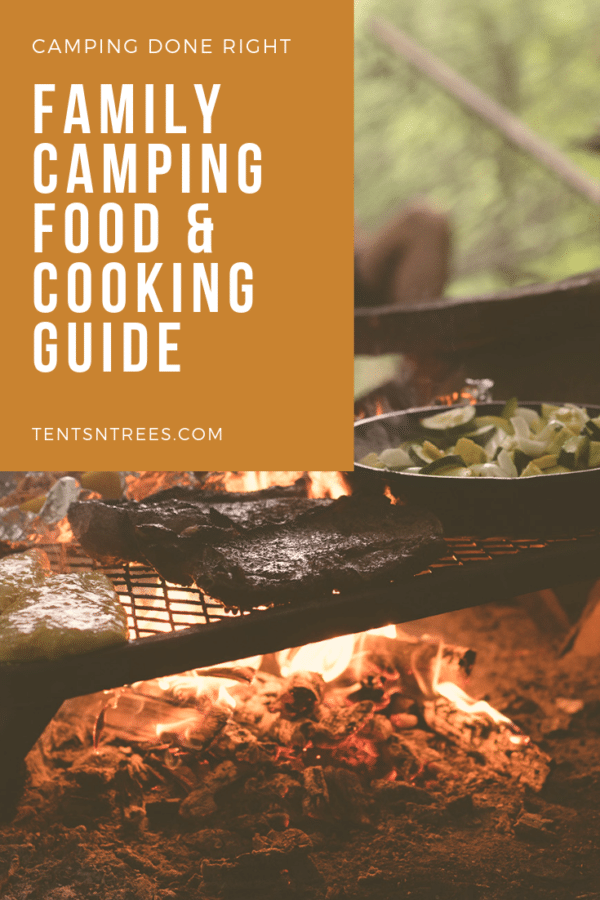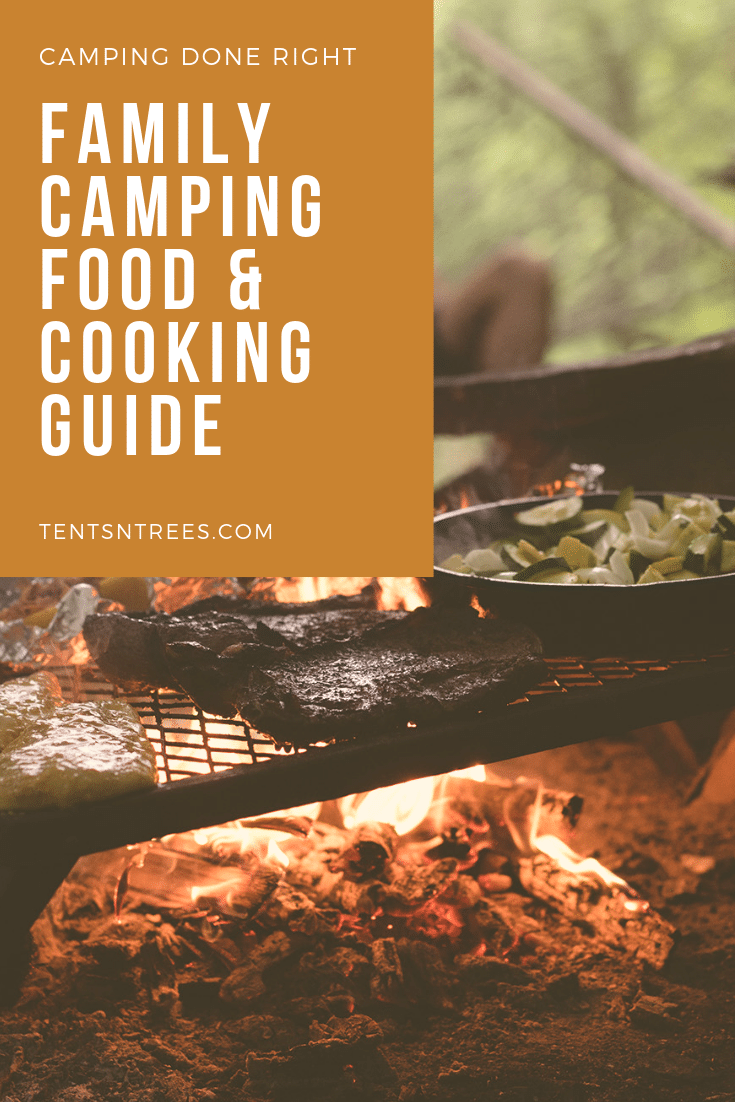 Cooking While Camping
The idea of surviving on hot dogs was inspired by the fact that I assumed I would be limited to cooking only over a campfire. This is simply not true unless you want to cook that way. If you do, there are gadgets to manipulate your campfire into working better for you. Let's first discuss the ways you can cook while camping.
Cooking on a Grill
Whether bringing your own grill or staying in a campground that already provides them, grills can exponentially increase the types of food you can cook. Chicken, brats, steaks, and burgers are all easy to pack in your cooler and cook on a grill. Wrap vegetables in aluminum foil and cook them on the grill to keep your meals nutritious. You can find portable propane or charcoal grills like this one to take along on your trip.
Cooking on a Camping Stove
Camping stoves are small cooktop burners that usually run on propane. They are ideal for cooking foods in skillets and pots. Camping stoves offer a more even flame than your campfire ensuring more delicate foods do not burn with proper observation.
Enjoy things like bacon and eggs in the mornings or soups and stews for dinners. With a fairly inexpensive price tag, a camping stove like this classic Coleman is a valuable addition to your camping gear.
Additionally, you could opt for a slightly larger stove like the Camp Chef 2 burner stove. This stove is a little bit pricier but will make it easier when cooking for a larger family or group.
Cooking in a Camping Oven
Though I haven't yet tried baked goods while camping with my family, that doesn't mean you won't want to! Usually run on propane, a camping oven can be a convenient and useful way to cook things like cinnamon rolls or lasagna.
Cooking Over the Campfire
Ah, back to good old hot dogs and s'mores! If your kids are anything like mine, they will love being able to roast their own dogs. Telescopic roasting skewers like these are an easy way to cook without getting too close to the fire. You can even use them to cook kebabs on your grill.
You can also use your campfire as a grill by bringing along a campfire grill stand made to fit over your campfire. This grate makes it easy to simmer meals that require a long cooking time and takes up less space than a regular grill with all of its components.
One important note is that you will most likely have less control over your campfire flames than you would with a regular grill. Therefore, it is necessary to only use metal pots and pans and keep a regular watch on your food. The exciting thing here is that your fire is not relegated to only cooking foods you can put on a stick.
No Cooking Options
If you are eager to start your day or to grab a quick lunch, you might enjoy not having to cook. Sandwiches and wraps are some of the easiest camping food items to bring along that require no cooking. Things like protein bars, granola, nut butter, and raw fruits and veggies are excellent lunch or snack items that also require no cooking.
Camping Food Prepping and Packing
In order to successfully cook a variety of food at the campground, you must prepare and pack your food efficiently. Pre-cooking some items and freezing them can save you time at the campsite, too. This part can be time-consuming but so worth it when you and the kids are starving after an activity-packed day.
Plan Your Camping Meals
I like to figure out how many meals we will need for the duration of the trip and go from there. If we are going on a 5-day trip, I know I will need enough for 5 breakfasts, 5 lunches, and 5 dinners to feed the entire family.
For example, for breakfast alone for my family of five for 5 days, I would want to pack about a dozen and a half eggs, 2-3 pounds of bacon or sausage, some frozen hash brown potatoes, and maybe 1-2 pancake mixes where you simply add water and pour it from its container. My husband enjoys a big pot of hot oatmeal on colder mornings, so we bring along fresh apples and frozen berries to spruce it up.
Prepare Your Camping Meals
After you have a list of what meals you plan to make, you can begin shopping for and preparing your camping food. This could be as simple as chopping up your veggies, adding spices to your meats, and pre-cooking items.
One of my family's favorites to eat is a hearty beef stew. However, it could be extremely time-consuming and just plain difficult to get ready at the campsite. So, ahead of time, I cut a chuck roast into bite-sized pieces, add my seasoning, and put it in a heavy-duty storage bag. If there is time prior to our trip, I might even freeze the meat to help keep it cold once packed. Along with the meat, I bag baby carrots, diced onion, and small creamer potatoes. Because they are small, they can easily be added to the stew pot without additional cutting. Then, we simply let the stew simmer for a few hours on our campfire grill grate.
This would also be the time to dice vegetables that you can use in multiple dishes. I'm talking about onions, tomatoes, lettuce, and any others you might use more than once. Keep them in larger bags, and you can grab the amount you need as you go.
I like to pre-cook anything that requires it. A simple example of this would be taco meat. It is much easier to cook it at home, freeze it and warm it up at the campground. I would also wrap any vegetables we plan to grill in aluminum foil and put them in freezer bags.
Packing Your Camping Food
Anything that you can freeze will not only help keep it fresh longer, but it will also help to keep your cooler cold. Freezing most of your meats is a good idea, but you should be cautious when freezing vegetables and fruits as this can change their texture when reheated.
The reason I love heavy-duty freezer bags for food storage is that they keep their contents dry. Melted ice in a cooler can cause water to seep through plastic containers, with lids making food soggy. Bags are also easier to pack because they are more pliable than hard containers.
Recommended Gear
Of course, you will find many items to make cooking at your campsite easier, but not all of them are necessary for every situation. We linked to a few items earlier in the article that will come in handy, like hot dog roasting sticks and grill grates for the fire. There are a few other key items you will want to make sure you have packed for all camping trips, however. My top picks include:
Camping Meal Ideas
Are you ready to put together your list of meals? Here are some quick and easy ideas to get you started.
Breakfast Camping Meals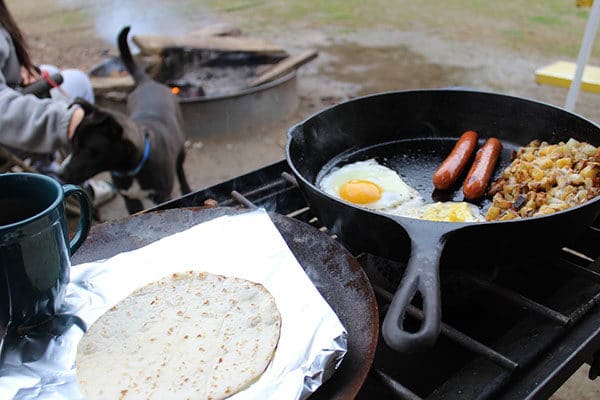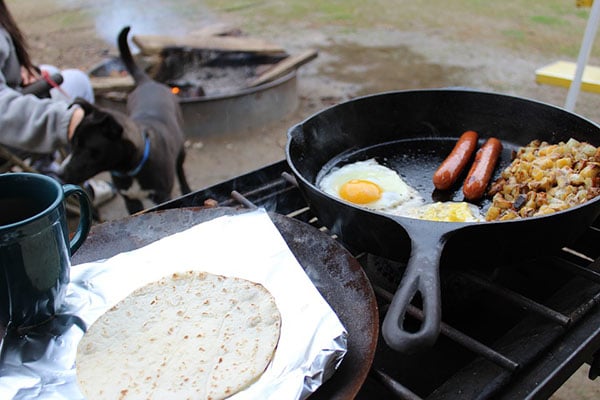 Cheesy Sausage and Potato Skillet Casserole
Ingredients: 1 pound of sausage, 8 ounces of shredded cheese, 8 eggs, frozen hash brown potatoes
The sausage and hash browns can be browned together. Once fully cooked, you can add your eggs and cheese. It is important to keep a close eye on it while cooking as it can quickly burn. Once it has finished cooking, simply scoop out servings.
Bacon, Eggs, and Pancakes
Ingredients: 1 pound of bacon, 5-8 eggs, Bisquick Shake and Pour
You will need 2 skillets for this traditional bacon and eggs breakfast with pancakes. Yes, you can easily make pancakes while camping! Simply add water to the Bisquick container, shake it up, and pour it into your skillet.
Lunch Camping Meals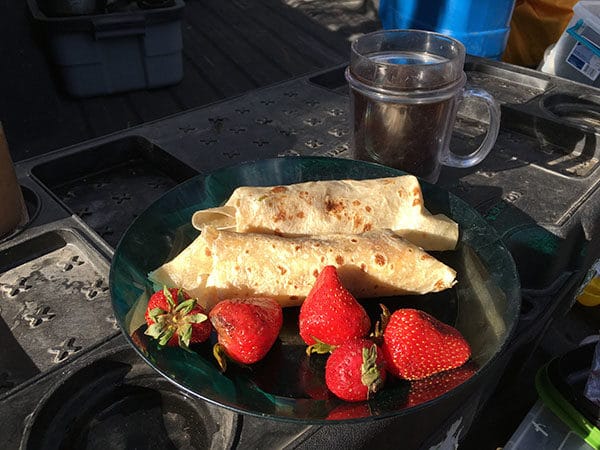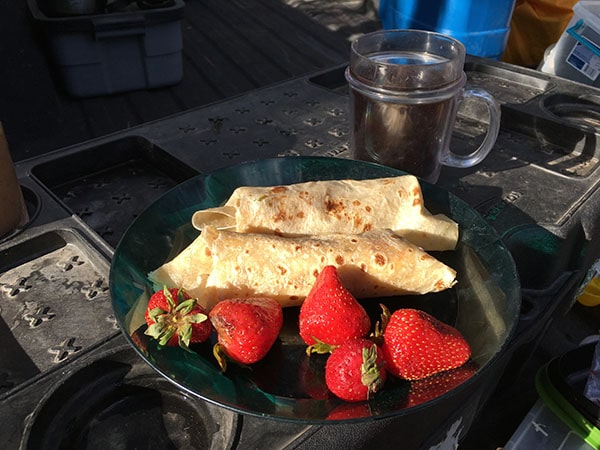 Chicken Wraps
Ingredients: Shredded chicken, lettuce, tomatoes, onion, avocado, cheese, wraps
If your kids are like mine, the sight of anything healthy makes them cringe. The beauty of this meal is that it can be customized to make even the pickiest eaters happy.
Macaroni and Cheese with Peas
Ingredients: 1 box of macaroni and cheese, 1 bag of frozen peas
Boil a pot of water on your camping stove and cook the macaroni until it is al dente, then add your peas for about 2 minutes. If you didn't bring a colander, simply use the lid of the pot to help keep the macaroni in while draining the water. Finally, add cheese to the noodles and peas. This meal is easiest if you use the deluxe macaroni and cheese meals with cheese sauce instead of powder.
Dinner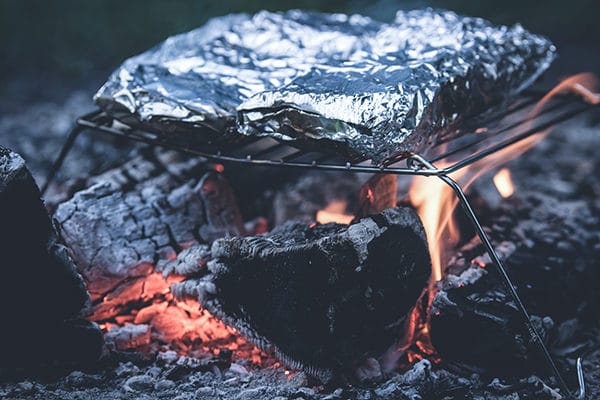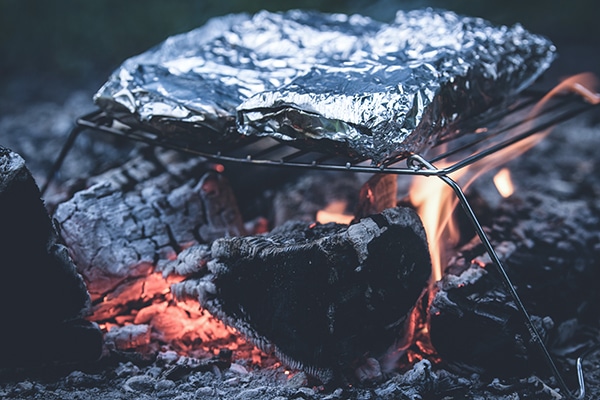 HoBo Dinner
Ingredients: Lean ground beef or ground turkey/beef combination, onions, baby carrots, baby creamer potatoes
The HoBo Dinner consists of a ground beef patty with onions, potatoes, and carrots wrapped completely in aluminum foil. One packet should be made for each person. These can be grilled or put directly into the campfire. Once they are finished, you can eat them straight from the foil, saving on dishes. Try dipping the meat in ketchup or steak sauce.
Steak and Potatoes
Ingredients: Steak cuts of your choice, Russet Potatoes, vegetable of choice
Grill steaks to your liking, but remember to put your potatoes on the grill ahead of time since they take longer to cook. Pull out some of the vegetables you wrapped in foil ahead of time and place them on the grill with your meat.
Camping Food & Meals for your Family
As you can see, with a little preparation, there are lots of ways (besides hot dogs) to keep your family fed while camping. We hope these ideas and tips have encouraged you to experiment in the culinary realm while relaxing and rejuvenating with your favorite people.