With myriads of shapes, styles, and prices, how do you find the right sleeping bags for your family camping trip? Choosing a sleeping system for camping can feel overwhelming once you see all your options. However, fear not! We are breaking down the basics of sleeping bags for you to help you choose a sleeping bag that is right for your needs.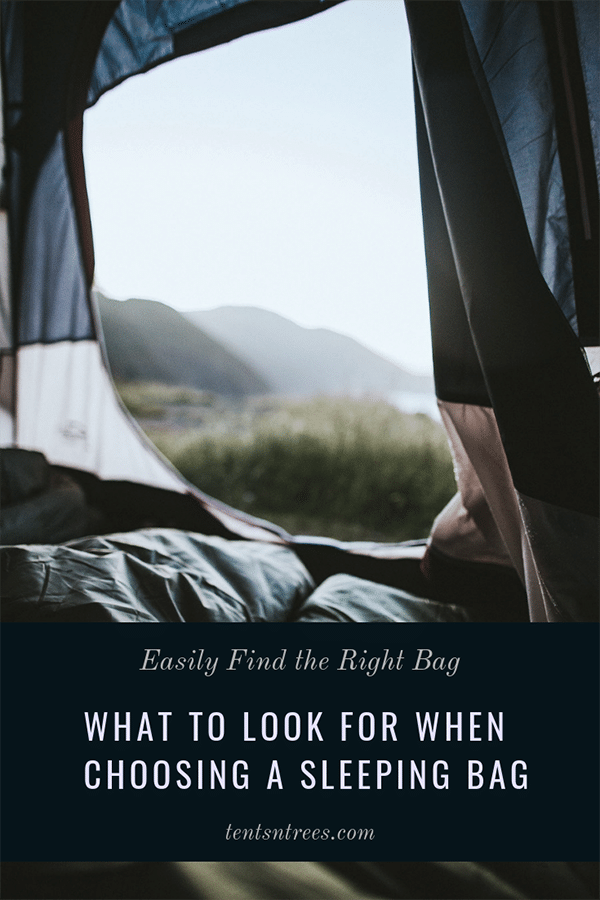 Sleep Systems for Camping
Sleep what? If you are just becoming interested in camping, you've probably noticed a million different camping products out there. You can find camping pillows, bivys, camping pads, camping quilts, and a variety of sleeping bags, but do you need all of that stuff? Probably not.
A sleep system makes up the components that you put together for your bed at night and is easily customizable for your personal preferences. A basic system consists of a sleeping pad, sleeping bag, pillow, and bivy cover to protect you from moisture if camping sans tent.
By far, the most important component in this system is the sleeping bag. It will provide you with warmth and some protection from the elements. A sleeping pad is nice if you're camping in cool climates or wet terrain. If you have a tent, especially one with a rain fly, a bivy can be overkill. A pillow is nice to have but not altogether necessary.
Determining what you need for sleep is highly personal and dependent upon the length of your camping trip, how much money you want to spend, and how much "roughing it" you can take. You can use our 7 tips for sleeping better while camping to help you choose a sleeping bag and determine what you'll need to be comfortable.
Types of Sleeping Bags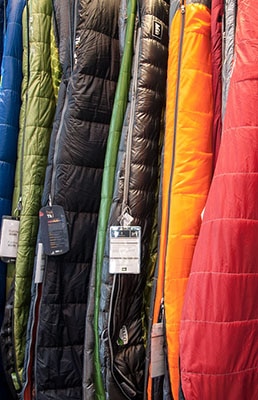 There are three main types of sleeping bags, and all types use either synthetic materials or down for fill. Most sleeping bags are made of polyester or nylon for durability and moisture protection. These types include:
Rectangle Shaped like its name, the rectangle bag is known for being roomy and is most comfortable when camping in milder temperatures. It can also be unzipped fully to be used as a blanket or in case the sleeper becomes too hot.
Semi-Rectangle The Semi-Rectangle bag is tapered in the foot box and around the shoulders and usually includes a drawstring hood. It is best used in cooler climates.
Mummy The Mummy bag, as its name suggests, is snugly fitted to the body. When completely zipped up, only a small portion of your face is visible. These are intended to keep you warm in the coldest conditions. Unless you're taking the family high up into the mountains or camping in winter, a mummy bag may be excessive.
How to Choose a Sleeping Bag that is Right for You?
Finding the right sleeping bag can make or break your camping trip. If you think about it, sleeping while camping might just be more important than sleeping on any other vacation because of how active you will be during the days. You will want to make sure you have a comfortable place to rest overnight.
Finding the right sleeping bag has a lot to do with how you will be camping. Consider asking yourself the following questions, as they can help you decide what to look for in your sleeping bag.
Will you be at a campsite with a tent?
Do you plan to take the kids to the backcountry to sleep under the stars?
How cold will it get at night?
What will the weather be like while you're camping?
Will you have to haul all your camping gear for a long distance?
Camping with a Tent
Assuming you will be at a campsite in a tent during the spring or summer months, you can get by with nearly any rectangle or semi-rectangle sleeping bag. This sleeping bag by Teton Sports has a synthetic down fill and is rated to 0℉. This ensures you keep warm while camping in spring, summer, fall, and winter.
Camping in the Backcountry
Backcountry camping can be difficult, especially if your kids are small. Typically, you will be off the beaten path, and there are no campsite amenities nearby. All your gear must be carried in and out. Should you choose to do it, you would want to look for a lightweight sleeping bag like this ultra-lightweight bag by ECOOPRO for warm weather.
Camping in Cold or Inclement Weather
Most of us do not plan on camping during bad weather (I mean, how many games of UNO can you play inside your tent in one day?), but we all know it's unpredictable. In this case, having a waterproof bag like this Abco Tech sleeping bag can be handy.
In colder climates, you would want a cold-rated sleeping bag like this Teton Sports Mummy Bag. Rated at 0℉, this bag could theoretically be used high in the mountains or in winter. You should expect your sleeping bag rating to work in temperatures about 10° warmer than its actual rating. So, this bag should keep you warm when the mercury drops to about 10℉.
Where do you find a good sleeping bag?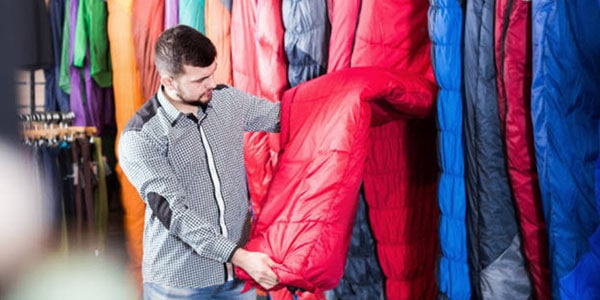 Finding a good sleeping bag is easy once you know what type you're looking for. You can use our list of the best sleeping bags for camping, but if you want to see them before buying, a local sporting goods store is a great place to start.
You can also find used sleeping bags at cheaper prices at second-hand sporting goods stores, rummage sales, or thrift stores. When purchasing a used sleeping bag, be sure to check it thoroughly for rips, tears, or broken zippers. You may also want to give it a run through the washing machine or, if you're feeling really aggressive, the dry-cleaners before using it.
Choose a Sleeping Bag
Finding the best sleeping bags for your family's camping trip does not need to be overwhelming or overly expensive. It is a necessary part of the experience to ensure you sleep well and are ready to participate in all your outdoor adventures.