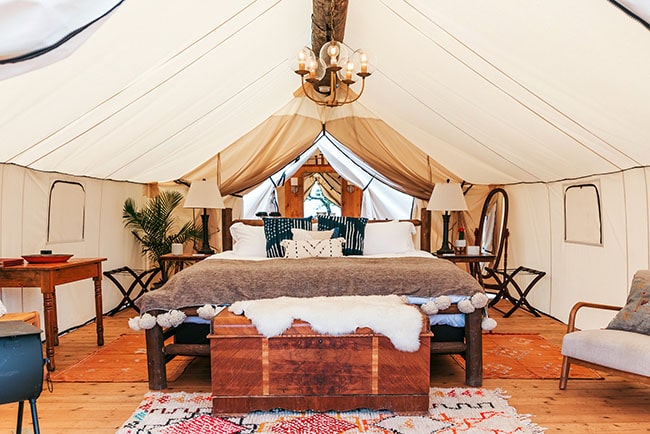 Glamping is taking your camping to the next level to ensure you have a lot of comforts that you often only find in your home. Many glampers love being in the outdoors but don't like to rough it.
Glamping is not for everyone. Some people like to rough it and get away from some of the luxuries that we enjoy in our normal life, and that is totally fine. We believe that everyone should camp the way they like, whether that includes bringing a minimal amount of gear or going glamping and bringing gear that most campers don't bring.
There are a couple of things to know about glamping. Glamping is typically not cheap. To be able to set up your perfect glamping site, you will most likely need to spend some money on nontypical gear. Similarly, you will often need to bring a lot of gear. Glamping often doesn't work for those who are trying to minimize the amount of gear they bring.
We go both camping and glamping. There are pros and cons to both, and we enjoy doing both. The following guide will walk you through the best ways to upgrade camping to glamping if you want to give it a try. This is by no means an exhaustive list; this is simply what we have done. You can even that glamping further but this is what we have done.
Upgrade your sleeping arrangements

Increase the size of your tent
One of the first things you will want to do to move from camping to glamping is to get a larger tent. Having the extra space inside your tent will go a long way to making your tent feel homier and less like you are roughing it in the woods. There are a lot of large camping tents to choose from but get one that is at least 2 times larger than the number of people who will be staying in the tent.
We have enjoyed having an extra-large tent because it gives us enough sleeping room and still has extra room for gear and a small sitting area.
Use a cot with a good pad
One of the best ways to turn camping into glamping is to make your bed more comfortable. The best way we have found to do that is to use a cot and a good pad. A cot gets you off the ground and gives you a completely flat surface to sleep on. If you want to take it even a notch further, then you can go for an extra-large cot. We use Teton Sports XXL Cot and have really enjoyed them. For more options, check out our list of the best camping cots.
In addition to a good cot, having a nice pad will make your bed way more comfortable and really up the glamping factor. We recommend using a foam pad as they tend to be more comfortable than an air pad. The one we use, which is very comfortable, is a 3″ gel memory foam pad that is made for regular beds.
Find a great sleeping bag
The next piece of gear you'll want to upgrade is your sleeping bag. Having a comfortable sleeping bag is a necessity when glamping. A sleeping bag with some extra room will allow you to move around easier and get a better night's sleep. We personally use a Teton Sports XXL sleeping bag. They are perfectly sized for their XXL cots, which we use.
Additionally, you'll want to make sure that you get the correct sleeping bag for your weather conditions. You'll want to make sure you have a warm sleeping bag for cold weather or a light sleeping bag for warm weather. It's not glamping if you don't have a comfortable sleeping bag to sleep in.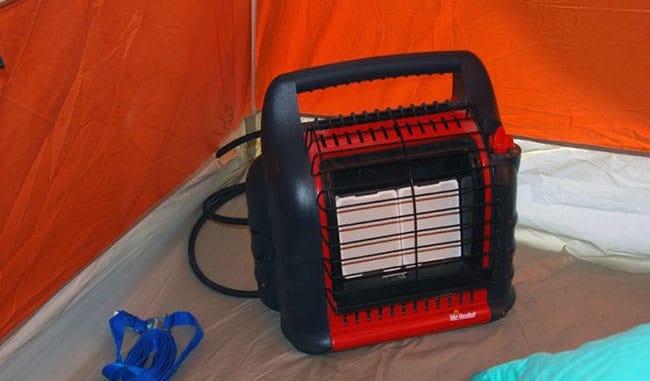 Use a heater in cold weather
Alright, having a heater in your tent is really where you step over the line from camping to glamping. Finding a good tent heater will allow you to warm up your tent before you go to bed and then warm it up again once you wake up. Nothing says glamping, like being able to change in a warm tent while it's cold outside.
(We do not recommend that you sleep with a propane heater running. There is a danger of carbon monoxide poisoning, so you need to ensure you have proper ventilation if using a propane heater, even when not sleeping.)
Improve your kitchen setup
A large stove goes a long way
When glamping, you'll need to make sure that you have a nice big stove to cook on. You definitely don't want to be skimping when it comes to your food. There are lots of great camping stoves available, but we really like Camp Chef's 2 Burner Stove.
The stove offers large burners for bigger pots and quicker cooking. Additionally, we purchased the 2 burner griddle that fits the stove. It covers both burners and offers a great cooking area. We have cooked some of the best breakfasts on this griddle, and it is something I feel is a necessity for glamping.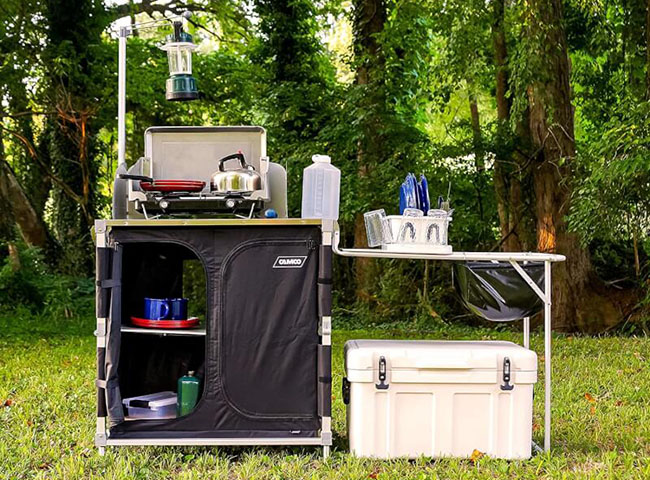 Cap kitchens make things really easy
Another great way to upgrade your kitchen is to get yourself a specifically built camping kitchen. Camp kitchens really help to turn camping into glamping because it gives you an awesome work/prep area. Additionally, most camp kitchens give you a sink that makes cleaning up much easier.
Typically, these kitchens come with additional storage as well as extra features and capabilities that you don't often have when camping. The camping kitchen that we really like is Cabela's Easy-Set Camper's Kitchen.
Bring a couple of extra tables
Having extra tables helps to organize your kitchen as well as give you more areas for prep and serving. Extra tables are especially useful when glamping with a larger group. Having a dedicated serving table is a great way to prevent too many people from crowding around the stove and kitchen.
Additionally, having some extra tables is nice so that you and your kids have somewhere to eat meals. This is especially great for children. Having a table for kids to sit at really reduces the number of lost meals from spilling while eating in your lap.
Cover your kitchen area
Having a covered kitchen area is another way to help change your camping experience into a glamping experience. Having your kitchen covered will ensure that even in poor weather, you have somewhere dry or shaded to prep meals.
The easiest way to create a covered kitchen area is to use a pop-up awning. The awnings are typically a little bigger but are often pretty easy to set up. They are a great way to really improve your kitchen setup.
Enhance your camp hygiene
Create a handwashing station
Everyone knows that when you go camping, you get dirty but when you go glamping, you actually try to keep that to a minimum. One way to achieve this is to create a hand washing station. This handwashing station is an easy way to keep your hands and faces clean.
You can easily create a handwashing station with an extra 5-gallon water jug and a bottle of hand soap. On the other hand, if you really want to show off your glamping abilities, you could opt for something like this portable sink. This portable sink is bound to make even seasoned glampers envious.

Don't forget about showers
Showering is definitely something you don't want to forget about when glamping. There's nothing that says glamping more than being able to take a hot shower when out in the woods. To be honest, this is my favorite part of our glamping setup. I love being able to get into a hot shower every couple of days and get clean.
We have created an awesome camping shower setup with Ozark Trail's 2-room shower tent and a portable instant hot water heater. If you are in a campground where you have a water line, then that is all you'll need. If you don't have a water line, you'll need to ensure you also have a way to pump water to the heater.
Creating a nice shower setup might be one of the harder parts of glamping, but it is definitely one of the bests. This one thing can turn your camping experience into a glamping experience.
Add additional bathroom options
Improving your bathroom situation is the one aspect that my wife (Megan) cares about the most. I feel like, for many women, this will go the furthest to making them feel like they are not camping but glamping. Many campgrounds do have toilets, but they are not always the cleanest and well-maintained.
We now use a pop-up privacy tent and a portable toilet. It's nice because you can set up your bathroom in a private spot, and then you won't have to worry about sharing facilities with people you don't know. Similarly, it's really nice when you have younger kids. They often feel more comfortable using the bathroom when it feels similar to their toilet at home.
Boost your relaxation
Ensure everyone has a chair
Everyone enjoys relaxing around the fire, but no one likes sitting on the ground around the fire. It's not very relaxing if you can't sit back and kick your feet up. We have ensured that everyone has their own chair to sit in. It's never any fun to have kids fighting over a limited number of seats.
If you really want to ensure you have a comfortable chair, you need to get a Zero Gravity Chair. Trust me; you won't regret it. They are very comfortable, and you'll love being able to lean back and relax in the outdoors.

Offer more options to relax
To really turn your camping into glamping, you need to have multiple ways to relax. Sometimes you might get tired of sitting in your chair around the fire and so want somewhere else to kick back in the shade. Another great option is to find a couple of camping hammocks. These hammocks are super easy to use, are very light, and pack into their own small stuff sack.
If you really want to get creative, you could even bring come blow-up furniture. We have personally never brought any blow-up furniture, but we have some friends you do, and they love it. Similarly, you could bring a few inflatable loungers. They, too, are very light and pack away into a very small space.
Conclusion
While glamping might not be for everyone, it is a way to really enjoy the outdoors without having to feel like you are roughing it. We will typically go on a full-blown glamping trip a couple of times a year. We end up having a lot of fun, and on these trips, we typically have some of the best food.
You don't have to go straight from camping to glamping. Use this guide to transfer over a little at a time slowly. Find one area you want to improve and upgrade that for your next trip. Sooner than you'll know, you'll be a seasoned glamper with all the right gear.
Pin it for Later