Exploring the great outdoors is an adventure the whole family can enjoy together, but it can get cold in the woods at night. I remember one camping trip to Vermont in late spring when we weren't the most prepared.
The temps dropped below freezing for three nights and a good heater would have made a big difference between pleasant memories and an experience we would all just as soon forget. To make your nights warmer, here is a roundup of the five best tent heaters for camping:
Best Tent Heaters
1) Mr. Heater 9,000-BTU Portable Propane Radiant Heater
This portable propane heater is suited for many camping applications. A swivel regulator allows for connecting to disposable portable bottles or can connect to a bulk tank with an adapter.
Pros
Heats up to 225 square feet.
4,000- to 9,000-BTU output.
Radiant heater for spaces up to 225 square feet.
Clean-burning and almost 100-percent efficient.
Approved for both indoor and outdoor use.
Auto shut-off mechanism if the unit is tipped over, the pilot light will go out or if low oxygen levels are detected.
Will run on portable 1lb propane bottles or large bulk tanks with an adapter and regulator.
Provides maximum heat with a minimal footprint.
Single control start knob with dual heat settings.
Cons
Heater may shut off when operating at altitudes above 7,000 feet.
Use of unauthorized accessories may cause injury and void the warranty.
Fairly high fuel consumption.
Maximum run time at the maximum BTU setting with portable bottles is three hours.
Adapter and regulator for bulk tanks are not included.
---
2) GiveBest 1500Watt Electric Ceramic Space Heater
Measuring just 7 ½ inches wide and 10 inches tall and designed for safety, this little portable electric heater uses a ceramic filament that operates at a cooler temperature than metal-coil heaters. This increases safety while still producing an efficient and constant heat source.
Pros
A power indicate light tells the unit is plugged in.
Three thermostatically control heat modes include 1500 and 750 watts as a well as a cool fan setting.
Overheat and tip-over protection.
Adjustable thermostat control.
Quick and quiet heating.
Cons
Heater has limited heating ability, so is only suitable for heating smaller tents.
Must have access to electricity at the campsite.
---
3) TMS Portable Camping Wood Stove
Designed to heat large wall tents and measuring just 18 inches long by 10 inches wide by 12 inches tall, the TMS wood stove can be used as both a heater and cookstove. The stove can be partially disassembled for easier transport and will really help take the chill off those cold mornings.
Pros:
Burns wood that can most often be found on-site, often for free.
Includes stove pipe, vent, spark arrestor and flue sections.
Has two removable side cooking tubes.
Front and rear air-flow regulators.
Easy access ash clean-out.
Hinged top grate doubles as a carrying handle.
Cons:
Overall bigger, bulkier and heavier than other style heaters.
Weighs over 20 pounds.
Should only be used in canvas tents, and not in nylon tents.
---
4) Martin Portable Gas Catalytic Heater
This flameless catalytic propane heater offers 3000 BTUs of heat in a small package. Designed for backpacking, the Martin heater has legs that swing open to provide a firm base for the unit to stand on and then retract for storage.
Pros:
Safe catalytic design.
Uses disposable one-pound propane cylinders.
Efficient catalytic technology burns propane slowly.
Up to seven hours of run time.
Recommended for families with children.
Cons:
Does not have the option of connecting to a bulk propane tank.
Not powerful enough for anything but very small tents.
---
5) Mr. Heater Little Buddy 3800-BTU
This indoor-safe heater is designed to heat areas up to 95 square feet. It has a low-oxygen shut-off and tip-over safety switch.
Pros:
Automatic low oxygen shut-off system.
Accidental tip-over switch and auto shut-off.
Swivel regulator for easy LP cylinder and hose installation.
Cons:
Not designed for operation at high altitudes.
Use of aftermarket accessories will void the warranty.
Maximum operating elevation of 7000 Ft.
---
Camping Tent Heater Guide
Types of Camping Heaters
In regards to fuel, there are essentially three types of heaters for tents:
Gas: These heaters run on bottled gas, with liquid propane being the most common. Gas heaters come in various configurations and heat output ranges, called BTUs.
Electric: Electric heaters come in a range of power output settings, typically, 250, 500 and 1,000 watts, with the higher the power output rating the more heat being produced. Obviously, electric healers require some form of electricity to operate.
Wood-Fired: These are the oldest and most tried-and-true type of tent heaters for camping. These are small and lightweight wood stoves, relatively speaking, that may or may not fold down for easier transport.
How to Choose The Best Heater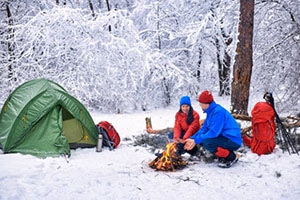 Picking the right heater will depend on how you plan to use it. Obviously, if you don't plan to camp in an area with a power source, an electric heater isn't the best choice. Heaters have a British Thermal Units rating, most commonly referred to as a BTU. The BTU rating is defined as the amount of heat needed to increase the temperature of a pint of water by one degree Fahrenheit.
Pros and Cons of Heater for Tents
As with everything, picking a camping heater is a trade-off.
Fuel:
The heaters that will produce the most heat will also consume the most fuel per hour of operation. This is not just a cost concern, but you will need to pack in enough fuel to keep the heater going. For example, if you are using a propane heater, a 10,000 BTU unit will burn roughly twice the amount of gas as a 5,000 BTU heater.
Weight:
If you are going to set up camp close to a road, weight may not be an issue. However, weight becomes a principal concern if you are packing into the backcountry. Propane and electric heaters come in various sizes, with some being light enough to take backpacking.
Small wood stoves have been used to keep large cabin-style tents toasty warm since the time of the mountain man. However, these are not lightweight and are only practical if camping close to a road or having access to and ATV or horses to pack your gear. Due to the weight, you can pretty much forget about taking any type of wood heater on a backpacking trip.
Space:
The size of the heater must be matched to how much space you have to heat and how much room you are willing to allocate to pack the heater along with all your other gear.
Propane and electric heaters come in various sizes, with some being small enough to fit the palm of your hand.
There are some very portable wood stoves that fold down. To a fraction of their assembled size. While there is still a weight concern, these wood stoves don't take up much cargo space.
Ventilation:
Because propane burns clean, there is virtually no danger of carbon monoxide poisoning by a properly functioning propane appliance. The caveat to this is the area the unit is heating must be well ventilated to achieve complete combustion of the fuel.
Burning wood produces high levels of carbon monoxide, so it is imperative that a wood-burning heater has a well-fashioned stovepipe so all of the smoke is vented outside of the tent. However, because these stoves produce so much heat, care must be used to keep flammable material, such as the wall of a tent, away from the stove.
Ventilation is not really a concern with an electric heater in a tent.
Attributes that Differentiate Tent Heaters
Aside from the aforementioned BTU rating and fuel sources, the biggest considerations when picking a tent heater is comparing apples to apples. For example, some electric and propane heaters will have a safety switch that will shut the unit off automatically should it tip over. This feature would obviously not be found on a wood stove.
The Best Way to Use a Tent Heater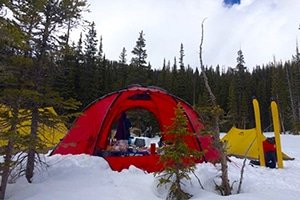 There is really no right way to use a heater in a tent, but there are some wrong ways. Here are some things to keep in mind:
Select the right size heater for the size of the area you want to heat. Picking a heater that is too small for the job will require the heater to work overtime and you will still be cold.
Set a gas or electric heater to the lowest possible setting when going to sleep. This will reduce or eliminate most of the safety concerns while still doing the job you got it for.
Calculating BTUs
Calculate the BTUs needed to heat your tent by first determining the tent's area in cubic feet with this formula:
Tent length x tent width x tent height = tent cubic feet.
Now subtract the outside temperature from the desired inside temperature in degrees Fahrenheit to determine the desired amount of temperature increase and then execute this formula:
Cubic feet x temperature increase x .2394 = required BTUs.
If you don't want to get too hung up on the math, just remember that the higher the unit's BTU rating the more heat the unit will produce.
Safety Concerns and Precautions for Using Tent Heaters
The biggest controversy surrounding the use of tent heaters is asphyxiation and fire. All heaters use oxygen for ignition and combustion, with wood using the most, propane second and an electric heater using the least.
Ventilation is always a critical aspect when running any type of heater in an enclosed area. For non-vented heaters, like portable gas or electric units, there must be a constant flow of air into the area where the heater is used to provide for both adequate combustion for the heat source as well as ventilation to guard against asphyxiation.
Regardless of what type of heater you choose, all flammable materials must be kept far enough away from the heater to prevent fire. Some heaters will have a minimum safe distance marked on the unit.
Conclusion
In the end, picking the best tent heater will depend on how you plan to use it. In reality, this means there can be no clear-cut winner that will work best in all situations. I like to look at it from the perspective of what will give me the biggest bang for my buck and how versatile it is.
For my money, when camping with my family, and if not packing in too far from the road, the winner is the heater that will heat the largest space. That usually translates into the unit that puts out the most heat. This means it comes down to the TMS wood stove and the 9,000 BTU Mr. Buddy.
When trying to decide between the two it comes down to a matter of personal preference, how abundant firewood is in the area where you plan to camp and how much propane you are willing to take with you. If firewood will be at a premium, then the clear winner is the Mr. Buddy.
However, if firewood will be plentiful and you will be in a big canvas tent, from years of personal experience camping throughout the northwest, I would say go with the TMS wood camp stove. The simple reason for this recommendation is because nothing will heat up your tent like a raging fire.
Save it for Later