While camping, it's understandable that you would want to be in an area that feels entirely comfortable. After all, isn't camping all about finding a perfect space to relax in the woods? This is why in recent years, many people have begun using camping hammocks, wonderful tools to help you stay calm and relaxed while taking a break from society.
To help you find the best camping hammocks, we have created an in-depth guide on the topic!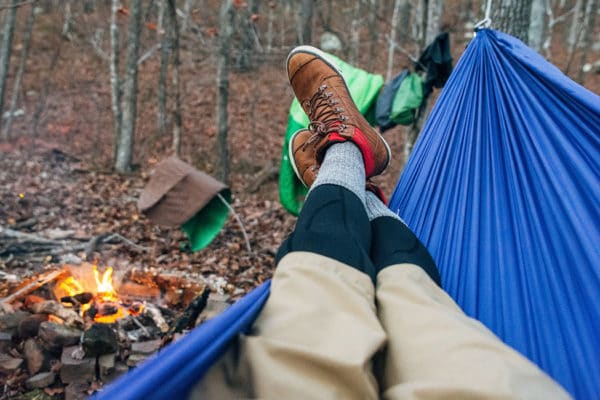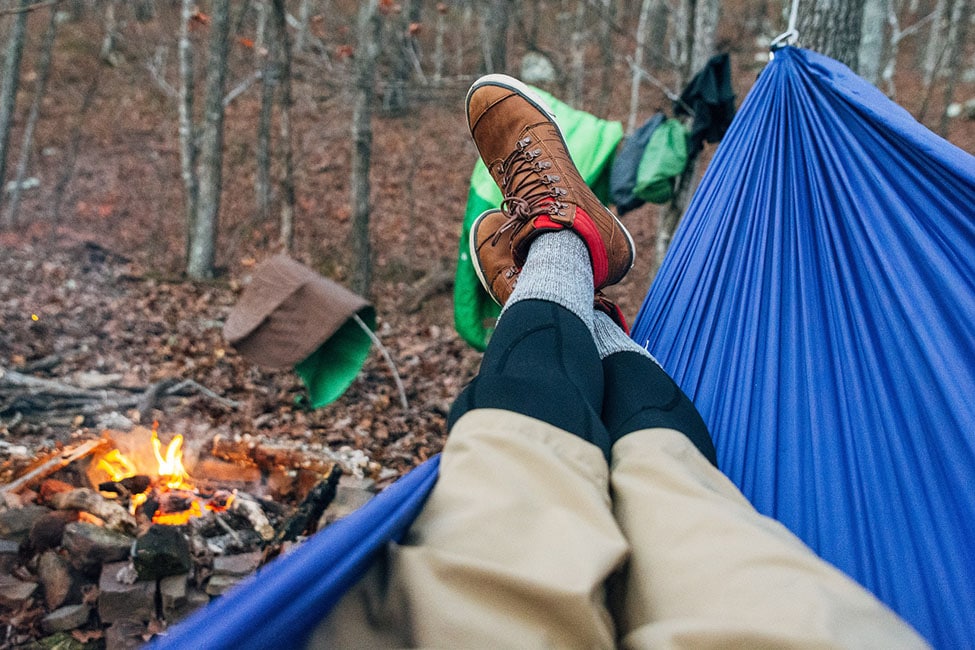 10 Best Camping Hammocks
Wise Owl Outfitters Camping Hammock
It's no secret that Wise Owl is a reputable company for camping products. This is why we were glad to find out that this camping hammock is no different from their other products, being made of durable parachute nylon that will help the tent weather even the worst storms. Something unique about the Wise Owl brand is that they always provide a 100% satisfaction guarantee, meaning that if you have any issues with your product, it is very easy to exchange it. However, the price might be prohibitive for some.
Pros
Made of durable parachute nylon
Very durable
100% satisfaction guarantee
Cons
Does not include bug net or rain fly
---
Easthills Outdoors Jungle Explorer
Those looking for an absolutely luxurious camping hammock should invest in this product. Though we wouldn't recommend it for everyone due to its expensive price, this is a great camping hammock for those who want to have one for a long time. It is made up of wonderfully breathable 210T Taffeta parachute fabric and has triple stitch edge seams to make sure that it won't tear!
Pros
Includes rain fly, guylines, & stakes
Includes bug net
Includes tree straps
Cons
---
Grand Trunk Double Parachute Camping Hammock
If you are someone who wants to have a massive amount of customization options with your hammock, you should definitely get this Grand Trunk product. There are 31 different colors and patterns to choose from! The hammock itself is also 20% bigger than a normal-sized hammock, but it's worth noting that there is the potential for the extra space to fold over, making the hammock feel uncomfortable. However, something particularly helpful about this product is that there are pieces of pre-knotted cord to help you set up the hammock!
Pros
20% bigger than a normal-sized hammock
31 different colors and patterns to choose from
Cons
Extra space might get in the way
---
Ridge Outdoor Gear Camping Hammock
With ripstop nylon and a mosquito net, it's clear that this Ridge Outdoor camping hammock is great for those who want to be able to go stargazing without having to leave their hammock. There are also premium alloy carabiners included with the product to ensure that it does not fall down while you are using it. This hammock is one of the best camping hammocks because of its great feature, like the included bug net. On the other hand, it is also heavier than other models, so you should keep that in mind if you are planning on carrying it on your back.
Pros
Ripstop nylon
Mosquito neck included
Premium alloy carabineers
Cons
Heavier than other products
---
ENO DoubleNest Hammock
Eagle Nest Outfitters (ENO) has a long history of making quality hammocks. Their DoubleNest hammock is very popular because it is so large and gives you lots of space. ENO has put a lot of effort into producing a very high-quality hammock. The materials they use are all the best you will find on the market, and they have paid a lot of attention to detail. The only real downside to ENO hammocks is that they do not come with any extras. When you purchase this hammock, you get a great quality hammock but nothing else with it. You can check out our full ENO hammock review here.
Pros
Fits two people
High attention to detail
A long history of making quality hammocks
Cons
No extras included with hammock
---
Covacure Camping Hammock
This is the perfect camping hammock if you want something that is lightweight and will get the job done. Setting up this product with the included straps and carabiners is a breeze while it holds up to 772 pounds! The only drawback of this product is that we didn't find that the nylon was actually "breathable," and the price is a bit expensive for you to feel uncomfortable. However, it will definitely do the trick if the weather isn't too hot!
Pros
Holds up to 772 pounds
Lightweight design
Cons
Nylon is not as "breathable" as others
---
Kootek Camping Hammock
If you are looking for an affordable and easy camping hammock to use for yourself, you should invest in this Kootek product. It is pretty lightweight and comes with some nice tree-friendly straps, but it's worth noting that the fabric does not feel as durable as some other hammocks. This is still one of the best camping hammocks because if you are simply wanting a basic hammock at a budget-friendly price, this is a great option.
Pros
Budget-friendly
18 different color combinations
Tree-friendly straps
Cons
Fabric feels less durable than other camping hammocks
---
Foxelli Camping Hammock
This hammock is a solid choice that offers all you need to enjoy relaxing in a hammock while camping. The hammock does include tree-friendly straps but does not include any extras beyond the straps. The military-grade nylon fabric also feels very durable and can hold up to 500 pounds. However, this hammock doesn't carry as much weight as other products on the market and might not be ideal for plus-sized individuals.
Pros
Budget-friendly
Includes tree-friendly straps
Cons
Only two color options are available
---
Gold Armour Camping Hammock
If you are looking for a camping hammock to take with you on a solo camping trip, we recommend this product. With 38 different colors to choose from, you'll be able to get a hammock that you truly feel comfortable in. This product is also pretty lightweight and is pretty cozy for a single hammock at 10.4 feet by 6.58 feet! Our only complaint about this product is that the included straps are not as high-quality as other products.
Pros
10.4 feet by 6.58 feet
38 different colors to choose from
Perfect for solo trips
Cons
Straps are not as high-quality as other hammocks
---
FIRINER Camping Hammock
This is definitely one of the best camping hammocks currently available on the market. It is not as budget-friendly as some of the other camping hammocks, but we think it is well worth it. The hammock itself is made of thickened 210T taffeta nylon fabric that is both insanely durable and comfortable. However, something that distinguishes this product from other ones on the market is that it comes with a mosquito net that helps keep bugs out. Did we mention it is also very lightweight and, therefore, easy to carry?
Pros
Made of thickened 210T taffeta nylon fabric
Comes with a mosquito net
Very lightweight
Includes lots of extra gear
Cons
Less-budget friendly than other options
---
Guide to Camping Hammocks
What is a Camping Hammock?
Before telling you how to choose the best camping hammocks, it is important for us to define what a camping hammock even is. Everyone knows what a hammock is but a camping hammock is a little different than a traditional style hammock. Camping hammocks are made out of nylon and typically do not have supports on the ends of the hammock. This means that the hammock will wrap around you instead of lying flat like traditional hammocks.
These types of hammocks are great for camping because they can be easily set up between a couple of trees as well as packed down into a very small bag. That bag is called a stuff sack and is normally attached to the side of the hammock.
How to Choose the Best Camping Hammock
When choosing a camping hammock, there are five different categories that you should keep in mind:
Size: The size of a hammock will affect how versatile the setup is and how much it fits. For example, larger hammocks will be able to stretch across a larger distance, allowing you to not worry about whether or not you can find two trees that are close enough to each other. If you want to use a hammock for more than one person, you will also want to purchase a product that has enough capacity to fit multiple individuals.
Accessories: Though most hammocks come with setup tools, some might require you to purchase additional accessories to set it up. If you want to be completely prepared, be ready to differentiate between these kinds of products.
Weight: If you are someone who is planning on bringing your hammock with you on a hike, it's important to make sure that you are purchasing a product that is not too heavy. If you don't consider the weight, you might end up not being able to take the hammock on your trip!
Sleeping Bundles: Certain hammocks come with extra materials that you can use to set up a tent. If you don't already own a tent, these bundles are worth considering.
Temperature Control: Depending on where you are planning to camp, it is worth looking into a hammock that can regulate temperature in certain conditions. Examples of this can include extra blankets or lining within the hammock!
What Are the Advantages of Camping Hammocks?
There are many benefits to camping hammocks:
You Can Take Naps Whenever You Want: If you are in the middle of a hiking trip and have not yet reached your final camping destination, you can always set up your hammock and take a quick nap before continuing your journey!
They Are Relaxing: The constant swaying of hammocks often calms people down, making them ideal products for people who want to relax while camping.
They Are Comfortable: Camping hammocks provide a level of comfort that chairs and tents can't match.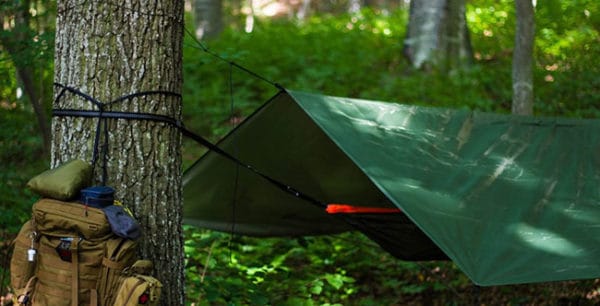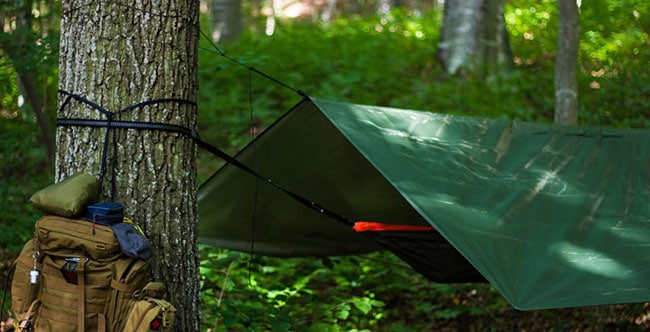 Things to Look for That Differentiate These Products
When looking at camping hammocks, it's important to understand that there are a few different distinctions between them.
As we mentioned earlier in this guide, the size of certain products will generally affect how useful they are to someone. Single hammocks are typically four to five feet wide, allowing enough room for one person to fit comfortably. Single hammocks' weight limits are typically between 300 and 400 pounds.
In contrast, double hammocks not only fit more weight (typically from 400 to 500 pounds) but also more people. Because their widths are commonly between five and six feet, double hammocks are perfect for those traveling with a friend or loved one.
The length of certain hammock products can also have an influence on your search. For example, products that are longer might be easier to set up due to their overall versatility.
The weight of a product is also important to keep track of. This might seem like a small detail in your search, but heavier products require you to carry more on your back and that can be a hassle if you are backpacking!
Something else to consider is the material that the hammock is made from. High-quality hammocks will typically be made with heavier materials, making them more durable and trustworthy.
No matter what your personal preferences are for the ideal hammock, you should understand that price can make a huge difference when shopping for camping hammocks. In other words, expensive products will likely be more durable and reliable, making them worth the investment. After all, why would you want to purchase a replacement hammock when you could just buy a more expensive one up front and save the money?
What's the Best Way to Use a Camping Hammock?
Unfortunately, there is no type of "life hack" or alternate usage for a camping hammock. The idea of a camping hammock is self-explanatory! However, no matter which product you get, it's important that you read the manual. If you don't familiarize yourself with the manual, you can risk injury to yourself and others.
Which Types of People Like Camping Hammocks?
If you are someone who loves camping, we highly recommend investing in a camping hammock. However, if the idea of gently swinging between two trees doesn't sound appealing, this might not be the product for you!
In Conclusion
Out of all of the camping hammocks currently available on the market, perhaps none are as the Easthills Camping Hammock. Though it is not the most budget-friendly hammock on our list, it is truly worth it for those who don't mind paying a premium price for a luxurious product. Something that makes this one of the best camping hammocks is the mosquito net that allows you to not have to worry about covering yourself in bug spray once the sun goes down!
At the end of the day, the best camping hammock will be the product that is most comfortable for you. Though we can give our opinions on which products are the best, the important thing is that you purchase a camping hammock that will truly help you feel comfortable while traveling.
We hope this list has been helpful so that the next time you're planning a camping trip, you know how to find the best camping hammock.
Pin it for Later