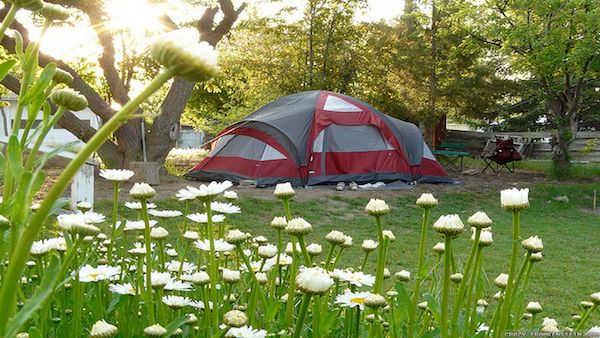 If you are looking for a unique camping experience, spring comes loaded with this and much more. While many believe in camping during the hot summer weather, spring gives you a more unique opportunity to visit exciting places, without the hassle of dealing with huge crowds. Besides the favorable weather conditions, you can visit great campsites at a price you can afford.
Wondering how to make this a reality? Continue reading to learn more about Spring camping tips, as well as the essentials you should pack and the fun activities you can enjoy while in the great outdoors. You will also learn about the advantages of camping in March or April that you cannot get at any other time of year.
Spring Camping Checklist
As you plan for your camping adventure, here are some of the most important items you should take along to ensure you're as prepared as possible:
Tent
Adequate rain gear
A table and camping chairs if possible
Air mattress/sleeping pad
Pocket knife
Map or compass
Something to cook with
Warm bedding items
Essential food items/water
Flashlights
Waterproof firestarter
Spring Camping Tips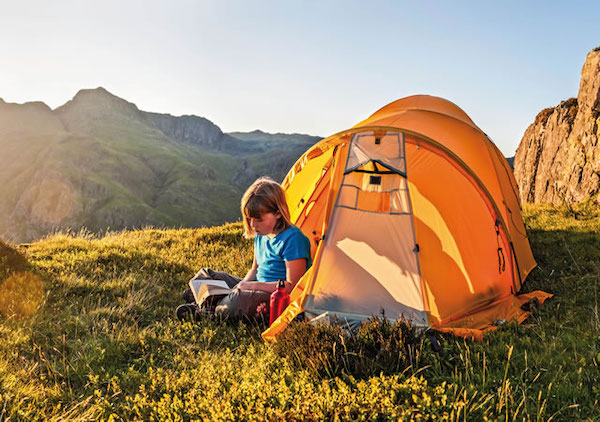 Despite the fact that the weather can be unpredictable, camping during this time of year is never boring. Camping in March, on the other hand, can be challenging. With the possibility of rain, you should prepare the essential spring camping gear before visiting your favorite campground.
Here are some important tips you can follow to make sure every moment of your spring camping trip is a blast.
Plan In Advance
As you prepare for your trip, you need to ensure that everything is in order. To avoid the last-minute rush, you should plan early. This gives you more time to gather all the requirements and fix any repairs to your tents and other camping gadgets you plan to bring along.
In addition, you will get a rough estimate of how much you will spend during your trip. You can then get enough finances to cover all the bills and ensure your camping experience goes smoothly.
Choose Your Location Wisely
Whatever camping destination you choose, always pitch your tent in a safe place. The place should be protected from wind and also be away from wildlife. Also, ensure that your tent is pitched on flat ground to maximize your comfort and to reduce the risk of accidents.
Beware of Changed Trails
Due to drastic weather changes, trails may be a bit unfamiliar. You need to walk carefully to avoid accidents. Winter snow may have eroded parts of the trails, destroying trail markers that should guide you. You also need to be careful not to slip as you may find yourself hiking in muddy places.
Prepare for all Weather Conditions
Camping during spring requires a combination of cold and warm outfits. Be prepared and wear the right attire for the season. The warm weather during the day may call for a lighter outfit. Such an outfit will make your hiking experience or even that brisk morning walk as comfortable as possible.
However, temperatures may drop in the evening and also usher in cold nights. For this reason, ensure that you carry warm clothing as well as warm blankets or sleeping bags.
Consider Carrying Water Resistant Items
Spring can be wet. To be on the safe side, you may want to carry a water-resistant bag to hold your items. Carrying a synthetic bag can serve the purpose. Include tarps, a waterproof tent cover, and a waterproof fire starter to protect you if one of those pesky spring showers pop up.
Pack Extra Items
With the unpredictable weather, you may have to carry extra clothes and shoes. This lets you enjoy every moment without limitations. If it gets muddy, you can still walk around the campground as you will have an extra pair of shoes to change into. With extra clothes, you can keep warm when the weather becomes chilly.
Prepare Your Camping Kitchen
Preparing your meals makes camping fun. As you pack, never forget something to cook with. Ensure that it's in order, and the lighter as well. You might also consider carrying a self-igniting grill as this may be more reliable, especially if you forget your lighter or it suddenly stops working.
Check Your Camping Gear Before Leaving
Ensure that your spring camping gear is in order. Any repairs should be made prior to leaving home. To avoid staining or damaging your tent, ensure that it is dry before packing. Packing your tent when it's dry will make it serve you longer.
Also, ensure that your lamp or flashlight is functional and charged before packing. You may also need to purchase extra batteries for your flashlight to be assured of adequate lighting. Confirm that your air mattress is in good shape and doesn't leak.
Plan to Eat Healthy
As you get ready for your spring camp, ensure that you pack enough healthy food. Having a balanced diet during your camping period is vital. This gives you the energy to go hiking and also helps you remain healthy.
If cooking isn't your thing, you can purchase frozen food or canned foods from a store nearby.
Stay Hydrated
It is also important that you take hot or warm beverages as you start your day, especially if it gets cold. Also, carry enough water to last you for the entire camping trip. Alternatively, you can carry a water filtration system to purify your drinking water.
Be Prepared For Emergency
Wetness makes the ground slippery, which could lead to accidents. This makes it extremely important to have your first aid kit with you during the camping period to handle emergencies if they occur.
Prepare For Cool Days and Cold Nights
Because evenings may get chilly and nights become cold, carry sleeping bags and blankets that will keep you warm. You may also consider spending the night beside a campfire as you wind down for the night.
Book Your Reservations
To get the most from your spring camping experience, book your reservation before leaving. Although most camping destinations are not crowded during spring, you may have to make your reservations early. Ideally, most campgrounds will require that you make your reservation in advance.
What Activities Can You Engage in During Spring Camping?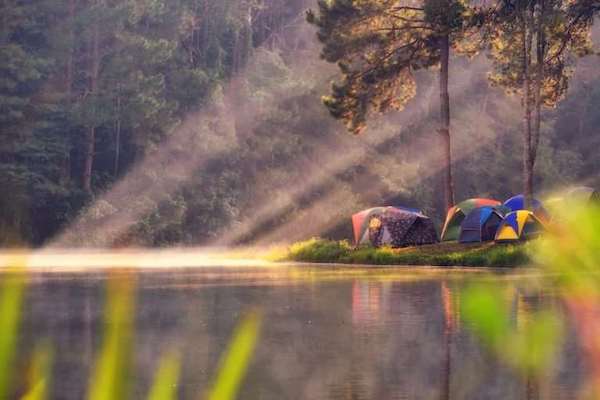 If you plan to have a great time out, here are some activities that will give you an unforgettable camping experience:
Hiking

Scavenger hunt

Take a night walk

Fishing

Biking

Hide and seek

Campfire stories
Why Go Camping in the Spring?
Here are some of the reasons that will make your camping experience worth the while:
Affordable Deals
For a more exciting spring camping experience, you may consider camping at a place of your choice during early spring. During this time, you can land exciting deals at an affordable rate. During spring, most people may not consider camping as they do so during summer. You can take this opportunity to treat your family to an exciting weekend getaway at a camping site of your choice.
Favorable Weather
While the warm days during spring will make your adventure unforgettable, the cool nights will give you a great opportunity to relax. With spring comes the freedom for you to get outside and explore. This also presents a great opportunity to tackle some of those extreme hikes on your bucket list without having to deal with the extreme summer heat.
You can also enjoy a great night out, thanks to the cool nights. You can spend the night beside a fireplace, as you relax with friends or family.
Thanks to the cool spring air, you can spend the night relaxing in front of the campfire with friends or family.
Great Scenery
The budding flowers will no doubt add beauty to any camping site. This gives your photography escapades a unique touch that makes your experience even more impressive. Additionally, the air is so fresh that you want to spend the entire trip soaking in what nature has to offer.
Just like camping during summer, springtime camping can be a blast. As you plan your adventure, ensure that your spring camping checklist has everything you need. Because the weather can be unpredictable, you need to carry extra items. You should check your spring camping gear beforehand to ensure that everything is in good shape. Taking time to plan and make any repairs before leaving for your adventure not only saves you unnecessary headaches but also makes your stay more comfortable. Now it is time to go enjoy the great outdoors!