A family camping vacation is not your average camping trip. When camping alone, you can get away with packing the bare minimum, and the only person it affects is you. However, when the whole family is in tow, this changes.
In order to be prepared, it's essential that you know how to pack for family camping. However, what should go on that list? And how can you choose the perfect gear and accessories for your family camping trip? I'm going to cover all this (and more) in this guide.
Why go on a family camping trip this summer?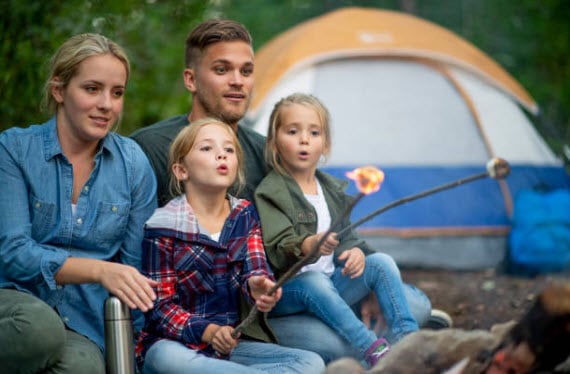 Camping is fast becoming one of the most desired family vacations. Families have started to realize that traveling overseas on family package deals can be difficult to coordinate and also expensive. Moreover, if an emergency occurs, it's harder to handle in an unfamiliar setting.
This is where domestic family camping trips are a good alternative. However, there are a couple of other reasons why you'd consider going on a family camping trip this summer:
To install an early love of nature in your children
To take a break from technology
Spend quality time together, just as a family
Initial considerations to make with family camping
When there are kids involved, it's best you chose a convenient camp stay. It doesn't harm to be extra cautious for everyone's safety and comfort.
Here are a few initial considerations you can take to ensure your family's safety:
Choose a campsite close to your home: If you're camping with a baby or a toddler for the first time, it's worth camping locally. That way, if there are any emergencies, you can head home quickly.
Look up nearby hospitals or medical centers: If you're erring on the side of caution, you want to consider a campsite that's relatively close to a medical center.
Find a campsite with good facilities: Camping is messy. However, camping with young children is even messier. Therefore, it's worth finding a campsite with good bathroom facilities. Furthermore, a campsite with good cooking facilities might also be advisable if your children are fussy eaters.
For a more in-depth guide on finding a great campsite, check out the post Find the Best Campsites in 3 Easy Steps.
What gear is essential?
Let's get into the gear! While you're going to be packing more accessories for this trip, you really need to nail down the essentials too.
Being prepared is vital for a successful family camping trip, and if you forget any of these, you clearly aren't prepared! Make sure you include the following in your trunk:
First aid kit: Make sure this is well stocked and replenished, too.
Flashlights: If you're camping with young children, you may also consider picking a windup night light too. Check out the list of the best camping flashlights for the best options.
Extra Batteries: You don't want to be caught with a drained flashlight, so be sure to bring extra batteries.
Insect Repellent: Bug bites are, unfortunately, par for the course with camping. Regularly monitor your children for bug bites and allergic reactions to bites. Moreover, chose insect repellent with a low DEET percentage (below 30%)
If you're going to be outdoors for the whole day, consider packing sunscreen with a high SPF (50+)
Rain Gear: Rain Jackets are a good option. However, if you're looking to save space, lightweight ponchos are a good alternative.
Camping Cooler: You'll definitely want a good quality one if you will be camping for more than a couple of days.
Sleeping Bags: Pay attention to temperature rating; choose bags designed for a temperature range that matches the nighttime temperature at your destination. The last thing you want is to be too hot all vacation. Check out this post about the best sleeping bags.
Camping mattresses, cots, or sleeping mats: This will depend on your children's age and the level of comfort you're aiming for. To find great cot options, check out this list of the best camping cots.
Camping Stove: As you're cooking for more than one person, it's worth opting for a double-burner camping stove. This will speed up cooking time massively.
Camping Lantern: Lanterns are great for area lighting, like around the cooking area.
Fuel: The above items need fuel. This poses the question, how much fuel should you take? Roughly speaking, a 16oz propane tank will last for about an hour on a high burn, so calculate how much you need in total based on how much cooking you plan on doing.
Camping cook set: With your pots and pans, make sure they are made from lightweight stainless steel. These will conduct temperature quickly and save on fuel. Side note: don't forget to bring can openers.
Layers (and lots of them): Depending on where you are, it can get cold at night. Therefore, extra layers are essential (especially for kids). Don't skimp on the number of fleeces, sweaters, or pullovers you pack.
What accessories will bring the most out of your trip?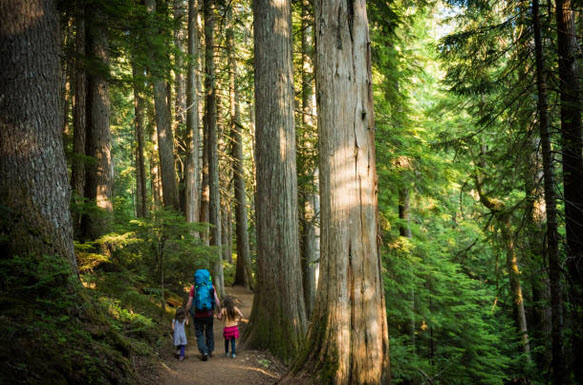 Now we've looked at the essentials you need, let's look at some of the fun accessories you can bring along on your next family camping trip.
Before you look at this rundown, you should sit down with your children and ask them, "what do you want to do when we go camping?".
This makes them part of the planning process and also gives you an idea of what to bring and what to leave behind.
In the meantime, here are some fun accessories:
Card and board games: If you've packed a foldable table and chairs, gather the family together and play a card or board game. For example, Uno is a camping must-have. However, if you're looking for something more physical, Twister is also an option.
Kites: Let's go and fly a kite! Get your Mary Poppins on and use all the open space to fly kites.
Scavenger hunts: Not really an accessory, but planning a scavenger trip in advance is a good way to get your children exploring and exercising.
Fishing gear: If you're near a lake or open water, pack some fishing gear. Challenge your children to catch your dinner!
Old toys and new toys: A mixture of old and new toys are a good idea if you're camping with babies or toddler. Old toys or plushies will give them a slice of home while on the road. Whereas new toys will get them excited and keep them occupied at the campsite.
That being said, all children are different. Pack accessories that you know your child will enjoy and aim for activities they've expressed interest in.
A lot of family campsites will offer different activities or equipment for rent, too. When choosing a campsite, be sure to factor in the different activities and gear they offer for your family.
Don't overthink it
Although family camping involves more planning, gear, and accessories than your average solo jaunt, it's recommended you don't over plan and roll with the punches.
Things can change quickly on these trips. Therefore, don't try to cram in too much, and allow your children to have unstructured playtime, too. As long as you pack the right gear and essentials, you're sure to have a family camping trip that's a lot of fun and will live long in the memory.
Save it for later