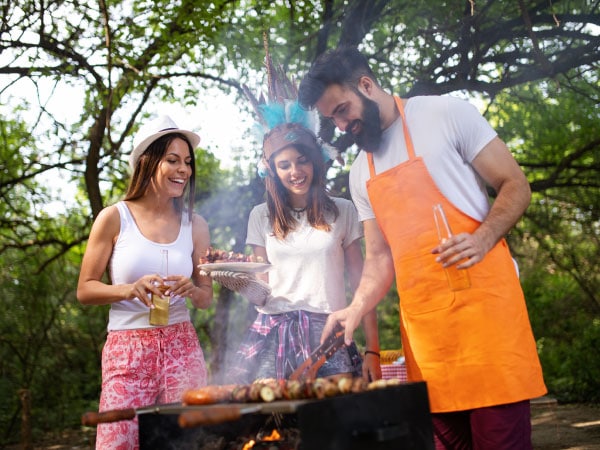 Camping – it's one of those experiences that we all treasure from our childhood, however, it's not all plain sailing. Indeed, for whoever should be "unlucky" enough to get landed with the role of camp chef, the entire experience can often be a lot more stressful than it should be. Luckily, though, camp cooking doesn't need to be a major headache. That's why today, we've come up with a list of our top 17 camping meals and dishes to help keep everyone a happy camper, while also saving on the toil for you!
17 Easy Camping Meals You Should Try!
If you've been thinking about going camping, then it's important to have a list of great camping recipes. Luckily, we've listed our 17 top camping recipes to help you make the most of the time!
1. Campfire Nachos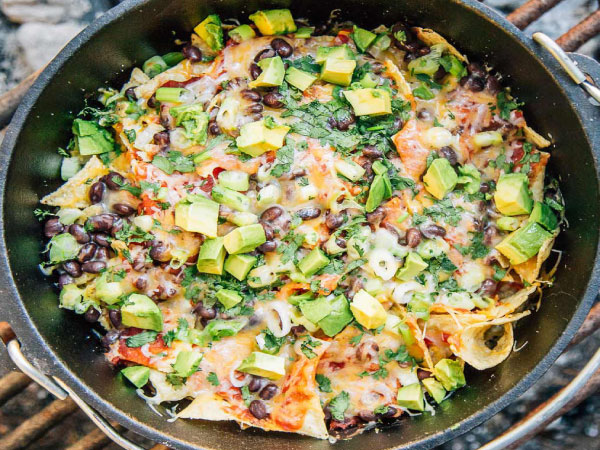 Quick and easy, campfire nachos are the ultimate camping meal that's sure to please absolutely everyone, and only takes a few minutes to prepare. You'll need a Dutch oven pan for this; simply mix together tortilla chips, cheese, and any other nacho toppings and sauces you like to get the best campfire nachos around.
2. Chickpea Curry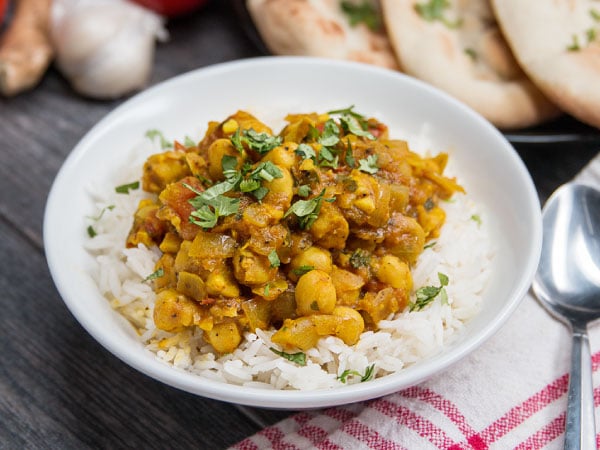 Who doesn't love a curry, and this easy take on a chickpea curry is a great camping meal that won't leave you washing up for hours after. It'll fill everyone up, too, so there'll be no one complaining later on for seconds.
3. S'mores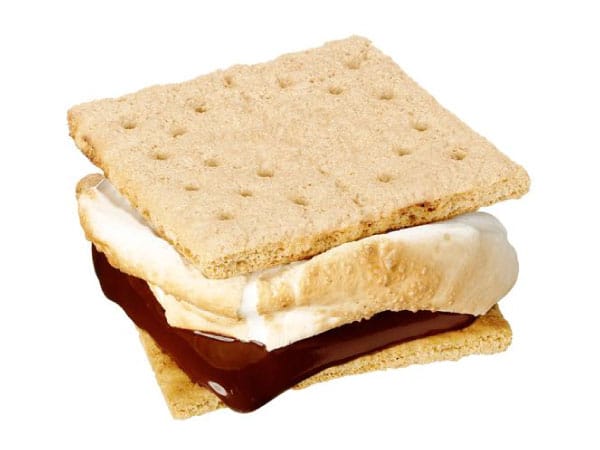 It had to be done. Indeed, how could we have a list of the best camping meals without mentioning the most quintessential camping dessert? S'mores are exceptionally easy to make – the easiest way has to be as follows. First, melt a marshmallow over your campfire, then smother this on top of a graham cracker. Then, while the marshmallow is still bubbling and hot, place a chunk of partially melted chocolate on top, and complete the 'sandwich' with a final cracker. Voila! The perfect camping dessert that everyone is sure to enjoy!)
4. Sausage and Bacon Baps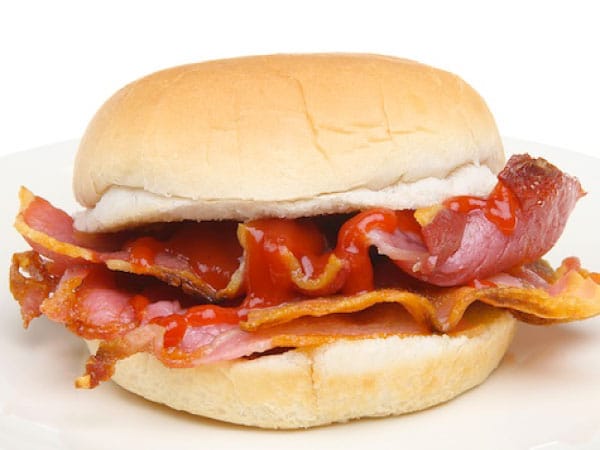 Sausage and bacon baps are the ultimate dish for any camping trip, no matter what time of day it is. Add eggs and sauce if you fancy, too. All of the ingredients can be cooked in the same frying pan, and for an extra special touch, make homemade bread too and warm the bread up ready for serving.
5. Mac & Cheese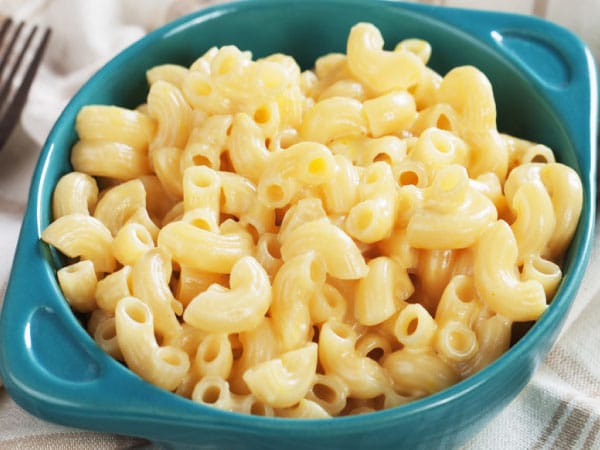 Mac & cheese – you can't go wrong with it, and it's an excellent camping dish too. Best of all, you can even make a simple version from scratch while camping, so why resort to tasteless readymade dishes when you could have piping hot, fresh mac & cheese for supper while sitting around the campfire? Simply combine cooked pasta, cheese, garlic powder, and a bit of mustard to give the mac & cheese a slight kick. Finally, serve with a topping that's made from crumbled-up potato chips for that characteristic crunch – this is the ideal way to add some extra flavor depending on the chips you choose, too!
6. Camping Hot Dogs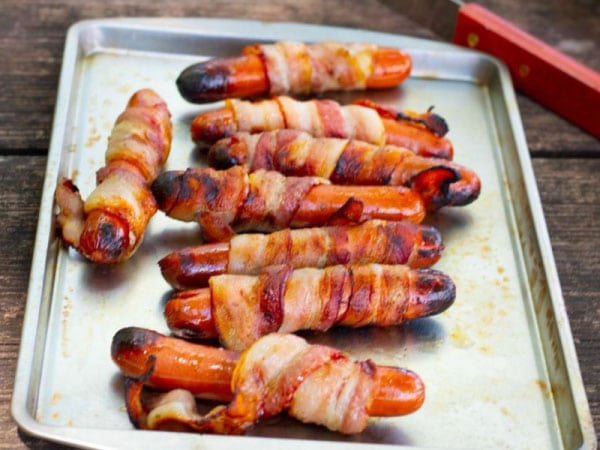 If you love hot dogs as much as we do, then this simple camping recipe could be perfect. Just prep camping hot dogs at home by wrapping your favorite hot dogs with crescent rolls at home, add a skewer through the hot dog, and then wrap in foil. Keep these chilled until you're ready to go at the campsite; then, just simply cook them over the fire as you would for a hot dog for about 20 minutes. Serve the hot dogs with your favorite side dishes and sauces. No mess, no cleaning up, and completely delicious!
7. Apple Crisp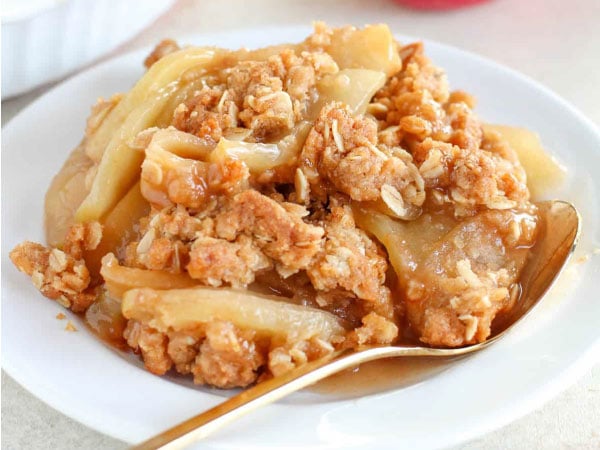 Did you know you can make an absolutely delicious campfire version of apple crisp simply by sauteing sliced apples in butter and brown sugar in a pan? This can even be prepared at home, so all you need to do for a delicious dessert is sauté and serve. Sprinkle with your favorite granola for a no-waste, no-fuss crunchy topping!
8. Grilled Corn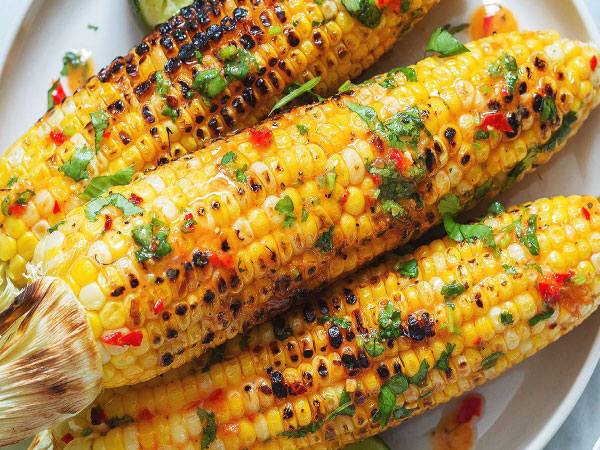 Another campfire classic, corn on the cob is simple to cook; just add a skewer and cook it over an open flame, then serve with your favorite sauces. Melted butter is a popular choice, of course; otherwise, why not experiment with popular corn topping mixes.
9. Chicken Skewers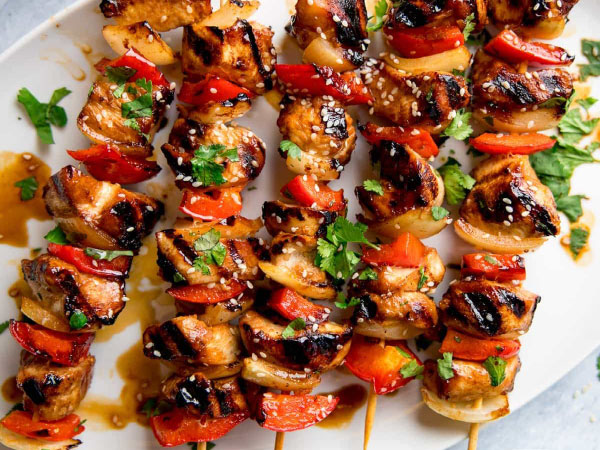 To save on washing up and time at the campsite, try these delicious chicken skewers. Chop chicken, pineapple, and red onions and prepare these on a skewer. Marinade the skewers in your favorite flavors, then simply cook over the fire when you're ready for dinner.
10. French Toast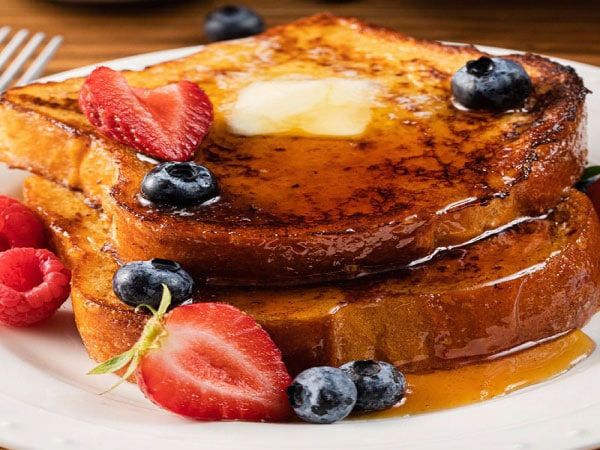 Quick, simple, and delicious. French toast is easy to make by frying sliced bread in egg, and then serve with your favorite toppings, be it sweet or savory.
11. Pancakes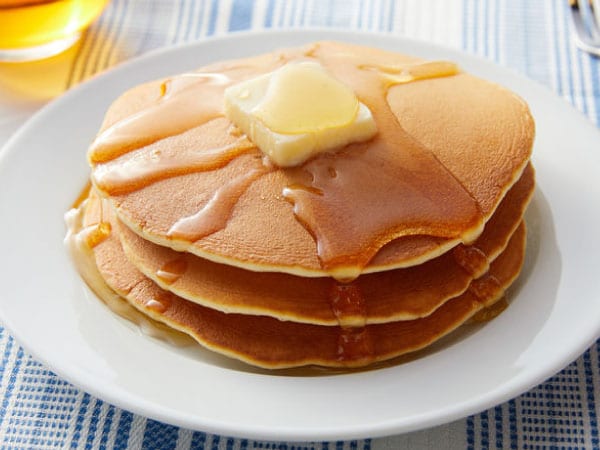 Pancakes are exceptionally easy to make, or for an even easier life, pancake mixes can be a great last resort for saving on cleaning with your camping trip. Notably, pancakes can be served with either sweet or savory ingredients, too, making them ideal for any time of day!
12. Baked Croissants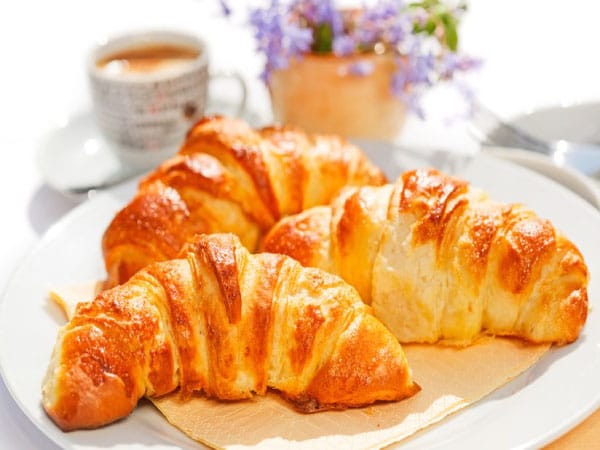 Most people think of croissants as a breakfast ingredient only – however, these delicious, flaky pastries can be filled with many savory fillings too. Since they're already cooked, you only need to cook them momentarily to warm them up for a delicious campfire meal.
13. Ready-Made Stews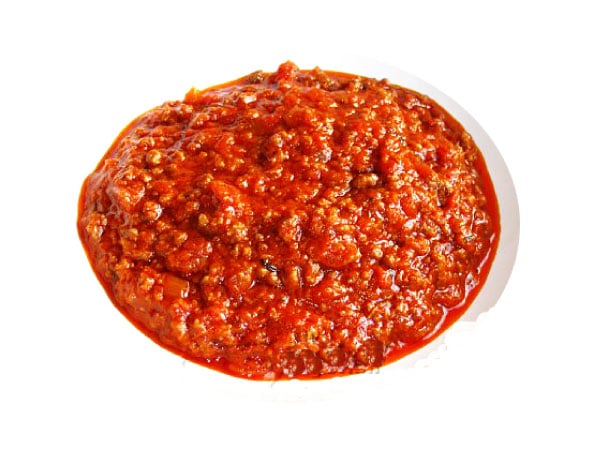 If you don't fancy doing much prep for your cooking trip, then a ready-made stew can simply be reheated over the fire and served up, piping hot, with fresh crusty bread for a delicious camping meal. You can get canned stew, too, though these aren't quite as good as fresh inevitably.
14. Your Favourite Pasta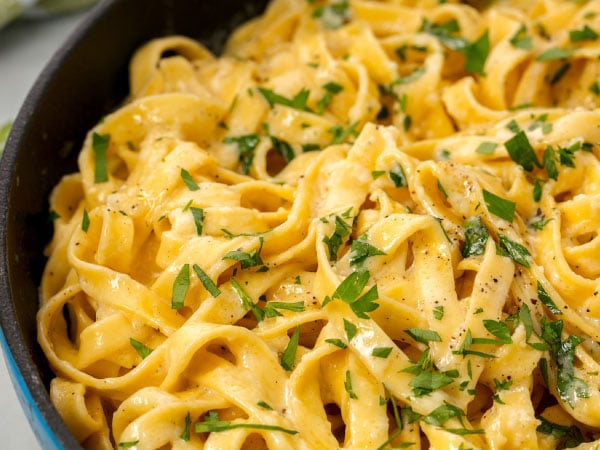 Pasta dishes are exceptionally simple; just cook some dried pasta, drain it, add your favorite sauce and any toppings of your choice, and you've immediately got a camping dish that's sure to please everyone!
15. Pre-Made Camping Meals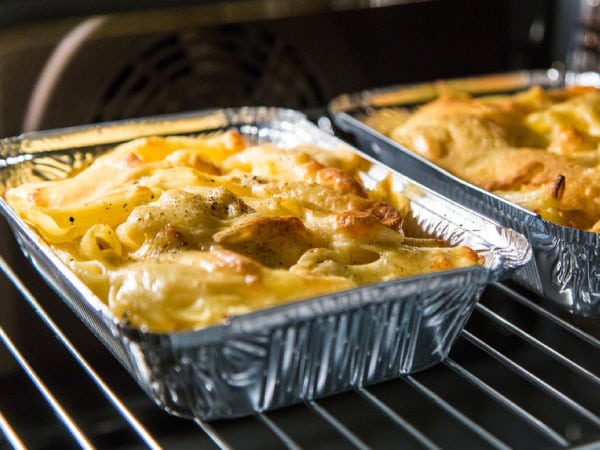 These days, a huge number of different dishes – from soups to casseroles and everything in between – are available pre-made in packets. If you want a really easy evening, take a few packets of these along, cook them, and serve them up with fresh bread. Easy, effective, no cleaning, and still delicious.
16. Popcorn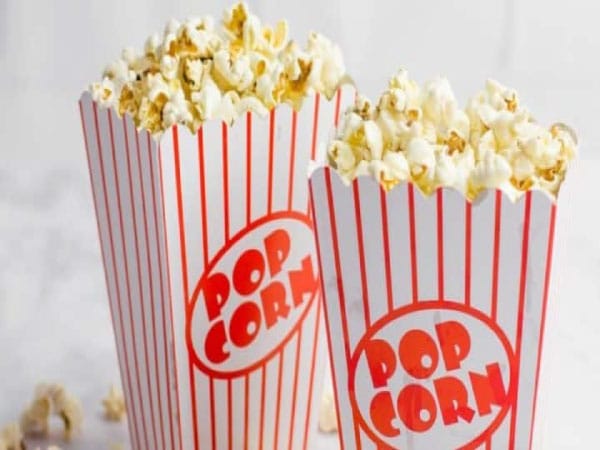 Who doesn't love popcorn? An ideal part of any camping trip for many, popcorn is super easy to make over a fire and can be served up with any of your top picks for flavorings. A perfect camping dessert or snack.
17. PB&J Sandwich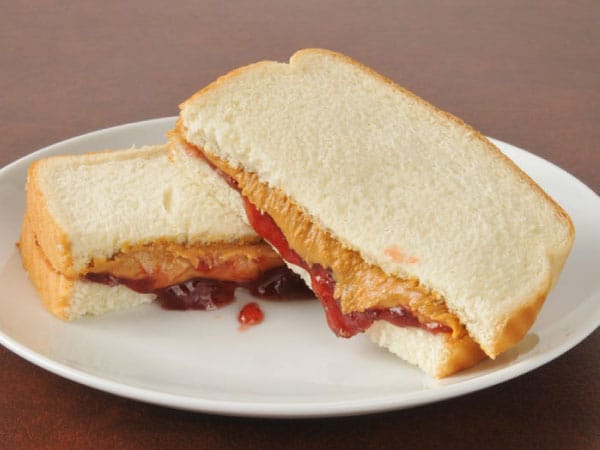 Nostalgic and delicious, PB&J sandwiches take very little time, are almost no mess, and it's tried and tested. What better option for a delicious camping dish?
Conclusion
We've taken a look at 17 easy camping meals that are sure to make camp cooking smooth and hassle-free. With the right recipes and equipment (such as the innovative, hassle-free camp cooking tools from here), you can serve up delicious meals for everyone. What's not to love?