Camping with the family is one of the best ways to really reconnect with your spouse and kids without the distractions of everyday life. If you are ready to take your family camping for the first time, but you aren't sure where to start, we have some helpful tips for you.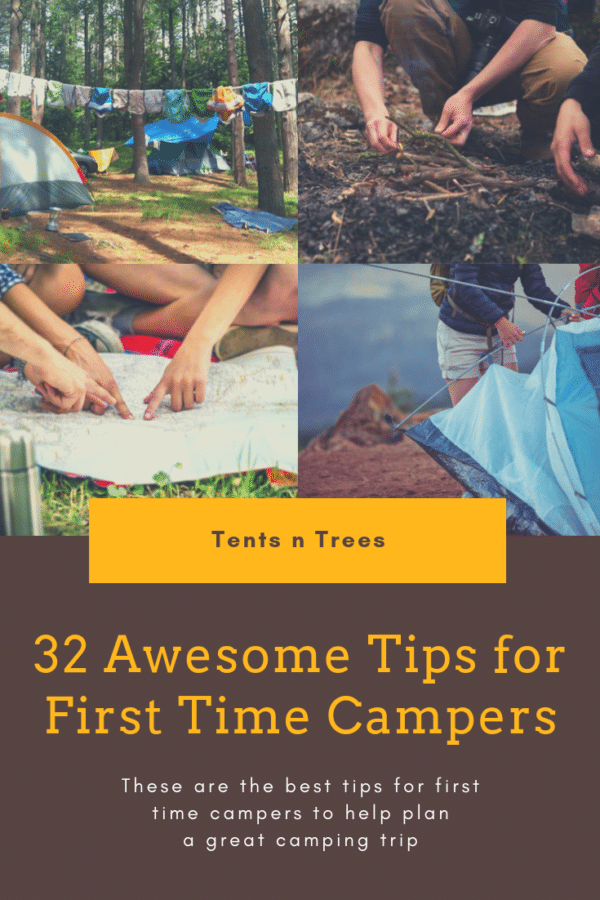 Camping Checklist
Your very first step should be to make a camping checklist. Personally, I make lists for everything to be certain I miss nothing. Getting out to your campsite without essential items can completely ruin your first trip, especially if you cannot easily get to a store to purchase them. Your checklist should include everything you need for the length of your trip.
Choosing a Campground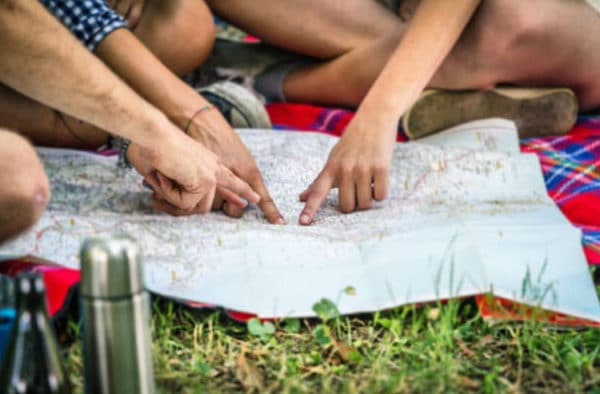 Campgrounds are the best place for first-time family camping. Many will offer choices between rustic campsites or campsites with electricity and access to running water. This allows you to choose your level of "roughing it."
The following tips are important to remember when choosing your campground.
Keep it short
Limit your first camping trip to two to three days and build up to longer trips as you go. This will give you time to adjust to camping without being overwhelmed. It also allows you the chance to decide what works for you and what doesn't as far as your gear is concerned.
Stay close to home for your first trip
Look for campgrounds near your home for your first go at it. In the event of an emergency or you simply forgot something major, you are still in your own territory and can easily cancel your trip.
Research campgrounds
Decide what amenities are necessary for your family. Many campgrounds offer communal restrooms and showers. This is a huge plus if your kids are anything like mine and seem to be dirt-magnets.
Do you need access to electricity or do you prefer a more rustic experience? If you need electricity, make sure it is accessible at your chosen campground site. Other amenities might include swimming pools, hiking trails, horseback riding, beach access, game courts, and canoeing. You might need to bring extra cash for these activities.
Know your campground's rules
All campgrounds have rules and knowing them in advance will help you choose where you stay and what you bring. Your pets might be allowed at one campground but not another, for example. So, it is important to know what's allowed and what isn't.
Reserve your site
Camping is a popular activity during school breaks and holidays. Be sure your family doesn't miss out by reserving your site in advance. If you are wanting to camp during holidays like July 4th, Memorial Day, or Labor Day, be sure to book well in advance as these are popular times for camping.
Print a campground map
Prepare ahead of time for your trip by printing a map of the campgrounds. It will help to know where the restrooms are in the event of midnight runs.
Purchase a Tent
Tents can be deceivingly small. A good rule of thumb is to find a tent that sleeps at least 2 more people than are in your party. For example, a family of 4 should use a tent rated to sleep 6. Doing so will ensure there is enough room for everyone and their gear. Check out our post about the best large family camping tents to find one that works for your family.
Setting up Camp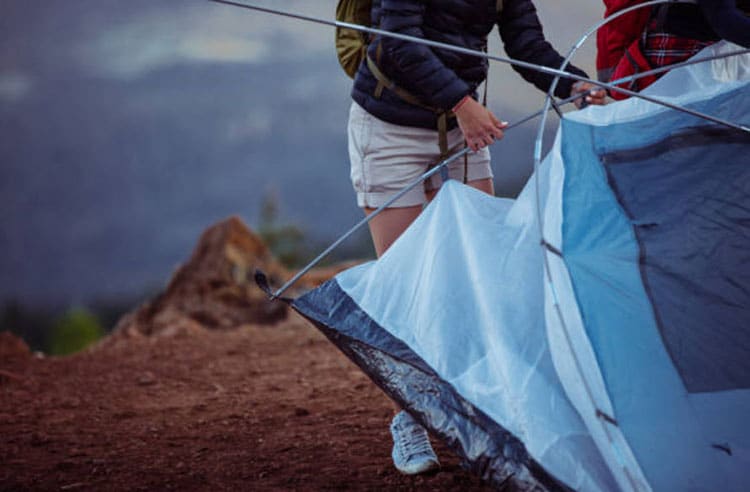 You've found the perfect campground, purchased a tent, and you're looking forward to a long weekend of fun and relaxation. Here are some tips to help you efficiently set up your camp once you've reached your destination.
Arrive Early
Not only will arriving early ensure you have enough daylight to see what you're doing, but it shows respect for other campers in your area. By evening, many campers are winding down from a long day of activities, and other campers just setting up can be disturbing. Don't be those campers!
Pick a level spot to pitch your tent
Well-established campgrounds should already have plenty of level, cleared grounds for setting up your tent.
Pitch your tent downwind of your fire pit
Your fire will most likely be burning into the late evening so you want to make sure the smoke isn't heading toward your tent. No one wants to sleep in a smoke-scented tent.
Bring a mattress or sleeping pad
A simple air mattress for every two campers will make a world of difference for everyone's sleep. It will keep your family off the cold, hard ground and add a little cushion to your slumber.
Bedding
Bring sufficient bedding. A sleeping bag for each person as well as extra blankets means you're ready for unexpected temperature drops at night. Check out our post about the best camping sleeping bags to find some great options.
Lighting
A few strands of battery-powered LED rope light will give you just enough illumination to see in your tent in the evenings. They can easily be hung from the tent poles or on the many straps inside.
Portable Fans
A small, portable fan can help decrease humidity inside your tent on warmer evenings. Look for a battery-powered or rechargeable fan with a clip if possible.
Campfires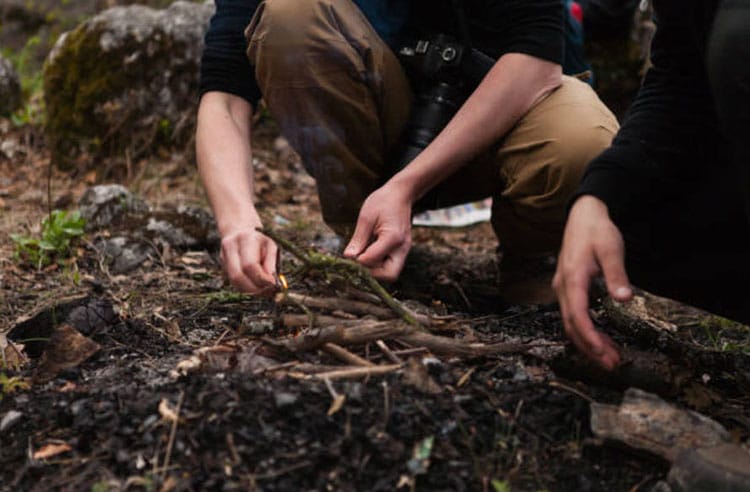 Your campfire will be a central gathering spot for meals and entertainment most days. Though some campgrounds sell firewood and other items to make your campfire, it is a good idea to bring most of your own items.
Fire Starters
You can use something as simple as cotton balls with petroleum jelly on them to get a fire started. Other options include small brush, leaves, small fire-starter logs, or even a commercial fire starter like InstaFire.
Firewood
Many campgrounds and even local homes on the way to the campground will offer firewood for sale. This is a great option for back-up, but it is not wise to depend on it, especially during busy camping holidays. The campground could quickly sell out leaving you without a fire for your entire trip. Instead, bring your own firewood. About 12-14 small to medium logs per day should be sufficient.
Douse your fires
Always remember to douse your fires before bedtime or upon leaving your campsite. This especially important in drier climates where wildfires are a threat.
Camping Food and Water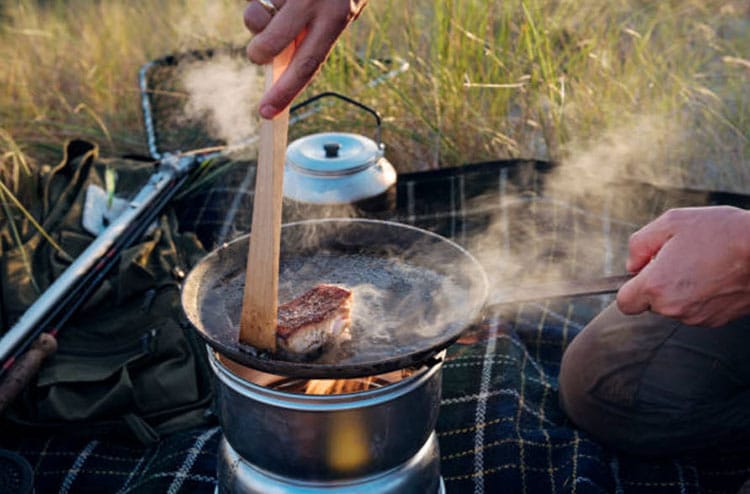 Believe it or not, camping does not mean you are stuck eating whatever you can put on sticks and roast over an open flame. Check out one of our prior blogs titled "Camping Food and Cooking Guide" for ideas on how to plan meals and eat well while camping. The following tips will help you figure out what to take along for your meals.
Drinking Water
You will need water not only for drinking but also for cleaning. A 5-gallon cooler akin to the ones you see out on the ballparks is a great way to ensure the family stays hydrated. Make sure you will be able to refill it at your campground, or plan to pack extra gallon jugs of water.
Cleaning Water
Whether you need to quickly clean your hands or wash dishes from dinner, cleaning water is necessary. For sanitary reasons, it should be kept in a separate container from your drinking water. If your campground is equipped with restrooms, you can use those for cleaning up and washing dishes. This will save you the hassle of hauling even more water along on your trip.
Dinnerware
Even if you are only eating hot dogs and chips, you will need plates and silverware. As I see it, you have two options: disposable or reusable dinnerware. Ah, the dilemma! If you choose reusable dinnerware, you (or the kids) will need to wash them after each meal which requires a wash basin and eco-friendly soap.
Likewise, if you choose disposable, you're adding to your carbon footprint while camping (of all things.) For first-time campers, I recommend this biodegradable, plant-based dinnerware set. This allows you the convenience of disposables without the guilt.
Cookware
If you do plan on eating hot dogs for most of your trip, you probably won't need much more than some sturdy roasting sticks like these. However, if you want to take your camping meals up a notch, I recommend a cast iron skillet and pot combo. This will give you the most versatility when cooking over an open flame.
Grills, grates, and stoves
Other ways to cook your meals include using a grill, a campfire grate, or camping stove. Sometimes, campgrounds provide grills at your campsite. You will find this information when researching your campsite or making your reservations.
Plan meals in advance
Planning and preparing your meals in advance can greatly reduce prep time while camping. I like to make a hearty beef stew ahead of time, freeze it in gallon freezer bags, and defrost and cook it at the campsite. Freezing food flat in freezer bags also saves space when it's time to stock your cooler. Chopping up vegetables, meats, and even fruits ahead of time means less work for you at the campsite. If you put in a little work in advance, there really isn't anything that is off-limits for camping meals.
Food Storage
I would recommend bringing two coolers for your food including one for food that must be kept cool and one for nonperishables. A locking cooler is a wise investment because the wildlife doesn't care that you only packed enough steaks for your family of four. You may wake up one morning and realize most of your food has been sampled if you do not have a lock on your cooler.
Camping Clothes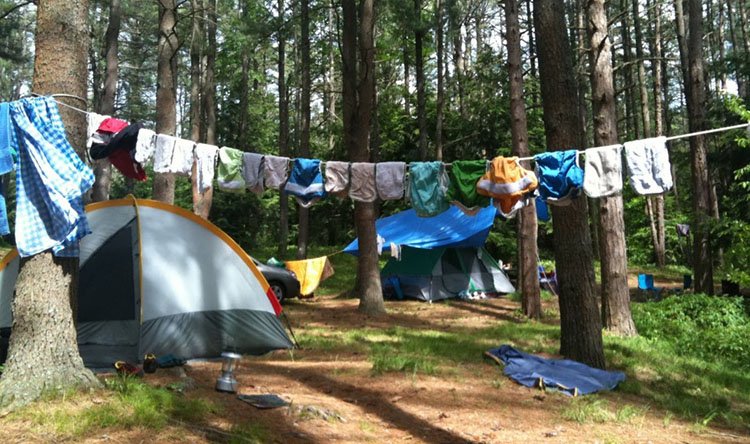 Dressing appropriately for conditions at your campsite is essential to your enjoyment. Remember that the weather can vary greatly even within a few hours from your home. Check forecasts and plan accordingly.
Clothing for all conditions
Hot, steamy days can quickly turn to cool evenings once the sun goes down. It is important to be prepared for all weather conditions. Obviously, if you are camping in the south in the middle of summer, you probably do not need to bring your parka. On the other hand, you probably won't need a swimsuit while camping in the mountains. You will want to bring at least two sets of clothes so that you have a clean pair to change into should your others become soiled. Below is a list of a few items you may not think to pack, but they would come in handy in the right (or wrong) weather conditions.
Raincoats or ponchos
Hoodys or sweaters
Extra shoes and socks
Hats
Swimsuits
Clothesline
Hanging a clothesline between two trees is a good idea for drying out clothing that has gotten wet from adventures or recent cleaning. A simple clothesline rope can easily be tied up for these purposes.
Personal Hygiene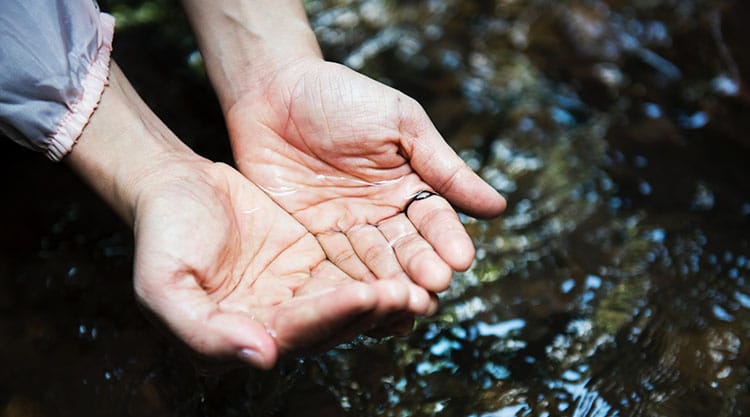 Camping does not mean you get to forget about all personal hygiene. Sure, you might substitute a dip in the lake for a shower one day, but eventually, things are going to become smelly. If you're all camping in one tent, this can quickly become an issue.
Personal items
If your campground is equipped with showers, you will be able to use your own shampoo and soap. If not, items like wet wipes can be a lifesaver on short camping trips when you need to freshen up. A few other items you should remember to pack include:
Toothpaste and brush
Deodorant
Hairbrushes or combs
Contact solution (if needed)
Entertainment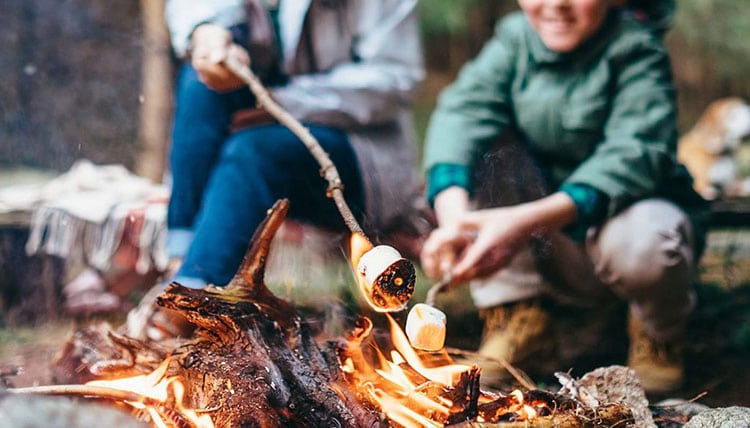 Most campgrounds offer a range of activities for campers. However, you may prefer to bring some campsite games of your own. It is also wise to be prepared for unexpected rainy days spent in the tent. The following tips are ideas to help keep you and the kids entertained while camping.
Active games
Games like bocce ball or cornhole are fun for the entire family. If you already have these games at home, you can easily bring them along. You can also find a list of the best camping games for kids here.
Board games and cards
Cards and board games are great to have on hand in case of unexpected rain or storms.
Books
Reading a book does not have to be a solitary event. Find a family-friendly story to read together around the campfire. Ghost stories are always fun.
Marshmallows
Roasting marshmallows goes with camping like fireworks on the Fourth of July. Bring along some chocolate and graham crackers to make s'mores, a personal favorite treat of mine.
Extra, Extra!
The conglomeration of these tips should set you up nicely for your first camping trip with the family. However, there are always extra items that can increase your comfort level. In order to keep from overpacking, we've listed some of the most important items to take along with you.
Sunscreen
Cash
Charcoal and Starter Fluid
Matches or Lighter
Knife
Wet Wipes
Toilet Paper
Hand Sanitizer
Of course, you can pack whatever you think you may need but these essentials should get you started. We hope these tips help, and we can't wait to see you and your family in the great outdoors!