Getting out in nature with your family can be a relaxing change of pace. It's good to get away and unplug from everyday life and technology.
While I like to just sit and soak it all in, my kids like to be continually occupied. Let's face it; kids get bored. While children are excited about a new environment and like to explore, they do like to be entertained.
The key to combatting boredom and restlessness is to plan some activities and some fun camping games for kids.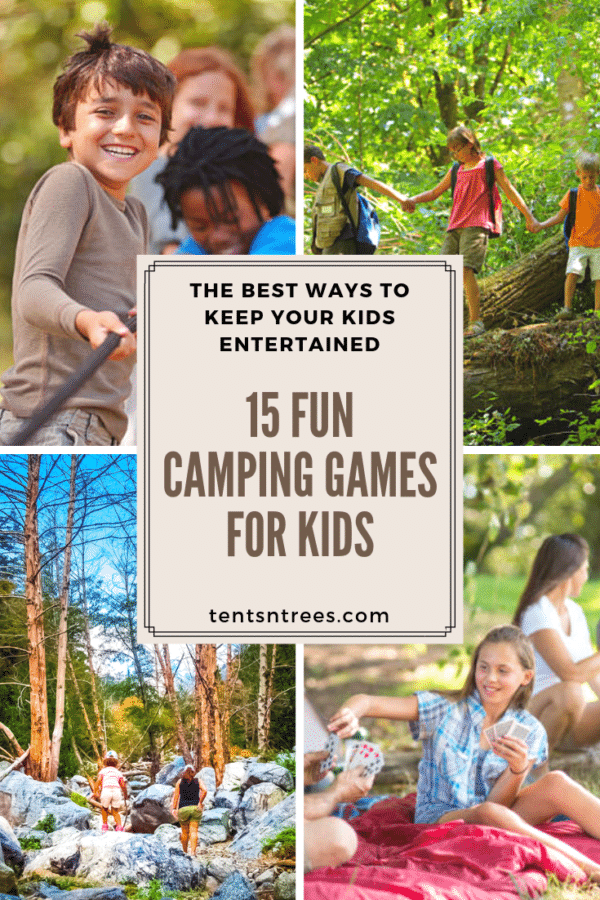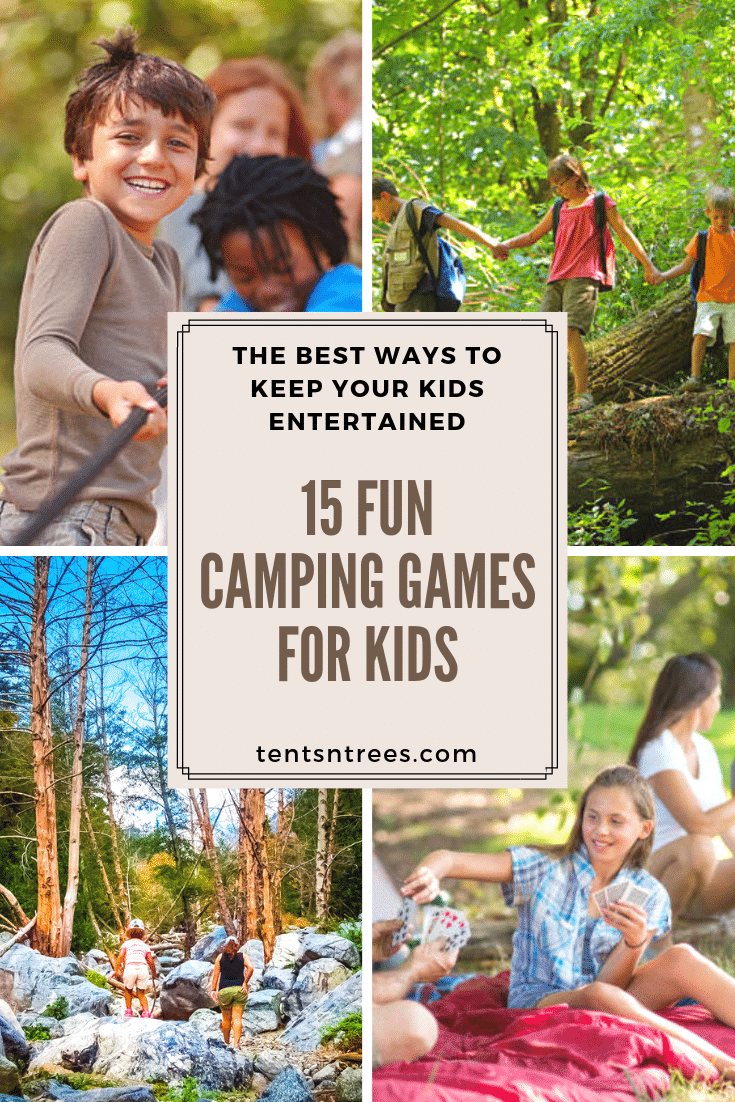 Bingo
It's a good idea to pack a few games that can be played indoors in case it rains and you're stuck inside the tent for a while. I learned this the hard way when I was concentrating on the essentials and didn't want to pack extra stuff. Well, the weather unexpectedly turned, and I had some bored, restless kids in the tent for a couple of hours.
Bingo is one of my family's favorite games that can be played inside. Game pieces and bingo chips are so easy to lose, and rather than bringing small pieces along, I prefer to use torn-up pieces of paper, which can go in the campfire afterward, or pebbles that we collect.
Tug of War
Tug of war is a simple and fun game for kids. With a rope and a few people, you can have a lot of fun. Our kids really have a lot of fun with kids vs. dad or kids vs. mom tug of war. This is a game that works best with more people. We will play with only a couple of people, but we always have more fun when we get more people involved.
You can either bring your own rope, or you can buy a specific tug-of-war rope. Whatever you decide to do, make sure you bring a rope that is long enough for everyone that will be playing in the game together.
Scavenger Hunt
This activity will take a little bit of pre-planning to make a list of items to hunt for around the area where you are camped. The items that you pick will depend on the type of area where you'll be camping and what's available.
Make a checklist of about ten to twenty items to look for and print it for each person. The number of items on your scavenger list will depend on the age of your children. Also, if you have young ones who haven't learned to read, make the list using pictures of items they should look for.
You can include items like a pinecone, an acorn, something colorful, a leaf, a flat rock, a flower, a snail shell, etc. If you have older kids, you can get more specific with items, for example, a madrone tree leaf.
Treasure Hunt
Another idea that takes the scavenger hunt up a notch is a treasure hunt that uses riddles for clues. Make clues that state what the item does, and you can get creative with rhymes. Scatter clues on cards that are hidden in strategic places, which lead to a prize for kids at the end. Start by giving them the first card. Then when they solve the first riddle, it will lead them to the second clue, and so on. This game could be played with individuals or teams.
The prize at the end can be candy or some other special treat. This is one of our favorite camping games for kids. Our kids love it and look forward to it on our camping trips.
Flashlight Tag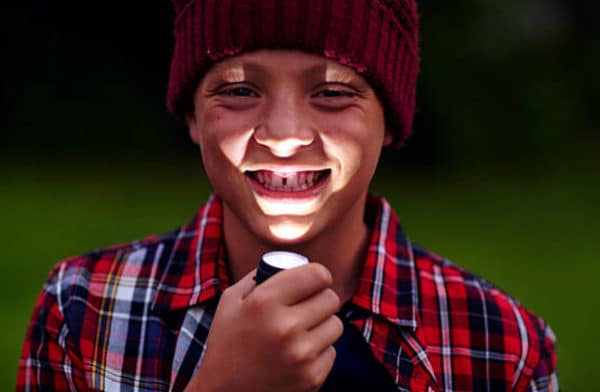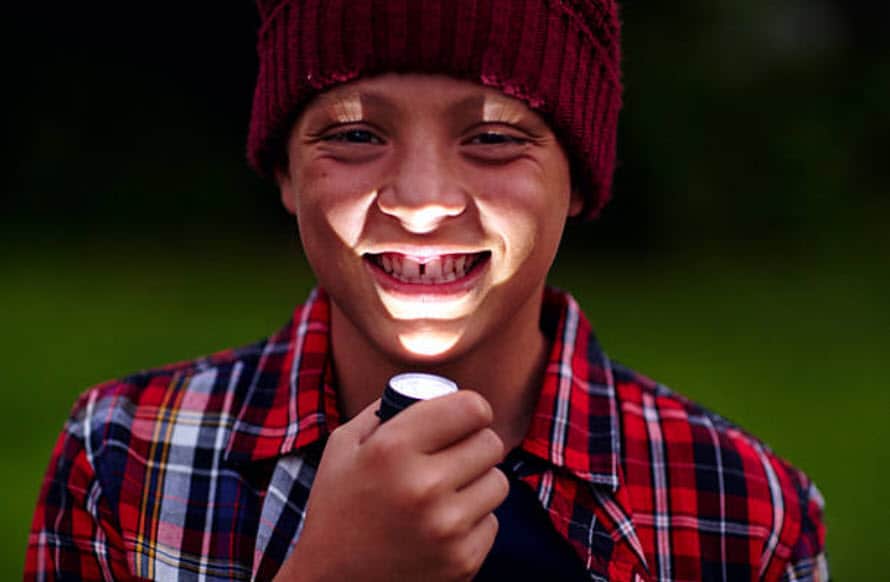 Flashlight tag is a great activity for after dark. This game is like a regular game of tag but uses a flashlight instead of physically tagging players. The player who is "it" has a flashlight, and everyone else must try to avoid getting tagged by the beam of light. This is one of our kids' favorite games to play while camping. You can find an awesome list of the best camping flashlights here.
I Spy
A game of I Spy doesn't take as much preparation as a scavenger or treasure hunt. It can be played with younger children and can be good for those times that you want to just sit around your camp. I love this game because it helps with teaching initial letter sounds by matching them to objects. I prefer to say, "I spy with my little eye something that starts with the letter…"
Glow Stick Ring Toss
My children love glow sticks! Play a game of ring toss with glow stick rings after the sun goes down. Give each player three glow stick rings using glow stick necklaces. Stick a 12-inch glow stick into the dirt so that it is standing straight up out of the ground for the post. Take turns trying to throw your glow stick rings over the stick.
You can even find a glow-in-the-dark ring toss game set on Amazon. It gives you everything you need to enjoy the game, even once it gets dark.
Obstacle Course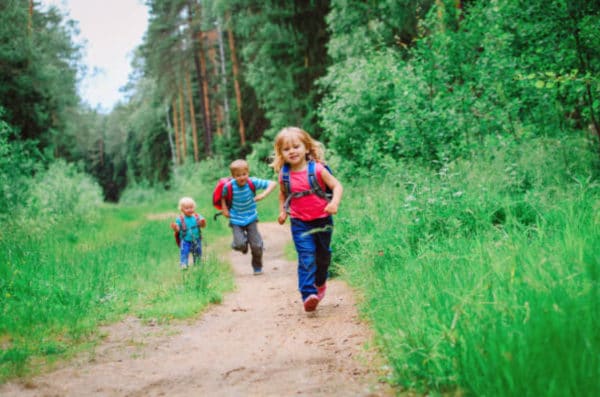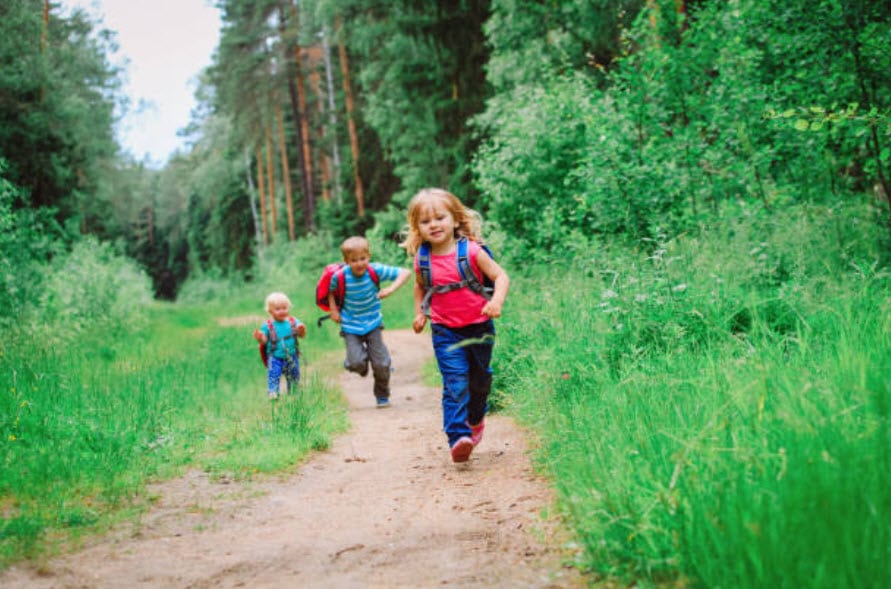 Another great camping game for kids is an obstacle course. Kids can have a lot of fun running through an outdoor obstacle course. Stumps, fallen logs, and other things around the campsite can be used to make the course.
The setup will depend a lot on the local terrain. An example would be: run around the campsite, jump over the stump, do ten jumping jacks, and climb over a fallen tree. Not only is this fun, but it burns off rambunctious energy.
Skywatching
The stars in the sky are full of wonder, and stargazing can be both fun and educational. Bring along some star charts of constellations to look for and see if there are any meteor showers happening. There are some fun apps that you can download that make stargazing more fascinating. The iTunes App Store has SkyView, and the Google Play store has Star Chart.
My family likes using binoculars because they make the experience more fun, and they are easy to bring along. You could also bring along a telescope to get a more up-close view.
Bean Bag Toss
For this cool bean bag game, I like to use four different colored plastic storage totes or baskets. Arrange them in a line and assign point values: the closest is worth 10 points, while the farthest is worth 40 points.
The players take turns tossing the bean bags in the totes, trying to get the most points. If you have a smaller campsite, this game can also be simplified to just one tote and modified so whoever gets the most bean bags in wins.
Water Balloon Toss
When it's hot, there's no better way to cool off than with water balloons. If you are camping near a water spigot, fill a bunch of water balloons to play this game (use these water balloons, they are so much easier than the individual ones). Have kids partner up and take turns tossing the water balloons back and forth.
Each time the balloon is passed successfully, without breaking, the players must take a step backward. If the balloon breaks, the dry person is the winner. Undoubtedly, any game involving water balloons and kids will involve everyone getting splashed with water by the end.
Remember to pick up all the water balloon pieces once you are done. You definitely don't want to leave these around your campsite.
Amazon Games
In addition to these awesome games, you can find a lot of great camping games on Amazon. There are board games, card games, yard-style games, and a whole lot more. Some of our favorites are the yard-style games. Our kids always look forward to pulling out these games on our camping trips. Here are a few of our favorites that we got from Amazon.
Rally and Roar Ladder Ball Toss Game for Adults, Family - Fun Golf Game Set with Six Colored Bolos, Scoreboard, and Carrying Bag - Outdoor Yard Games and Activities
TONS OF FUN: This Ladder Toss Game is a party game for adults that is sure to be a big hit. The perfect party accessory, our 2-4 person drinking game ladder toss set is both challenging and fun. With jumbo outdoor games being all the rage, this is a must.
EASY SET-UP, BREAKDOWN, AND STORAGE: With an easy-to-follow installation guide on the bag and pre-glued joints, assembly of this giant yard game is simple and easy, especially with the waterproof, lightweight nylon travel bag.
Sale
Go Have Fun
You are now armed with some of the best camping games for kids. This list of games is actually only a small group of all your possibilities. There is an endless amount of fun you can have with your kids while camping. Use these games, try different games, make up some new games, or do whatever else sounds fun for you and your kids.
Now it's time to get out, go camping, and grow closer as a family.