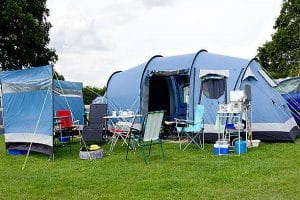 Tenting is one of the oldest forms of camping, and it's a great way to immerse yourself in nature. Tents are usually waterproof so that you can shelter from rain or snow. And with all the modern conveniences for camping, staying warm and dry is easier than ever before.
However, your tent can grow stinky, dirty, and unusable after a few trips.
Are you looking to maintain your tent in good shape? Read on for some great tips.
1. Choose a Tent With a Vestibule
A vestibule is a small foyer outside the tent that you can use to store muddy boots and other dirty items and thus avoid bringing dirt into your tent.
2. Stay Organized
The fastest way to turn a clean tent into a filthy mess is to leave everything out of place.
Strew extra clothes around, and the whole area becomes a mess, or leave everything unattended, and that puddle of water under the table will soon become a pond. If you also scatter dirty shoes and clothes around the tent, it will be stinky in no time.
Be sure to maintain order. This is possible through simple arrangements such as separating dirty or wet items from dry ones.
3. Pitch Your Tent Near a Tree That Will Provide Additional Storage for Your Camping Items
It would be best to pitch your tent as close as possible to a tree. This will help protect your tent from direct sunshine, and in addition, it can provide storage solutions for camping items such as lanterns, clothes, shoes, and towels.
To utilize the tree as a storage solution, you will need to use S hooks, so remember to carry these on your next time out.
4. Bring a Dustpan and Brush
You'll find that dust and dirt tend to stick inside your tent. A good dustpan and brush will make it easier to clean your tent floor.
5. Use Bags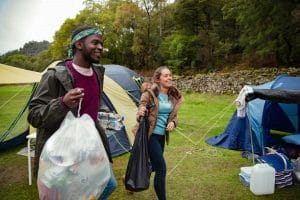 Don't forget to bring plenty of plastic bags. You can use them to store dirty laundry and other wet items. Also, be sure to put all of your garbage in the proper trash cans.
6. Use Your Rubber Car Mats
You can lay out an old rubber car mat or two at the tent entrance. This is perfect if you're camping on a wet or muddy surface to help maintain a clean environment inside your tent.
7. Never Leave Food Scraps Lying Around Your Campsite
Food scraps can attract ants and other insects. Don't be tempted to bring these out into your tent. If you must, do so in plastic bags to prevent ants from entering your tent. You can also consider using dinnerware with lids or resealable bags to store any leftovers.
8. Create a Reusable Camp Kitchen
As already mentioned, food scraps tend to attract unwanted critters. Look for ways to minimize your waste, including creating a reusable kitchen.
You can bring along cheap and easy-to-use camping gear like folding tables and chairs, reusable plates and cups, and plenty of dishes.
9. Utilize Your Tent's Mesh Pockets
In many tents, you will find mesh pockets in the tent's interior, which can come in handy while looking for apace to store items such as clothes and toiletries. This will help you manage your space. If your tent lacks these incredible additions, you can consider having them sewn.
10. Use a Foldable Camping Cart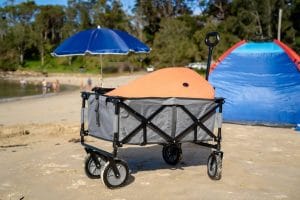 You will find that having a foldable camping cart handy makes it easier to move your belongings from the car to the campsite. You can also use foldable camping carts as storage facilities to help free up room and maintain order and cleanliness inside your tent.
11. Brush Your Tent Out Before Packing It Up
Now that you have successfully maintained your tent in a clean condition throughout your camping period, you need to ensure that it remains clean for the next day out.
Please make sure that your tent is easy to wash in the distant future.
No matter how cautious you are, you will always find dirt and dust particles on your tent. Use a brush to eliminate them.
You will also want to be sure that the storage bags are empty of all the garbage you have stored inside them. This can help prevent odors in your tent.
Another thing you will want to do is clear up the ground at the site before packing up. This ensures that no debris is collected and easily swept by your tent.
While it may sound basic, this step will go a long way in maintaining your tent in a clean condition.
12. Wash the Tent Outdoors Before the Next Use
You will want to take your tent outside, unpack it and wash it several times. This will remove any dust or wax remnants on the fabric. Some people also soak hand towels in warm soapy water and use them to get off any odor from the tent.
An excellent way to wash your tent would be by laying it out on the ground. Then you will want to use a garden hose with fresh water.
In addition to using freshwater, you will want to make sure you use high-quality shampoo. Make sure it is a gentle shampoo that won't leave any residue on the fabric.
You can use a mild detergent and warm water and go over each area carefully. Ensure no soap is left on the tent, as soap can damage the fabric over time.
13. Always Dry Your Tent Before Folding It
Your tent is now washed. Now what? Rinse it and let it hang dry before packing it. Usually, you will want to dry your tent in the sun. This helps to make sure that there aren't any molds forming. Molds are not desirable. They cause unpleasant smells and can also cause permanent damage if left uncontrolled for too long.
A good technique for drying out your tent is laying it out and spreading it.
After you have dried your tent, fold it into a neat square and place it in the storage bag. You will want to make sure that you do this when the weather is dry.
Protect the tent from stains and mildew by storing it in a large, breathable bag. Mesh bags with an elastic drawstring are great for letting the tent breathe while keeping out dirt and dust.
14. Wash the Stuff Sack Before Use
The stuff sack is probably one of the most neglected parts of your tent. You will want to clean and dry it before you use it to store your tent. Otherwise, it can be a breeding ground for bugs, molds, and mildew. This is especially true if you store the stuff sack in a damp area.
The best way to clean your stuff sack is by washing or wiping it down with a cloth dampened with water. You can also use mild detergent if needed but rinse it thoroughly. Dry the stuff sack on a clothesline outside after rinsing.
Keeping your tent clean is vital to having a great camping trip. As long as you take care of the equipment, it will be able to last for several years. This can help you save money on new tents that cost hundreds of dollars.
In addition to this, it is essential to keep your camping equipment clean and dust-free to stay free from bugs and other unwanted pests during your camping trips.