A frequently asked question is, how to save money on camping gear? Camping gear can get expensive but there is no need to spend a fortune on all the equipment you need. There are a lot of great ways to save money and still get what you want. If you are patient and a little savvy there is no reason why you can't get all your needs satisfied on a small budget.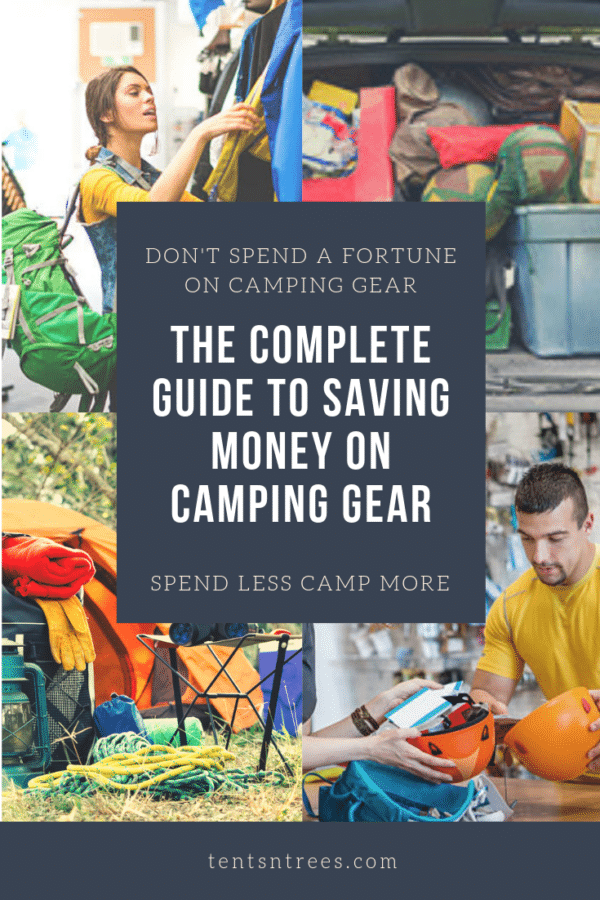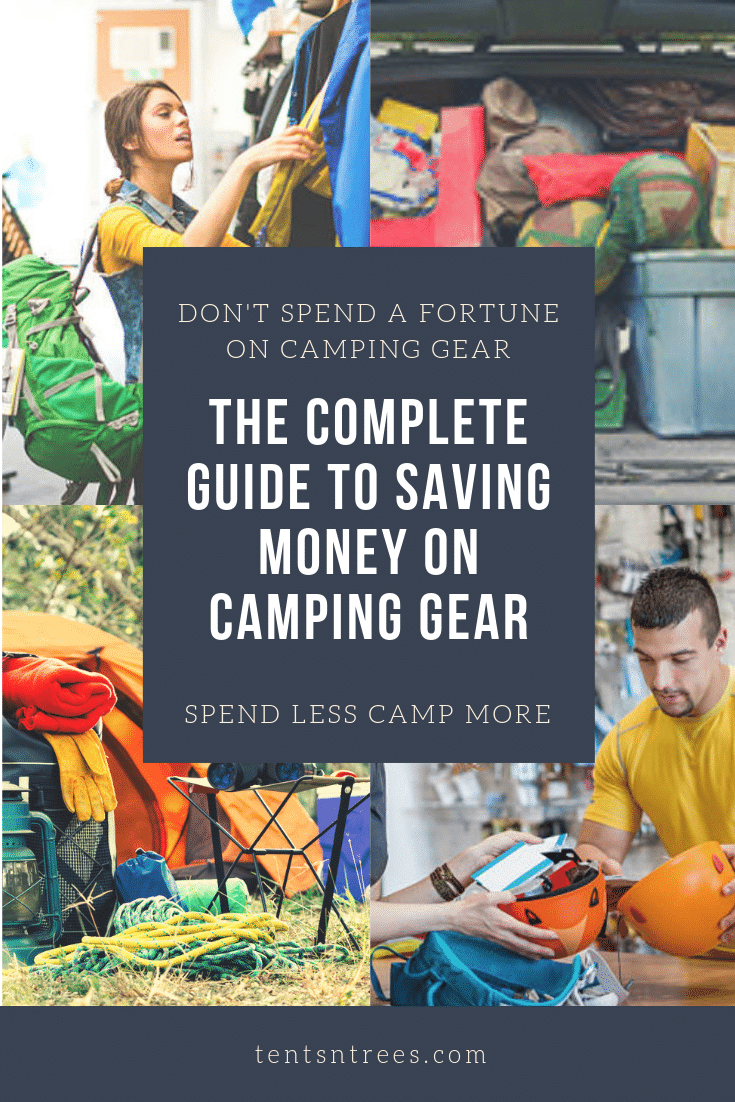 This guide focuses on general camping gear and family car campers. Regardless, the tips in this guide can help anyone learn how to save money on camping gear regardless of camping type.


Buy Used Gear
This is probably the best way to save money on camping gear. Buying used camping equipment doesn't mean that you have to buy something that is 20 years old. Likewise, there is no reason you have to consider equipment that the previous owner destroyed. You can often find relatively new equipment that has only been used a couple times. Similarly, you can find equipment that has more use but is still in great shape.
When it comes to buying used gear there is typically a tradeoff between getting exactly what you want and patience. To get the exact brand and style gear you want, you are going to need to be patient and consistent in searching multiple locations. If you aren't looking for a specific brand then it'll be easier to find something that fits your needs.
Local options
There are lots of great places to buy used camping gear. My go to places are typically local options.
Facebook Marketplace – This is where I find most of my used equipment we buy. I love that it is local, the prices are good and the sellers are often willing to come down even further on their price.
Craigslist – This is another great location where I have found lots of great deals. Like Facebook, people selling camping equipment often are willing to come down even on their listed price.
OfferUP – Very similar to Craigslist and is another great place to find people locally who are selling used camping equipment.
Non-local options
There are also some great non-local places where you can buy used equipment.
Shop the Clearance Section
Clearance sections are a great place to save money on camping gear and equipment. When I walk into a sporting goods store, I find the clearance section. I don't always find great deals but occasionally will find something good. Additionally, many stores have online clearance sections that allow you to search a much larger selection.
One thing to remember when shopping the clearance section online is shipping costs. If one store is selling something for $10 less than another but that store charges $20 for shipping when you get free shipping at the second store. Ensure you are mindful of final cost when shopping online. Shipping charges can change a good price into a not so good price.
Here are a few of the online clearance sections of some popular retailers:
Wait for Sales
When people ask how to find cheap camping gear another answer I often give is, wait for sales. Most of the large retailers, who sell lots of great camping gear, have regular sales throughout the year. During these times you are often able to find great discounts and promotions on lots of camping and outdoor equipment.
Here are a few of the regular sales I typically that often provide some of the best deals.
Father's Day
Father's day is one of the best times to find discount and sales at sporting goods stores. Most of the large retailers like Cabela's, Bass Pro Shops, and Sportsman's Warehouse have great sales. You can often find discounts you can't find other times of the year.
End of season
End of seasons is another great time to find great deals and low prices. Many retailers are looking to make space for the next season's equipment and willing to sell gear at a discount. Stores like REI, Cabela's, and many others will have a specific sale for the season.
For example, Winter clearance sales or a Summer clearance sale. The gear is brand new and you can often find low prices on exactly what you are wanting.
Holiday sales
Christmas is the most obvious holiday sale and you can find good deals during that time but I tend to have more success during other holiday sales. A few other holidays that retailers often have holiday sales are Labor Day, Memorial Day, and the 4th of July. These holiday sales provide additional times to find discounts on what you want.
You'll get the best results if you put in the effort and look at multiple retailers. One retailer with have discounts on specific items and another with have discounts on different items. Between them all, you can often find a discount on most types of gear.
Black Friday
Black Friday actually is not the best time to save money on camping gear. It is in this list mainly because of "Doorbuster" items. Many retailers will have a handful of super awesome deals but the rest of their gear is normally priced. If you are willing to show up early to get a doorbuster deal then you can some serious cash on a few great items.
Prime Day
Amazon's Prime Day is very similar to Black Friday. You can find a couple good deals but often when it comes to the camping and outdoor category there are only a handful of good deals. Prime Day is not an exact date but typically happens sometime in July. Keep an eye out for it in July and see what kind of deals you can find.
Borrow Equipment
I find that people often overlook this option. Who do you know that has camping equipment? Family? Friends? In my experience, those who enjoy camping are often willing to lend you some camping gear. While you don't get to keep the equipment this is a great way to get cheap camping gear for your next trip.
The important part of borrowing equipment is being willing and able to replace whatever you might accidentally break. Don't be that guy who borrows something and returns it broken. If you treat their gear well they will be more likely to let you borrow it again in the future.
I've borrowed a lot of equipment in the past and it was a great way to try out different brands and options. Borrowing gear will save you money in the long run. It makes it easier to be confident that what you buy will be right for you.
Rent Gear
Renting camping gear is another great way to save money. It also allows you get all the equipment you need without having to fork out the full cost of purchasing it all. Like borrowing gear, renting camping equipment allows you to try out different styles, brands, and options. It's a great way to figure out what you want before decide what you want to buy.
Here are a few places where you can rent camping equipment and gear.
Outdoor Geeks – Outdoor Geeks has a great selection and can accommodate virtually any type of camping you are planning on doing. They also provide entire packages. These packages include everything you would need from family camping to hammock camping. You also don't have to worry about shipping time as you are only charged for the time frame you actually use the gear.
LowerGear – LowerGear will ship camping gear anywhere inside the US. They have a great selection and it is pretty easy to find what you are looking for. Like Outdoor Geeks, you are only charged for the time you use the gear, not for shipping time.
Mountain Side Gear Rental – Mountain Side is another online rental company that will ship camping gear to you anywhere within the US. They too only charge for the time you use the equipment, not the time it takes to ship. Additionally, they provide camping and backpacking kits that come with all the essentials you'd need for a great trip.
REI Rentals – REI's rentals are only available in 12 states. If you live in one of the states in which they rent equipment, they have a pretty good selection and it lets you try before you buy.
Local University – Many universities will have a sporting goods rental department. Often, they will rent to the general public. The selections tend to not be as large but they normally have some of the best rental prices.
Don't Buy Name Brands
If you are on a budget, my recommendation is to not by brand name gear. Brand name products are often good quality but you are also paying for the name. If you do your research you can find quality gear from lesser-known brands without paying a premium. Don't be afraid to look at gear at places like Walmart. You can often find camping gear that will fit all your needs and is less than half the price.
When you are buying off-brand gear you do need to do a little more research. Read product reviews and read comments on camping forums. If you spend a little time you can often determine the quality of products before you buy. Additionally, search for common items at places other than sporting good stores.
There is no reason to buy general items like tables, chairs, tarps, etc. at sporting goods stores. You can typically find those types of items cheaper at other retailers.