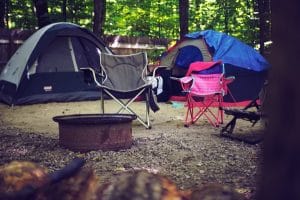 Do you enjoy the great outdoors and camping, but do not want to spend hours setting up and taking down your tent? No worries. If you have not camped since you were a scout, it might surprise you how different it is today. Today, instant tents for camping are all the rage – you don't have to struggle with pegs and tent poles. Below will find the 9 best pop up tents on the market.
About Instant/Pop-up Tents
So, what is the craze about instant tents? In the good old days, camping meant pitching a tent. It was difficult to set them up, and they were heavy. After figuring out which pole went where it was time for bed! It is easy to see why so many people have given up camping. However, if you have never tried a pop-up tent, then it is time to rethink your stance on camping.
It is easy to set up an instant tent at the campsite. These tents are built with integrated poles which collapse quickly and remain attached to the tent body. They are ideal for setting up in wet weather. Many of them do not even require that you read the instruction manual before repairing them. You simply need to unfold the tent, stretch out the poles, and lock it in place. In most cases, all you have to do is unpack the tent and lay it on the ground, and the tent will open automatically.

How to Choose The Best Pop Up Tent
The best pop up tents can now resist bad weather thanks to new materials, improved construction methods, and rigorous testing. Most of them can pitch so fast you would think it was a baseball pitch. Speed is one of the advantages of pop-up tents, but there are some factors and pitfalls to consider.
Size
It is important to choose the right size of instant tent, as a four-person tent will have a much larger footprint than a two-person tent. The best pop-up tents tend to collapse into a large disk, which is fine for transporting back to the parking lot after the festival, but not suitable for long walks in windy conditions.
Durability
While many of the latest pop-up tents are meticulously and rigorously tested to withstand wind, the use of flexible fiberglass poles puts them at a disadvantage in full-on conditions, especially during high winds. Be cautious during the winter months.
Costs
The cost of a product is a good indicator of quality. The cheapest pop up tents are better suited to gardens and beaches than all-weather shelters.
9 Best Pop Up Tents
Here we will discuss the 9 best pop up tents, their features, and the pros and cons. Let's begin!
1. Coleman 2-Person Pop-Up Tent
A lightweight and wind-resistant tent that assembles in 10 seconds and offers the best protection against the elements. This tent features inverted seams that increase weather resistance. Not only does it have a strong, durable frame, but it also resists wind. It is also lightweight and waterproof. The durable material is fire- and water-resistant, and it has finger latching weatherproof zippers on the doors.
A notable feature of the tent is its roof and adjustable flysheet. There is an option to remove the rain cover, allowing only stargazing and ventilation through the mesh. Coleman 2-person Pop-up Tent is one of the lightest on this list, making it an ideal choice for backpacking, festival camping, or use at campgrounds for solo or couple travelers.
Features
185T 68D Water- and fire-resistant polyester fly
Sets up in seconds
Rainfly and roof are adjustable
Waterproof flooring
Pros:
An ultralight tent
A great deal at a low price
Optimal ventilation
Cons:
Weak Zippers
Does not stay dry during heavy rain
If not folded properly, poles can snap
Sale
---
2. Night Cat Camping Tent (2-3 Persons)
For any outdoor adventure, the Night Cat Waterproof Camping Tent comes in handy. This waterproof tent has an advanced pressure mechanism which makes it easy to set up in 1 minute and can be taken down in less than 2 minutes.
The 210D waterproof PU 3000 fabric will keep you dry when camping on a rainy night. The tent is the closest thing you can find to a lightweight, compact shelter. The Night Cat Camping Tent has space that is roomy enough to fit a king-size mattress, as well as room for one child.
Features
Comes with an automatic hydraulic pressure design.
Sturdy enough to withstand torrential rain and strong wind
Two double doors for proper ventilation and easy access.
Indoor pockets for storage.
Rainfly can be used as a pavilion for beachcombing and fishing
Mesh windows to keep bugs out and fresh air in.
Pros:
Easy to set up and takedown
Windows can be open from the inside and outside
Easily disconnect the rainfly
Sturdy fiberglass poles
Cons:
Can leaks during steady rain
Rather small for 3 people
Night Cat Waterproof Camping Tent for 1 2 3 4 Person with Footprint Tarp Easy Instant Pop Up Tent Automatic Hydraulic Rainproof Tent with Rain Fly
【FAST SETUP & TAKE DOWN】 Advanced Hydraulic pressure mechanism makes it instant set up automatically in 1 minute, and easily take down less than 2 minutes, totally free you from heavy labors to set up a traditional manual camping tent, even a child can do it quickly
【RAINPROOF & WINDPROOF】210D waterproof oxford fabric PU 3000, waterproof PE tarp at the bottom, waterproof tape on every seam, to ensure the inside is totally dry under any rain situation even in the storm. Strong fiber glass poles guarantee the stability and long service life of using. Pegs and ropes make it stable in the hard wind
---
3. Hewolf Camping Tents 2-4 Person
Whether you need a tent for a camping trip, traveling, backpacking, or just putting up a quick shelter around your campsite, this camping tent is perfect! It sets up just by tossing it in the air, comes with two mesh doors and two windows to keep fresh air with its high-density mesh netting, and it comes in two sizes (2-4 person). The Hewolf Camping Tent has a large, roomy interior that can accommodate a child and two adults. So, bring your queen mattress. You can set it up in just five minutes, tops. Other features include:
Features
100% waterproof
UV protection inside and out
Constructed with 190T polyester fabric
PU2000 waterproof rating for the interior and exterior.
Body has a mesh interior, a polyester rainfly, a carry bag, a fiberglass auto mechanism, and 14 stakes
Two doors for adequate ventilation
Pros:
Free replacement of poles
Environmentally friendly
Fast and Easy setup
Durable and Waterproof
Cons:
As of yet, there are no cons to this brand
---
4. Toogh Backpacking Tent 3-4 Person Hexagon
Are you looking for the perfect lightweight and quick setup tent for your next camping trip or outing? No matter what the weather, the Toogh Backpacking Tent is the perfect piece of camping gear.
It offers easy access as well with two doors and it is roomy enough for four people to sleep comfortably. This tent features a non-stretch polyester material that is both durable and waterproof. A rip-stop layer gives it further durability.
Features
The center point height allows you to stand almost upright
Instant set up and collapse with hydraulic technology
Dual doors with high-density mosquito net
Provides maximum ventilation
A six-angle design for stability in inclement weather
Fits up to four people comfortably
Pros:
Has an exclusive patent
Risk-free purchase
24-hour customer care service
One-year satisfaction guarantee
Stores and transports easily
Cons:
No vestibule to allow you to stay outside when it rain.
Sale
---
5. Coleman Cabin Tent with Instant Setup – 2 to 10 Persons
The Coleman Instant Tent offers instant setup, rain or shine. With the WeatherTec System and inverted seams, it will provide your family with reliable protection from the wet and cold. The integrated vented rainfly further enhances Coleman's weather protection.
The tent has a center point height of 6'7" for tall people and is strong enough to provide shelter for up to 10 people. The Coleman Cabin Tent can be set up and torn down in less than a minute. Thanks to a sturdy and capable frame the tent can withstand winds of 35 mph. It also features a vented rainfly to keep the temperature down and darkroom technology to block 90% of the sunlight.
Features
Dark Room Technology blocks up to 90% of the sunlight
Setup is easy and quick at just 60 seconds.
WeatherTec system keeps the water out.
Carrying bag for convenience
Pros:
Reliable and durable
Maximum ventilation
Center point height of 6'7
Hinged door for easy access
Room divider for privacy
Cons:
Sale
---
6. AYAMAYA Tents 3-4 Person Instant/Pop Up
During those hot humid summer days, there's nothing better than a cool breeze and the protection of an Ayamaya tent. It provides protection from the sun and rain while keeping you comfortable during outdoor adventures. The AYAMAYA Pop Up Tent can accommodate supports four people with a retractable floor that opens back and offers room for a king-size mattress.
It also features a large window and two doors that open both ways, providing maximum ventilation. You can also open or close the large doors and windows. The mesh allows air to circulate as well. Made of durable, water-resistant canvas, the interior is slightly insulated to keep you warm.
Features
Has ventilated doors and privacy windows
Mesh material for airflow and protection from bugs
High-quality design material
Waterproof oxford and roof fabric
Storage pockets for your keys, phone, or other accessories.
Can convert window into a rainfly easily.
Pros:
Backpacking friendly
Lightweight and can sleep up to four people
Cons:
A few users reported leaks when it rained heavily
Sale
---
7. CORE 9P Instant Cabin Tent
In the rain, light showers, or even a visit from thunderstorms, this tent is perfect for any outdoor excursion. This is one of the best pop up tents because it features include a revolutionary heat-sealed rain fly and H2O Block Technology seams that protect from rain and wind. The CORE 9P Instant Cabin Tent also boasts a roomy interior that includes a telescoping external frame for quick and easy setup in seconds.
With a large mesh window and adjustable air intake vents, the tent allows for excellent ventilation. It also has extra-wide, heat-sealed tape that resists water, wind, and rain. They do not stand a chance. It can sleep up to nine people, there is plenty of space for your air mattresses and gear. Rainfly protects against any passing rain showers
The Core brand specializes in large tents. It's perfect for large groups that are always on the move. This model can accommodate a family of nine with all their luggage and gear.
Features
Comfortably sleeps nine people and contains two queen airbeds
Center height of 78″ which allows standing and walking.
Waterproof and ventilation with H20 Block CORE Technology and the -adjustable ground vent
Wall pockets for storage
Room divider for privacy
Integrated lighting system with 3 intensity levels –
A removable rainfly allows for stargazing through the inner mesh roof
Pros:
Large windows provide optimal ventilation
Spacious and comfortable rooms
Easy to set up and takedown
100% waterproof
Cons:
There are no associated cons yet
Sale
---
8. 12 Person 3 Room Ozark Trail Tent
Imagine spending the night under the stars surrounded by the wilderness. Now you can with the Ozark Trail 3-Room Tent! This tent is easy to set up and comes with elevated poles that are pre-attached. This tent is ready to go to its new home in an instant.
It is a four-season tent for large families or groups of friends. The 2-Person 3 Room Ozark Trail Tent sets up in just two minutes. With a center height is at 76 inches, it is ideal for campers with a taller torso. The tent features bug-proof windows, factory-sealed seams, and a mesh screen to keep insects out and let fresh air in. It includes an electric access port to charge your devices.
Features
Spacious three-room tent
76 inches Center point for standing and walking
Protect campers from insects
Electric access port for phones and other accessories
For comfort can fit three queen-size air mattresses
Pros:
Six gear organizer
3 access doors
Two-room dividers
Ten fully closable windows
Setup takes 2 minutes
Cons:
Sale
---
9. Gazelle 30400 T4 Pop-Up
You'll sleep soundly, safe and sound, every night of your camping trip once you use the Gazelle 4 Person Capacity Portable Instant tent. Gazelle's mushroom-shaped pop up tent is a shining example of innovation. The Gazelle 30400 T4 Pop-Up Tent offers a great design, and an easy folding/unfolding system. Setup takes only 90 seconds.
The tent has two doors for easy access and can accommodate four people. With a specialized ventilation system, it can block out the sun, rain, and other things that could disturb your sleeping. Additionally, the T4 is constructed with a UV50+ rating to protect from sunlight and rain. This tent will provide 61 square feet of floor space and a center point of 78" tall, which is plenty of room for four people.
Features
A tight weave mesh window allows ample ventilation while keeping insects out
Doors with D-shaped frames and tight-woven mesh screens allow easy loading
Zippers from YKK for durability and dependable performance
Easy to clean removable floor
Gear storage options include a removable gear loft, two large storage nets on either side and four pouch pockets on the wall
The rainfly is easy to install
Comes fully assembled with stakes and guy lines
The waterproof shell is made of 210 denier Oxford weave polyester
UV50 plus rating
Pros:
Setup is incredibly easy
Rooms are very spacious
Accessible and well ventilated
Sturdy construction
Cons:
There are some issues with the seams
Constant rain can wet the sides
At 65 inches long, bulky when packed
Sale
---
Conclusion
Our goal was to present an overview of the 9 best pop up tents, both for families (large and small) and for couples. Make your selection considering your needs, and always keep in mind that pop-up tents are convenient, but certainly not the best.
Look into these more professional backpacking tents if you plan to do more hardcore camping in uncertain weather. If you are traveling solo, check out the best one-man tents.