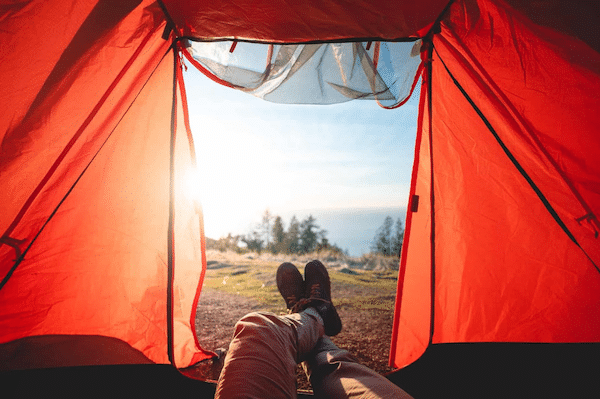 There's nothing quite like the peace you experience in nature. Camping is a great way to unwind from the demands of everyday life and focus on yourself. But a nice, relaxing camping trip can quickly become a weekend full of sleep deprivation if you aren't able to sleep comfortably in your tent. So how do you ensure a good night's rest in the great outdoors?
There are several factors that will help you be more comfortable at night. You need to find the right tent, determine whether to use a sleeping bag or an alternative and find the best environment to pitch your tent.
Finding the Right Tent
While sleeping under the stars with nothing overhead to block your view may sound like a peaceful way to spend your night it's not always realistic. You never know when the rain or wind will start up and turn your calm evening into a battle against the elements.
That's why finding the right tent is one of the most effective ways to ensure you get a good night's rest. Being able to sleep comfortably in your tent will help you to get the most enjoyment out of your camping trip as possible.
Size
The first thing you'll want to consider when choosing a tent is the size. Tents range in size from very small 1-person tents to studio apartment-sized 12-people tents. If you're going to be camping by yourself then you may want to opt for a single-person tent.
Unless you're a camper who falls in the overweight category. In that case, you're going to want to find a bigger tent, probably something in the 4-6 person range, to give you enough room to stand and move around.
It also depends on how much gear you're bringing with you that needs to be kept in your tent overnight. You're not going to be very comfortable if you're squished in between trekking poles and other gear throughout the night.
Make sure you get a tent that can fit you and your gear comfortably to ensure a good night's sleep.
Weather
Another factor you should keep in mind when purchasing a tent for your outdoor adventure is the type of weather conditions you're likely to experience. There are tents made for any and every temperature. Bringing along the wrong type of tent could leave you shivering or sweating all night and that's not going to allow you to sleep comfortably.
Warm Temperatures
Tents designed for high temperatures are made to help you stay cool. They often have additional features such as:
UV protection

Mesh windows or doors to provide more breathability

Durable material designed to withstand strong summer rainstorms

Waterproof materials
Finding a tent with all of these features may seem like a difficult task, but it's easier than you think!
The Marmot Limestone 6P Tent includes all of these features. It also has an easy-to-understand assembly process with color-coded rods that will enable to you set up your tent more quickly than most. Nylon fabric makes this tent more durable than others and provides extra protection no matter where you choose to pitch it.
There's also the Coleman 6 Person Tent with Screen Room that meets this checklist. As a bonus, this tent has been tested to withstand winds up to 35mph. If you're worried about a storm picking up during your camping trip then this might be a good option for you to consider.
Another great option is the Core 9 Person Instant Cabin Tent. This tent is perfect when you want to bring your family or friends along with you. It's incredibly durable and contains vents that you can open to provide more breathability. Due to the increased size and features, this tent offers it's going to be much heavier than other options. Weighing in at 30lbs, this tent may not be the best option if you're going to be hiking into your campsite.
Cold Temperatures
When it comes to cold weather you're going to be looking at an entirely different set of features that will help keep you comfortable. Whether you're going to be hiking in the winter or in an area where the nights drop below freezing, you're going to want a tent that has:
Strong material

Insulation

Waterproofing
Camping in the winter or cold temperatures comes with its own special set of challenges. You can still sleep comfortably in a tent in the winter as long as you're probably prepared. Staying warm is going to be the most important consideration to staying comfortable.
One of the best tents for winter camping is the Alps Mountaineering Tasmanian 3-Person Tent. This tent is great because it's made out of strong material and the aluminum poles are designed to be rust-resistant. It's designed to stand up against snowstorms and strong winds. If you're going to be hiking to your campsite then this 9lb tent is a great option for you.
Another option is the MoKo Waterproof Family Camping Tent. This tent is more budget-friendly than other options while still providing protection against the elements you'll need to stay comfortable all night long. It's made out of strong, weatherproof nylon material that will help keep you warm and dry.
If you're looking for a larger, lightweight tent then the Geertop 4-Person 4-Season Family Tent could be the one for you. It's a lightweight dome tent made out of dense nylon material that's designed to keep you dry and insulated against the cold. It also comes with a snow skirt and a vestibule flap that allows you more space to move around.
Sleeping Bags vs Camping Mattress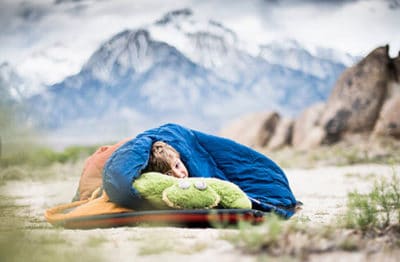 Once you've found your ideal tent that has all the features you need to stay comfortable at night you're going to need to decide what to sleep on. There's a big debate in the camping community about what will help you sleep more comfortably; sleeping bags or camping mattresses. For the most part, it'll just come down to your personal preference.
Sleepings Bags
Sleeping bags are what most people think about sleeping in while they go camping. But are they the right option to keep you comfortable throughout the night?
If you're going to be camping in cold weather then sleeping bags might be the right choice for you. They provide a ton of insulation that can help keep you warm and comfortable.
Sleeping bags also tend to be the lightest option. They're designed to easily roll up and can be strapped against your pack if you're hiking and changing your campsite frequently.
Another benefit to sleeping bags is their durability. Sleeping bags are designed to protect you from the elements and can be used right on the ground. Depending on where you're going camping and the weather conditions you're likely to encounter, you may not even need a tent if you use a sleeping bag. That can leave you with a lot less gear to haul around and make setting up for the night much quicker and easier.
Sleeping Mattress
Bringing along a mattress on your camping trip may seem like treading into 'glamping' terrority, but it's really not!
Using a sleeping mattress is a great way to personalize your camping experience to your unique needs. You can bring along a favorite pillow and blanket to help keep you comfortable at night.
Sleeping mattresses tend to be thicker than sleeping bags which can make them feel more comfortable. There are different options for mattresses as well. There are foam mattresses that are lightweight, easy to pack, and more affordable than other options. These would be ideal for someone who's going to be hiking into their campsite because it won't add too much weight to your pack.
Another option is inflatable mattresses. These don't provide as much insulation and tend to be heavier than the foam versions. They're also going to take up more room so these are great if you're going to be driving up to your campsite, but wouldn't be ideal for hikers.
Where to Pitch Your Tent
At the end of a long day of hiking and exploring the wilderness, it can seem like a chore to spend time searching for your perfect camping spot. Where you choose to pitch your tent can mean the difference between sleeping comfortably or not sleeping at all.
When choosing where to set up camp for the night there are a few things you should keep in mind. The first thing you're going to want to look for is potential dangers. Make sure you're not in the middle of a game trail or near any dead trees that could fall in the middle of the night, especially if a storm were to suddenly pick up.
Another tip is to avoid pitching your tent near water. It can be incredibly tempting to set up camp right next to your water source but this isn't a good idea for several reasons. First, if you're using a body of water for your needs then odds are animals are going to be using that water source as well. When it comes to wild animals you don't want them stumbling upon your camp in the middle of the night.
If you want to sleep comfortably in your tent then you're going to want to minimize any disruptions to your sleep. Setting up camp next to a water source means that you're going to be inundated with bugs all night. The type and number of bugs will depend on where you're camping and what time of year but a safe rule of thumb is to avoid setting up near any water source.
The next thing you're going to want to keep an eye out for is finding solid, even ground. You want a spot that isn't cluttered with too many rocks or tree roots sticking out of the ground. Not only would this be incredibly uncomfortable but it could also damage your tent.
When it comes to finding the best place to pitch your tent you're going to want to keep a few basics in mind. Pitch your tent in an area that:
Has flat ground

Avoid hills

Provides shade

Provides a natural windbreak

Is easy to access
When you're ready to settle down for the night take an hour or so to scout out possible camping sites. Make sure that you have a good idea of when the sun will go down each night so you can give yourself enough time to pick a good site and get set up while it's still light out.
Conclusion
Camping can be an amazing and relaxing experience. Getting a good night's rest in your tent is going to help you recover from your day and give you the energy you need to continue your camping trip. As long as you find the right tent, sleeping equipment, and place to pitch your tent then you're on your way to sleeping comfortably and enjoying your trip.