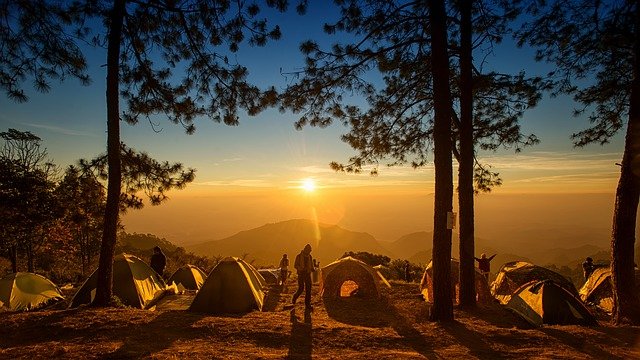 Camping in a large group can enhance the fun of the great outdoors. It can also prove somewhat challenging if you aren't properly prepared. Whether it's a large family reunion or simply a vacation with your extended and continually growing family, the following large group camping tips can help you make the most of your group camping experience.
1. Prepare in Advance
Start planning your trip a minimum of six months out. You may even consider giving yourself, and the other families involved a year to plan the trip. Consult with the others in your group and come up with a date that works for everyone and figure out where you want to go camping.
2. Research your Campsite
Before booking, be certain you know all the rules of your prospective campsite. You will want to make sure large groups are able to camp together. Other things to consider are whether pets are allowed if there are bathroom facilities, and when quiet hours are.
While researching campsites, make sure to find a place that has a variety of activities. In doing so, you can be sure that your Great Aunt has just as much fun on the shuffleboard courts as your kids do swimming in the lake.
3. Book your Campsite
You will want to make sure to book your campsite well in advance in order to ensure the number of campsites you need are available. Remember that popular campsites fill up quickly, so book as early as possible.
4. Consider Private Campsites
Reserving a private campsite ensures that your group will be the only group on the property. Though this option is usually more expensive than a public campground, you can ensure your group can relax without worrying about other campers nearby. This is especially ideal if you have lots of small children, campfire musicians, or even boisterous night owls in your group.
5. Team Meeting
After you've booked your campsite, plan to meet with other members of your camping group to assign preparation responsibilities. Discuss whether you will approach the camping trip as a single group or individual groups. For example, will everyone be working together, donating a portion of necessities to the trip, or will each family segment be responsible for bringing their own supplies?
This is also a good time to take inventory of what each family can bring to the trip. This can include tents, coolers, camping stoves, grills, sleeping bags, tables, chairs, and other necessary gear.
6. Divide Responsibilities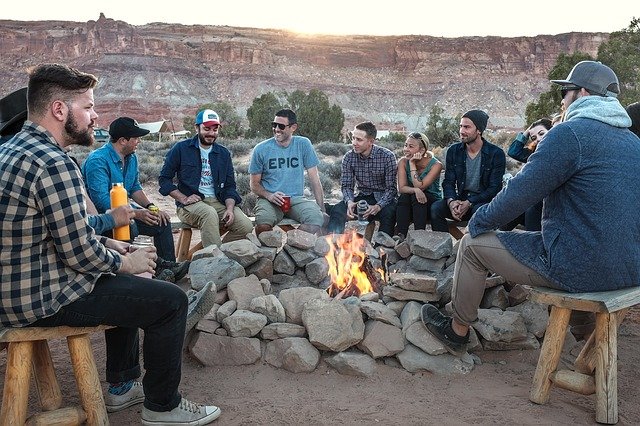 In general, we find it easier to work together as one unit. This means that we divide responsibilities amongst our group. For example, one family will be responsible for all meal planning, while another is responsible for bringing beverages for the entire group. Still, another family will take care of all gear rentals (if needed), and another will bring all cooking supplies and utensils.
Depending on the size of your group, you may need to assign multiple tasks to each family. We find that only giving each family one or two responsibilities is easier than each family remembering to bring every little thing. It keeps us from forgetting items, too.
7. Keep Records of Expenses
It is imperative that you keep track of all expenses during preparations. If you're really ambitious, you could make a spreadsheet to share amongst your group allowing each family to update their various expenses. However, designating one person as the "accountant" who writes down all reported expenses in a notebook works, too.
Prior to the camping trip, the expenses can be evenly divided among all families involved. The "accountant" can be determined when you divide responsibilities in the previous tip.
8. Buy Food and Beverages in Bulk
Wholesale clubs are ideal when shopping for large-group camping trips. Not only will you save money, but you will also be able to get large amounts of what you need. As a side note: these stores often have camping gear at great prices if you need it!
9. Meals for Large Groups
Luckily there are tons of great meals that are easy to make for groups. You just have to cook them in larger batches. As we've mentioned in earlier articles, we love a hearty beef stew for the campground. Simply prepare your meals ahead of time and store them in heavy-duty freezer bags. Let the meal thaw during the day, and heat it up for dinner in the evening.
Other meals that work well, cooked in bulk and frozen ahead of time, include chili, spaghetti, and soups. Additionally, cooking hot dogs over the open flame or burgers on the grill are always crowd-pleasers. Chicken breasts on the grill are also an economical option that will please the masses.
Eggs, bacon, and toast are also very easy to cook in bulk at the campground and can easily be made in cast iron skillets or flat-top grills. Additionally, deli-style lunch meat can go a long way and is enjoyed by most.
10. Fuel, Wood, and Charcoal
Though many major campgrounds will have these items for sale, you will be better off (financially) bringing your own. Make sure you have propane for grills and camping stoves, and charcoal for a backup. You will also want to stock up on wood for nightly campfires or cooking.
11. Have a Plan for Waste
This tip is meant to cover both trash and human waste. Obviously, if there are restroom facilities at your campground, you shouldn't need to worry about human waste disposal. General trash disposal can sometimes be a bit of a challenge.
Some parks have adopted the "take out what you bring in" policy, and this includes any trash you have acquired. We have even seen some parks completely remove trash receptacles altogether. This means you may have to get creative with your trash disposal, especially when there is an active wildlife community at your campground. This hanging trash bin can be useful in these cases.
12. Don't Forget Safety
A large first-aid kit and a bottle of alcohol or peroxide should top your safety list. In addition, consider finding the closest hospital to your campsite and map out a route in the unlikely event you need to get there in a hurry. You might also want to find out if your campsite has mobile phone service and bring a satellite phone if not.
13. Set-Up
Consider having a small group set up camp prior to the majority of the campers' arrival. This can be especially helpful if there are many elderly people or children in your group. This set-up team could arrive at the campground in the morning and begin working on setting up tents, tables, tarps, grills, coolers, and any other camping gear.
Trust us; it is much easier setting up camp without toddlers tripping over guy lines! What other ideas can you share about your experiences in group camping? Let us know in the comments below, and as always, happy camping!