When it comes to buying camping gifts it's sometimes hard to determine what to get. There are a lot of choices and you want to make sure you buy a gift that will actually be useful.
We've created this list of the most useful camping gift ideas to make the process easier. All these products are great options for campers who love the outdoors.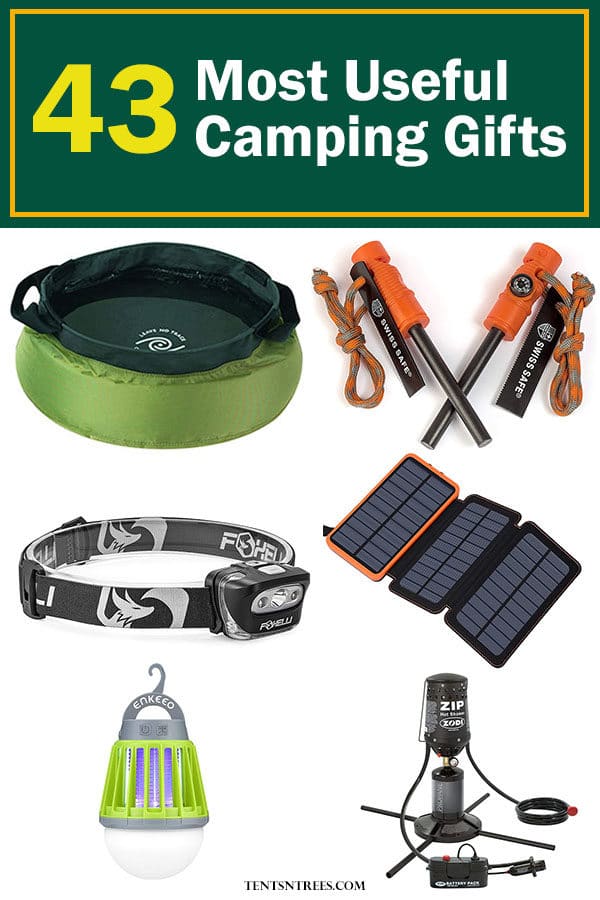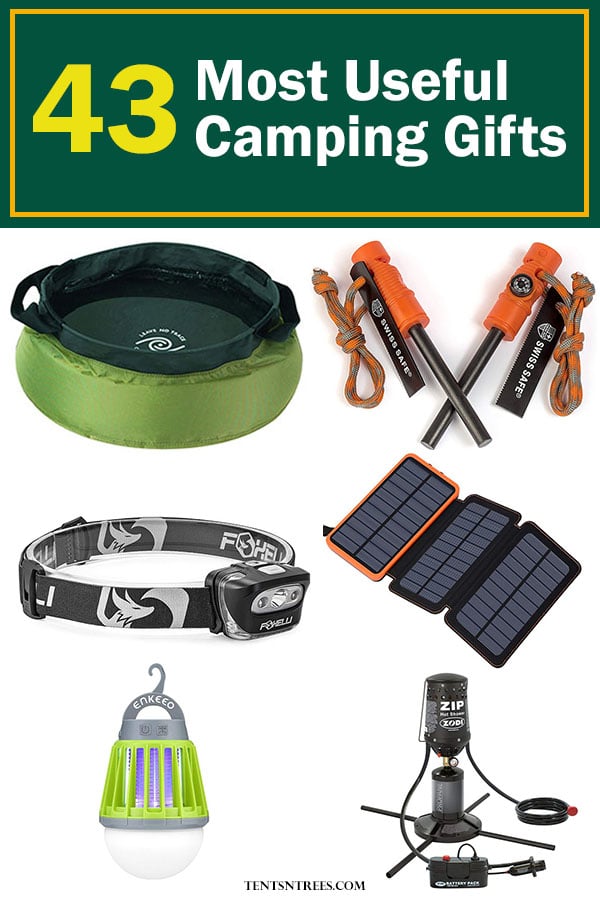 This Coleman Camp Kitchen makes a great camping gift for those who love to spend time outdoors. This kitchen will take camping to the next level by giving you a dedicated food prep and cleanup area. Another great feature of this camping kitchen is that it folds down to a pretty compact size, which makes storage super easy.
---
This LED camping lantern is a great way to have lots of light and not worry about having to deal with propane. This is a super bright camping lantern and will provide up to 12 hours of light on a standard set of batteries.
---
Teton Sports makes some awesome sleeping bags. This sleeping bag is rated for 0 degrees and is a great addition to any family's camping gear.
---
Coleman's Trailhead II Camping Cot is a very well-made cot. It is small, portable, and very affordable. This would be a great gift for families that love to camp but also like to have a little extra comfort when they sleep.
---
A pop-up privacy tent is a great way to give yourself some privacy for showering, changing, using the toilet, and more. These tents make awesome gifts because they are inexpensive and very easy to set up and take down.
---
A good camping knife is always a good gift. It comes in handy all the time while camping. What is really cool about this knife is that it also comes with a whistle, fire starter, and sharpening stone. You can find more great camping knife options here.
---
Colman's camping hatchet is a great value and well-made hatchet. Hatchets are very useful and come in very handy while camping. They are great for making kindling, coping with smaller pieces of wood, cutting rope, and more. This is one of the most useful camping gifts for families.
---
This solar-powered battery bank is a great way to keep your electronics charged even when you don't have access to electrical outlets. It is very mobile and is super easy to recharge in the sun. This is a great gift and is also an awesome way to be a little more eco-friendly.
---
This LED tent lantern is a great way to easily light a tent while not having to deal with flashlights. This lantern would make a great gift for those who love to go tent camping.
---
These magnesium fire starters are always a great backup to have when camping. These would make a great gift for camping families. Additionally, they provide some added survival accessories with a built-in whistle and compass.
---
A pop-up trash can makes an awesome camping gift idea because it makes cleaning up so much easier. This trash can gives you an easy way to bring a large trash can with you while reducing the space needed for packing.
---
A good set of camping flashlights is always a great gift idea. There is always a good reason to have a few more good flashlights for your next camping trip. This set of flashlights has some additional features like water resistance, zoomable, 5 light settings, and more. You can also find a list of the top flashlights for camping here.
---
Camping chairs are an important part of any camping trip. They make the entire experience more comfortable and enjoyable. These camping chairs from AmazonBasics are very affordable, well made, and have some nice features.
---
Games are always a great gift idea for families. This ladder toss camping game is a lot of fun and can be played by adults and kids alike. This game is a great gift option for families who love to camp.
---
Camp Chef's 2-burner camping stove is an awesome piece of camping gear. This stove makes cooking very easy and gives you the ability to do whatever you want with ease. This would be an awesome camping gift for any family.
---
Mr. Buddy heaters are great portable propane heaters. These heaters are great for cold weather camping. With a Mr. Buddy heater, you can quickly heat your tent just before you go to bed and when you wake up.
---
This portable camping sink is an awesome way to save space and have a great way to wash dishes. This makes a great camping gift that will come in useful in all different camping situations.
---
Dutch ovens are great camping gifts because they last forever and are awesome to cook in. Dutch ovens are the type of camping gear that you'll keep for a lifetime.
---
Having a kitchen table for camping is an important part of making camp life easier. This table also comes with storage and organizing compartments that hang below the table.
---
Cots are great for camping, but they take up a lot of space inside a tent. These kids' camping cot bunk beds are a great way to save lots of space inside a tent. Any camping family would love these camping cot bunk beds.
---
Safety is an important part of camping. This first aid kit is a very important part of anyone's camping gear. With 326 pieces, this first aid kit would make an awesome gift for campers.
---
Colman makes some great coolers at great prices. This cooler would make an awesome gift for someone who loves to go camping. It provides lots of storage space and great insulation to keep food cool.
---
It's not uncommon to get a bit wet while camping. Waterproof socks make a great camping gift because no one likes having wet feet, and these socks will keep them nice and dry.
---
Coleman's propane lanterns are the standard of propane lanterns. They are reliable and very easy to use. These make great gifts as they are equipment that will be kept and used for years to come.
---
There is nothing more annoying to deal with while camping than mosquitos. Thermacell is the answer to annoying mosquitos. It gives you a mosquito-free area and makes camping more enjoyable.
---
Having enough water for when you go camping is one of the most important parts of a camping trip. This 7-gallon water jug makes a great camping gift because it makes bringing water super easy.
---
A heavy wool blanket is a great item to bring with you while camping. It will come in handy in many different situations and makes a great camping gift for that special someone. It's always good to have some extra blanks on hand in case it gets cold, or you need to put a blanket down to keep things clean.
---
Hanging out and relaxing is one of the best parts of camping. These nylon camping hammocks are great for doing just that. They pack into small bags yet offer lots of space. This hammock comes with tree straps included, which is a nice bonus.
---
Setting up and taking down your camping tent can be one of the more difficult parts of camping. This Coleman instant tent makes that entire process much easier. This would make a great gift for those who don't want to deal with setting up a confusing tent.
---
These inflatable lounger air sofas are great for camping. They are very comfortable and easy to set up. This would be a perfect gift for the camper that enjoys relaxing and lying around while camping.
---
A good camping pad will make a big difference when it comes to sleeping well. This pad is great if you are sleeping on the ground, cot, air mattress, or where ever. Any camper would be happy to receive this Teton Sports foam camping pad as a gift.
---
Who doesn't love roasting marshmallows over the fire? These extendable roasting sticks are great for cooking marshmallows, hot dogs, or anything else over the fire.
---
This portable camping sink makes it super easy to keep your hands clean. This is an especially useful item when you have kids because it makes it much easier to get their hands clean before eating or going to bed.
---
This all-in-one camping utensil kitchen cookware set is a great gift idea. It provides you with all the basic utensils needed for the kitchen at your campsite. It also comes with a carrying case that keeps everything nice and organized.
---
No one likes mosquitoes and other bugs flying around their tent. This is an awesome light because it also has a bug zapper built-in. It will give you light in the tent as well as kill any pesky insects flying around.
---
Ozark Trail's 2-room shower tent is an awesome addition to a camping setup. This would be a great gift for someone who wants to take their camping to the next level with a great shower tent.
---
Spikeball is a great outdoor game and would make an excellent camping game. The game requires 4 people and is great for families and groups of adults. Spikeball is a very fun game that can provide hours of fun.
---
Flashlights are great, but a good headlamp is even more useful. Headlamps give you the light you need while keeping your hands free. An LED headlamp would make a great gift for any camper.
---
This 2-in-1 tent fan & light combo would make a great camping gift for tent campers. The light provides great light for a tent while the fan helps to circulate air and keep you comfortable while sleeping.
---
Plastic storage containers don't seem very exciting, but they would make a great gift for campers. These types of storage containers are awesome for storing and keeping camping gear organized.
---
This portable laundry system gives you a simple way to wash clothes and keep clean when out camping. This is a very easy system and is also very portable. This would be a great gift for any camper, regardless of the type of camping they do.
---
This rope swing and climbing rope combo make a great activity for kids while camping. This would make a great gift for camping families and groups that will have kids with them.
---
This flameless arc lighter is rechargeable and wind and moisture-proof. This makes a great gift for campers as it makes starting a fire in any condition very easy.