Camping tents come in a variety of types and sizes. It's likely that what's ideal for you isn't the best choice for someone else. As a result, businesses provide a diverse choice of items. There are a few factors to consider when asking yourself, what size tent do I need for camping.
Selecting the Correct Size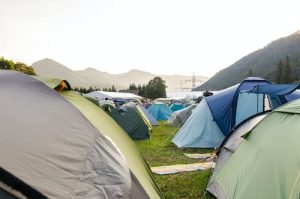 It is easy to pick the proper tent size for your requirements. Consider how much space a person generally requires and continue from there. The normal width of a sleeping bag, for example, is around 60 cm. Multiply this figure by the number of people to obtain an idea of the total floor size.
Another issue to consider is the tent's peak height. The 2- and 3-person tents have a maximum height of 125 cm. This may be ideal for youngsters, but adults may need to squat within the tent. Consider the following factors when deciding whether to bring the lightest and smallest tent you can or buy a more comfortable one.
Type of route
Situations you expect to encounter
The number of hikers and their size
Mattress pad measurements
How Many People Do You Expect in the Camping Tent?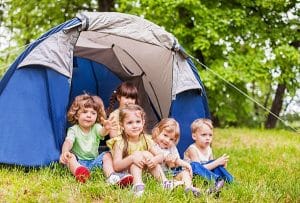 The number of sleeping docks is commonly used to determine the size of a tent, but this is not always the case. Tents for six people, for example, aren't always ready for that many people to camp in. A six-person tent may theoretically house six beds, but in practice, it is best suited for five.
Some tent manufacturers have addressed this issue by instituting a "Sleep Comfort" rating. This helps provides a more accurate indicator of how many people can sleep in a tent. For instance, A five-person tent may get a four-star sleep comfort rating.
The industry norm for each sleeping bed is 60 cm, but most tents, for example, allow for 70 cm per person. You should also consider the campers' age and height.
Make sure the sleeping compartment is long enough for tall people who will require extra room to stretch out at night. The tent's dimensions should be stated in the specifications. A bunch of toddlers may fit into the space required by one older kid. However, remember that they will grow; plan accordingly if you want your tent to survive for many years. If you're camping with teens, they'll require the same amount of space as adults and should sleep in a separate area of the tent to give them more privacy.
Where Will the Tent Be Used?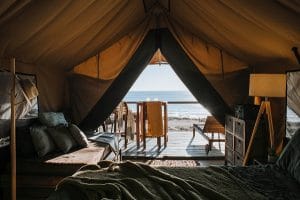 Another essential thing to consider is how you want to use the tent. For extended family trips, a big family tent with plenty of living and sleeping space would be great. There must be adequate room for everyone to sleep comfortably on long trips. Also bear in mind that your baggage and equipment may require storage. If the weather is poor, you will spend more time inside, benefiting from the additional room. When traveling sooner or later in the year, when the sun sets earlier, the impact is the same.
A playroom within the tent is important since it keeps the main living space tidy. A big tent gives you a lot of flexibility and comfort for long vacations, but there are other things to think about as well. They may be enormous and heavy, so be sure you have adequate space in your vehicle to get them to the campground. Consider how you'll move your tent since the larger it is, the more camping gear you'll be tempted to acquire. Even if you drive a huge automobile, a trailer, a roof box, or both may come in handy.
Check the tent's footprint size, since some campsites limit tent size or charge more for larger tents. A smaller tent that is quicker to put up and takes up less space in your car may be a better alternative for weekend getaways or road trips.
If you plan on going on adventure camping vacations, you'll need a more technical tent. Some campers bring two or more tents to accommodate various kinds of camping. It's also possible to buy an extra tent or an awning so that you can have more living space on longer trips and less space on shorter ones.
Assemblability
Tentmakers create designs that are easy to erect, but bigger tents are naturally more difficult to manage. Some businesses suggest three to four employees for the best tent setup, which may be more than you have. It's always a good idea to study the manufacturer's recommendations. However, it's even better to discover a website with user evaluations. You could find that a specific design is simpler or more difficult to put together than you expected.
Conclusion
Camping is an excellent way to get the whole family together for a relaxed and pleasurable vacation. It is essential to choose a family tent for camping that meets the demands of your family. We hope you found the above camping tent size tips and considerations beneficial.