So you've made the decision to go camping, but now you are thinking, "where do I go camping? I don't know of any decent camping spots." Don't worry, finding awesome campgrounds and camping spots isn't actually that hard.
The following 3 steps will walk you through the easiest way to find the best campgrounds and camping locations. By the time you finish the 3rd step, you'll feel comfortable that you've found an awesome location for your next family camping trip.
So let's dive in.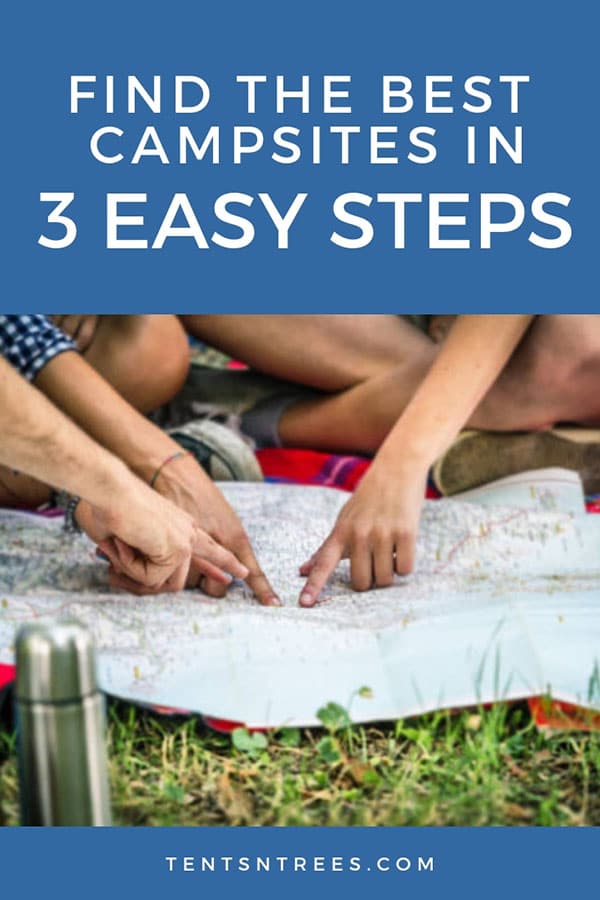 Step 1: Determine camping type and general location
The first step in finding the best campsites is to determine what type of camping you want to do as well as the general location of where you want to camp. Are you wanting to camp in a prepared/designated campground? Or are you wanting to do some dispersed camping? If you're not sure about the differences and what type would be right for you, check out our article "Dispersed Camping vs Campground Camping."
Determining what type of camping you want to do will help you begin to narrow down the general location. To determine the general area, you can ask yourself the following questions.
How far am I willing to travel?
What type of setting do I want? (E.g. forest, lake, beach, desert, etc.)
Do I want to camp near or away from other people?
What amenities do I need and not need?
Step 2: Do Online Research
Now that you have determined the general area where you'd like to camp and the type of camping, it's time to do some online research. Your online research differs based on the type of camping you want to do.
We will break this section into two parts. Online research for campground camping and online research for dispersed camping.
Online Research for Campground Camping
Start on recreation.gov
Recreation.gov is an awesome resource that allows you to easily find campgrounds around the country. Each campground has its own detail page, which allows you to view pictures, read details, find costs, get directions, etc. There is also an interactive map that allows you to zoom in on any location and find campgrounds in that area.
The campground detail page will tell you about the campground, the amenities included, nearby activities, seasonal information, and more. Additionally, if you need to reserve a campsite, you can do it directly on the website.
Camp and Tent App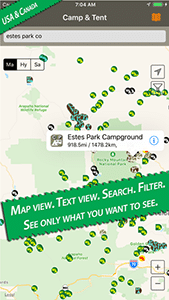 Another great resource is actually a phone app. The Camp and Tent app allows you to search and find campgrounds specific to tent campers. There are over 20,000 campgrounds throughout the US and Canada. Similar to recreation.gov, Camp, and Tent provides you with a list of amenities, costs, hookups, open seasons, pet-friendly, and much more.
There is a small cost for the app but does provide you with lots of great information. Some of the information and camping spots are hard to find in other locations. This would be a great resource for a family who is planning on camping in many different places in the future. Currently, you can only find the app on the iTunes store.
Check out pictures and reviews
The next step is to Google specific campgrounds. If you found some potential locations on recreation.gov, it's a good idea to Google that specific campground. You'll be able to find additional pictures as well as reviews and comments about the campground.
It always helps me to see additional pictures of the campground. It gives me a better idea of whether it is good for tent camping, RV camping, general size, vegetation, and general surroundings.
Likewise, it is helpful if you can find others who have been there and left reviews or made comments about the campground. These online reviews and comments will often give you more insight into the campground than the actual campground detail page will.
Similarly, you can often find sites that will provide you with recommendations for specific types of campgrounds you are looking for. For example, this list of kid-friendly campgrounds in Michigan is a great resource to help you narrow down your options and find one that is right for you.
Ask for opinions in local groups
The last step used is to ask for opinions and experiences in camping groups. You can find many camping groups on Facebook, which are easy to join. You can often find local groups for the general area where you want to go camping.
I have often asked these campers for opinions on a specific campground. I typically get responses from a handful of people who have camped there in the past. They will be your best resource to answer specific questions and determine if it is the right campground for your family.
Online Research for Dispersed Camping
Determine camping rules for the area
Dispersed campsites can be a little harder to find because it's all up to you. There is no location/resource online that I know of which will list out potential dispersed campsites for you. What you need to start with is to determine the camping rules for the general area you have previously selected.
National forests are the easiest way to find dispersed campsites, and that is where I recommend you start. All national forests are open to dispersed camping unless it is specifically marked as no camping.
National forests are not the only places that allow dispersed camping. Some Indian reservations also allow it with a permit. Likewise, private land is also an option if you have permission from the owner.
Where ever you decide to camp, ensure you know the rules for that area, so you are not caught off guard and given a fine or required to leave before planned.
Use Google Maps
After you have determined that you are allowed to camp in the general area, it's then time to turn to Google for help. Use Google Maps, in satellite view, to begin to scout out possible areas.
I will often follow dirt roads to find potential camping spots. This will give you a good idea of vegetation as well as potential clearings that might make a good campsite.
One trick I use to get a better sense of the location is to hold down the Ctrl button, then click and drag your mouse. This will allow you to tilt and rotate the map, which gives you an elevation perspective. This allows you to determine which areas might possibly be flat enough for your campsite.
It is a good idea to try and find multiple locations near each other so that if you arrive at the first location and it turns out that it won't work, there are other options not too far away.
Ask for suggestions in groups
Similar to the research done for campground camping, asking for suggestions in online camping groups is a great idea. You will often find people who have done a lot of dispersed camping and can recommend general areas where they have been camping.
They can also give you an idea of which roads are accessible by car or foot. One thing you don't want to do is to head down a dirt road just to find out that it gets too rough to get to your desired location.
I have found that fellow campers in online groups are always willing to provide recommendations and help to those looking for advice.
Step 3: Visit potential campsites
The last step is to go and visit potential campsites & campgrounds before your actual camping trip. This might not be a reasonable option if the potential locations are too far away.
For campgrounds within 1 or 2 hours, it could be worth your time to check it out beforehand. If the drive is much further than that, I would recommend that you simply rely on the information you find online. The ease of finding pictures and information about campgrounds makes it pretty safe to rely on that information to find a good campground.
For dispersed camping, I would recommend scouting out locations as far away as 4 hours. It is much harder to find super reliable information about dispersed campsites. It is definitely worth the extra time to ensure you will have a decent campsite.
I will often plan a weekend, a few weeks before our camping trip, to go and scout locations. Scouting new locations will often take up an entire day, but it saves me the worry of having to find a campsite the day of our trip.
If you are unable to scout locations before your trip, I highly recommend you find multiple potential locations in one area so that you don't spend all day driving around searching for a campsite. Likewise, it might be a good idea to have a backup campground nearby. If all else fails, you can always head to the campground for a night and then continue searching for a new location the next day.
By using these three steps, we have been able to find some of the best campgrounds and dispersed campsites for our family. You, too, can find awesome locations and make great memories with your family by using these simple steps.