Spending a night under the stars is a time-honored tradition for many families. If you are looking for the best places to go camping in Georgia, there are plenty of campsites to choose from for a night out in nature. Whether a tent and roughing it a little fits your family's style or your group is more the glamping type, there are plenty of locations throughout the state to choose from.
Choosing from campsites with a gorgeous mountaintop view or camping next to a lake or the seashore, your family can find the perfect spot for your next adventure with our list of family-friendly campsites all over the state of Georgia.
1. Tent camping in Okefenokee Swamp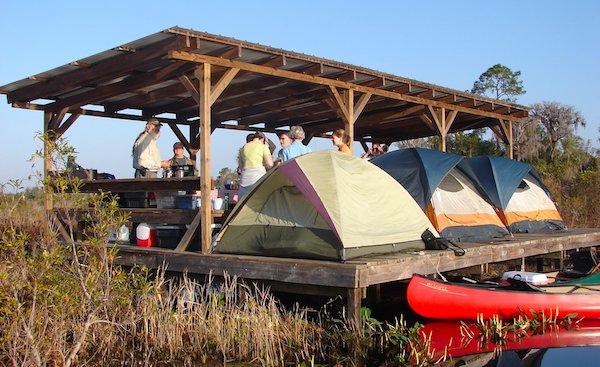 With a little planning ahead, you can pop a tent on a raised platform or in a traditional campsite overlooking the largest blackwater swamp in the US. You will need a camping permit, issued 2 months prior, to experience this one-of-a-kind location.
Your family will love paddling through the swamp and around Floyds Island and Mixon Hammock, where camping is also available. This is a great trip for an adventurous family or larger family groups.
Amenities
Wilderness camping permit required
$15/person per night + $10 reservation fee
Some restroom facilities are available but not by all campsites
Two-night stays only during peak season
No swimming due to swamp wildlife
Guides available
2. Tent camping on Cumberland Island
Explore the seaside on a camping adventure with your family at developed camping sites on Georgia's National Seashore. The campground at Sea Camp will provide your group with a different feel as you discover the wonders of the ocean and listen to the waves at night.
Amenities
The ferry ($18-28) takes you to the island
Park entrance fee ($7) and camping fees ($4)
Reservations required and sites are assigned
7-day limit during spring and late fall
Bathrooms, cold showers, and beach access available
Sites have a fire ring, grill, food cage, and table
3. Dispersed camping at Dicks Creek Falls
This gem of a place in Chattahoochee National Forest may become your family's favorite location to explore the waterfalls and creeks in the Chattahoochee before you find the perfect campsite. Perfect for tent camping, Dick Falls is a natural area with no hookups or facilities, but your family won't mind since the waterfall and river provide an ideal spot to enjoy cool off in this rustic camping area.
Amenities
Free to camp, no reservations needed
Limited parking, so go early to snag a spot
No facilities or hookups
Shallow water for little ones but also deeper water for jumping and swimming
Excellent fishing
4. Backcountry camping at Tallulah Gorge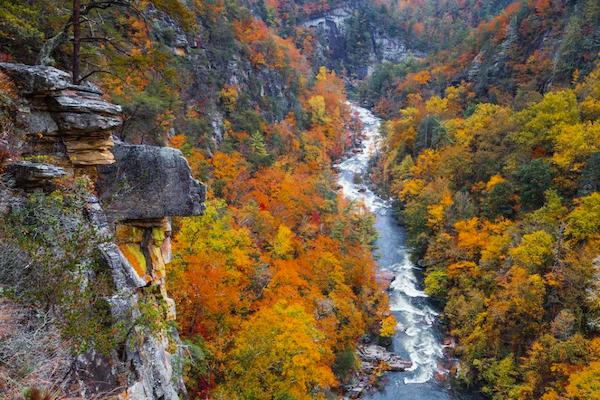 Hiking around the nearly 1000-foot gorge and walking over the 200-foot long suspension bridge with your family makes for a camping trip to remember. Camping at Tallulah Gorge is full of spectacular views and unforgettable experiences, and even includes some paved pathways to make bringing a stroller or bikes a breeze. Backcountry campsites get the adventure started right away.
Amenities
Reservations ($20/backcountry sites) and park pass ($5/day) required
Full amenities: restrooms, showers, picnic area, playground, laundry facilities
Handicap access and 1.7 miles of paved trails
Swimming, tennis courts, canoeing, and fishing
5. Backcountry paddle in camping at Chattahoochee Bend
If your family loves to be on the water, consider a rustic backcountry camping site where you paddle to your site instead of hiking. You can rent or bring your own canoe or kayak to camp at Chattahoochee Bend, where your family will experience the beauty of the gentle river in a bucolic part of this more than 2,900-acre park. More than 6 miles of hiking trails and photography lovers will appreciate the observation landing that gives spectacular views of the river and surrounding forest of this state park.
Amenities
Reservations required (no fee) and $5 daily parking
Bathrooms, showers available
Playground, boat ramp, gift shop, and picnic shelters (must be reserved)
6. Platform camping at Fort Mountain
With over 62 miles of recreational hiking trails, the Cohutta Wilderness will enchant your family with history alongside stunning views of the Cohutta mountains, a beautiful river leading to a peaceful lake.
Platform camping at Fort Mountain is a great option here for families since they are available year-round and are centrally located within the state park. Originally home to the Cherokee, this area is rife with historical treasures. Your family will love exploring the ancient stone wall, the blueberry thickets, and the hardwood forest.
Amenities
Free to reserve, daily parking $5
17-acre lake for swimming (seasonal), fishing, and paddling
25+ miles of hiking trails, 27+ for bikes
Horseback riding and mini-golf (fees for both)
Picnic shelter (reservations accepted), playground, and gift shop
7. RV in Red Top Mountain State Park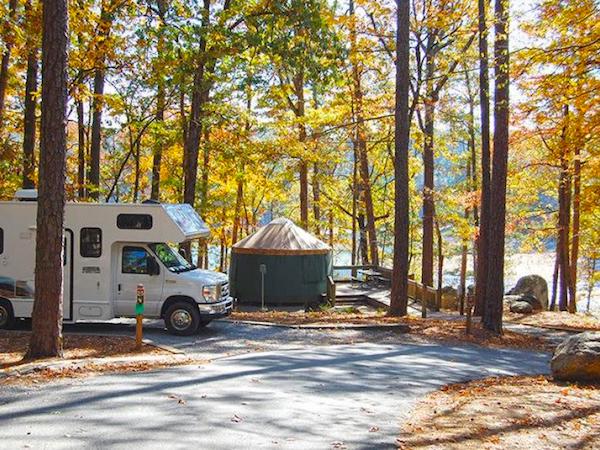 For some of the best camping in Georgia with water sports, Red Top Mountain offers activities at Lake Allatoona next to camping. Bring your RV and your boat (or rent one at nearby marinas) to add in watersports to your family camping adventure. This 12,000-acre lake is a summer jewel for swimming and fishing as well, or your family can hike on the more than 15 miles of trails.
Four miles of gravel bike paths and a short, paved path are just right for strollers or wheelchairs, and all areas provide perfect photo opportunities. Explore the historical homestead on-site to add in history to this wonderful state park destination.
Amenities
Free to reserve, daily parking $5
Restrooms on site
3 playgrounds and 2 marinas
8. RV at Steven C Foster State Park
Inside the National Wildlife Refuge, this state park offers guided pontoon swamp tours and excellent fishing in one of Georgia's 7 Wonders, the Okefenokee Swamp. RV camping here with your family will allow you to experience the American Alligator, as an estimated 12,000 inhabit the swamp along with dozens of other fascinating wildlife. Daring families might even want to canoe or kayak here as well.
Amenities
Free to reserve, $5 daily refuge fee, $5 daily parking pass
1.5 miles of hiking, 15 miles of waterways
Playground, bathrooms, showers, washer/dryer, dumpster
Water sports rentals
Handicap accessible
9. RV Vogel State Park
Located in the Chattahoochee National Forest, Vogel is a very popular RV camping site because of its proximity to the Blue Ridge Mountains. Sitting at the base of Blood Mountain, the highest point in the Appalachian Trail, your family will be captivated by the surrounding mountains and 17 miles of trails. Plan to visit this when the fall colors are on display for a breathtaking view from your RV.
Amenities
Reservations required (no fee) and $5 daily parking
Easy to challenging hikes surrounding the 22-acre lake (non-motorized only)
Restrooms, picnic area, gift shop, partially accessible
Sports rentals including paddleboats
10. Squirrel's Nest camping at Unicoi State Park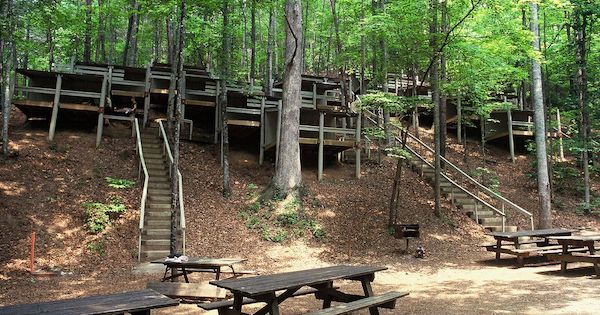 For a thrill-seeking family, camp in a unique squirrel's nest platform overlooking Unicoi Lake. A platform camping area set up to be closer to wildlife, you only need a sleeping bag, hammock, or blow-up mattress to sleep up to 4 per platform here. Nearby grills, picnic tables, and fire rings make this group area a unique choice. Hike to nearby Ruby Falls or bring your mountain bikes for the miles of gravel paths.
Amenities
Restrooms, showers, group structures, picnic areas, dumpster
Lodge, beach house, amphitheater
Pet-friendly
11. Pioneer camping at Fort Yargo
For a rustic experience, connect with nature at a pioneer campground. With no running water or electricity, this campsite will bring your family together as you navigate living like our predecessors. The site is next to a 260-acre lake and has access to 20.5 miles of trails. Bring your boat, swim, mountain bike, or play the park's disc park course.
Amenities
Free to reserve, daily parking $5
Restrooms, showers, playground, picnic areas
Bike rentals, fire ring (reservations required), amphitheater
12. Glamping at Tugaloo State Park
Your family can experience yurt camping at Tugaloo next to the huge 55,590-acre Lake Hartwell. This circular, soft-sided structure sleeps up to 6, perfect for a family. Open year-round, this park is perfect to enjoy water sports in the warm months and hiking and boating all year round.
Amenities
2 boat ramps, tennis and volleyball courts, horseshoe pit
Restrooms, pavilion, playground, grills
Sand beach, boat rentals, mini-golf (fee)
13. Treetop Bivouac camping in Panola Mountain State Park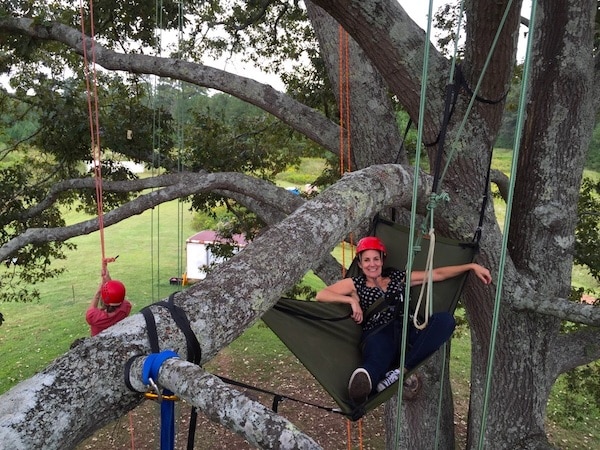 Take the family to new heights with treetop harnesses as you catch some zzz's high in the air with this unique camping opportunity. Outfitted in "treeboats" (hammocks) and safety gear, a majestic treetop is where you sleep with a spectacular view of one of only three National Heritage Areas in Georgia. Paved trails and playgrounds make this a fun family destination, along with plenty of hiking on Panola Mountain's 100-acre granite outcrop.
Amenities
$90/participant + $5 parking
Birding, fishing, geocaching, archery, tree climbing
Restrooms, pavillion
14. Geodesic dome glamping in Ellijay
If your clan is not a fan of traditional tent camping, dome glamping in Ellijay could be a great option. With a solid floor and soft-sided, dome-shaped top, this structure also comes with a bathroom and kitchenette and sleeps up to. Not on park grounds, this geodesic dome is near a beautiful farm as well as Carter Lake.
Amenities
Linens, towels, and cooking supplies provided (bring own food)
$115 per night, sleeps up to 5
15. Group camp at Roosevelt State Park
For a large family group, reserve a small campsite with 6 small cabins and a kitchen for up to 75 people. Perfect for families that want to vacation together, Roosevelt's Lake Franklin and 40 miles of trails, including one 23-mile trail called Pine Mountain.
The Liberty Bell swimming pool fed by cool spring water will be a hit with the kids and adults alike. Nearby home of former President Roosevelt will add a historical activity to your adventure.
Amenities
$450/night, 14-night max
Horseback riding, birding, fishing, geocaching
Playground, gift shop, outdoor fitness area, boat rentals
Picnic areas, bathrooms, stargazing areas
Find Camping Locations in Other States
Check out the best camping in every state.