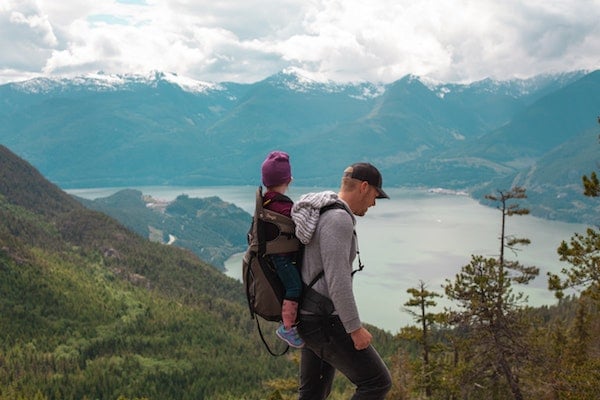 One of the best ways to introduce your kids to the Great Outdoors is with a family-friendly hiking trip. We never thought twice about hauling our kids along on our hiking adventures, and because of this, we made quite a few blunders.
Lucky for you, we've put together this list of hiking tips and hacks so that you don't make the same mistakes we have! The following tips will help you have a fun and adventurous hiking trip. Yes, even with your children tagging along!
Top Family Hiking Tips
1. Prepare
Yes, this is Captain Obvious speaking here, but hear us out. Preparing includes researching the trail you plan to hike before you go. We aren't talking about mileage alone; find some reviews of those who have hiked before you, so you really know what you are getting yourself into.
Case in point: We picked a random trail close to our hotel room on a vacation to Hawaii with minimal research. It was rated as moderate difficulty, which encouraged me to confidently tote my three-year-old along. In the end, I learned that "moderate" and "miles" are clearly subjective terms. I will give you more on that later. For now, be sure to research sites like AllTrails for honest trail reviews.
2. Bring Snacks and Drinks
If your kids are like ours, you probably get asked for snacks every four minutes. When hiking, you can expect the snack requests to increase tenfold. We may be exaggerating here, but a variety of snacks will help keep your kids happy. It will also keep their mouths full, and that means they won't be able to complain.
Additionally, you will want to bring plenty of water during the hike and after. Staying hydrated is key, especially when hiking in hotter environments. On that Hawaii hike, we did take plenty of water, but it went fast. Our lack of research (see previous tip) led us to believe that we would only be on the trail for an hour or two tops. We surpassed that time frame by three hours.
If you run out of water on your hike, having something like this portable water filter allows you to grab a drink out of nearly any stream.
We love these compact lunch bags you put in your freezer ahead of time to keep your snacks and drinks cold. You can also freeze juice boxes and some fruits that will not only be delightfully cold on the trail but will also help keep other items cool.
When packing snacks, choose items that are high in protein and complex carbohydrates. This will keep your clan energized for the hike. We love these protein cookies because our kids readily eat them and get a good boost of protein. You can also bring things like nuts, nut butters, or fruit.
We survived our Hawaii hike by rationing the few hard candies my husband had in his pocket. I also remembered, albeit late in the hike, that I had snagged an orange and apple from the hotel's continental breakfast. Don't be us.
3. Invest in a Backpack Carrier
If you have a toddler, a hiking backpack carrier is a lifesaver! We didn't, which left us taking turns clambering over boulders, edging around cliffs, and rappelling into valleys with children desperately clinging to our backs.
4. Hiking Backpacks
Hiking backpacks are lightweight and have loads of pockets for all your snacks and drinks. Some even come with a built-in hydration pack for added convenience. Make older kids carry a pack to help distribute the weight of all your essential hiking items.
5. Wear Appropriate Clothing and Shoes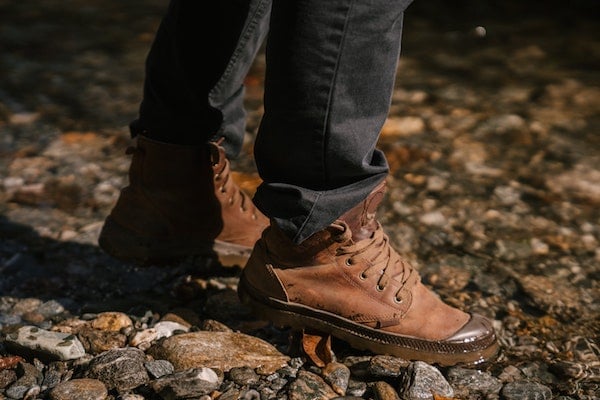 This is one area we did right on our adventure. A hike, no matter how easy, is not the place for any type of sandal or flip-flop. Unbelievably, we see others on the trails wearing just that. Open shoes leave your feet vulnerable to injury from sticks, rocks, and even animals.
You should consider the climate where you are hiking and dress appropriately. Layering clothes is helpful because you can simply remove what you don't need and store it in your backpack. Having too much clothing is always preferred over not having enough.
Additionally, bring extra shoes and clothing to keep in the car for after the hike. Trust us, having clean, dry clothing after an arduous hike feels amazing.
6. Let Your Kids Take the Lead
We do not mean for you to let your seven-year-old try to figure out where to go without adult assistance, but on clearly marked trails, let them show you the way. This simple act gives them a feeling of importance and keeps them interested in the hike. Maybe find a special "Hike Master" hiking stick, and let your kids take turns guiding.
7. Make it a Game
To avoid the dreaded cries of "I'm bored….", make the hike into a game of sorts. Scavenger hunts are always fun for older and younger kids alike. Make a list of items for them to find, including things like river rock, pinecone, dandelion, 12-inch stick, wild mushroom, and whatever you can fathom.
Other games you can play include identifying birds, counting the number of deer (or other wildlife) you spy, and the storytelling game. Each family member tells just one sentence of a story, and it is hilarious to see where it goes!
8. Educate in a Fun Way
There are so many things you can educate your children about in nature, and it won't make them groan. For example, teach them how to use a compass and let them tell you which way different landmarks may be. Maybe look for geodes near a river while explaining how the inner crystals are formed.
9. Keep Expectations on the Realistic Side
A hiking adventure may be low on your child's list of things to do, especially with all the instant gratification electronics and other exciting aspects of day-to-day life these days. Don't expect them to jump for joy at the thought of hiking.
Similarly, if your child is prone to breakdowns and throwing fits, chances are good that they will do it on the trail, too. They might not immediately be as taken with raw nature as you, but you are planting the seeds. That's what truly matters!
It is also a good idea that you do not consider your hike to be a workout. It should be a time to explore and connect with your kids. If you are set on getting your daily steps in, do it before or after your hike.
10. Plan a Destination Hike
A destination hike is any hike that leads to something cool, like a waterfall, lookout point, or a planned picnic midway through the hike. Our Hawaii hike was supposed to lead to a waterfall, only a short mile and a half in. At two miles in, shaking from exhaustion and low blood sugar, and no waterfall in sight, we decided it was time to turn around. I still wonder if the torment of the trail would have been wiped away at the reaching of that waterfall.
A destination hike gives the children, and you, something to strive for to keep things exciting. It is almost like a reward to them for trudging through the woods. It also gives everyone a chance to relax, eat, hydrate, and have fun.
11. Learn to Recognize Poisonous Plants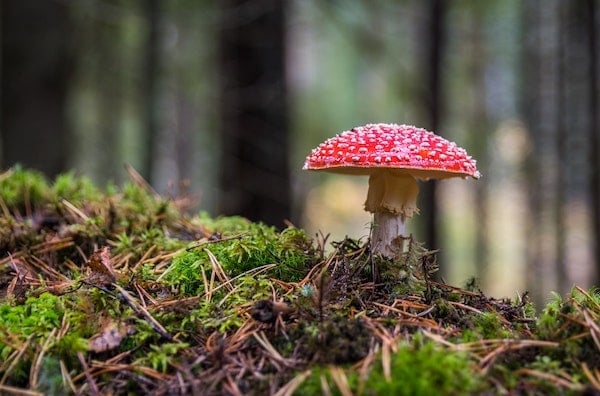 Take some time to learn how to recognize poison ivy and other poisonous plants that grow in the area you will be hiking. "Leaves of three, let them be" is a general rule of thumb for poison ivy, but there are many non-poisonous plants that also have leaves in patterns of three.
Knowing what is safe to touch can save everyone days or even weeks of itchy agony. If anyone in the family is allergic to poison ivy, try keeping these poison ivy cleanser wipes on hand.
12. Bring all the Essentials
You've already packed loads of snacks and water, divided equally among everyone's backpacks. What's left? A whole lot! Consider all the factors that can contribute to your family hike's success. That can include weather, bugs, and injury.
Our final tip includes the items we find to be most useful on any hiking trip with the kids:
Sunglasses and sunscreen
Bug spray
Duct tape (for minor repairs to shoes and packs or injuries)
Hoodies with pockets (for all those tiny items)
Plastic bags (for trash and to use as a poncho for a pop-up rainstorm)
Anti-itch cream and poison ivy wipes
Hats (offer double protection from ticks and sun)
Hiking with your family can be a truly enjoyable experience if you do it right. Don't follow in our then-unseasoned footsteps when you hike. We made it out of our treacherous hike quite dirty, sweaty, and famished, grateful we survived the life-risking adventure. We hope these family hiking tips help you to confidently get out there with your family in a safe and practical way. Happy trails!