Wisconsin is a highly diverse state with many outdoor camping and recreation areas to visit. The state is fondly known as America's Dairyland and is famous for its cheese.
Wisconsin is fortunate to have coastlines on two Great Lakes, Michigan and Superior, and a vast interior landscape of rolling farms and towering forests. However, camping in Wisconsin is glorious. Plan your Wisconsin camping vacation by reading about the best camping in Wisconsin.
1. Amnicon Falls State Park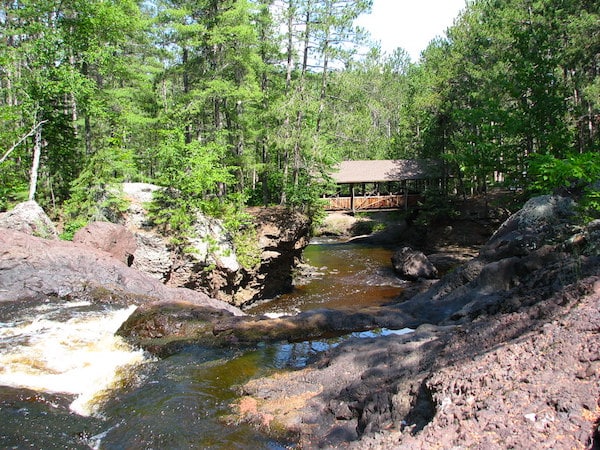 Amnicon Falls State Park is folded in the South Range just southeast of the city of Superior. It is an 825-acre park featuring waterfalls that break up the Amnicon River. It moves around a small island and under a historic covered bridge.
The park offers a rustic campground that is well-shaded. There are no electric hookups, dump stations, or showers, and generators may not be used. RVs and tents are welcome. Due to Covid-19 restrictions, office buildings, visitor centers, and enclosed shelters are closed. You will need reservations that can be made through the Wisconsin Department of Natural Resources.
Amenities:
36 Campsites
Two walk-in sites
Playground
Group activities field
Vault toilets
Drinking water
Firewood is available at the office from 8 am to 8 pm
2. Apostle Islands National Lakeshore, Bayfield Wisconsin
Apostle Island National lakeshore consists of 22 islands that are open year-round. Still, you need to check current conditions before making your camping plans. Since the Islands are on Lake Superior, weather conditions change rapidly.
The island offer hiking, camping, sailing, fishing, or just sitting on the beach. It is a place to explore and connect with the environment. This year marks the 50th anniversary of the park.
Lake Superior, the cleanest but coldest of the Great Lakes, is where the islands are situated. The shore offers views of cliffs, 21 islands, and beaches. Islands for camping, tent only, include Sand Island, York Island, Devils Island, Rocky Island, South Twin Island, Outer Island, Cat Island, Ironwood Island, and several more.
Hike to mainland sea caves, lighthouses, old farms, historic logging, and commercial fishing camps. Bask on the beaches and marvel at the scenic overlooks. If you are experienced, there are places where you can scuba dive and see sunken ships. Check out the beautiful sandstone cliffs and rugged beaches.
Here there are 22 islands and a mainland coast with a blend of natural resources. The island park has more lighthouses than any other site in the U.S. If you are a birdwatcher, there are 240 species of birds around this archipelago. You can learn more on the Travel Wisconsin website.
Amenities:
Public docking
Fishing
Camping options with well water, vault toilets, and food lockers.
Remote camping sites with only a tent pad and fire grills
Hunting
Kayak rentals
Scuba diving (requires a free permit)
3. Camping with Cows – the G Farm
Camp at a real farm, depending on the season, and depending on the season you stay, see baby chicks and pigs. Camp beside the three-and-a-half-acre pond also has a tiny house for rent with electricity, grill, picnic bench, fire barrel, and electric heater. Stay in the tiny house with up to six guests for a fun way to experience Wisconsin farm adventure.
This is a great option for those who would like to camp but would like to try something a little closer to glamping. The tiny house is a great way to upgrade your camping experience and still get to enjoy the amazing atmosphere. The minimum stay is one night, and the price is $60 per night, with a 30% discount on weekdays.
Amenities:
Potable water
Kitchen available
Picnic tables
No showers
No WiFi
Pack it out
Campfires allowed
Toilets available
Swimming hole
No pets
4. Copper Falls Campground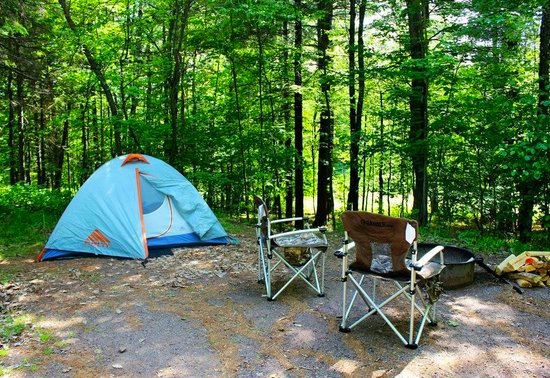 As one of Wisconsin's scenic parks, you can visit log buildings constructed by the CCC in 1930, hike, bike, camp, fish, and swim in Loon Lake. Take advantage of the 17-mile Doughboy's nature trails along the Bad River. You can also experience deep gorges and lava flows from eons ago and visit awesome waterfalls.
There are 24 camping sites with elevated hookups. Four sites are more secluded walk-in- sites for tents. Admission is via admission stickers available online on the Wisconsin Department of Natural Resources website. Prices range from vehicles with WI licenses at $28 annually to $38 for out-of-state vehicles.
Amenities:
Showers next to the south campground
Dump station
Group camping for p to 40 people
Concession stand with firewood soft drinks, light lunches, ice, and ice cream
Rustic cabin available for those with disabilities
5. Devil's Lake
Devil's Lake State Park is one of the best places to go camping in Wisconsin. The campground is located along the Ice Age National Scenic Trail and offers incredible views from 500-foot bluffs overlooking the 360-acre lake. There are 30 miles of hiking trails, lakeside picnic areas, swimming, water floating, and naturalist programs with itineraries for the entire year.
The state park has three campgrounds for 423 sites plus nine group campsites that accommodate about 240 campers. All campsites must e reserved.
Quartzite Campground is grassy, with trees scattered among the grounds. There are 75 sites with electricity, and the campground has a dump/fill state. Kids will enjoy the playground near the middle of the campground. If you are disabled, there is a campsite available.
Previously, Quartzite Campground had been a 9-hole golf course.
6. Fox Hill RV Park & Campground
Set among fifty acres of wooded landscape is the Fox Hill RV Park & Campground. This campground gives campers the best of both worlds – hookups, and woods. Fox hill is located near the Wisconsin Dells and the Ho-Chunk Casino. You can enjoy the wooded peace of the park and take a short trip to local areas.
Reservations are required, and rates run from $40 per night for tent sites to $51 per night for premium pull-thru with full hookups. For a total breakdown of prices, visit the Fox FHill RV Park & Campground website.
Amenities:
Heated swimming pool
Weekend pancake breakfasts
Fenced dog area
Hiking trails
Shuttle to Ho-Chunk CasinoLong-term RV availability
WiFi
Pets allowed
Firewood
Eight cabin sleeping cabins
13 Deluxe Cabins w/bathroom and shower
7. Harrington Beach State Park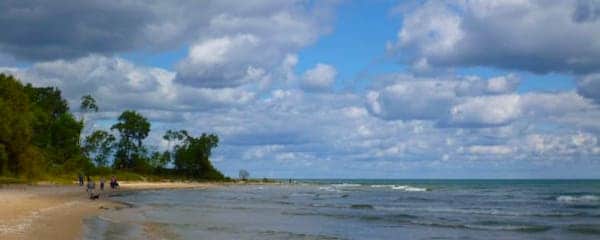 Located two hours north of Chicago and along the shore of Lake Michigan, this park has 702 acres of lush scenery, a mile-long sandy beach, and a 25-acre lake. One of the best places to camp in Wisconsin, Harrington Beach State Park, has one of Lake Michigan's best sandy beaches. There is a welcome center, hiking and snowmobiling trails, and wildlife in abundance. There is a 75-unit campground, and the park is open all year round.
For admission, length of stay, and other questions, visit the Wisconsin Department of Natural Resources website.
Amenities:
Pet are welcome
Water Play
Disabled Access
Campsites
Reaches
Forests
Trails
Concessions
Camping electrical hood ups
Fishing
Flush Toiles
Dump Station
Family-oriented nature trails
8. Jellystone Park
Yogi Bear watches over campers to make sure they experience family camping at its best. There are a variety of campsites and cabins and tons of family-friendly amenities here at Jellystone. Located 75 miles north of Chicago and 20 minutes south of Milwaukee, this campground is a family's dream vacation.
The campground features premium hookup sites, pull-through sites, tent sites, and sites for seasonal campers. Water features include Bear Paw Beach & Adventure Island and Yogi's water zone. Take advantage of the park's dry attractions including jumping pillows, mini-golf, and outdoor recreational activities.
Best camping in Wisconsin can be found at Jellystone Park for a reasonable price ranging from the spring package a $360 to the super saver spring package at $650. For more information on reservations and prices, go to https://www.jellystone-caledonia.com/specials.
Amenities
Premium full hook-up sites
Full hook-up sites
Pull through sites
Water & electric sites
Tent sites
Seasonal sites
Showers
Toilets
Sinks
9. Lynn Ann's Campground in the Northwoods
Lynn Ann's Campground is one of the best places to camp in Wisconsin. The campground offers wooded and grassy tent and RV sites in a totally family environment. The campground is located on the spectacular Big St. Germain Lake, which offers plenty of family fun. There are 93 campsites at Lynn Ann's Campground in the Northwoods.
You will need a reservation to assume that a site is available when you come camping. Prices, open dates, and details can be found on the Travel Wisconsin website.
Amenities:
Playground
Pets ok
Group Sites
Store
Fishing
Shading campsites
Picnic table and firepit
Sandy beach for swimming
Rentals for water skiing
Pontoon boats to rent
Rental Trailers available
10. Northern Lights Campground

The Northern Lights Campground has over 140 campsites with a variety of vegetation. Seventy-one sites have electricity, and the rest are non-electric sites. Northern Lights is the only campground with wooded electrical sites. This campground is the oldest campground at Devil's Lake State Park, and it opened in 1939. The Civilian Conservation Corps built three shower/restroom buildings around 1932.
You can learn more about the Northern Lights Campground on the Devil's Lake State Park website.
Amenities:
Firewood
Dump Stations
Concessions
Water, restrooms, and showers
Trash Pickup
Group sites
Marina
Day Use availability
Cell service is poor
11. Saint Croix National Scenic Riverway
Run the rapids along with the St Croix or Namekagon Rivers. There are 212 miles of water to float and enjoy the wild environment. Forested land on both sides of the St. Croix offers one of the best places to go camping in Wisconsin. Campsites are along the river route, and you can pull your boat out of the water and camp. Many campsites are only accessible from the water and are tent or ground sleeping sites.
The rivers are open year-round, but high water conditions may require the rivers' stretches to be closed. Winter does often limit access to trails and campsites. To find out more about weather conditions, camping sites, fees, and general information visit the National Park Service website.
12. Smokey Hollow Campground
Snuggled in the hollows of Wisconsin, Smokey Hollow Campground is one of the best places to go camping in Wisconsin. The campground is designed for kids of all ages, and giant inflatables, mini-golf, and activities for everyone make this a pleasant getaway. There are tent and RV sites, rustic and luxury cabins, and yurts.
Reservations are required, and rates depend on if you want VIP sites, back-in sites, tent sites, double-ups, rustic or deluxe cabins. Find the prices and ways to reserve on the Smokey Hollow Campground website.
Amenities:
Convenience store,
Full hookups
Firepits at tent sites
Firewood
Ice
Showers
Bathrooms
Running water
13. Spearhead Point Campground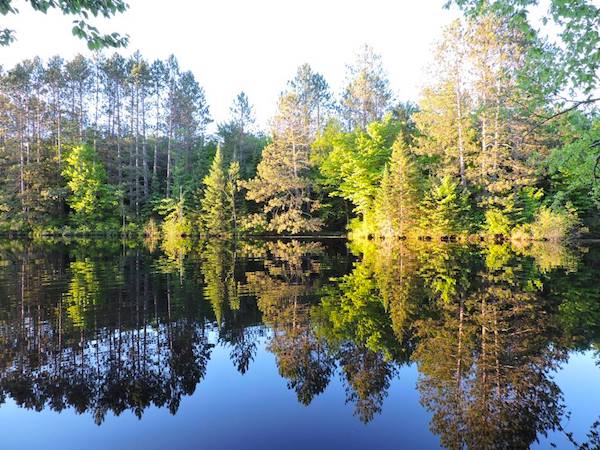 Spearhead Point is open from April 9 to October 11 and is one of Wisconsin's best camping along the Mondeaux Flowage. The campsites are family-oriented, and the views of the lake are spectacular. Rv and tent sites are available on a first-come-first-served basis. There are no hookups available. The sites do have tables and campfire rings.
Prices are $15 to 18 per night, and to check out availability, visit this page on Recreation.gov.
Amenities:
Vault toilets
Drinking water
Fishing
Boating (without motors)
Hiking along 1200 miles at the edge of a glacier
Concession stand
Coin-operated showers
Boat ramps
worPayphones.
14. Stoney Creek RV Resort
For a very clean and family-friendly campground and one of the best places to go camping in Wisconsin. This RV resort park has tons of grassy parking spots and amenities for daily, weekly, and monthly rates. Additionally, if you want to give glamping a try, this is a great option. They even have some small cabins that you can rent for a few days or longer.
Prices vary based on site/spot. Pull-through RV sites are $58 on weekdays and $70 on weekends. Tent sites are $40 on weekdays and $50 on weekends. One-bedroom cabins are $90 on weekdays and $110 on weekends. For more on and off-season rates and reservations, visit the Stony Creek RV Resort website.
Amenities:
Good Sam member discounts
192 camping sites
Cabin rentals
Tent sites
Full hookups
30/50 Amp hookups
Back-In and /Pull-Through Sites
Showers
Pets allowed
WiFi and Cell phone reception
Pool and Hot Tub
Fishing pond
Miniature golf course
Covered wagon rides
Basketball, horseshoes
Laser tag
Many more family games
15. Pinewoods Campground
Pinewoods Campground is a dry camping experience, but it does have 2010 campsites. There is a 24-hour quiet zone meaning no pets, radios, or mechanical device is allowed. These ensure you have a peaceful visit to this wooded campground.
All campers must register at Ottawa Lake for a campsite assignment. Campers require a Wisconsin State Park System vehicle admission sticker. You can purchase day and trail pass at different properties. You can find more information on the WDNR website.
Amenities:
Drinking water
Dump station
Group campsite
Parking
Playground
Recycling
Flush toilets
Vault toilets
Showers
16. Wyalusing State Park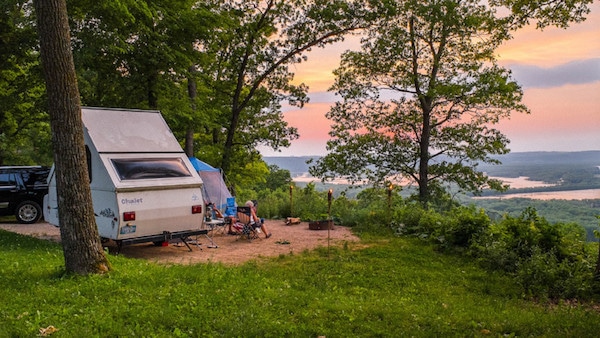 Pitch your tent a mere 500 feet above the Wisconsin and Mississippi rivers' convergence for some of the best camping in Wisconsin. Two campgrounds, Wisconsin Ridge and Homestead, welcome you with open arms to visit Native American burial mounds or float down the canoe trail. You can unhitch at the boat ramp with access to the Mississippi.
Indoor camping facilities are available at Hugh Harper Indoor Group Camp. This camp is a modern facility for organized groups. There is a lodge with a kitchen, dining area, and a rec room. The kitchen has two gas ovens, six burners, and a griddle. There is also a large refrigerator, freezer, microwave, dishwasher, cooking, and furnished eating utensils. For reservations and prices, visit the Wisconsin DNR website.
Amenities:
109 regular campsites
Dump station
Outdoor group camp with five sites
14 miles of hiking trails,
Pets are welcome
Firewood is available at the park concession stand
Everywhere you camp in Wisconsin, you will be around the water, and around every corner, there is magic. Camp in heavily forested hills, search sand plains, rocky hills, wild rivers, and wetlands. Camp by canyons sculpted by the rives flowing through Wisconsin, but do plan well before heading out.