Though most of us prefer camping in the more temperate months of spring and fall, summer camping can be just as enjoyable when you're prepared. In fact, summer camping opens up the option of swimming and other water sports. We compiled the following summer camping tips to make the summer family camping trip fun and memorable for everyone involved.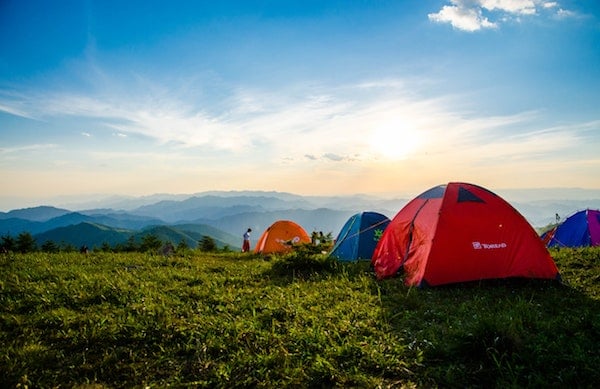 Tip #1: Pack LOTS of Water
No matter the season, packing lots of water is a no-brainer. You'll need it to drink, cook, and clean. However, the possibility of dehydration is greater in the hotter summer months, especially when participating in activities like swimming where you may not even realize you are becoming dehydrated.
Packing larger jugs to keep at the campsite and smaller bottles for daily excursions is also a good idea. In an emergency, electrolyte packets like these can be quickly mixed in water bottles for adults and kids.
Tip #2: Be Prepared for COLD Weather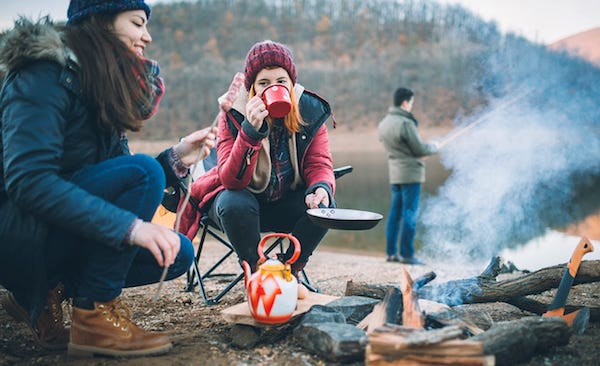 Unless you're camping way up in the mountains, the summer months will typically be HOT. However, nighttime temperatures can dip low quickly. Ensure you're prepared with extra blankets and warm clothing, including socks, coats, and hats. Bodywarmers can help to warm extremities quickly.
Tip #3: Be Prepared for Rain
Summer can bring about some torrential storms, and if you're tent camping, lightning and thunder would amount to a no-doubt-get-out situation. However, a little rain doesn't have to end your adventure. Pack extra tarps. They are affordable, easy to pack, and versatile.
You could suspend one above your tent for an additional layer of protection from the rain. Additionally, they can protect your camping gear and firewood from getting soaked. Bring extra trash bags to use as personal ponchos if rain strikes while you're away from camp.
Tip #4: Bring Swimwear
It is summer, and your campground will likely have a pool, lake, or creek where you can cool off in. Be sure to follow campground rules and never swim in unknown or unmarked bodies of water. Bringing flotation devices and life vests is a must, especially if you are swimming in areas without lifeguards.
Tip #5: Remember the Sunscreen
It is easy, especially when camping in heavily wooded areas, to forget something as simple as sunscreen, but it is essential for your entire family's enjoyment. If you have ever had to soothe a sunburnt baby or have had to sit out a fun activity due to your own sunburn, you know exactly where we're coming from.
Be safe, and remember to reapply every few hours or after swimming. Wear a ballcap for added sun protection with the extra benefit of preventing ticks from landing in your hair.
Tip #6: Bring Insect Repellant
You'll find quite a bit more of these biting pests during the summer months almost anywhere you camp. Though we find spray repellents with DEET to be the most effective, there are natural plant-based alternatives that will help some.
If you'd rather not apply products directly to the skin, you can find a variety of citronella candles, coils, or even electric bug zappers to control the bugs. Just be certain a bug zapper, which can be loud, won't annoy any neighboring campers.
Tip #7: Pack a Fan or Two
Chances are, it will be hot during the daytime, and tents will warm up and retain heat well into the night. Using a camping fan to keep air moving inside the tent will keep the indoor air from feeling stagnant and mildewy. Additionally, you can use one of your extra tarps or a pop-up tent to make a shaded space and keep an extra cooler just for ice and cool towels for quick cool-down situations.
Tip #8: Modify Your First-Aid Kit
Packing a first-aid kit is essential when camping with the family; however, you will want to modify it to support summer-specific ailment possibilities. Sunburn, bug bites, and encountering poisonous plants are at greater risk during the summer.
So, ensure you have cooling gel, anti-itch cream, and calamine lotion in your standard first-aid kit. You may also want to consider anti-inflammatory painkillers to treat bug bites and burns.
Tip #9: Bring Calorie-Dense Snacks
Like hydration levels, blood sugar levels can drop quickly when you are out on an adventure. Bring plenty of calorie-dense, individually-wrapped, and non-perishable snacks for daily outings when you may not be able to get back to camp to eat right away. Items like beef jerky can satiate the hangry family member until you are able to sit down for a meal.
Tip #10: Keep Meals Simple
One of the best parts of camping is cooking around the campfire, but reserve this for nighttime only. Temperatures are cooler then, and you won't run the risk of overheating. Breakfast foods like cereal, yogurt, and fruit can get you started. Lunchmeats and cheeses are easy to pack and do not require heating.
You could also try self-heating meals designed for camping and other activities that do not require cooking. Do not forget the importance of storing your food in a locked cooler, especially in bear country. If possible, check with the campground or park ranger for their suggestions.
Tip #11: Choose Clothing Wisely
Moisture-wicking fabrics can help you stay cool and dry on hot summer days. This will be paramount where bathing facilities may not be readily available. Shirts and pants with sun protection are also good choices. Though wearing long pants may seem counterproductive to staying cool, a breathable pair will protect you from not only the sun but also bug bites and poisonous plants.
Tip #12: Set up a Cleaning Station
Sweat mixed with sunscreen, bug spray, and dirt can leave you feeling gross. No one wants to head to bed like that. Set up a cleaning station where you can at least wipe away some of the grime before turning in. A large, five-gallon jug of water with a spigot and a plastic tub makes an ideal wash station.
Make sure you use biodegradable soap and dump your used water away from the camp to avoid making muddy puddles. Additionally, bring a few packs of baby wipes for quick clean-ups.
Tip #13: Contain the Kids
This really only applies to the very small ones who might like to wander away. If you have mobile tots, be sure to bring a playpen or other containment system. With so many things to explore at the campsite, it's just too tempting for the wee-ones to take off.
Tip #14: Plan for Downtime
Even if your chosen campground has more amenities than an amusement park, you can still expect some downtime. Personally, we cannot think of much worse than trying to cool off and relax with a cold beverage of choice while our children whine about how bored they are. Plan ahead and make up scavenger hunts for older kids or bring board games, cards, or even puzzles for younger kids.
Tip #15: Use the Sun
Summertime, typically, means lots of sun. Though it's essential to protect your family from it, you can still use it to power various devices. Solar-powered camping lights and lanterns can help you see around your site at night.
Additionally, you can find solar-powered charging stations, radios, fans, heaters, and even food freezers. Take advantage of the sunny days, but bring a stash of batteries just in case.