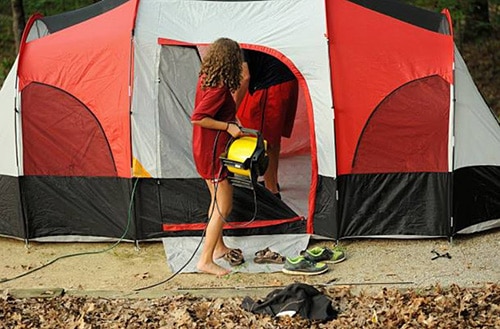 I don't know about you but for us, some of the most exciting camping trips take place during the hottest time of the year. Summer is a great time to get outside and enjoy nature while the kids are not in school and while it's not too cold to spend all day outside.
Although the warm weather brings beautiful scenery, an abundance of wild animals to adore from afar, and beautiful nights to sit around the fire, it can get extremely humid. Sleeping in 80-degree temperatures stuffed in a tent or cabin can be nearly unbearable. While tent camping, there are a few things you can do to stay cool during the Summer but one of the best options is to use a camping fan.
You'll be surprised how much cooler you'll feel with a camping tent fan blowing on you.
There are a few things you should consider before deciding which fan is best for you:
Is it easy to store?
Is it lightweight?
How long does the charge or batteries last?
Is it durable?
Is it worth the money?
All these answers depend on the person using it and the trip they have in store. You'll most likely need a portable fan, but do you also require a rechargeable fan? Or do you prefer one that needs a battery pack? What about the battery power? Do your homework and choose one that's right for you.
6 Best Camping Fans
The best camping fans come in many different designs, sizes, and varieties – features can range from a solar panel to foam blades – making it simple to pick one no matter your camping situation.
You can find a floor fan to use in your cabin, a hanging fan to place in your tent, or you can even wear a portable fan on your clothes. While you're planning your next camping vacation, consider our recommendations for a great camping fan. Just keep in mind what you think would make the best camping fan for you.
This battery-operated camping fan makes an excellent option for those who'll be in the middle of nowhere for a long time. As long as you bring an extra set of batteries or two – make sure whether you need alkaline batteries or you can use a rechargeable battery – you're good to go for your getaway.
You can hang this battery-operated fan from a camping tent pole or above your cabin bunk because it's equipped with a camping lantern so it acts like a ceiling fan. The LED lantern is a nice feature to have in addition to the airflow. This camping fan will give you the right amount of cool air to help you sleep soundly underneath the stars.
---
No products found.
The USB rechargeable tent fan offers another great design. It is also a battery operated fan, but it can charge through a USB port and USB cable. This fan has a rechargeable battery so you can recharge this fan from your car, giving you peace of mind.
The UV light included is bright and will help you see in the dark while trying to find and adjust the fan if you get too hot or cold in the middle of the night. With a sturdy base, this makes a great table fan.
No products found.
---
No products found.
A personal portable fan helps you survive the intolerable heat as you hike or relax on the beach. This is a very portable camping fan, which makes it nice to keep with you throughout the entire day.
This personal fan can last up to 15 hours, getting through an entire day without a recharge while giving you the refreshing feeling of an air conditioner.
The OPolar fan has three different modes, allowing you to change the airflow depending on the change in the weather. It's also silent and durable, giving you a long-lasting fan you can take on every vacation.
No products found.
---
A neck fan is perfect if you're searching for a personal fan that leaves your hands free while keeping your face and hair dry. This portable fan is perfect for a quick getaway or a week-long adventure.
The Sowman personal neck fan is rechargeable and lightweight. If you plan on spending the day exploring the mountains or you need it throughout the night, this fan can last for up to six hours.
This rechargeable fan never requires batteries and can be charged through a USB port and USB cord.
---
No products found.
Put an end to complaining kids or panting dogs with an oscillating fan. This will filter cool air through the room, relieving everyone in your cabin or camping tent.
The fan can also conveniently fit into storage thanks to its ability to fold away. Keep it tucked away in the car trunk or stow it in your camper inside a cupboard.
An oscillating fan is a great investment for anyone who enjoys camping but hates the heat.
No products found.
---
No products found.
This mini portable AC unit is actually a mini swamp cooler. This will work great to blow some cool air directly on you. Since it is a swamp cooler, it'll work best in dry climates. Additionally, you'll want to use this cooler either outside or in a tent with decent ventilation.
Another great feature about this portable AC unit is that it is rechargeable. If you have an electrical connection or a power bank, you'll be able to you this throughout your entire camping trip. This is a great option for those looking for a little more cooling ability than just a normal fan.
No products found.
Conclusion
People wait for months to finally get a chance to stop what they're doing and take a few days off to relax and just enjoy life. There's no reason any camping trip should be ruined just because of the heat. Thanks for the products listed above, anyone can have a cool and comfortable vacation even when there's no electricity around.