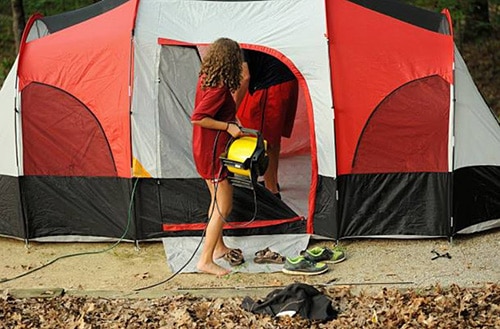 I don't know about you but for us, some of the most exciting camping trips take place during the hottest time of the year. Summer is a great time to get outside and enjoy nature while the kids are not in school and while it's not too cold to spend all day outside.
Although the warm weather brings beautiful scenery, an abundance of wild animals to adore from afar, and beautiful nights to sit around the fire, it can get extremely humid. Sleeping in 80-degree temperatures stuffed in a tent or cabin can be nearly unbearable. While tent camping, there are a few things you can do to stay cool during the Summer but one of the best options is to use a camping fan.
You'll be surprised how much cooler you'll feel with a camping tent fan blowing on you.
There are a few things you should consider before deciding which fan is best for you:
Is it easy to store?
Is it lightweight?
How long does the charge or batteries last?
Is it durable?
Is it worth the money?
All these answers depend on the person using it and the trip they have in store. You'll most likely need a portable fan, but do you also require a rechargeable fan? Or do you prefer one that needs a battery pack? What about the battery power? Do your homework and choose one that's right for you.
6 Best Camping Fans
The best camping fans come in many different designs, sizes, and varieties – features can range from a solar panel to foam blades – making it simple to pick one no matter your camping situation.
You can find a floor fan to use in your cabin, a hanging fan to place in your tent, or you can even wear a portable fan on your clothes. While you're planning your next camping vacation, consider our recommendations for a great camping fan. Just keep in mind what you think would make the best camping fan for you.
This camping fan is a great option for those that want a versatile fan with lots of different options. This fan has a built-in hook for hanging from the ceiling of your tent but also has an adjustable arm so it can easily be used sitting on a table.
The battery on this fan can also be used to charge some of your smaller electronics like phones and tablets. The one feature that really makes this camping fan stand out is that it comes with a remote.
The included remote lets you control the fan and light without having to get out of your sleeping bag. This is a great option that makes it very convenient to get in your bed without having to do it in the dark, which is typically how I have done it.
The battery life on this fan is pretty good, not as good as some of the other options but not something that would give me much concern. Overall, this is definitely one of the best camping fans.
---
This camping fan is a great durable option for those that want a fan and light combination. This is one of the best camping fans for warm weather because it has a battery life that will last up to 36 hours on low.
An additional feature of this fan that is nice is that it can run while charging. There are many other options that cannot run while charging. The durable design, long battery life, included light, and ability to run while charging, make this a great option for your next camping trip.
---
This battery-operated camping fan makes an excellent option for those who'll be in the middle of nowhere for a long time. As long as you bring an extra set of batteries or two – make sure whether you need alkaline batteries or you can use a rechargeable battery – you're good to go for your getaway.
You can hang this battery-operated fan from a camping tent pole or above your cabin bunk because it's equipped with a camping lantern so it acts like a ceiling fan. The LED lantern is a nice feature to have in addition to the airflow. This camping fan will give you the right amount of cool air to help you sleep soundly underneath the stars.
---
No products found.
A neck fan is perfect if you're searching for a personal fan that leaves your hands free while keeping your face and hair dry. This portable fan is perfect for a quick getaway or a week-long adventure.
The Sowman personal neck fan is rechargeable and lightweight. If you plan on spending the day exploring the mountains or you need it throughout the night, this fan can last for up to six hours.
This rechargeable fan never requires batteries and can be charged through a USB port and USB cord.
No products found.
---
This might not be one of the typical camping fans you think of but it does offer some unique features and can be a great option for some people. Hanging fans are good but often you won't be able to feel the fan throughout the entire tent.
This oscillating fan eliminates that problem and can cover your entire tent so that everyone can enjoy the air movement. Additionally, it comes with a remote allowing you to adjust the fan speed from anywhere inside your tent.
The one downside to this fan is that it does not have a light attached to it as many of the other typical camping fans do. If you have another light source for your tent then that won't be a problem and this would be a great option.
---
This mini portable AC unit is actually a mini swamp cooler. This will work great to blow some cool air directly on you. Since it is a swamp cooler, it'll work best in dry climates. Additionally, you'll want to use this cooler either outside or in a tent with decent ventilation.
Another great feature about this portable AC unit is that it is rechargeable. If you have an electrical connection or a power bank, you'll be able to you this throughout your entire camping trip. This is a great option for those looking for a little more cooling ability than just a normal fan.
With that being said, there are a couple of downsides to this mini cooler. It will really only work for one person. The air blown out of it is very one-directional and does not blow very far, so you'll want to have this right next to you. Additionally, it does not have a light or remote as part of the cooler.
Outside of those few issues, it is a great way to bring some extra cooling ability into your tent.
Conclusion
There are a lot of great options when it comes to the best camping fans. This list gives you the 6 that we think you should consider. For a standard-style camping fan, we feel that the Camping Fan with Remote is the best option but the other options should not be ignored.