Isn't camping the best? Communing with nature, sleeping under the stars, and generally slowing down from our normal chaotic lives is just what some of us need to recharge and reconnect with the family. Make your next family camping trip a fun and relaxing one by avoiding these common mistakes.
Make a Checklist
Okay, so making a checklist is one we actually do not want you to avoid. Make a checklist to remember all those essential items that might be harder to find or way more expensive to purchase at the campsite. You might need a clothing checklist, a camping gear checklist, or a checklist for your food and water. Make as many checklists as you deem necessary to ensure you have all you need.
Not Reserving Your Campsite
This may seem like a no-brainer, but campgrounds in popular parks during the peak season will fill up quickly. What a shame to arrive at your desired park without reservations, only to be told you cannot camp there. Avoid this dilemma easily by booking your site as soon as you know when you want to go camping.
Arriving after Dark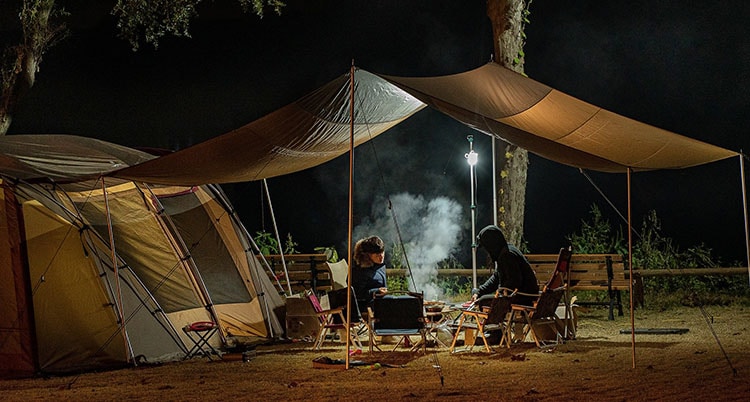 Campsites are typically only lit by the lighting you bring in. Arriving after dark can make it extremely difficult to not only find your camping gear packed deep in your car but also to set it all up.
Not only will you guarantee yourself a difficult time, but you will probably annoy your campsite neighbors, who are likely winding down from a full day of activities. You will probably be around these people for the next week or so, so it is best to just not be that family.
Not Checking the Weather
Even if you plan to camp in an area that rarely sees rain or snow, it is always a good idea to keep track of the weather. Nothing can ruin a good camping trip like being unprepared for a pop-up storm. Strong winds can also pose huge problems if you are tent camping, so check your forecasts.
Packing too Much
You will already have loads of camping gear to haul along, so it is important to limit the "extras." The idea of camping is not to live like you do at home. You are most likely not going to need all your hair styling products and appliances, nor will the kids need all their toys. When it comes to clothing, stick to the necessities and consider bringing multi-functional pieces like pants that can be converted into shorts, for one.
Packing too Little
Here is where we like to trip you up. Don't pack too much or too little. Which is it? A little planning and research should help with this one. For example, what activities will you be participating in? If hiking is on the list and you muddy up a pair of shoes, you will want to make sure you have an extra pair. Likewise, if there is a sudden dip in temperature, you will want to have a warm jacket.
Keeping in mind your multi-functional items (trash bags make excellent ponchos in rain and take up little space), you can make certain you have everything you need without stuffing the car to its gills.
Packing lots of Perishable Foods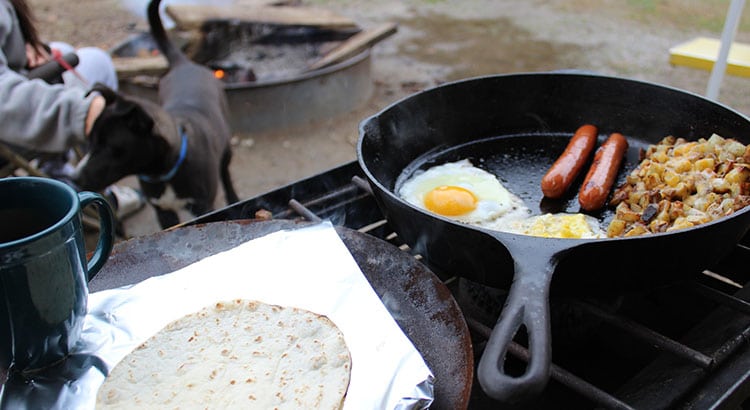 For longer camping trips, non-perishable foods will be the easiest to keep. However, this can get monotonous for your palate. You can bring perishables like meats and cheeses if you have proper storage for them. Invest in an insulated cooler and freeze perishable foods prior to packing them to help them last longer.
You also want to make sure you pack enough food and water for everyone. If you will be hiking, swimming, fishing, canoeing or participating in other camping activities, the entire family will work up an appetite. Be sure to consider calorie-dense snack items, and don't forget breakfast foods.
Improperly Storing Food
Wildlife thrives on campers' leftovers if they are not stored away properly. Not only can they be a nuisance, tearing up your camp and leaving a huge mess, but that's your family's food supply. Investing in an insulated cooler that locks is a good idea. It is also a good idea to keep your cooler inside your vehicle when not in use if that's a possibility.
Depending on the Campfire for Cooking
Well, yes, roasting marshmallows and hot dogs is a must while camping. However, depending solely on a campfire to cook all your meals is asking for trouble. Perhaps you wake up to an exceptionally dewy morning and are unable to start a fire. What now?
Enter a camping stove, of course. It's an excellent backup when a campfire isn't cooperating or simply isn't possible. Maybe you just want to cook a quick meal and head out for the day's adventure. Starting a camping stove and turning it off proves much easier than getting a good fire going just to cook and put it out quickly. There are lots of great options, but for ease of use and size, we like this Coleman camp stove.
Forgetting the Lights
It gets dark at night at campsites, and if you are used to the continual glow of city lights, it gets really dark. You will want a small light for each tent and lights to illuminate the area outside of your tent. It is also a good idea for each person to have their own flashlight. This will make late-night trips to the facilities much easier.
Not Following Campground Rules
Again, a little research ahead of time can ensure you know what to expect at the campground. For example, many areas only allow you to burn campfire wood you purchase from them or bring in. This means no burning wood you find on-site. Other areas may not allow pets. Obviously, both of these scenarios could cause a kink in your plans if you are not aware of the rules ahead of time.
Forgetting Rain Protection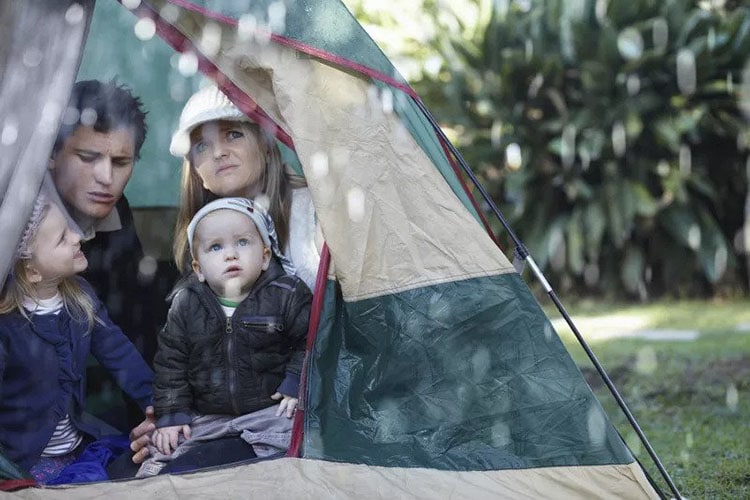 Whether you set up a pop-up canopy to protect your outdoor area or hang tarps from trees, you will want some way to protect your gear and provide a dry space to cook. Even if it doesn't pour down rain on you, morning dew can leave surfaces wet and uncomfortable. Bring extra tarps or rain flys to keep your tents protected from extra moisture.
Not Being Aware of Poisonous Plants
Poison Ivy can make your camping trip completely miserable or cut it short entirely. Learn to identify poisonous plants prior to leaving on your trip. Staying on trails when hiking and wearing long pants and sleeves can help keep you protected from poisonous plants. Make sure to change out of your clothes once you are back at the campsite and wash them if it's possible. If you cannot clean your clothes, store them in plastic bags away from your tent.
If your dog is with you, make sure to brush his fur prior to cuddling up on him or letting him in the tent. Finally, pack a small bottle of anti-itch lotion in case you are unable to avoid exposure.
Assuming "Essentials" will be Provided
Perhaps you are staying at a campground with a luxury bathhouse available for use. We can all dream, right? Even so, it is a good idea to bring your own toilet paper, tissues, towels, and toiletries. If you are camping during peak time, you may find that the facilities have run out of these essential items.
We highly recommend not using natural resources (leaves) as makeshift toilet paper. Refer back to the prior paragraph if you are unsure why. It's better to be safe than sorry (and itchy).
Not Adhering to the Leave No Trace Policy
In general, the Leave No Trace Policy for campers means you should leave the area as if you have never been there. Any items you bring in, you also need to bring out. Some campgrounds no longer have trash bins, so you will need to make sure you are able to haul all of your refuse out of the park when you go.
Other aspects of this policy include using proper campfire facilities, respecting wildlife, being considerate to other campers, and leaving items like rocks and other natural substances as they are. You should also only set up camp or hike on durable surfaces. Adhering to the Leave No Trace policy ensures campgrounds and the backcountry are preserved for everyone's future use. Plus, it just makes you a good person.
Save it for Later