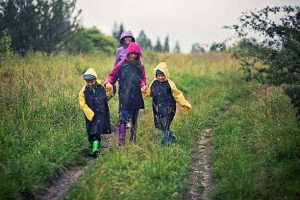 Spring comes with various adventures such as hiking, running, biking, and boating. Whether it's self-generated humidity or dribble down the neck, good rain dressing is crucial to keep you dry when walking or hiking during wet weather.
A well-designed and durable pair of rain pants will make your outdoor adventure more fun as it keeps your lower side dry. Rains pants should be breathable, waterproof, and have some articulation. This writeup highlights the 9 best rain pants, including their pros and cons.
Buyer's Guide
Getting caught up in the rain can be inevitable, depending on where you have gone for your outdoor adventure. As with other items you usually buy, you need clear ideas of what to look out for in the pants. Here is a guide to help you buy the best rain pants and be on the safe side when the rains come abruptly.
Material
Your rain pants should be breathable and waterproof, with ventilation features to avoid heating and sweats.
Size
While you may want rain pants with a fitting waist, remember that they should be loose enough to allow free air circulation. Nonetheless, they should fit over the hiking gear comfortably with an elastic waist to be a bit snug. The rain pants should also fit over your hiking boots.
Price
A good pair of rain pants are costly You can find cheaper ones though they compromise functionality like being less water-resistant. Price can be a quality indicator where cheap may mean poor quality.
Packability and Weight
Your rain gear will be in your backpack most of the time, and you can put it on when the precipitation starts. With this in mind, lightweight pants that easily fit in your pack will be appropriate.
Features
Since you will wear the pants over your usual hiking gear, the bottom should have side zips to make them easy to wear. Outside leg zips or buttons will be helpful in case the weather turns out nasty quickly. The zips and buttons can also serve as ventilators when heat builds up after hiking for long.
Now that you know the basics to consider when purchasing your rain paints, below are the nine best rain pants you can choose that fit your needs.
1. Outdoor Research Helium Rain Pants
Whether you are running, thru-hiking, cycling, camping, or want good weather protection, Outdoor Research Helium pants are your choice. These rain pants are affordable and ultralight. They are suited for outdoor activities such as backpacking and hiking, where minimum bulk and weight are key. They are made with thin but tough fabrics to ensure they are tear-resistant.
Pros
Windproof and waterproof shell
Breathable and allows accessory suspenders
Cuff-to-thigh, easy to put on and off zippers
Durable with reflective logos, an elastic waist, and a carabiner loop
Easily pack into their pockets
Have hand pockets to keep your wallet or keys
Cons
A bit stiff material
It can be bulkier than other pants
If weight is not your big concern, then the thick material used in research helium provides better protection from heavy rain and brush than ultralight counterparts.
Outdoor Research Men's Helium Pants - Lightweight Waterproof Rain Gear Black
ULTRALIGHT STORM PANTS: Weighing a mere 5.5 ounces, these hiking pants offer supreme protection. Whether you are cycling, running, camping, thru-hiking, or just in need of incredible weather protection, choose Outdoor Research Helium Pants.
WATERPROOF AND WINDPROOF SHELL: If staying dry and comfortable is your top priority, the Helium Pants have you covered.  Fully seam-taped and built with YKK AquaGuard Ankle Zipper, these provide maximum storm protection while staying breathable.
---
2. Clothin Waterproof Rain Pants
With Clothin rain pants tucked in the backpack, you can skip the weather forecast check and go for outdoor adventures. You will remain dry even when walking in heavy downpours because these pants are designed with fully taped seams and waterproof fabric.
To pull the Clothin pants off, you loosen the loop-and-hook cuff tabs and slide them over your boots. You can also unfasten the pants for more ventilation. Clothin rain pants come with two reverse-entry front pockets with zippers to keep your items inside for extra functionality.
Pros
Reasonably cheap rain pants
100% Polyester
Waterproof with sealed seams
Elastic closure and loose-fitting
Mesh lining to enhance breathability
Elastic waistband with inside drawstring
Reverse entry pockets with zippers to enhance utility and water resistance
Cons
May require heavier underwear to prevent freezing
---
3. Marmot PreCip Rain Pants
Marmot PreCip pants are full-function, reliable, full-zip, and value-oriented rain pants suitable for urban and country adventurers. They are updated with the most comfortable and waterproof coating technology called NanoPro. When combined with a practical construction and lightweight, these pants become suitable for backpacking, mountain travel, and hiking where unexpected rainstorms can occur.
Pros
NanoPro 100% nylon ripstop material
Flatlock seam construction
Large enough to accommodate underneath pair of pants, sweater, and shirt
Lightweight and easy to fold
Two-way full-length sips at the side
Cons
No belt loops
No elastic waistband
No insulation
Although they don't have belt loops, Marmot PreCip Rain Pants are fitted with Velcro hook-and-loop fasteners that help you fasten them together on the waist. They do not have insulation to keep you warm or absorb sweat, but they are good with underneath pants.
MARMOT Men's PreCip Full-Zip Pant | Lightweight, Waterproof, Jet Black, Medium
Avoid Getting Soaked - Sturdy and durable with a patented dry-touch finish, these waterproof pants will keep you comfortable and protected during planned treks in stormy weather or as a just-in-case layer in your pack for unexpected downpours.
The Next Generation Of Waterproofing - Our PreCip collection of pants and jackets is made with PFC-free NanoPro recycled nylon fabric that keeps you dry in the wettest conditions and is highly breathable thanks to an advanced microporous coating.
---
4. Acme Projects Rain Pants
Whether you are out for adventure in the country or strolling through town, Acme Projects' waterproof and breathable rain pants will keep you comfortable and dry if you are caught in bad weather conditions. The Velcro closure allows you to adjust the bottom for different occasions and fits. The pants are perfect for camping, hiking, cycling, traveling, and fishing.
Pros
10,000mm waterproof rating
3000gm breathability rating
Elastic system and drawcord enable you to adjust the waist
Two hand pockets for keeping your essentials
100% seam sealed
Cons
Velcro strip can be a bit short of catching fully
Produce sound when you hike or walk
Try out these functional and stylish rain pants on your adventures and daily commute. The 10000mm waterproof rating with sealed seams prevents water from getting through the seams and fabric. The breathable membrane will allow water to get out to ensure the inside remains dry.
---
5. Frogg Toggs Rain Suit
Froggy Toggs, the rain suit's manufacturer, believes that exceptional construction, innovative features, and premium materials should be affordable and standard. The sport rain suit is a classic Froggy Toggs blend of nonwoven materials that offer breathability and water resistance. They are good-looking outerwear for all outdoor activities.
Pros
Windproof and waterproof
Breathable for all-day comfort
Pull-on elastic and adjustable waist
4-panel cut design on the legs
Unique Polypropylene flexible, nonwoven, and lightweight fabric
Adjustable leg openings
Cons
No carrying case
No ties or straps
It may not last long if worn in rough places
While the Frogg Toggs rain pants do not come with a carrying case, you can easily tuck them in the jacket's hood. It also does not have straps or ties, but you can find ones that fit you well.
Sale
FROGG TOGGS Men's Standard Classic All-Sport Waterproof Breathable Rain Suit, Stone Jacket/Black Pants, Large
WATERPROOF – Fully Seam Taped Jacket and Pant Rain Suit designed with FROGG TOGG'S Exclusive Polypropylene nonwoven fabric blend, with a DRIPORE GEN 2 middle layer for Waterproof, Wind-Resistant and breathability all day comfort
JACKET FEATURES – Adjustable and removable hood, full length parka fits over pants to avoid run off transfer, front zip and Snap down storm flap, elastic cuffs to keep elements out and raglan sleeves for freedom of movement
---
6. BenBoy Waterproof Rain Pants
With a high-pressure sealing design, BenBoy Waterproof Rain Pants fit closely and are water and windproof. The lightweight fabric makes the pants more convenient for outdoor activities and travel. They have a fleece lining to boost warmth with a super elastic waistband. The Velcro ankle closure enables you to adjust and put on boots. The material coupled with the inner mesh design also allows good air permeability to keep you cool.
Pros
Breathable lining mesh
Inner pocket to ensure your important items don't get wet
Waterproof fabric
Ankle Velcro for adjusting
High-pressure sealing to prevent water infiltration
Cons
May not allow flexible movement of it's too tight
Make loud scratchy noise
No outer pockets
Despite the above cons, these pants are excellent compared to their Price and can keep you warm and dry while engaging in your outdoor activities. Choose slightly loose ones to fit over your underpants and allow enough flexibility.
---
7. The North Face Venture 2 Hiking Pants
Made with breathable and waterproof DryVent 2.5L, the North Face Venture hiking pants features 100% windproof material. They are designed for easy layering and comfort to ensure it is unrestrictive. Whether you are wearing them for a casual appearance in town or for adventurous days in the wild, you will have a great experience in the Venture 2 half-zip pants. You can pair them with your favorite hoodie, sweater, or shirt.
Pros
Zipper closure
Made with waterproof DryVent 2.5L
100%-windproof fabric
Easy layering
Fabric coated with a durable, water-resistant finish
Elastic waistband with drawcord for adjustability
Secure-zip pockets
Designed to be breathable
Fully seam-sealed
Cons
Slim thigh area since they are cut straight
Not insulated, require warm underpants
Half-zip, you have to pull them over your boots
Available in black only
With this rain gear, you can be sure to show up for your outdoor activities despite the bad weather. The cons are also negligible since you have a way out for each case.
Sale
THE NORTH FACE Men's Venture 2 Half-Zip Waterproof Hiking Pant, TNF Black/TNF Black, Small Regular
STAY DRY. With a main fabric that is waterproof, windproof and 100% recycled, the Men's Venture 2 Half Zip Pant is a blend of technical features and sustainable materials. This pant can be stowed into its hand pocket when the weather clears.
PREMIUM FABRIC. Made from 100% recycled matrials with DryVent performance tech and coated with a Durable Water-Repellent (DWR) finish, this waterproof, windproof and breathable hiking pant delivers cozy comfort for casual nights or adventure days.
---
8. Helly-Hansen Moss Pants
Helly Hansen and his wife Maren Margrethe founded Helix in 1949. They sew a thin, translucent PVC plastic sheet into coats to waterproof them. This technology has since become a must-have for outdoor protection. Helox+ material is 100% waterproof and features a full stretch design to allow unrestricted movement. The interior fabric of Helly-Hansen Moss pants is soft for full comfort.
Pros
PU fabric construction
100% polyester lining
Welded seams
Made using Helox+ technology
Fully water and windproof
Drawcord, elastic waist adjustment
Include PU repair kit for unexpected damage
Adjustable bottom hem
Cons
Low breathability
You cannot wash with different colors
Don't use fabric softener to clean
While still retaining various stylish and classic silhouettes, today's Helix products are manufactured with PVC-free fabric. The pants fit you perfectly when you layer them over leggings. They are also lightweight and durable enough for all-year-round outdoor activities such as kayaking and hiking.
---
9. Columbia Women's Storm Surge Rain Pants
The proprietary technology of Columbia Women's storm surge rain pants provides breathable and waterproof protection from the elements. The pants feature waterproof coated nylon fabric to shield you from the heavy downpour. They also have an elastic waistband, adjustable with a drawcord, and cuff-tab adjustable bottom openings to keep you warm.
Pros
Designed with breathable and waterproof technology
Coated with nylon to enhance water resistance
Mesh lining for comfort and warmth
Drawcord-adjustable waist
Adjustable leg openings with cuff tabs
Cons
Do not guarantee 100% warmth during cold weather
Slightly low waist fit
No exterior pockets
Columbia Women's Storm Surge water-resistant rain pants are completely seam-sealed and are available in various sizes and two colors. Check the sizing chart to get the appropriate size.
Columbia Women's Storm Surge Pant, Black, Medium
OMNI-TECH: Our proprietary technology provides air-permeable protection that's waterproof and breathable, keeping mother nature's elements out, at the same time allowing the inside to breathe, keeping you dry and comfortable no matter the conditions.
ALL-WEATHER RAIN PANTS: Designed to keep you shielded, the Storm Surge Waterproof Rain Pants are critically seam sealed and feature our advanced waterproof coated nylon — exactly what you need in the middle of any downpour.
---
Conclusion
When going for outdoor activities, you cannot predict the weather that you will face. The above nine best rain pants will be helpful as a part of your protective gear. As observed, most of them are waterproof, lightweight, and breathable to make them suitable for bad weather.
While any of the pants can suit your needs, you might find Outdoor Research Helium rain pants to be most appropriate based on their features. These pants are easy to pull off, and you can easily carry them by packing them into their pockets when you don't want extra bulk.