Camping is one of the most amazing things you can do for adventure. If you are a camping enthusiast, Virginia is the place to be. You will experience numerous beautiful campgrounds here, including state parks and private campgrounds. Virginia is one of the few places you will find the most spectacular sites for getting up close and personal with nature. If your back cannot handle sleeping on a sleeping bag, some of these locations offer cabin rentals or RV hookups. Read on to discover some of the best places to go camping in Virginia.
Shenandoah National Park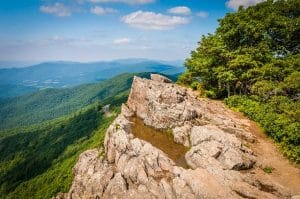 If you are an avid outdoor enthusiast, you will love primitive camping while hiking the Appalachian Trail. A few areas in this location may be off-limits for overnight stays, but you get a front-row seat to enjoy Virginia's amazing scenery and wildlife here. If you plan to do backcountry camping, avoid going to Shenandoah national park if you are a beginner.
To prepare for an overnight trip in the mountainous area of Virginia, you will need experience, survival skills, and the proper tools and supplies. Backcountry camping comes with lots of risks and rules. Ensure that you understand each of them before you embark on this journey.
Grayson Highlands State Park Camping—Mouth of Wilson
Grayson Highlands State Park camping area is a basic campground with a fantastic view. You will love the park as it is the gateway to the state's highest peak, known as Mount Rogers. The campground is also the entry point to the Appalachian Trail. This area is perfect for biking, hiking, or riding horses along the trails. While exploring the region, you may encounter some exciting wildlife, including wild ponies. If you are backpacking in this fantastic area, you do not have to pay overnight packing in the backpacking lot. Just do it online through ReserveAmerica.
Amenities Available
New River Trail State Park—Foster Falls
New River Trail State Park—Foster Falls is a perfect place for various activities, including hiking, biking, and fishing. Moreover, many outdoor enthusiasts use the location as a camping ground. The area has several primitive campsites along its trail for campers to enjoy.
A rugged camper will find the Double Shoals and Baker Island site perfect for a great adventure. Although the area has no frills it allows a serious camper to focus on the surrounding natural environment. The area does not provide campers with vehicular access to a campsite, shower and bathhouses. Therefore, hiking here can be tough. There are no amenities provided and you need to make reservations before visiting the camping grounds.
The location provides campers with various resources including:
Fire pits
Lantern posts
Picnic tables
Canoes
Bikes
Kiptopeke State Park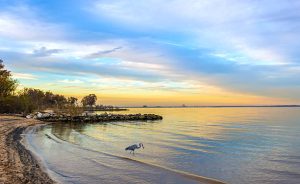 Kiptopeke State Park is a 562-acre park located along the Chesapeake Bay and is a beautiful camping site and a unique fall destination. Some of the beautiful attractions you will find in this camping area include skies, marshes, and maritime forests with plenty of migrating birds. The camping site is a lovely ground for bird lovers as it hosts nearly 400 species of birds. Kiptopeke State Park provides campers with yurts for rent. These are shelters that fall between a tent and a cabin.
Amenities Available
Three-bedroom cabins
Six-bedroom lodges
RV and tent camping yurts
Bunkhouse
Powhatan State Park
Powhatan State Park is a sleepy park located in the west of Richmond. It is a beautiful spot to spend some peaceful days. You get to have some quiet walks along the river while you unwind and explore the meadows and woods. You need to make reservations online on the state's website to camp in this location. There are no cabins in the park, but Bear Creek Lake and Twin Lakes state parks contain cabins. Check-ins are allowed at 4 pm, and checkouts at 1 am. Powhatan State Park also offers primitive camping in their nine primitive camping sites.
Amenities Provided
Restrooms
Hot showers
Fire-rings
Picnic tables
Lantern holder
Blowing Springs Campground
Blowing Springs is located in Warm Springs and provides easy access to Little Back Creek, where you get a perfect opportunity to view wildlife. There is a lot to love at this campground, with air from natural underground ducts blowing out of the rocks. Moreover, the campground trails lead campers to swimming holes and streams. Some of the species you will find in this campground include indigo bunting and other woodland species. Butterflies are also common in the campground, with beautiful wildflowers making the scene a sight to behold. You will get a site on a first-come, first-served basis in the campgrounds, although you may need to make reservations for some areas.
Available amenities
Potable water
Picnic table
Lake Fairfax Park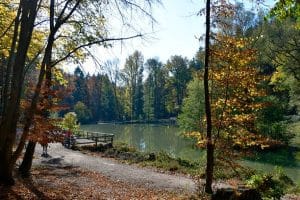 Lake Fairfax Park is a 476-acre park with a 20-acre lake where outdoor enthusiasts can fish. The ground also offers various fun activities, including a Water Mine family park, a skate park, and a pump track. The area is a perfect definition for family camping, where you can even hire a paddleboat on the lake.
Lake Fairfax Park has 136 campsites and RV spaces. There are also electric hookups but no full hookups available. Since the campground is close to Washington, DC, it has become quite popular for campers. Therefore, you need to make a reservation on time.
Available Amenities
Potable water spigots
Bathhouse with sinks.
Hot showers.
Flushing toilets.
Picnic table, fire ring/grill combo
Chickahominy Riverfront Park
If you want to camp next to a river, Chickahominy Riverfront Park is the best place to be. This 140-acre park is situated in the Jamestown, Yorktown, and Williamsburg historic Triangle region. You will find Green scenic waterfront views in all park parts here. Fishing, canoeing, kayaking or swimming is accessible. You can also sunbathe along the river shores. The camping ground has nearly 140 camping sites around the Chickahominy River. Every campsite provides an excellent view of the area. You need to make reservations first from the website to camp at this site. Payments are made after making reservations.
Available Amenities
Restrooms
Bathhouses
Access to water
Douthat State Park
If you would like to camp in a mountainous area, then Douthat State Park is the place to be. The 40-acre lake allows swimming, boating, and fishing. The hiking trails around the lake provide wonderful views, and they are also great places to view wildlife. Douthat State Park is among the six original Virginia state parks and close to other attractions, including Warm Springs Baths and the Natural Bridge in Lexington. If you are a historical enthusiast, this camping destination will be fulfilling.
The campground provides campsites for tents and RVs. It has 32 cabins, and there are three lodges for group camping. There is also a picnic area and a playground nearby where you can relax during the day or engage in different activities. You can restock your supplies in the camp store.
Amenities Available
Picnic tables
Charcoal grills
Rocking chairs on porches
Outside fire pits
Holliday Lake State Park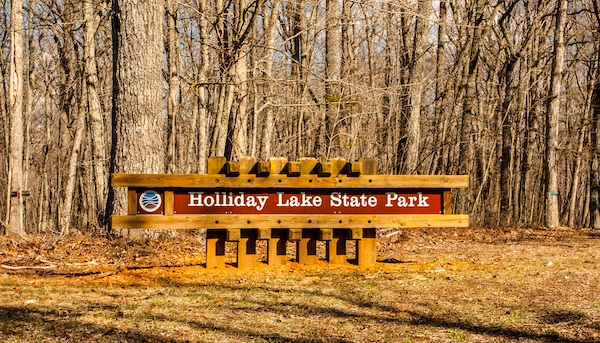 Outdoor enthusiasts love this fantastic camping ground. At Holliday Lake State Park, you can fish for largemouth bass, crappie, brown and rainbow trout, and bluegill. This park also has excellent trails for hikers and bikers. You can also enjoy a good swim at this lovely camping ground. Nature lovers will also find this site perfect for watching the beautiful scenery while camping.
Amenities Available
30-site campground
A picnic area
Two picnic shelters
Two playgrounds
Boat ramp
A seasonal full-service concession stand
False Cape State Park
If you are an adventurous spirit who wishes to do some camping in Virginia, you may want to try out False Cape State Park, situated on Virginia's Atlantic coast. The only way to reach the camping ground is by foot, bike, and boat. The area is ideally reserved, wild, and totally undeveloped. It also has no vehicular access, and all these amazing things make the location one of the best places to go camping in Virginia for a unique camping experience.
The campsites in this camping area are primitive and have no showers, electricity, or bathrooms. However, if you love rough camping, you will enjoy your camping experience here. Other activities you can engage in include kayaking trips, biking trails, swimming, and sunbathing. You must make camping reservations in advance.
Amenities Available
Lewis Mountain Campground
Lewis Mountain Campground is situated along the Blue Mountains' Skyline Drive and one of the best places to go camping in Virginia. It is one of the smallest campgrounds in Shenandoah National Park and an incredibly peaceful option for campers who want to avoid large crowds that often accumulate in other park areas. This park operates on a first-come, first-served basis and only has about 31 campsites. If you arrive early, you will get to book an idyllic location of your choice.
The camping ground is located along some of the best hiking trails and natural attractions. Since the sites for RVs are limited, you will get a little more serenity than a campground with numerous RVs sites.
Amenities Available
Store
Coin-Operated Showers
Laundry Facilities
Picnic Grounds
Water
Utility Sinks
Restrooms
Drinking Fountains
Find Camping Locations in Other States
Check out the best camping in every state.