Utah has one of the best camping sites in the USA. Camping here gives you a breathtaking experience as you get to enjoy the pleasing red rocks, extensive deserts, beaches, forests, and mountains. The following are the best places to go camping in Utah.
Best Tent Camping in Utah
Utah is ideal for people who are into tent camping, owing to its many campgrounds. We have selected some of the most pleasant sites, including:
1. Devil's Garden Campground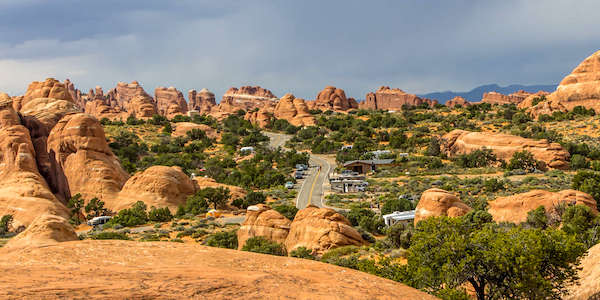 At this camping site, you'll get both RV sites and tent sites, depending on your preference. One is allowed to bring pets with them into the park. Reservations for campgrounds are available for nights from March 1 and October 31. However, it isn't necessary to make reservations starting from November to February.
Charges for each individual are 25$, but the prices are lower for groups. The park is open throughout the year. A permit is required for camping in arches in the up-country. This campground is ideal for those who prefer touring the natural arches.
Amenities:
Drinking water
Washrooms
Fire pits
Garbage collection
Amphitheatre
2. Gooseneck State Park
Gooseneck State Park is found in South East Utah, approximately 25 miles to the west of the Bluff. The campground exists above the San Juan River, flowing through the rocky desert draining into Lake Powell. The fantastic scenery of the river's curves is called the gooseneck, and photography is outstanding.
The campground offers primitive camping. Fun activities include hiking, rafting, horse riding, camping, and stargazing at night. Decent destinations such as monument valley, lake Powell, four corners, and Canyonlands National Park surround the park. Reservations are not required, and there are no charges for sites. The park entrance fees are 5$ per car, 2$ per person, and 10$ per night for camping. It is open throughout the year.
Amenities:
Paved roads
Observation shade
Primitive campground
Picnic area
3. Sunset Campground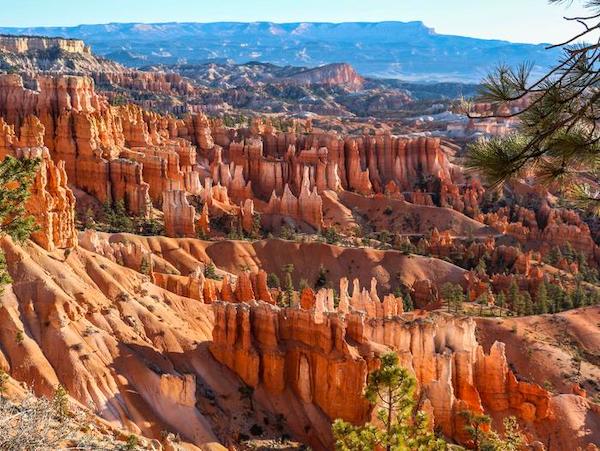 The campground lies 1.5 miles south of the Bryce Canyon Visitor Center and West Sunset Point. The campground has 99 sites distributed in 3 loops. The first loop is for RVs, and the other two loops are for tents only.
Loop A is the sole loop that allows automobiles over 6m/20ft. The park has paved roads and campsites enhancing wheelchair access. There are convenient restrooms close to sites that are easily accessible via a wheelchair. A shuttle stop found at the entry enhances access to viewpoints.
There are three reservable sites and 98 sites on a first-come, first-serve basis. Tent sites cost 20$ per night, and the RV sites cost 30$ per night. You require permits for cabin camping. Often, this camping site closes during the winter and certain holidays. The camp is ideal for individuals that prefer a quiet environment.
Amenities:
Garbage collection
Camp store
Ice sale
Firepit
Camping guides
Seasonal drinking water
Laundry
4. Snow Canyon State Park
A beautiful environment surrounds the tiny park. Tent and RV camping are available, with some having electrical and water hookups. RVs 40 feet long can access the campground. Parking in some sites is pull-through, while others use back-in.
Top leisure in the park are tours, quad bike riding, hiking, fishing, golfing, horse riding, and boat rowing. Nearby attractions are St George City, Sand Hollow, Quail Creek, and Tuacahn Theatre. Nearby parks are Zion National Park and Gunlock State Park. You can make camping reservations at 800-322-3770 (outsiders) and 801-322-3770(locals).
The entrance fees are 10$ per vehicle with eight passengers, 75$ per year pass, 5$ per group of 8 pedestrians and cyclists. Permits are necessary to access the campground. The campsite opens from 6:00 am to 10:00 pm throughout the year.
Amenities:
Modern campground
Troop camping sites
Modern washrooms
Hiking and Biking trails
RV dump station
5. Antelope Island State Park
The island is situated in the Great Salt Lake and is famed for its attractive surroundings and plenty of wild animals such as pronghorn. There are 52 campsites in the three primitive campgrounds. Bay campground and white rock bay campgrounds allow tent camping and RV camping. Ladyfinger campground only allows tent camping.
Pets are allowed in the park. There is water and showers in the Bridger Bay Beach area. It also has a restaurant on the island. There are no parking areas for RVs. Fun activities include biking on mountains, hiking, visiting amusement parks, and golfing. You can book camping reservations through 800-322-3770 (Outsiders) or 801-322-3770(locals).
There are entrance charges which are lower for senior residents. Each campground charges camping sites fees of 20$ per 8 individuals. It is open all year round, with exceptions on thanksgiving and Christmas.
Amenities:
Campground
Portable water
Hot showers
Picnic benches
Historic farms
6. Spruces Campground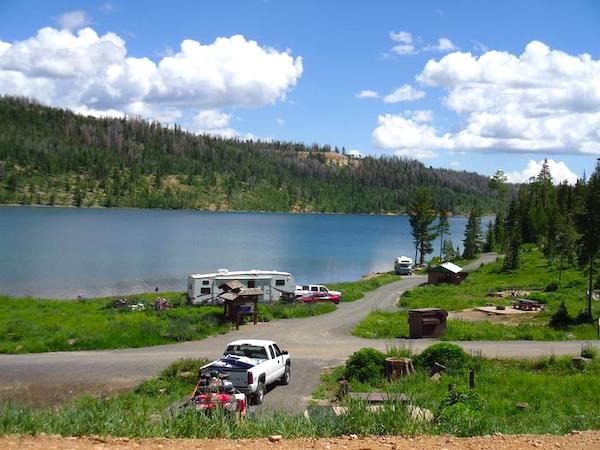 The park lies on the south shore of Navajo. Campsites are either tent camping or RV camping. Here, you're not permitted to bring along your pets. Popular nearby attractions are the big cottonwood canyon, Solitude Mountain Resort, and Silver Lake.
Here, cutting firewood, gathering rocks, and filming require a permit.
Reservation is optional as some single sites are available on a first-come, first-served basis. The fees for staying overnight are 21$ for a single site, 41$ for double units, and 9$ for an additional car. This park is ideal for individuals who prefer a peaceful and quiet environment.
Amenities:
Parking lot
Picnic benches
Drinking water
Washrooms
Refuse collection
7. Bullfrog Basin Campground
Campers choose either between tent camping or RV camping. Tent campsites are expansive. Roads and paved paths can access the park. Pets are allowed into the park. Nearby attraction features include Lake Powell for fishing, swimming, and boating.
The campsite applies the principle of first-come, first-served when attending to visitors, and no reservations are required. Campers can access the camp at any time of the year.
Amenities:
Drinking water
Guests center
Picnic benches
Washrooms
Best RV Camping in Utah
While RV camping is available in the above list of tent campgrounds, we have crafted a list of the best places to go camping in Utah that specifically offer RV camping.
8. Salt Lake City KOA
The RV park lies within the city. It offers RV camping sites, lodgings, and tent camping sites. Pets are welcome, and people are allowed to set up folding tents. There are recreational facilities such as hot tubs, playing fields, Outdoor games, and nature trails. There are fun activities such as riding quad bikes, hiking, and mountain bikes 10 miles from the park.
Book camping reservations via their website. Staying charges per night are 60$. The park is open all year round
Amenities:
Drinkable water
Wi-Fi
Pull through sites
RV dump station
Basketball court
Launderette
9. Thousand Lakes RV Park
The park lies in Southern Utah. It offers camping options such as tent camping, cabin camping, and hookups. Pets are allowed into the garden. Family activities include hiking, fishing, mountain biking, and upcountry adventures.
Camping reservations are booked on their website using credit cards, and there is no congestion even during peak times. Daily and weekly charges exist for full hookup pull-through slots and back-in slots. The park is open between April 1 and October 25 but may open in advance depending on the weather.
Amenities:
On the house parking
Pool
Wi-Fi
Launderette
Hair salon
10. Zion River RV Resort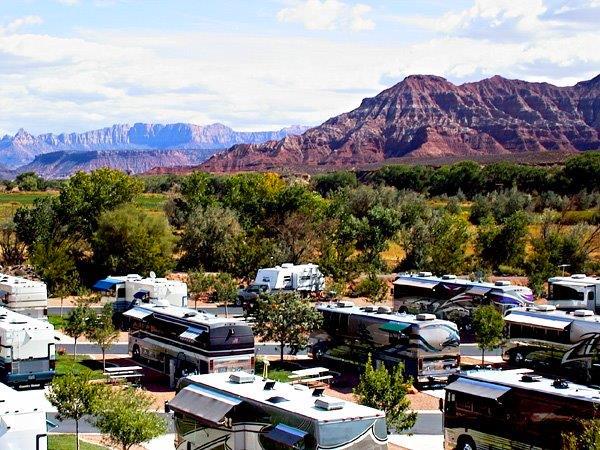 The park is a fertile valley oasis situated close to the Virgin River and borders colorful mountains. Choose to camp in either a pull-through or back-in RV or a comfortable cabin. The park is partially accessible by a wheelchair. There are paved paths, and roads are in good condition. Family and kids' leisure include swimming, hunting, and playing on the fields.
The park has policies that place restrictions on pets, such as the number and breed of pets allowed. Nearby interesting features include Zion National Park, Bryce Canyon National Park, and Grand Canyon National Park.
Reservations for RV and tent sites and cabins are booked online via their website. Charges for staying vary periodically and depend on the type of camping. The park is operational all year round. RV campers interested in touring the Zion National Park would find this park ideal.
Amenities:
Hot tub
Pool
Playing fields
Launderette
Confidential washrooms
11. Monument Valley KOA
It lies a heartbeat away from the marvelous Monument valley. Although there is no cabin camping, they offer RV camping sites or tent camping sites. Pets are welcome to the park, and you're permitted to erect your camping tent. The campground has many big full hookup RV sites that offer adequate space.
Nearby interesting features include Navajo and Anasazi culture. Other features include the Grand Canyon, Arches National Park, and Zion National Park.
You can make camping reservations on their website. Often, this campsite is accessible all year round. This campground is suitable for people who want to explore the famous red rock buttes and mesas alongside the Navajo and Anasazi culture.
Amenities:
Fuel-wood
50 max Amp
75' max length
KampK9
12. Sandcreek RV Park
The park is situated five miles to the west of Capitol Reef National Park. Choose cabin camping, tent camping, or full hookup RV sites. You are allowed to bring pets such as cats and dogs. You can gather your family at night for supper and afterward for some stargazing. Nearby attractions include Capitol Reef National Park.
Book Reservations for camping sites via their website. Charges for staying depend on the type of camping. The park is operational between March 14 and October 31. Campers with hiking, biking, and fishing would find this park suitable.
Amenities:
Wi-Fi
Washrooms
Launderette
Dog's playground
Best Free Camping Sites in Utah
Utah has two accepted camping methods: separate camping or dry camping. It would be best to plan on means to relieve yourself as there are no restrooms. Here are the three most attractive places to go camping in Utah.
13. Diamond Fork Dispersed Camping Area
Types of sites available include tent sites, RV sites, dispersed sites, group sites, and tent cabins. You can access the site by driving, walking, or hiking. Enjoy family activities such as cycling, climbing, hiking, fishing, hunting, or horse riding. Here, you're permitted to bring your pet with you to the campground.
Choose between making camping reservations or camping on a first-come, first-serve basis. However, groups must reserve their camping sites. Fees charged for staying are as low as 24$ for eight people. Permits are necessary if the activity requires the alteration of the environment. This campground is perfect for individuals who prefer dispersed camping.
Amenities:
Drinking water
Pit latrines
Fuel-wood
14. Twins Hollows Campgrounds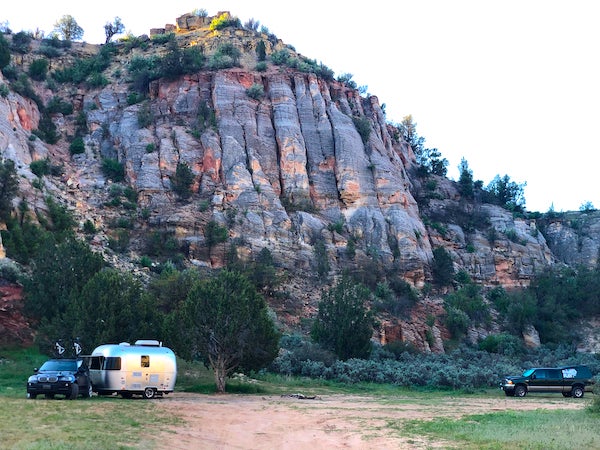 The Twins Hollows Campsite is situated near Zion National Park. The types of sites available include tent sites, RV sites, dispersed sites, and group sites. You can drive, walk or hike to the area. Pets are not allowed into the site.
Make camping reservations to enjoy the campgrounds. There is a charge on night stays, and there is a 250$ discount for weekly stays. This campsite is excellent for individuals who like good food and a well-maintained environment.
Amenities:
Eatery
Wi-Fi
Laundry Services
15. Chicken Creek Campground
The park lies in the Manti-La Sal National Forest. Both tent camping and RV camping are available, and it is easily accessible by driving. The park is pet-friendly, but pets remain under control within the campground. Some of the nearby attractions are Dark Canyon wilderness and Nelson mountain wilderness.
There are no reservations for this park. Cutting firewood requires a permit. Opening season is during May. The park is a good spot for people who are into fishing.
Amenities:
Picnic benches
Camping trailer
Washrooms
Parking area
Find Camping Locations in Other States
Check out the best camping in every state.