New Mexico has some of the best camping sites in the United States. With diverse terrain, including deserts, mountains, sand dunes, and canyons, plus the clear Milky Way views, there are numerous places you can go and enjoy the best camping experience.
Because of its mild and semi-arid climate, you can enjoy some of the best camping sites in late fall and some throughout winter. Choosing a good camping ground in the state can be challenging, but here is a list of some of the best places to go camping in New Mexico.
The Cosmic Campground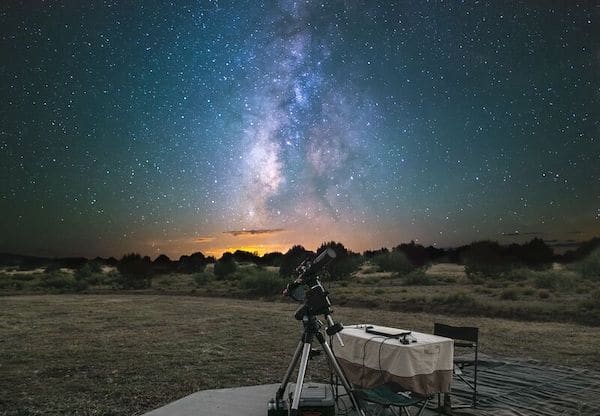 If you are a lover of nature and love watching the night sky, this is a perfect campground for you. Located in the southwestern part of New Mexico with a low population, sky gazing is a perfect activity here because of how dark it gets.
The campground offers you an unobstructed 360-degree view of the sky. While it is usually open throughout the year, the best time to view the sky and stars is during winter, spring, and fall when the nights are dark.
There are no entry charges, and you do not need to make reservations. Some restrictions include no parking or starting campfires on the observation concrete pads, you should arrive before dark to avoid light pollution, observe silence between 10 pm and 6 am and cover your flashlight lens with a red filter.
There are several campsites within the Cosmic Campground and a few more along the road approaching it. The campsites inside the campground have a concrete pad that accommodates RVs up to 32 feet.
Amenities
Four observation/telescope concrete pads
Picnic table
Vault toilet
Fire ring
Information kiosk
Datil Well Recreation Area Campground
This magnificent campground surrounds one of the numerous water wells along the Magdalena Stock Driveway. There are three-mile hiking trails if you want to enjoy the view of wildlife and native plants.
You also get to see the ponderosa pine and pinyon-juniper woodlands, plus the breathtaking San Augustin plains view.
There are 22 individual campsites and a group shelter if you want to go with your friends or family. Apart from hiking, other activities you can do in this campground include mountain biking, going to the old water well, and wildlife watching.
Amenities
Grills
Fire pits
Drinking water
Picnic tables
Toilets and bathrooms
Aguirre Spring Recreation Area and Campground
Located in the Organ mountains-Desert Peaks National Monument, a rugged and wild landscape, this is the only developed campground. There are 55 campsites given on a first-come, first-served basis, suitable for small trailers (maximum 23 feet) and tents.
There are also two group sites and a horse corral, and the camping fee is $7. There are two climbing trails leading off the campground to the mountains.
The first is a six-mile trail called Baylor Pass Trail that leads to a saddle giving you views of the Mesilla valley. The second is Pine Tree Trail, which is four miles and it leads to a look at the mountain's base. Other activities you can do include horseback riding and wildlife viewing.
Amenities
Fire rings
Toilets
Picnic tables
Drinking water
Cimarron Canyon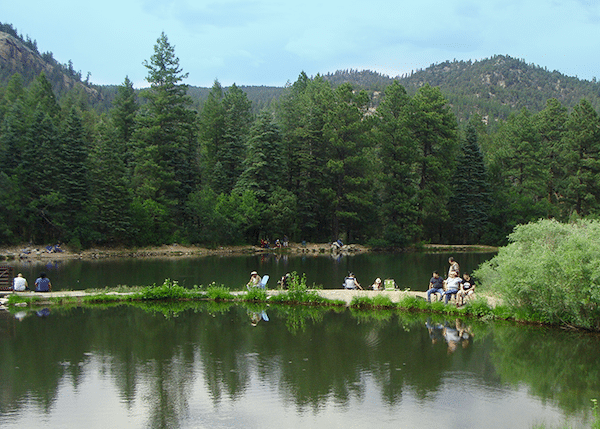 This 33,116-acre State Park is home to some amazing landscapes, including palisade cliffs, streams, and rivers. The Cimarron Canyon has three campgrounds, Maverick, Ponderosa, and Tolby, each of which has around 20 campsites, accommodating both tents and RVs.
Open all year round, you can easily access all the campgrounds through the Cimarron River, where you can see several beautiful waterfalls. You can follow several hiking trails to explore the beautiful nature around.
Amenities
Flushing toilets
Visitor's center
Grills
Fire rings
Portable water
Navajo Lake State Park
Located around 20 miles from Bloomfield, this state park sits along the shores of Lake Navajo, the second-biggest lake in New Mexico. It is usually open all year round and is a perfect camping site in all seasons.
There are seven campgrounds in the state park with around 244 developed campsites where you can set up your tents or park your RV. You can reserve a campsite or get it on a first-come, first-served basis.
There are two hiking trails, South San Juan River Trail and Simon Canyon Trail, winding along the lake's shoreline.
Some of the activities include fly fishing, boating, mountain biking, kayaking, and swimming. You can also bring your pets and children.
Amenities
Flashing toilets
Dump station
Cable hookups
Electricity
Portable water
Bathrooms
El Vado Lake State Park Campground
Found around 100 miles north of Santa Fe, this state park is on Lake El Vado's eastern shore. There are around eight campgrounds with 100 developed campsites for tents and RVs. The most popular campgrounds are Elk Run, Grassy point, and Pinon Beach.
There are secluded coves around the lake, making perfect places for salmon and trout fishing. If you do not have your boat, you can rent one from the several boat rentals along the shore. There is also a 5.5-mile hiking trail that leads to Heron Lake through a pedestrian suspension bridge.
In winter, some of the fun activities are snowshoeing and cross-country skiing. Other activities include swimming, horseback riding, and boating.
Amenities
Bathrooms
Water
Two boat ramps
Primitive beach sites
Electric hookups
Elephant Butte Lake State Park
Named after the elephant-shaped butte close to the dam, Elephant Butte Lake State Park sits along the shores of Elephant Butte Reservoir, the largest water body in New Mexico. It is one of the best places to go camping in New Mexico for water enthusiasts.
With one of the best waterfront camping experiences, you can fish and swim all year round. There are around 200 campsites there. One hundred forty-four of those campsites have electric/water hookups, and eight have full RV hookups.
There is a 15-miles mountain biking and hiking trail around the campgrounds. Other fun activities include swimming, scuba diving, and fishing.
Amenities
Bathrooms
Playgrounds
Picnic area
Electric and water hookups
Bottomless Lake State Park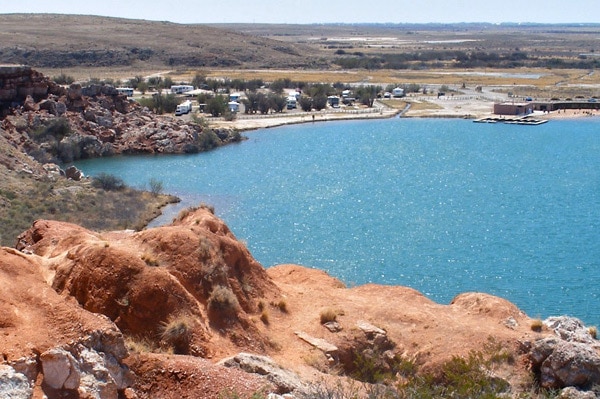 This is among the biggest state park campgrounds for RV camping in New Mexico. It is a group of nine lakes, most of which are surrounded by red rock cliffs and have underwater plants with a greenish-blue color, making them look bottomless.
There are 32 campsites, and all of them have electricity/water hookups. Six have full hookups. There is a smaller campground with additional campsites for tent camping.
Fun activities include fishing, canoeing, swimming, scuba diving, hiking, and non-motorized boating.
Amenities
Free Wi-Fi
Warm showers
Paddleboard rentals
Sewer hookups
Heron Lake State Park
Located outside Los Ojos in the northwestern part of the state, this is a much quieter campground than the neighboring El Vado Lake, making it one of the best places to go camping in New Mexico.
There are ten campgrounds with around 250 developed and primitive campsites. Some popular campgrounds include La Laja, Island View, and Willow Creek campgrounds.
Boats are restricted to a 'no-wake' speed, making this a perfect destination for fun activities like sailing, kayaking, canoeing, and paddleboarding. Other fun activities include hiking, mountain biking, wildlife viewing, and fishing, mainly kokanee salmon and trout.
Amenities
Toilets and showers vaults
Boat facilities
Marina
RV dump station
City of Rocks State Park
City of Rocks State Park is well known for the uniform volcanic rocks and huge sculptured rock formations, some of which stand over 50 feet. Found near Deming, the park has 52 developed campsites for RVs and tent camping.
Campsite 22 is the most famous and convenient because of the rock arrangement, making it easier to set up. While all the campsites are suitable for RV camping, only ten have hookups.
Sites 28 and 29 are also perfect if you love hiking because they are beside famous mountain biking and hiking trails.
It is a perfect place for stargazing, which you can do at the new star observatory. It also has an amazing botanical garden with local fauna and cacti.
While it is open all year round, the best times are fall and spring because it gets very hot in the summer. The charges for the campsites are $10 every night.
Amenities
Restrooms with flushing toilets
Portable water
White Sands National Park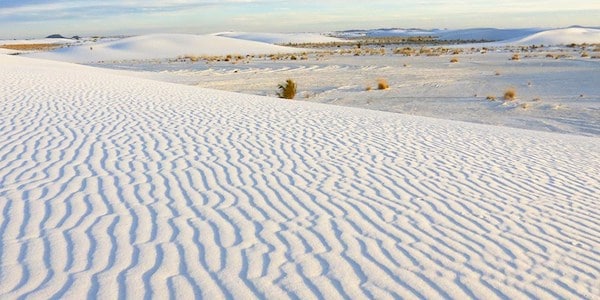 Located in the Chihuahuan Desert, this national park is popular for its 275 square miles of white gypsum sand dunes. The dunes are the biggest of their kind, making this one of the best places to go camping in New Mexico.
Backcountry camping is the only type of camping allowed in the park, and you must get a permit from the Visitors Center. There are ten campsites offered on a first-come, first-served basis, and you have to register for one at least an hour before sunset.
Before you visit, ensure you call ahead because there is missile testing that takes place occasionally on the White Sands Missile Range, which leads to the occasional closure of the park.
If you want to set up your tent or RV, there are nearby camping grounds like Aguirre Spring Recreation Area (40 miles south) and Oliver Lee Memorial State Park (26 miles east). Some fun activities include hiking, driving dunes drives, and photography.
Amenities
Visitor center
Restrooms
Picnic area
Basic supplies
Santa Fe National Forest
This 1.5 million-acre forest has conifer trees, streams and rivers, lush meadows, and a dormant volcano. The forest has two scenic and wild rivers, four wilderness areas, and numerous recreational activities you can participate in.
There are 27 developed campgrounds, but some are more developed and have more amenities than others. They are suitable for tent camping and RVs. Some tent camping grounds are primitive, and you have to bring your water and walk to find a toilet.
Some fun activities include mountain biking, hiking, backpacking, fishing, canoeing, cross-country skiing, and downhill skiing.
Amenities
Full hookups
Hot showers
Toilets
Picnic tables
Fire rings
Elephant Rock Campground
This campground is 8,400 feet above sea level and is located next to Red River and Eagle Rock Lake, which is nearby. It meanders up a hillside and has 20 individual campsites, some tucked between pine, spruce, fir, and aspen trees, while others have stone terracing.
There are recreational activities like hiking along the Fawn Lakes Trail and water-based activities like swimming, fishing, boating, and canoeing.
Amenities
Portable water
Tent pad
Vault toilets
Fire rings
Grills
Picnic tables
Santa Fe Skies RV Park
This is a family-owned RV park found outside Santa Fe on a ridge, which gives you a panoramic view of the surrounding areas. Close-by attractions include the Jamez Mountains, Sangre de Cristo Mountains, the Ortiz mountains, and the Cerrillos Hills.
You can find several restaurants, a supermarket, and two shopping malls a short distance away from the park. Turquoise Trail is also close by, and you can visit Los Cerrillos, the historic village.
Amenities
Pull-thru and back-in sites with 20/30/50 amp electrical service
Water and sewer at every pull-thru and back-in site
Two conference rooms
Morphy Lake State Park
This is a small 30-acre park located in the Sangre De Cristo Mountains and surrounded by Lake Morphy. While it is suitable for tent camping and RVs, the tight turns make it difficult for large RVs to get through.
There are several campsites, each with a water view and perched under towering trees providing excellent shade. While Lake Morphy is open all year round, you can only go camping from 1st April to 1st November.
Some fun activities include fishing, picnicking, canoeing, and swimming. The charges per night at the camping sites are $10, but you have to bring your water since there is no running water.
Amenities
Gallo Campground
Located among the fallen cliffs and boulders of Gallo Wash in Chaco Culture National Historical Park, this campground offers you remote camping in the rugged desert landscape.
There are 49 individual campsites, and one of them is handicap accessible, plus two tent-only group campsites that can accommodate around 30 people each. The campground can also accommodate RVs of up to 35 feet.
Amenities
Restroom with flush toilets
Visitor center
There are no hookups, showers, cell phone services, or food services.
Bonito Hollow RV Park and Campground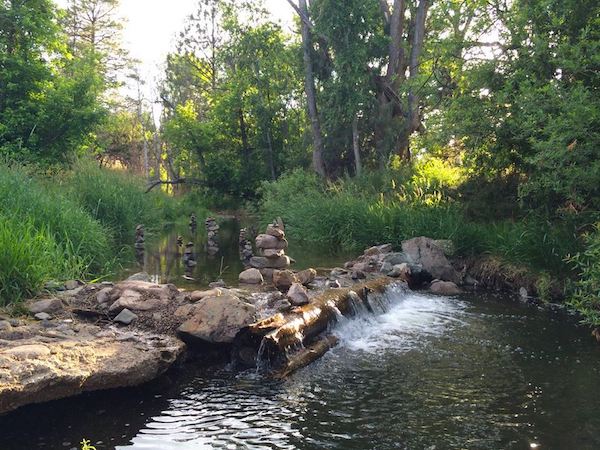 Located in Lincoln National Forest in South New Mexico, this 12-acre campground stretches along the Rio Bonito and is close to Bonito Lake. There are several campsites, and you can choose one in the forest or along the Rio Bonito.
The camping rates start at $40 per night for one car and two people. Any additional people have to pay $5 except kids under ten years.
Some of the fun activities include fishing and wildlife watching. You can also visit the Ski Apache during winter for a full experience.
Amenities
Pull-thru and drive-in sites
Water, electricity, and sewer hookups
Fire ring
Picnic tables
Find Camping Locations in Other States
Check out the best camping in every state.