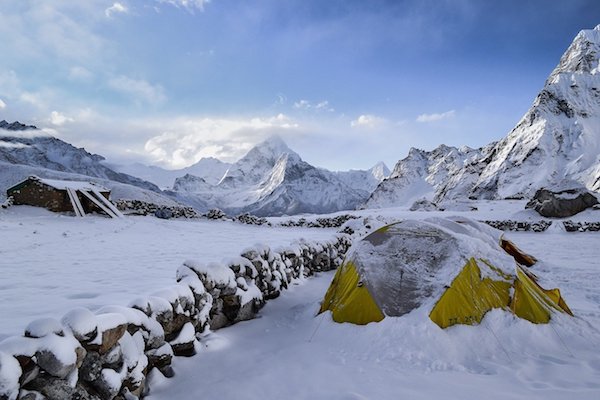 Finding the best 4 season tent will go a long way to helping you have an awesome winter camping trip. While there are many camping tents to choose from not all of them are 4 season tents. Tents that are true 4 season tents are designed to stand up better to the harsher side of winter camping.
Unlike 2 or 3 season tents, the best 4 season tents are created to handle a snow load and are better at keeping the winter conditions out of your tent. We created this list of the 9 best 4 season tents to make it easier for you to find the tent that is right for you.
---
Eureka! K-2 XT 4 Season Tent
Eureka's K-2 XT is an awesome 4 season tent and has lots of features that make it better than many other tents. With a four-pole design, this a very sturdy tent that was built to withstand harsh weather.
The tent is a good size for 3-4 people and offers an 18 square-foot vestibule that provides extra room for gear storage. It has multiple gear storage pockets, loops, and hangers. This is a very well made tent that will last for many years to come.
Tent Features
Floor Size: 8ft 11in x 7ft 8in
Tent Area: 52 sq ft
Center Height: 4ft
Pack Size: 7.5in x 25in
Min Weight: 11 lbs 12 oz
Frame: 9mm 7000 series aluminum poles
Vents: 2 zippered in roof, 2 scoop vents zippered in fly, scoop vent
Doors: 2
Vestibule Area Front: 18.08 sq ft
Flashlight Loop: 1
Storage Pockets: 20
Eureka! K-2 XT Three-Person, Four-Season Backpacking Tent, Yellow
Loaded with extreme weather performance features, the four-season Eureka! K2 XT freestanding standing tent offers a roomy interior for two to three sleepers (52 square feet).
Waterproof StormShield rain fly coating effectively keeps rain and snow out and creates large 18 square foot storage vestibule with cold-weather polyurethane window to brighten up the tent.
---
Kodiak Canvas Flex-Bow Canvas Tent Deluxe
This Kodiak Canvas tent is truly a great 4 season tent. This tent is made from thick cotton canvas and does extremely well even in harsh weather conditions. The poles are made from stainless steel, which makes the tent very strong and allows it to withstand even larger snow loads.
The tent has two D style doors that also double as windows with bug mesh. The downside to this tent is its weight. With canvas fabric and steel poles, this is not a light tent. There is virtually no way you'll want to carry this tent very far. This is a great 4 season tent but is best suited for car camping or somewhere that does not require you to carry your gear in.
Tent Features
Ceiling material: 10-ounce Hydra-Shield canvas
Wall material: 8.5-ounce Hydra-Shield canvas
Floor material: 16-ounce polyester-reinforced vinyl with welded seams
Frame: 1-inch galvanized steel tubing
Rods: 3/8-inch solid spring steel Flex-Bow rods
Tent dimensions: 10 by 14 feet
Ceiling height: 6 feet 6 inches
Pack weight: 79 pounds (includes stakes weighing 6.5 pounds total)
Pack size: 30 by 16 inches, with pole bundle measuring 48 inches long and 5.5 inches in diameter
Warranty: Limited lifetime warranty
---
The North Face Wawona 4 Season Tent
The North Face makes quality equipment, and their Wawona 4 Tent is no exception. This is a well-built that that is a true 4 season tent because it does well in cold weather but also has great features for spring, summer, and fall camping.
With a waterproof rainfly and 2 vestibules, this tent is good for any weather condition. It also includes multiple storage pockets as well and loops and hangers to make it easy to organize all your gear.
If you are looking for a 4 season tent that is a great option for all weather conditions, then this is a great option for you.
Tent Features
Single-wall design is fully waterproof
Color-coded design for easy pitching
2 large windows
Large top vents help prevent condensation
Heavy-duty 12mm poles are pre-bent to provide more interior space
High ceiling allows adults to stand fully upright
Large front sunshade vestibule
Rear door and vestibule
6 mesh pockets
Internal dry lines, hang loops, and a hook-and-loop lantern hanger
Duffel bag stuff sack for easy transport and packing
Sale
The North Face Wawona 4 Four-Person Camping Tent – (No Flame-Retardant Coating), Agave Green/Asphalt Grey, One Size
A CAMPER'S RETREAT. We've refreshed our much-loved 4 person tent from single to double-wall construction, re-engineered its poles and made it easier to set up. Don't worry, we've kept the huge vestibule that makes it feel more like a home than a tent.
COMFORTABLE DESIGN. This family tent has a large vestibule for storing gear or as an additional seating area. Massive interior height lets you stand comfortably or sit in chairs, while a large mesh front door offers superior ventilation.
---
ALPS Mountaineering Taurus 4 Season Tent
The ALPS Mountaineering Taurus tent is a great 4 season tent option for those who want a tent that is a little more budget-friendly. This tent has a two-pole design, which is easy to set up but is often not quite as sturdy as other designs that include more poles.
This tent does come with a full-size rainfly that will keep all the rain and snow out of your tent. It also includes a vestibule, which is great for extra gear storage. The tent also comes in a 4 person and 6 person size so you can find the one that fits your needs best.
Tent Features
Free-standing two-pole design with fiberglass poles
75D 185T polyester fly with 1500mm coating resists UV damage and stays taut
Factory-sealed fly and floor seams
75D 185T poly taffeta floor with 2000mm coating
Extra-large #8 zippers on doors and vestibules
Easy entry and great ventilation with two doors (both with zippered mesh windows)
Weatherproof fly buckles
Mesh roof vents
Mesh storage pockets, gear loft, 7075 aluminum stakes, and guy ropes included
---
Sierra Designs Convert 4 Season Tent
With a unique design, the Sierra Designs Convert tent offers great 4 season features while minimizing the size and weight. This tent has lots of features like a large vestibule (17.1 square feet) offers extra storage and a double-wall canopy that is great for ventilation.
The tent construction was designed to handle snow but will still do well during warmer weather. This is one of the lighter tents on our this list of the best 4 season tents and would be a great option for those that will need to pack in their gear to a campsite.
Tent Features
Tent features a double-wall canopy
Sides and top are made of breathable fabric
Door ends have full-zip waterproof window panels
Freestanding design can be pitched anywhere
Uncommonly wide, double drop doors are large enough for 2 people to sit side by side
15-in. integrated awnings maximize the door openings and drip lines
Hybrid double / single-wall design reduces weight and provides quick and dry setup
Convertible vestibule can be removed and left behind
Side-entrance position of the vestibule door allows you to put your gear along the outside wall to keep the doorway clear
---
Teton Sports Sierra Canvas 4 Season Tent
Teton Sports' Sierra Canvas tent is a serious contender for the most well-made tent on this list. The tent is made from 100% cotton canvas and super-duty 19 oz. interwoven polymer. Setup is easy on this tent with a single-pole design. This tent can easily be set up by one person. The tent comes in 3 sizes; 12-person, 16-person, and 20-person, allowing you to get the appropriate tent for your needs.
The only real downside to this tent is the fact that it weighs considerably more than tents made from traditional tent material. Outside of the extra weight, this tent has lots of great features and will be a tent that lasts your entire life.
Tent Features
Turn your tent into a stylish canopy; just zip off the floor and roll up the walls
Top vents and windows provide great ventilation to the already breathable tent
Screen doors that keep the smallest of flies out of your closed tent
High-quality zippers are double stitched in to last the entire life of the tent
Floor seams are not stitched but welded tight to keep groundwater out
Treated shell, weather skirt, and gusseted windows all work together to keep water out
---
NEMO Chogori 2 Tent
The NEMO Chogori 2 is an awesome tent that does really well in snowy conditions. This is a smaller tent but was designed to stand up to snowstorms while keeping you dry and warm on the inside. Even though it has a smaller size, it does not lack in features. It has a great vestibule that provides a dry place to store extra gear as well as helps to keep snow and water out of the tent.
Another great feature of this tent is that you can connect 2 of these 4 season tents together to create a larger space for more campers. This is a great option for those that will be snow camping with only a couple of people and want a tent that will stand up to harsh weather.
---
Coleman Octagon 98 4-Season Tent
Coleman's Octagon 98 is a great 4 season family camping tent. This is a larger tent that has enough room for up to 8 people and offers lots of great features. It has been tested and can withstand winds up to 35 mph. Additionally, with its 8 instant up poles, it can handle a decent amount of snow without bending or collapsing.
With a bathtub style floor, this tent was designed to keep rain and snow on the outside of the tent. The tent is very easy to set up, offers lots of space, and is suited to handle harsh weather. This is a great option for anyone who wants a larger tent and doesn't want a tent that takes multiple people and lots of time to set up.
Tent Features
Water-resistant polyester rainfly included with taped seams
Full length zip-on fly
Exclusive weathertec system
Color-coded pole attachments
Windows and mesh roof
Removable privacy wall
Interior storage pockets with cup holders
Room divider with multiple possible configurations
Doors: One hinged, one d-door
Rainfly: Polyester taffeta 68d
Inner Tent: Polyester taffeta 68d, polyester mesh 68d
Floor: Polyethylene 1000d
Poles: Steel
Center Height: 6'10"
Base Dimensions: 13′ x 13′
---
Mountain Hardwear ACI 3 Tent
This Mountain Hardwear tent is arguable the most extreme 4 season tent. It was specifically designed to handle extreme weather up on a mountain and act as a base camp. This will hold up to extremely harsh weather more than any other tent on this list of the best 4 season tents.
This tent also does not lack in features. It comes with an integrated rainfly that provides a vestibule area for gear storage or even food prep inside the tent. This would be a great option for someone looking for a tent that will handle the harshest weather that anyone would want to camp in.
Tent Features
DAC Featherlight NSL poles
Evolution Tension Arch design
Maximizing strength while remaining lightweight
Sleeved pole design adds stability, protects poles, and makes pitching easier
Integrated vestibule provides room for gear storage inside tent or additional living space
Improved and versatile cross-ventilation enabled by four adjustable zippered vents plus full mesh door
Color-coded webbing at stake out points for easy pole set-up
Multiple guyout points plus self-equalizing guyout anchors on side walls
Six mesh pockets for interior storage
Mountain Hardwear ACI 3 Tent
LIGHTWEIGHT: Evolution Tension Arch design enables sleeves of incredibly strong non-stretch fabric to reinforce and stabilize the pole structure, maximizing strength while remaining lightweight. Industry leading DAC Featherlight NSL poles
EASY TO USE: Sleeved-pole design adds stability, protects poles and makes pitching easier. Color-coded poles and webbing at stake out points make set-up easy
Final Thoughts
###########