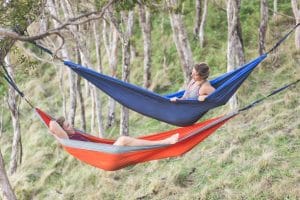 When most people think about camping, they think about sleeping in a tent, a cabin, or some other type of structure. Tent camping is, of course, still the most popular way of camping, especially if you are hiking.
Tents, on the other hand, can be cumbersome and heavy to carry across the countryside, especially when darkness has fallen, and can act as a barrier between the camper and the natural world around them for those who are backpacking—that is, those who go deep into the woods for several days without amenities.
A growing number of people are opting to sleep in hammocks, especially those who are concerned about the weight of their equipment if they are carrying it for several days. It is not uncommon for hammocks to weigh less than a pound, and some can fold up to the size of a water bottle when they are not in use. It's possible to sleep comfortably in a hammock without a sleeping bag or pad, but it can be difficult to keep warm in the colder months. This is where hammock underquilts fill a role.
When the temperature drops, these insulated barrier blankets are a must-have accessory for your hammock. The best hammock underquilts attach to the outside of the hammock and keep out the cold air. Choosing one, however, necessitates making some considerations.

What To Look For
A hammock underquilt is similar to other types of quilts in that it's simple to use, but there are a few considerations to make before you buy one, such as material and insulation. Weight, price, temperature rating, and size are the most important considerations. For backpackers, ounces matter because they add up to pounds that you must carry. In short, these are the same factors that go into deciding on a proper sleeping bag.
The weight of a hammock underquilt should be no more than two pounds if you don't mind a lower level of insulation, or if you opt for a more expensive down underquilt instead of a synthetic one. However, it is important to remember that many sleeping bags and underquilts are rated for adult men, and children and women tend to get colder more quickly than men.
Because most temperature ratings assume that you'll be sleeping in multiple layers and a hat, it's a good idea to pick an underquilt with a rating of around 10 degrees lower than what you'll be experiencing while camping.
The item's packed size is also an essential consideration. If the temperature rating is for lower temperatures, it will take up a lot of room in your gear because of the extra insulation. Goose down is more expensive and can cost up to two times as much as synthetic fill quilts that are rated to be used in the freezer, but still pack nicely into small compression sacks and are some of the best hammock underquilts.
To make the best decision, consider where you'll be camping, what season it will be, how warm you need to be, your financial situation, and how much weight and size you prefer to carry.
The Nine Best Underquilts
Go Outfitters Stratus Underquilt
The Go Outfitters Stratus Underquilt is one of the more expensive models reviewed here, but it is also one of the lightest and most compact. It can withstand temperatures as low as 40 degrees Fahrenheit, compresses down to about 6 by 8 inches, and only weighs one pound, seven ounces when packed. Rather than relying on cords or attachments to the suspension trees, it's designed to be clipped underneath any model of hammock.
Despite the fact that this product is one of the pricier options on Amazon, it's worth every penny. It's long-lasting, stylish, and made of stratus shield insulation, a synthetic material that dries quickly and is ideal for use in harsh conditions. The rest of the underquilt is made of 100% polyester and can be adjusted to fit a wide range of hammocks and bodies.
Pros:
Long-lasting
Lightweight
Compact
Cons:
Sale
---
One Wind Underquilt Double Hammock Multi-season
This underquilt, made by One Wind, is the latest in a long line of offerings by the company for hammock supplies. It is available in a variety of forms, including the more expensive but still compact goose down insulation, as well as synthetic fill. The synthetic underquilt filling is made with Dupont insulation.
It uses two carabiners on each side to attach the hammock to the framework cording. It's warm, waterproof, and soft and light, so it'll work with a wide range of hammocks. It is rated for 40°F, weighs 2.25 pounds, and packs into a 12-inch compression bag.
Pros:
Available in both synthetic and down options
Folds up very small and compact
Cons:
Down option is expensive
Down option is frequently out of stock
---
Eagle's Nest Outfitters Ember Underquilt
For spring and fall, the Eagles Nest Outfitters' Ember Underquilt is rated for 40 to 60 degrees and offers a comfortable option. Two layers of polyester are sandwiched between recycled synthetic insulation, and the quilt is adjustable with shock cord suspension. This hammock quilt can be used with any midsize hammock, not just those made by Eagles Nest Outfitters. It's water and windproof, weighs 27 ounces, and packs down to 13.25 x 7 x 7 inches.
Pros:
Cons:
ENO, Eagles Nest Outfitters Ember UnderQuilt Hammock Insulation for Spring and Fall, Evergreen
Light insulation: Hammock camping is no longer just for summer; The Ember UnderQuilt features 2 layers of recycled, synthetic insulation with a temperature rating of 40-60 degrees F
Comfy & easy: Now updated with a fully adjustable shock cord suspension system that's easy to use and adapts to any sleep position; Compatible with every ENO hammock except SkyLoft (sold separately)
---
East Hills Outdoor Snuggler Hammock
This underquilt by East Hills Outdoors is one of the cheaper options, but comes with a variety of attractive features, especially for those who will only be hammock camping occasionally. It makes use of synthetic insulation rated down to 40°, although it is marketed as a four-season camping underquilt.
It can be used with any existing hammock that has shock cord suspension and is water and wind-resistant. When compressed, it measures 13.25″ x 7″ and weighs about two pounds. It has received a 4.5 out of 5-star rating on Amazon.
Pros:
Reasonably priced
Packs down to manageable size
Cons:
Not appropriate for winter camping.
Sale
---
Ayamaya Hammock Underquilt
This underquilt by Ayamaya can be found on Amazon and is also one of the cheaper options, but also one of the most versatile. It is made of 20D ripstop nylon and thus is quite durable. It fits most hammocks sold on the market today and features elastic straps on both ends for a quick setup on the hammock itself.
It is rated between 20°F and 68°, ideally for use between spring and warmer winter days. One of the larger models on the market, it weighs in at 2.6 pounds and comes with a 15 x 9-inch stuff sack.
Pros:
Lower cost
Versatile
Durable
Cons:
The storage sack is not a compression sack.
Sale
---
Geertop Ultralight Hammock Underquilt
Found on Amazon, the Geertop Ultralight is also one of the best underquilt models you can buy, and it's perfect for beginner hammock campers. It is made of nylon and polyester, with an imitation silk floss lining and synthetic filling, and it is waterproof. For spring, summer, and fall camping, this sleeping bag is fine down to 40 degrees Fahrenheit.
It is 1.87 pounds in weight and has elastic straps on both ends of the quilt design for attachment to any model of hammock. Lightweight and easy to carry, it comes with a compression bag that compresses down to a compact 12″ x 7." The quilted design keeps insulation in place and can fit into most backpacks with ease.
Pros:
Low cost and versatile in a variety of camping situations
Includes a compression bag
Cons:
Might not be large enough for those over 6'
May not completely cover larger hammock models
---
OneTigris Hideout Hammock Underquilt
The OneTigris Hideout Underquilt is the most budget-friendly option on this list. The polyester-cotton mix filling keeps the heat in, and it is also lightweight and durable. There are elastic straps to attach it to any hammock model, and it weighs 2 pounds.
With a 13″ x 9″ compression sleeve, it can be compressed down to a 13″ x 9″ size and can withstand temperatures down to 40°F. As a bonus, this particular underquilt is made from Fairtrade-certified materials, and the company donates part of its profits to non-profit organizations around the world.
Pros:
Low cost
Made from environmentally friendly materials
Cons:
It may not be heavy enough for extreme cold weather
It is large even when packed.
Sale
---
Avalanche Hammock Underquilt
The Avalanche Hammock's Underquilt provides an affordable alternative for those who prefer to camp in warmer temperatures. It is lightweight and durable, made of nylon, and stows away in an included packing bag, though the bag is a regular packing bag and not a compression bag. This underquilt does not attach to the hammock itself, but rather attaches to the supporting trees, although it comes with mosquito netting, which many other models do not.
It weighs 1.75 pounds and is rated at 50°F or more. Because the sack it comes in is not a compression sack, it packs down into the size of the sack itself, which is around 20″ x 12″, making it a bulkier option and perhaps not suitable for backpacking.
Pros:
Affordable
Comes with mosquito netting
Cons:
There is no compression sack.
Not suitable for large hammocks
---
Wise Owl Outfitters Hammock Underquilt
The underquilt offered by Wise Owl comes with a regular sack rather than a compression sack but is made of durable nylon with reinforced stitching and a water-resistant coating. Although it is rated at 40° and higher, it is not suitable for deep winter camping, even though it is advertised to withstand all weather conditions. At only 1.15 pounds, it is easy to carry around, but it's not quite as small as you'd get with a compression sack. Rather than hanging from the hammock itself, it attaches to the support trees and has polyfill synthetic insulation.
Pros:
Middle-range price
Re-enforced stitching
Cons:
Does not attach to hammock itself, requiring extra cording
Sale
---
Making a Choice
Choosing the right underquilt for your camping trip is largely a matter of taste, comfort, and requirements. Selecting an underquilt filled with down may not be a good idea if you prefer water-resistant features, because moisture can contribute to the degradation of the insulation. However, if you're looking for extra warmth, you're better off going with down instead of synthetic filling.
As a result, if you're planning on using your hammock for backpacking and are concerned about weight and portability, you should look for an underquilt that keeps you warm and dry while also being lightweight and compact when packed down. It is for this reason that the Go Outfitters Stratus Underquilt is the model we recommend.