Camping in Washington State is popular and the camping choices are plentiful. That's because the state has spectacular landscapes to enjoy, from mountainscapes to the rugged coastline with forested lakes in between. Whether you're looking for exciting outdoor adventures, from hiking trails to paddling streams, or simply need a break to connect with nature and family, you'll find the right camping spot in Washington.
1. Colonial Creek South Campground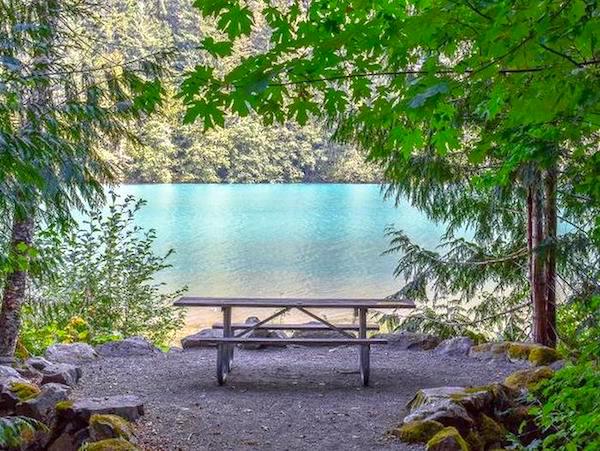 The North Cascades National Park is the site of remote and rugged camping in Washington. One of the state's three national parks, it is located in the northern part of the state with an alpine landscape around three hours from Seattle. Colonial Creek South is a forested campground that is remote but easily found on the south side of State Route 20. It features 94 campsites, some of which are on the shores of Diablo Lake. Campers should be alert for bears.
2. Moran State Park
Moran State Park is located on Orcas Island, which is the largest of the San Juan Islands and is reachable by a ferry ride. This state park campground features 151 campsites. Most of them are large enough for RV camping, but there are no hookups. You can go tent camping under the stars or "glamping" in a luxurious platform tent. The park has five lakes for swimming, paddling, and fishing and 38 miles of trails for hiking with great views of the San Juan archipelago.
Amenities:
Restrooms
Picnic shelters
Kitchen shelters with electricity
Snack bar
Boat rentals
3. La Conner RV & Camping Resort
Explore the Pacific Northwest at the La Conner RV & Camping Resort. Located on a half-mile of saltwater beachfront, the resort is open year-round and offers 316 sites, including RV camping and cabin rentals. To the east, you'll find shopping and dining in the historic town of La Conner. Travel west to take a ferry ride to the San Juan Islands. The resort has lots of activities and sports on-site such as minigolf, volleyball, tennis courts, and a hot tub.
Amenities:
Clubhouse
Restrooms /showers
Free Wi-Fi
Restaurant
Store
4. Hozomeen Campground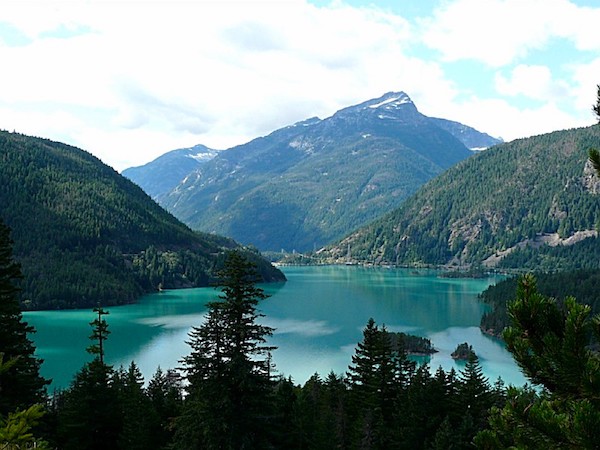 For some of the most unique camping in Washington, the Hozomeen Campground has the North Cascades National Park's most remote car camping. Smaller RVs are welcome, but be advised that the road is rough. Get there by heading north through Canada and then south back over the border to the northern side of Ross Lake. The area has several hiking trails, and a boat launch and lakeside make this a great fishing spot. The 75 campsites are first-come-first-served.
No amenities are listed.
5. Purple Point Campground
Purple Point Campground is located on Lake Chelan and is the perfect place to explore the stunning area of Stehekin in the heart of the North Cascades. Reservations are required from late May to early September. Make them in advance at recreation.gov.
Backcountry and wilderness campers will need a backcountry permit during the peak summer season. No reservations or permits are required at the lakeside sites, but private boaters will need a Federal Dock permit. From mid-September through late May, campgrounds are first-come-first-served.
Amenities:
Boat landing
Treated water
Flush toilet
6. Blake Island Marine State Park
For the best camping in Washington near Seattle, head to the Blake Island Marine State Park. Around 50 campsites and a group camping area are shared across three campgrounds. Campsites include primitive, standard (near water and comfort station, partial utility (electricity), and full utility Electricity, water, and sewage.
With a location along the Cascadia Marine Trail, the park is only accessible by water. Get there by private boat or book a cruise with Argosy Cruises.
Amenities:
Visitor center
Picnic shelters
Fire rings
Horseshoe pits
Volleyball field
Marine dump station
Showers
7. Fay Bainbridge Park & Campground
Not far from Seattle, Fay Bainbridge Park & Campground is perfect for family camping. The marine camping park is set on 17 acres and features 1,420 feet of saltwater shoreline. You'll have sweeping views of the Cascades and Puget Sound, and on clear days, you can see Mount Rainer and Mount Baker.
The campground features 14 tent sites, 26 RV sites, and three cabins. The RV campsites have full hookups and can accommodate vehicles up to 40 feet long. Most can be reserved online.
Amenities:
Restrooms
Picnic shelters
8. Kalaloch Campground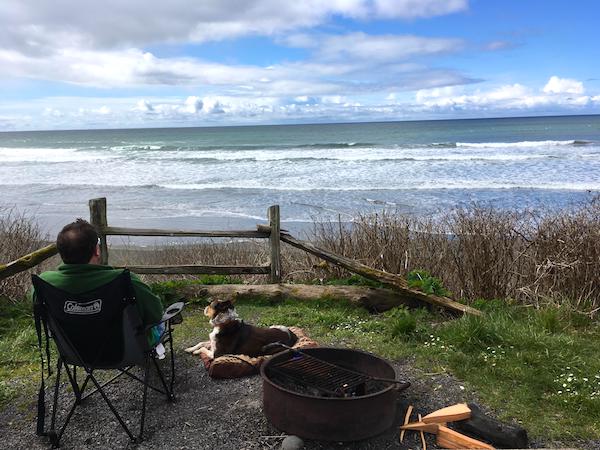 The Kalaloch Campground is situated on the coast on a high bluff with views of the Pacific Ocean. It's pet-friendly and near Ruby Beach. Kalaloch is the only Olympic National Park campground that takes reservations during the peak season (June to September.) The 168 sites are standard, no electric, but many of them can accommodate RVs. You can also find accommodations at the nearby Kalaloch Lodge.
Amenities:
Visitor center
Flush toilets
Dump Station
Trash collection
Fire pits/BBQs
Picnic tables
9. Fort Flagler Historical State Park
Combine family camping with exploring history at Fort Flager Historical State Park. The campground is located on the northern end of Marrowstone Island, minutes away from the charming town of Port Townsend. Be sure to visit nearby Fort Flager, dating back to the 1890s. The defense fort was manned during both World Wars and the Korean War.
Tours are offered, and the grounds have a military museum and a gift shop. Activities for campers include boating, hiking, kite-flying, beachcombing, and saltwater fishing. You can also dig for clams and catch crabs. Beachfront tents and RV sites are available. An automated pay station allows visitors to buy a one-day or annual pass and a boat launch permit.
Amenities:
Kitchen shelter with water and electricity
5 picnic tables
Fire ring
Water
Restrooms
Seasonal concession stand
10. Campbell Tree Grove Campground
Some of the best free camping in Washington can be found at the Campbell Tree Grove Campground, especially for those looking for deep-woods camping. You'll be immersed in a setting surrounded by old-growth Western hemlocks, Douglas firs, and Western red cedars. The refreshing Humptulips River runs parallel to the campgrounds.
Activities include fishing, picnicking, and nature viewing. RV and trailer size is limited to a maximum of 16 feet. Campsites are available on a first-come-first-serve basis. There is no potable water, but two vault toilets are provided.
No amenities are given.
11. Riffle Lake Campground
Riffe Lake Campground is on the shore of Riffle Lake, a man-made reservoir on the Cowlitz River. The lake is known for its quiet coves for swimming, excellent fishing, and cascading waterfalls along the surrounding hiking trails. The campground offers tent sites near the lake and freshly graveled RV sites. A small store sells essentials like ice and firewood.
The campground is family-friendly and pet-friendly, with a playground and activities such as horseshoes, Frisbee golf, and basketball.
Amenities:
Bathrooms
Coin-op showers
Picnic tables
Fire pits
Playground
12. Bowl & Pitcher Campground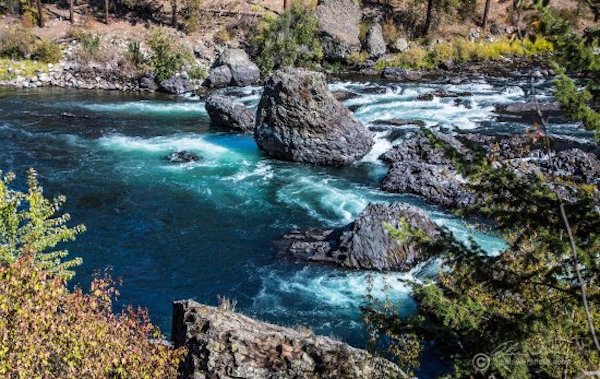 If privacy and seclusion don't matter, the Bowl & Pitcher Campground at Riverside State Park is one of Washington's best campgrounds. It's located in a popular area along the Spokane River with impressive views and a string of hikers crossing the nearby swing bridge to the Bowl & Pitcher Loop trail.
The campground features 16 RV sites with partial hookups and 16 tent sites. Activities include boating, fishing, watersports, and hiking. Dining and shopping are available in nearby Spokane. Reservations can be made online.
Amenities:
Restroom
Day-use parking lot
Picnic shelters & tables
13. Mount Spokane State Park
Located an hour from Spokane, Mount Spokane State Park is a good choice for avid hikers. It's a small campground in quiet surroundings with a total of eight single-family campsites for tents or trailers and RVs up to 30 feet. Hikers and campers have access to more than 100 miles of trails to explore the area. Hikers can conquer the Kit Carson, Mount Spokane, and Day Mountain summits.
The five-mile Quartz Mountain Trail is roundtrip and has a historic lookout tower on the summit. Campers can also enjoy biking or horseback riding on the trails. The park is open for camping from May to September. In winter, it serves the local area as a skiing and snowboarding park.
Amenities:
Picnic table
Free ring and grate
Drinking water
Flush toilets
14. Lake Chelan State Park
Lake Chelan State Park is popular with families around the state and beyond. The campground is located near a 50.5-mile lake for swimming, fishing, boating, and watersports. A long, sandy beach has shaded picnic tables. There are hiking trails to explore the North Cascades, including the 2.3-mile Little Bear Trail.
A concession stand and kayak and paddleboard rentals are available May-September. The park offers 109 tent sites, 18 sites with water and electricity, and 17 with water and electricity plus sewage.
Amenities:
Kitchen Shelter w/o electricity
52 picnic tables
Children's playground
Horseshoe pits
Volleyball court
15. Steamboat Rock State Park
Camp near the famous Steamboat Rock, an 800-foot tall basalt butte on 600 acres filled with wildlife and covered in colorful wildflowers in the spring. The area is called the "scabland" by the locals. Hike up the big rock, where the trail leads to stunning views of the Grand Coulee and the peaks of the Okanogan-Wenatchee National Forest. The campground features 136 RV sites, 26 tent sites, and three cabins.
Amenities:
Day-use area
Amphitheater
Playground
Basketball court
Dock
Fishing pier
Fish cleaning stations
16. Wenatchee Confluence State Park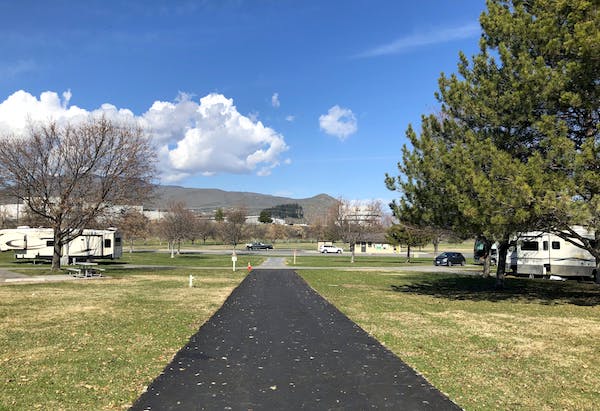 Campers at Wenatchee Confluence State Park enjoy both recreational opportunities and wildlife watching. The campground is centrally located and easy to get to from Wenatchee and Leavenworth, a Bavarian replica town. The Wenatchee and Columbia Rivers meet here for swimming, fishing, and boating.
Hike or bike on the Apple Capital Trail that runs through the park. Footpaths and a pedestrian bridge lead to the Horan Natural Area. The campground features 51 full hookup sites and eight tent sites that are secluded and private.
Amenities:
Kitchen shelter with electricity
Picnic tables
Basketball courts
Tennis courts
Soccer field
Softball field
Horseshoe pits
17. Seaquest State Park
Explore the famous Washington volcano while camping at the Seaquest State Park in Southern Washington. A pedestrian tunnel connects the park to the Silver Lake Mount Saint Helens Visitor Center, where campers can see the interpretive exhibits and participate in ranger talks.
The campground is in a lush forest setting and features a boardwalk around Silver Lake. It has 55 tent camping sites and 33 full-hookup RV sites. Five yurts are available for family camping.
Amenities:
Restroom
Amphitheater
Children's playground
Volleyball field
Horseshoe pits
18. Beaver Campground
Beaver Campground is a relaxing campground near Mount Saint Helens. The quiet campsites are nestled in a shady grove of trees a short walk away from the Wind River. In the summer, you'll be able to pick loads of wild blueberries. The small campground features 24 campsites and a group overflow site for 60 campers. The standard non-electric sites will accommodate RVs from 24 feet to 30 feet.
Amenities:
Vault toilets
Picnic table
Firepit
Playground
Horseshoe pit
Find Camping Locations in Other States
Check out the best camping in every state.