Camping in Florida offers lots of fun and awesome experiences. It is a great way to get out and enjoy time with family and friends. When you set your sights on camping in Florida, you will find a lengthy list of diverse and exotic locations ready to be explored to your heart's content. Some of the best Florida camping experiences can be found when you step off the trail and into come of these awesome campgrounds.
Flamingo Campground
Homestead, Florida
Available Types: Tents, RVs. Limited group sites available.
Located near the Everglades, this campground makes a fantastic starting point for adventuring in one of Florida's most famous parks. Reservations are suggested for some of the pull-through campsites. Flamingo also offers Eco-Tents at a going rate of $50.00 a night to stay in a safari-style tent equipped with fans and lights as well as electricity for a more comfort-oriented stay with slightly less planning needed.
Take advantage of the daily boat tours offered at the site, or take your adventure into your own hands by renting a kayak or pontoon boat. This campsite certainly sets you up with one of the best Florida camping experiences you can find.
Amenities
Two Showers
Two Dump Sites
Picnic Tables and Grills
Amphitheater
Electrical Hookups Available in pull-through.
Learn more on the NPS website
---
Naples/Marco Island KOA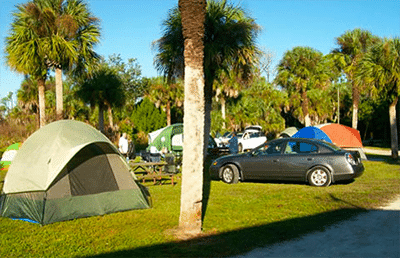 Naples, Florida
Available Types: Tent, RV, and Cabin Rentals
Reservations are advised at this tropical paradise of a campsite. Located just a few miles away from downtown Naples and surrounded by the Rookery Bay Research Reserve, this KOA offers plenty of opportunities for you to stay in style and comfort. Whether you're using an RV and making use of the 30/50 amp or 20/30 amp sites or staying in one of the cozy cabins, this is a great location to explore the areas around Naples from.
Follow the marked canoe trail out of the camp and into the Gulf of Mexico, or stroll the Naples pier as you visit the sandy beaches and unique attractions while staying at this particular site.
Amenities
Pool and Hottub
Shuffleboard, horseshoes, and playground
Fishing
Dog Park
Learn more on the KOA website
---
Juniper Springs Recreation Area
Ocala National Forest
Available Types: Tent and RV
While this site features a lot of minor charges often associated with the upkeep of a National Park, you can easily avoid that with a $60 Ocala National Forest Recreation Area Pass. Constructed in the 1930s by the Civilian Conservation Corps, this area offers everything from swimming to hiking trails set against a backdrop of a plethora of springs in various sizes bursting out from in between the forestry.
With the majority of the popular areas of this site being wheelchair accessible, you are bound to have an excellent time. You are free to bring your own kayak or canoe with a small launching and haul-back charge, or you can rent on-site for $42 with an extra $20 deposit for canoes. It is strongly requested that you do not go wading or fishing in the springs and runs. Reservations can be made over a phone call.
Amenities
Picnic Tables
Interpretive Site at the Old Mill House
Restrooms with Flush toilets
Drinking water
Learn more on the USDA Forest Service website
---
Navarre Beach Camping Resort
Navarre, Florida
Available Types: RV and Cottage Rentals
Ideal for large groups, this RV park has a lot to offer. Starting with the three-hundred-foot fishing pier and reaching the heated swimming pool, the attractions that draw you to this site start within the boundaries of it. Located close to Pensacola, Navarre Beach, and Fort Walton Beach, this resort is the perfect hub for a variety of activities in the Florida panhandle.
Camping in Florida doesn't have to be all about staying in a tent and getting in touch with nature. You can easily admire the majesty of the pristine white beaches and emerald waters from the comfort of this camping resort.
Amenities
Clean, Modern Bathhouses
Camp Store and Grocery Items
Laundromat at two locations
Rec Hall with Full Kitchen
Learn more on the Navarre Beach Camping Resort website
---
Peace River RV & Camping Resort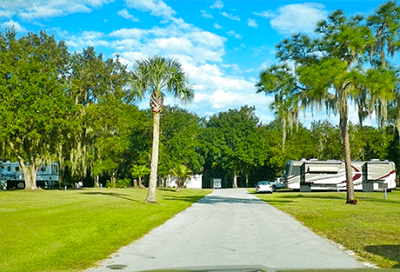 Wauchula, Florida
Available Types: RV
Nestled in southwest Florida, the Peace River resort offers something for everyone, no matter if you prefer the woods or the water to dominate your relaxing camping getaway. With only a short drive to big-city attractions, this resort is the perfect stop for avid participants of the RVing lifestyle. The prices are subject to location and availability and do not reflect any service charges or optional incidents.
Amenities
Laundry Facilities and store
Bocce Ball, Pickleball, Shuffleboard, and more
Restroom and Shower Facilities
Fishing and Hiking Trails
---
Fort De Soto Campground
Pinellas County, Florida
Available Types: Tent and RV
This expansive campground is located in Fort De Soto, which means that it has excellent access to everything that the county park has to offer. With a limit of fourteen days per reservation, you are guaranteed to be able to have a lengthy but reasonable stay that lets you drink in everything that this beautiful area has to offer. With seven miles of waterfront, three miles of sugar sand beach, and numerous hiking trails and opportunities to cut your own path, this park is an excellent choice for an extended camping stay.
Amenities
Designated Pet area camping units
All sites have water and electrical hook-up, picnic table and charcoal grill.
Modern Restrooms with showers and laundry facilities
Learn more on the Pinellas County website
---
Turtle Beach Campground
Sarasota County, Florida
Available Types: Tent and RV
One of only a few campgrounds to be found in Florida that boast beach access, Turtle Beach gives you the unique opportunity to see loggerhead and green turtle nests during the summer months. Though the sun, sand, and open-air can feel incredible, you also have the option to take the free trolley into Siesta Village and experience some of the more civilized attractions there.
Amenities
Direct access to the beach and the Gulf of Mexico
Picnic Area with Grills
Restrooms and hot showers
Learn more on the Sarasota County website
---
Peace River Campground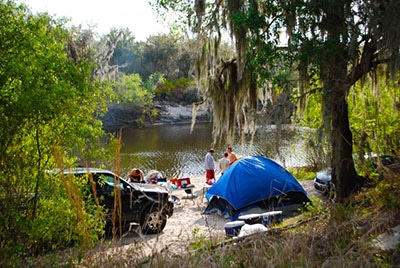 Arcadia, Florida
Available Types: Tent and RV
This family-owned campground is sure to ensure that you have a fantastic experience while camping in Florida. Food trucks come by from time to time, providing campers with a variety of delicious food to choose from. With swimming, bingo, and fossil hunting available, there is no shortage of fun activities for the campers.
With the purchase of an eleven-dollar wristband, campers are allowed to ride four-wheelers, side-by-sides, and golf carts around the campground, as long as they do so safely and within the 9.5 mph speed limit.
Amenities
Heated Pool
Playground and Game Room
Showers and Restrooms
---
Hillsborough River State Park
Thonotosassa, Florida
Available Types: Tent and RV
With a fantastic blend of historical weight and natural wonder, this state park is only a short drive south of the city of Tampa. Hillsborough River State Park offers a variety of trails for paddling, hiking, biking, or horseback riding. Fishing and wildlife viewing are also available within the boundaries of the park.
Camping fees at this location are a reasonable $24 a night, plus taxes and a non-refundable reservation fee of $6.70. Rental fees for various equipment provided by the park tend to depend on the type of equipment and the length of time they are being rented.
Amenities
Shower Station and Restroom Facilities
Equestrian Trail and Horseback Riding
Pets allowed under control of pet owner
ADA Accessible Swimming Pool
Learn more on the Florida State Parks website
---
Twin Lakes Camp Resort
DeFuniak Springs, Florida
Available Types: RV, cabin rentals, and Glamping Tent rentals
This quiet getaway promises you a camping experience that is ripe with comfort and relaxation. With one thousand feet of waterways on two separate lakes, Twin Lakes is an excellent destination for fishing, boating, or just relaxing. A detailed list of the rental rates is available through the site's webpage and breaks it down into daily, weekly, and monthly rates depending on what you intend to be camping in during your stay.
Amenities
Boat and Kayak Rentals
Laundry Facilities
Bathhouse
Activity Center
Learn more on the Twin Lakes Camp Resort website
---
Okeechobee KOA Resort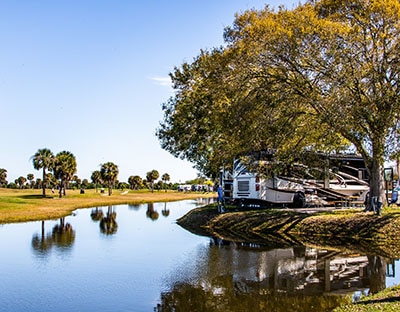 Okeechobee, Florida
Available Types: Tent, RV, and Cabin Rentals
Lake Okeechobee is popularly known as Florida's inland sea and offers campers a taste of a tropical getaway. Filled with palm-fringed greens and excellent bass fishing, the Okeechobee KOA Resort is a fantastic destination that will help you forget all of your worries during your stay.
Amenities
9-hole golf course, driving range, and putting green.
Tennis and pickleball courts
Fitness center and three Pools
Learn more on the KOA website
---
Blackwater River State Park
Holt, Florida
Available Types: tent and RV
The areas within this state park are part of the largest contiguous longleaf pine/wiregrass ecosystem. Filled with nature trails, water activities, and a variety of other activities, camping here will put you in touch with what is said to be one of the rarest ecosystems in the world.
The uniqueness of the area will certainly draw in adventures and campers with ease and give them plenty of unforgettable experiences. Camping fees for this location are a reasonable $20 a night plus taxes and reservation fees.
Amenities
Restroom Facilities and Bathrooms
Pets welcome
Wheelchair accessible
Learn more on the Florida State Parks website
---
Dr. Julian G. Bruce St. George Island State Park
St. George Island, Florida
Available Types: Tent and RV
With miles of undeveloped beaches, fantastic stargazing, and breathtaking sunsets, this site is a veritable wonderland for nature lovers. Providing ample opportunities for everything from sunbathing to nature study, this state park crafts the perfect getaway when camping in Florida. Witness everything from a pod of dolphins to a soaring bald eagle when you camp at this scenic Florida location.
Amenities
Wheelchair accessible
Shower and bathroom facilities
Beach and boat ramp
Recycling
Learn more on the Florida State Parks website