Great camping is a dream for many. It means relaxing in the outdoors. The Hoosier State is known for its plethora of fine camping grounds. So, whether you enjoy roughing it, hiking the trails, or canoeing down a serene river, you'll find a space that suits your style. There are places where you can spend your weekend inside your RV.
Some areas, such as the ones as far up as Madison, are home to Amish villages. Plus, it is a well-known fact that there is the infamous Indy 500, which is an incredible racing event that takes place on or around Memorial Day weekend.
Best Places to Go Camping in Indiana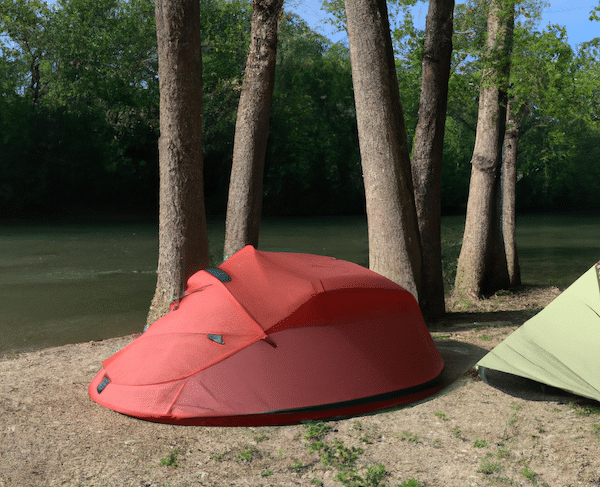 A vast array of farmlands and small country towns is one that would be popular with campers. Indiana, in fact, has just as many campsites as it does farms. Below is a list of the best places to go camping in Indiana.
Lochloosa River
Located on 6 acres of breathtaking woods and an alluring river, Lochloosa is a sight for sore eyes. You'll love this bit of land. It is home to a variety of wildlife, including deer and birds. You can enjoy a serene stroll along the open beach and take a dip in the swimming hole with friends and family.
There are a few pros to camping at Lochloosa, such as:
Open campsites along the river
Options for secluded camping
A camp information center
A place for RVs with hookups
At Lochloosa, you can pitch your tent along the breathtaking Tippecanoe River. You'll wake up to the sounds of water quietly running along the area. What's more, the campsite is friendly to RVs. So, if you're the type who enjoys a little luxury, Lochloosa River is perfect for you. Reservations are required. You can find out more about the Lochloosa River Retreat and the activities here.
Hoosier National Forest
Located on the rolling hills of south-central Indiana, Hoosier National Forest offers campers the best of nature and beyond. You can hike on the backcountry trails and savor the magnetic view of the breathtaking forest.
You don't have to restrict yourself to camping on the grounds when you're at Hoosier National Forest. The park has dispersed camping available, which means that you can camp on the outskirts. This gives you a chance to set up your tent where it's a little more private. Dispersed camping must be done 300 feet away from trailheads and 100 feet from waterfronts and hiking trails.
The park has a few features:
Dispersed camping
Roadside camping
Pet friendly
You can even camp on the roadside, but there are restrictions. You must stay 125 feet within the road and away from campgrounds. A maximum stay of two weeks is allowed for all campers.
You might also like the rough trails. There are a variety of activities along the back trails, including mountain biking, horseback riding, or simply hiking. The minimum age is 17, and a permit is required to use the trails. The area is open all year round and is pet-friendly to dogs. A 6-foot leash is required at all times.
For more information, visit Hoosier National Forest online.
Indiana Dunes National Park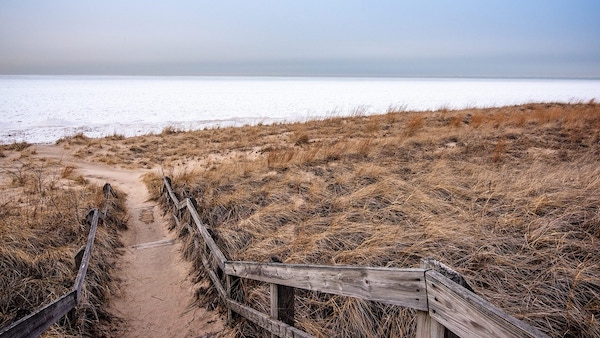 The Indiana Dunes National State Park offers 12 acres of vast, prehistoric land. You'll have a mix of the raw outdoors with the smoothness of the beach. Located in Porter County, Indiana, the park graces the edge of the immense Lake Michigan. But that's not all the site has to offer.
You'll be awed by its wide selection of historic dunes, which took thousands of years to form along the shoreline. These magnetic structures tower at around 200 feet above the lake, casting their ancient shadows along the waters.
You can hop next door to the Dorothy Buell Visitor Center and get information about Porter County and the Dunes.
You'll have the following features, including:
Campgrounds that are accessible
Water and electrical hookups at 140 locations
Dog walking paths
The Dunewood campsite is open from April through October. The site is wheelchair-accessible and registration is required. For more information, check out the Indiana Dunes page.
Brown County State Park
Characterized by melting glaciers from a recent ice age, Brown County is a conglomerate of hills, ravines, and ridges. This totals up to 16,000 acres of pure, natural land that makes up the county. The Brown County State Park has miles of open forest land with picturesque vistas and trees that dot the roadways. You can not only spend the night, but you have the advantage of hopping over to neighboring Nashville for a day of shopping, arts and crafts, and food.
You can enjoy several creature comforts at Brown County State Park. They have:
Cabin or hotel rooms
Group reservations for the entire family
An outdoor area for horseback riding
Areas for classic tent camping
Conference areas
And if you love hiking or biking, there's a place for that. The park has several trails that allow you to blaze through on your mountain bike. You can take a hike through the vast forest and see the treasures the park has to offer.
Brown County State Park has a host of features, including an amphitheater, a convenience store, and a bathhouse. You can climb the mighty Fire Tower for an overview of the hills that were once the ancient glaciers of Brown County. For your convenience, you can reserve your spot here.
Bill Monroe's Music Park and Campground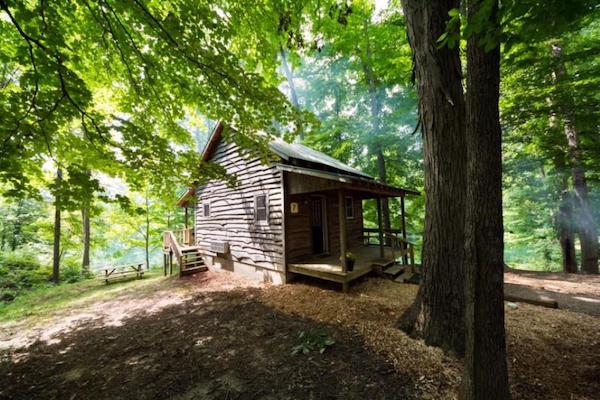 Sitting on 55 acres of outdoor campground lies Bill Monroe's Music Park and Campground. The place is home to many outdoor festivals, such as the Bluegrass Festival and the Brown County Jamboree. If you enjoy roughing it in the outdoors, you'll have a place to pitch your tent.
But if you like to camp in style and luxury, there are accommodations for RVs and campers. You'll have access to hookups for your RV. You have the option to rent one as well. You can also reserve a cabin for you and your family or friends.
The place is pet-friendly, so even Fido can come along. You can dine outdoors from any one of the site's picnic tables. Shop for a souvenir at the camp's gift shop, or get your supplies at the campsite's shop.
With good camping comes smores. You can purchase extra firewood right at the campsite's entrance. They sell bags of ice for your cooler to help keep drinks and food cold.
The park offers the following pluses:
Fishing
Kayaking
Mountain biking
Dining
Live entertainment
You can shop and enjoy the company of your fellow campers at Bill Monroe Music and Campground. Browse here to learn more.
Indian Celina Lake
Located on the Saint Croix border, Indian Celina Lake has 2 distinct parts or loops. These loops separate both the Celina and Indian lakes, where fishing usually takes place. They each have individual campsites. Some are for tents, but if you enjoy a vacation with your favorite amenities, there are campsites just for that. You can camp inside your RV too. The campsite has the following amenities:
Utility hookups
Sites have tables and outdoor grilles
Indoor plumbing and hot showers
Year-round boat ramps
The lake is home to a variety of fish species, including bluegill, crappie, catfish, and largemouth bass. You can fish along the lake for live catches. Or, you might explore the trails and do some hiking. And if you like game hunting, it is allowed. Visit Indian Celina Lake to learn more.
Tipsaw Lake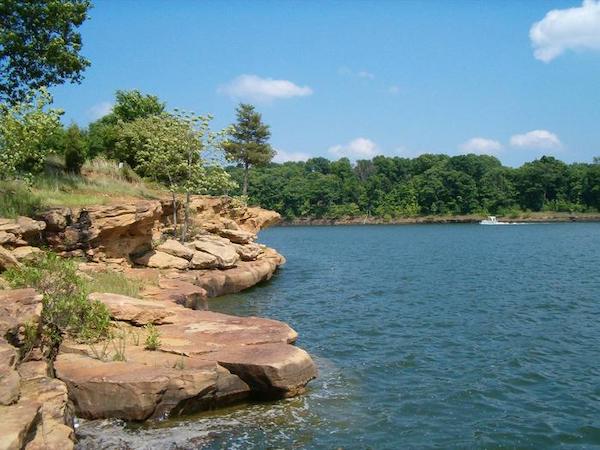 If you enjoy large group vacations, then you'll love Tipsaw Lake. One of the best places to go camping in Indiana, Tipsaw Lake offers group camping for up to 65 people. You can make up to 14s reservations with the same credit card all year round. And, regardless of season, you can always camp for a maximum of 2 weeks at a time.
Tipsaw Lake has the following benefits:
Areas for outdoor games
Natural, hardwood pine forest
Has both standard and RV electric
A 5.9-mile trail just for hiking and biking
Scenic view of the lake and valleys right from the trails
Has tent pads
Water hookups available for use
Outdoor grill and barbecue available
Has showers and indoor plumbing
You can swim, hunt, fish, and go boating at Tipsaw Lake. The park is located near Saint Croix. You can find out more information by visiting the site.
Hardin Ridge
With a total of 197 campsites, Hardin Ridge is a 1,200-acre bit of land. It has a lot of natural shade in nearly all of its campsites. At 36 of them, you have the option of traditional tent camping. The only difference is that there will be no electricity, so you really will be roughing it.
The place has running water. You can enjoy other small luxuries, including:
Quality indoor plumbing and running water
Convenient parking
Boat launch ramp
Amphitheater
Accessible boat trailer parking
Clean drinking water
Brookville Lake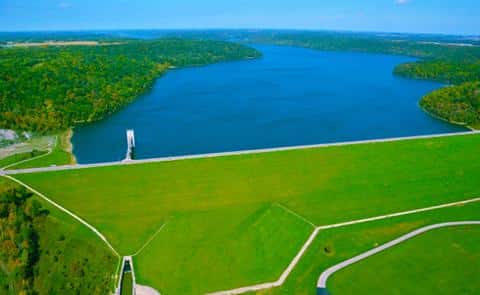 Located on 13,500 acres of land near the Metamora Historic Site, Brookville Lake sits in the eastern part of Indiana. It snugs close to the Ohio state line. You can almost see Cincinnati right across the lake itself.
You can engage in hiking on many different levels. In fact, three separate trails offer this. There's one for beginners, where you can enjoy light hiking through the forest. You can go to the intermediate level of hiking on a more challenging trail, or you can dare yourself to take the trails where hiking is the most difficult.
Brookville Lake has several amenities, including:
Rental boats, both motorized and pedal
An amphitheater
A picnic area with tables
Rental cabins and lodging options
Outdoor grills
Payphone
On-site convenience store
A golf course
The campsite offers horse rentals and a nature study. If you bring a pet, you can arrange to have them boarded up. There's an off-site kennel within 10 miles of Brookville Lake. Reservations are required. To book your spot, visit Brookville Lake campsites today.
Charlestown State Park
In the heart of southern Indiana lies Charlestown State Park. At 5,100 acres, the site is one of the best places to go camping in Indiana. The park was once an army ammunition plant and the site of an amusement park from the 20s. You'll be able to see historical relics from that era.
But the single, most awe-inspiring aspect of Charlestown State Park is the wildlife that comes there. You may receive a visit from a bald eagle, view a herd of deer, or witness vultures circle the sky.
You'll see a bed of fossils along the riverside. Take a stroll along the Fourteen Mile Creek valley with its majestic view of trees that border the Ohio River. Camping is available, and you'll have access to the following luxuries:
Campsite is close to a maintenance shop for cars, boats, and RVs
A massive wildflower garden
Playground Included
Good access to a toilet and clean drinking water
Interpretive trail included
Graduated hiking trails with 3 levels
The interpretive trail at Charlestown State Park hosts educational opportunities about nature in the area. You can learn about the different bird and wildflower species as you walk the trails. Plus, kids can enjoy a playground where they can meet other kids and engage in interactive play.
You can set up your tent or bring your RV. Charlestown State Park is open all year round. Reservations are required.
Clark State Forest

If you enjoy true outdoor camping, then grab your bags and pitch a tent at Clark State Forest. You'll be in awe of all of its natural wonders, which include a series of hills and knows around the Central Hardwoods forest. You can fish in any of the 7 lakes as long as you have an Indiana fishing license.
The park is home to a variety of wildlife. You'll see herds of white-tailed deer roaming the hills. Turkeys, raccoons, and woodcocks can be spotted along the forest area. And who knows, you may be treated to a fox sighting.
Nevertheless, you can bask in the following creature comforts:
A range of picnic tables and picnic shelters
Hiking trails
Horse stalls
Accessible camping
Indoor and outdoor toilets
Plus, you'll have access to a supervised shooting range. You can practice safe gun handling skills. You must obey all State and federal laws when you visit.
Pets are permitted only in outside areas. You are responsible for cleaning up after them. A leash no greater than 6 ft. is required at all times. There are no reservations allowed at this time.
For more information about the park, please visit the park's information page.
Harmonie State Park
Harmonie State Park is situated on the border of the Wabash River. You'll see rolling hills along the bright, green grass. A vast family campsite sits near an area that hosts nature walks and youth group meetings.
At Harmonie, you'll enjoy the following:
Boat docks
Dumping stations for raw sewage
A maintenance and housekeeping facility
An interactive playground for the kids
Hot showers and running water
3 levels of trails, from easy to difficult
A vast wildflower garden
You'll have all of the comforts of home and more. What's even better, you can enjoy a bit of outdoor sports. Harmonie State Park has an open volleyball court, so you can challenge your friends and family to a game. Harmonie offers both nature and archeology programs for everyone.
To find out more, please visit Harmonie State Park's information page.
Morgan-Monroe State Forest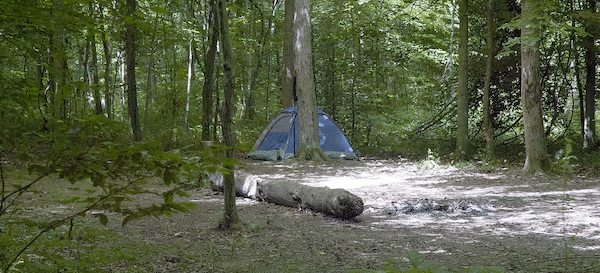 Situated between Morgan and Monroe counties, the Morgan-Monroe State Park has 25,000 acres of pure forest land. The site bears the ancient remnants of the last ice age. Its blend of steep terrain and rocky structures shows visitors how much the last glaciers finally melted.
With 29 tent camping sites, you can get a spot for you and the entire family. You can stroll the wonders of the old forest or fish along Bryant or Cherry Creek. There is an interpretive trail where you can learn about the various tree species. And then there's Scout Ridge Trail, which leads to the back woods of the park.
Morgan-Monroe State Forest offers the following niceties:
Accessibility sites, including camping areas and trails
Indoor restrooms
Interactive playground
On-site manager
Overnight camping is available. Plus, you'll have 24-hour security. Morgan-Monroe State Forest has numerous police officers on duty to keep you and your family safe while on vacation. However, there are no online reservations available. To find out more, please visit them today.
White River Campground
With its picturesque view of the White River of Hamilton County, White River Campground occupies 26 acres of land. You'll be able to walk along the river and savor the various species of wildlife. You can launch a canoe or stroll the K-Trails of neighboring Strawtown Koteewi Park.
There are several amenities, including:
A laundromat
Locker rooms
Canoe launch
RV hookups
There are 106 campsites on the premises. You can set up a tent or bring your RV. White River is open from May 25-October 31. Full payment is due when you make your reservation.
Online reservations begin on January 12. You can find out more about the campsite here.
Find Camping Locations in Other States
Check out the best camping in every state.