Finding the right campsite to pitch your tent is the key to a great camping adventure. Each individual has their own particular tastes and preferences when it comes to where they want to camp and what facilities they want available nearby. If you're planning a camping trip to Idaho, the following is a list of 15 places to go camping in Idaho.
Priest Lake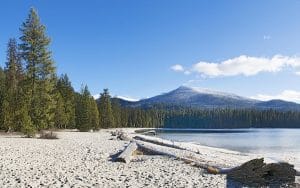 When looking for the best places to go camping in Idaho, Priest Lake is a great place to visit if you want to experience the very best of Idaho's natural beauty. Priest Lake is located in the Selkirk Mountains, which are part of Idaho's panhandle. The lake itself is about 25 miles long, and it holds some of the clearest waters of any lake in the region. The area offers tons of opportunities for activities like:
Hiking
Biking
Swimming
Boating
Here are some excellent campgrounds where you can enjoy all that Priest Lake has to offer:
1. Coolin Campground:
This campground is located on the north shore of Upper Priest Lake and offers 80 campsites. It's a great place for families who want to go camping without having to travel too far from home. The area also has lots of trees, so it provides plenty of shade during hot summer days.
2. Kalispell Campground:
Kalispell Campground is located on the northeast side of Lower Priest Lake, just off Highway 2 near Sandpoint. It has 25 campsites with water and electric hookups as well as picnic tables and fire pits. There are also restrooms available at this location. Kalispell is a popular spot for boaters or anyone looking to spend time on the lake.
Payette River
The Payette River is a well-known destination for campers and hikers, offering a variety of activities to suit all interests. The river runs through Idaho's beautiful Payette National Forest and provides the opportunity to stop at multiple sites along the way. You can fish, hike, bike, or even ride horseback along the river or through the forest. The best part? There are plenty of places to set up camp in this gorgeous wilderness.
1. Cascade Lake:
This primitive campground has a picturesque view of Cascade Lake and offers fishing and hiking opportunities. There are picnic tables, restrooms, and fire rings available at each campsite.
2. Camp Creek Campground:
If you're looking for a spot that offers some extra amenities, check out Camp Creek. This campground has eight car-accessible sites and five walk-in sites for tents. Each comes equipped with a picnic table, fire ring, and bear box, as well as access to potable drinking water and vault toilets. This site is more developed than others in the area but still provides plenty of beauty and solitude for those seeking to be close to nature.
Sawtooth National Forest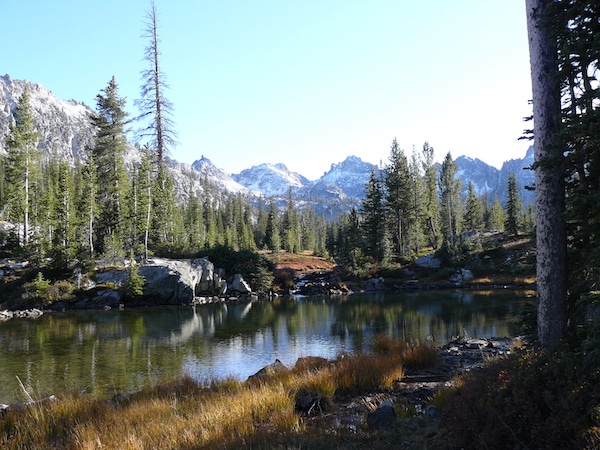 Sawtooth National Forest is located in central Idaho. The forest is known for its fishing, hiking, and camping opportunities. In particular, Sawtooth is known for its trail riding, as it is home to the world-famous Sawtooth Wilderness, which extends into the neighboring Salmon-Challis National Forest. The forest straddles the Sawtooth Range of mountains—hence its name—and has more than 3 million acres of land for visitors to explore. Sawtooth National Forest has different campgrounds, each with its own specific amenities; this makes it among the best places to go camping in Idaho. Here are a few sites:
1. Iron Creek Campground:
Surrounded by forested mountains and located near Redfish Lake and Stanley Lake, Iron Creek Campground offers incredible views and plenty of recreational opportunities. The campground features flush toilets, potable water from May through September, fire rings at every site, and a host onsite from mid-May through September. It also allows pets.
2. Alturas Lake Campground:
With more than 100 individual campsites available as well as five group sites, Alturas Lake Campground boasts a host of amenities, including picnic tables, fire rings at each site, and grills in the group sites area.
City of Rocks National Reserve
Known as the "City of Rocks," this geological wonderland is filled with granite pinnacles and spires. The reserve is a great place for rock climbing, primitive camping, and day hikes with the family. There are multiple campgrounds to choose from within the park, so you'll have plenty of options for where to set up your tent.
1. City of Rocks National Reserve (site 1):
This campground has three group sites, each with a picnic shelter and fire ring. Each site can accommodate up to 50 people and two vehicles—and an additional 15 people per extra vehicle.
2. City of Rocks National Reserve (site 2):
This campground has six sites, each with a picnic table and fire ring. Each site can accommodate up to 10 people and two vehicles—and an additional 15 people per extra vehicle.
3. City of Rocks National Reserve (site 3):
This quiet campground has several sites that overlook the valley below. The area also has some amazing hiking trails if you're looking for a more strenuous activity during your stay. All these sites are pet friendly; however, you have to keep your pet on a leash.
Craters of the Moon National Monument and Preserve
The Craters of the Moon National Monument and Preserve is a remarkable outdoor experience that's hard to find anywhere else. Its prehistoric landscape is more akin to that of the moon than anywhere on Earth, with its desolate landscape and winding lava trails. The caves are a fun and adventurous addition to this camping trip for those who want a little more exploration. A few key features include:
Cave Camping: For those looking for an extra test of their skills, there are several lava tubes in the park that can be explored via a guided tour by rangers or on your own.
Ranger-led Hikes: Rangers provide free guided walks around the park twice daily, allowing visitors to learn more about this unique place while enjoying it at the same time.
Campground Amenities: All of your typical camping needs—including restrooms, potable water, fire pits, picnic tables, and trash cans—are available at each campground.
Hells Canyon National Recreation Area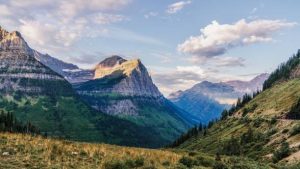 Hells Canyon is an amazing and historic place making it among the best places to go camping in Idaho. The Snake River, the deepest river gorge in North America, is flanked by the Seven Devils Mountains to the east and Oregon's Wallowa Mountains to the west.
Outdoor enthusiasts can explore this rugged area from the water or by hiking along trails that wind through steep canyons, high plateaus, and dense forests. At night, campers can enjoy a truly amazing view of the stars in this remote region where light pollution is virtually non-existent. There are seven campgrounds available within Hells Canyon NRA, including RV hookups and primitive sites for tent campers. Each campground has potable water, restrooms, and trash cans—in addition to a few other amenities.
1. The Copperfield Park Campground offers both RV hookups and tent camping as well as picnic tables, fire rings, boat ramps, a group shelter, and fish cleaning stations. This is the only campground that can accommodate RVs over 27 feet in length.
2. The Hat Point Campground is a primitive site with vault toilets but no potable water or trash cans. It does have boat ramps, fire rings, picnic tables, an amphitheater with interpretive programs on weekends in summer, and an observation tower that gives you a bird's eye view of Hells Canyon.
Joe River
St. Joe River Area has many campgrounds to choose from that are suitable for any type of camper, whether you're looking for seclusion or socialization. Here's a list of places to go camping in the St. Joe River area:
Riverside Campground is located on the banks of the St. Joe River and is surrounded by large, shady trees. It has modern facilities, a playground and picnic tables for families and groups, as well as hiking trails for exploring the forest and getting closer to nature.
Upper St. Joe Campground is another scenic campground located along the banks of the river. It has picnic tables, a playground, and restrooms with hot showers—perfect for families or groups who may not have everything they need in their vehicles or trailers.
Pioneer Group Campground is also near St. Joe River but can only be reserved by large groups such as scout troops or family reunions. It offers even more amenities like fire pits and grills, so you can have a great time making meals without worrying about leaving your campsite too often.
The Owyhee Mountains
While it's not as famous as other destinations in Idaho like the Sawtooth Wilderness or the Frank Church-River of No Return Wilderness, the Owyhee Mountains are a great place to camp if you're looking for an escape from civilization. With more than 1,400 miles of trails, there's plenty to explore by foot, but this area is also popular among off-road motorcyclists, who have a special permit to access certain parts of this wilderness.
1. Owyhee Canyonlands Camping
There are no marked trails in the Owyhee Canyonlands, and most people come here with all-terrain vehicles to explore the rugged terrain. Due to its remoteness and lack of services, it's important that you know what you're doing before heading out into these canyons. Permits are required for camping in this area.
2. Succor Creek
Succor Creek State Park is best known for its unique geology. The jagged cliffs are made from limestone, which has eroded over time into unusual shapes resembling spires, arches, and hollow columns known as "hoodoos." The park has campsites for tents and RVs, as well as two group sites that can be rented.
Salmon Falls Creek Reservoir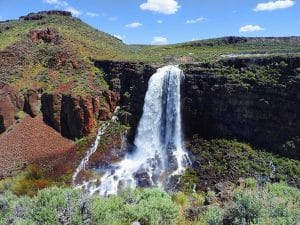 Salmon Falls Creek Reservoir is a great place to go camping in Idaho if you're looking to get out and explore the beautiful, rugged terrain of the region. This location features seven different campgrounds, each with a unique personality and set of amenities. Whether you're a seasoned veteran or a newbie to the camping scene, there's something for you here:
Rocky Point Campground: This campground is most suitable for families with young children, as it has flush toilets and running water—and is close to the reservoir itself. With this amenity-rich environment, however, comes a loss of privacy—sites are close together, but it's well-suited for those who want to keep their kids close.
Fly Flat Campground: This campground offers easy access to Fly Flat Reservoir and has a small sandy beach which makes for fun times for kids and adults alike. With only two campsites available (and no potable water), this site is best suited for those who are looking to get away from it all.
Coyote Campground: In addition to its proximity to the reservoir (which makes it great for swimming), this site also has trails leading into nearby Bureau of Land Management territory that are perfect for hiking.
Bruneau Dunes State Park
Bruneau Dunes State Park is a four-season destination for many types of recreation, including camping. Located approximately 40 miles southwest of Mountain Home in the high desert of southern Idaho, the park offers camping opportunities for every level of camper, from the first-time tent camper to the experienced RVer.
The area is unique in that it is home to the tallest single-structured sand dune in North America. You'll have never seen anything like this 480-foot-tall dune. The park is well-maintained and offers many amenities, including:
Several campsites
Clean restrooms with flush toilets and showers
A camp store with firewood, ice, and other sundries
Shaded picnic areas with modern grills
Distinct camping grounds
Salmon-Challis National Forest
Situated in east-central Idaho, Salmon-Challis National Forest is known for its vast wilderness. With over four million acres, there's plenty of room to explore and enjoy the rugged beauty of Idaho. The vast expanse of forest land also allows visitors to choose from a variety of activities and accommodations.
Whether you want a remote backpacking experience or an organized, group camping adventure, Salmon-Challis can provide it. Salmon-Challis National Forest is home to several campgrounds that are perfect for both first-time campers and experienced outdoorsmen alike. Each location offers something different, so we'll give you an overview of what you can expect at each one.
1. Bird Creek Campground:
This campground features a small fishing pier and a picnic area with tables and grills. Bird Creek also has drinking water and restrooms available for guests' use.
2. Boulder Lake Campground:
This campground has 13 campsites available for guests to reserve on a first-come, first-served basis. There are no hookups for RVs, and only potable water is available; however, there is a vault toilet onsite as well as trash collection services provided by the U.S. Forest Service.
Bear Lake State Park
Bear Lake State Park is an unspoiled paradise that is perfect for camping, whether you're traveling with your family or with a group of friends. When the weather is warm, you can enjoy the crystal-clear waters of this gorgeous lake—there are plenty of things to do on and around it, including swimming, fishing, boating, and water skiing. Bear Lake State Park has three main campgrounds to choose from Eastside, Cisco Beach, and Rendezvous.
1. Eastside:
Has a total of 38 campsites, including one group site. Each site is equipped with a picnic table, fire ring, and grill. Rocky shoreline access to Bear Lake is nearby, as well as flush toilets and drinking water.
2. Cisco Beach:
The Cisco Beach Campground has drinking water available but no flush toilets. Each site has a fire ring, a grill, and a picnic table. Some sites provide direct lake access; others are on the beachfront. A boat ramp is also available for guests here.
3. Rendezvous:
This campground boasts a total of 96 campsites with varying amenities depending on the site (some have electricity), but all have picnic tables, fire rings, and grills. Drinking water is also available; flush toilets are not.
Birch Creek Ranch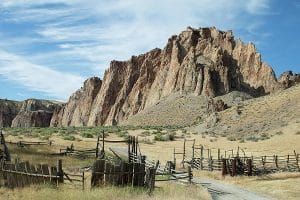 The Birch Creek Ranch is one of the most unique camping experiences in Idaho. Nestled in the foothills of the Rocky Mountains and just a short drive from the Snake River, this ranch offers visitors all the great amenities of a luxury hotel, plus a few more that will make your stay even more memorable.
The campground has three different types of areas for camping: tent, RV, and cabin. Each one has its own unique amenities to make your stay as comfortable as possible. Tent sites are located near water sources, so you don't have to worry about lugging all your gear around with you; RVs come equipped with everything from full bathrooms to kitchens complete with appliances, and cabins offer plenty of privacy while still providing access to most amenities found at RV or tent sites. The ranch also offers:
Fishing
Horseback riding
Hiking trails
Biking trails
Boulder Mountains
If you're looking for a place to get away from it all, the Boulder Mountains in Idaho might be just the place. At an elevation of more than 10,000 feet in the Sawtooth National Forest, this area is perfect for those seeking a true wilderness adventure.
The Boulder Mountains are home to two campsites: Upper and Lower Campground. Both are within walking distance of the Boulder Creek Trailhead, which provides access to some of the best hiking in the state. Here's what you can expect at each spot:
1. Upper Campground:
Located near the top of Boulder Mountain, Upper Campground is a great choice for a short camping trip or as part of a longer backpacking adventure. It has 11 campsites with fire rings and picnic tables, and vault toilets available on site. There are no running water sources here—be sure to bring plenty with you.
2. Lower Campground:
Located near the bottom of Boulder Mountain, Lower Campground is ideal if you're looking for something a little less rustic but still want to get out into nature. There are 15 campsites here (including one wheelchair-accessible site), all equipped with picnic tables and fire rings, water spigots, and vault toilets.
Island Park
When you're planning out your next camping trip in Idaho, make sure to include the beautiful Island Park on your list of destinations. It was created when the Henry's Fork Caldera erupted over 2.1 million years ago. It is a geologic wonderland with lakes, waterfalls, and streams amid cool pine forests and grassy meadows.
The amenities vary from place to place, so be sure to check out a few before deciding which one is best for you. Here's a list of campgrounds in Island Park:
Big Springs Campground: This campground offers fishing and hiking trails for your enjoyment. The campsites are located along the banks of the Henry's Fork River and offer scenic views of the surrounding area; there is also a picnic area just past the campground if you'd like to enjoy lunch away from your tent or RV.
Henry Lake State Park: This state park offers fishing, swimming, and boating for your enjoyment. There are also campsites available at no charge.
Harriman State Park: This park boasts hiking trails with scenic views of nearby mountains as well as an interpretive center where visitors can learn about local history and wildlife. It is also home to some great fishing holes that are open year-round.
Camping is a great way to get away from civilization and have some fun in the sun. Idaho has some of the best camping areas within its borders. Above are 15 of the best places to go camping if you plan on visiting Idaho.
Check out the best camping in every state.