They call Tennessee the 'Volunteer' state. They should call it the mountain, rivers, and waterfalls state. From the Great Smoky Mountains National Park to Memphis on the Mississippi River, there are mountains and hollows, rivers and streams and creeks, and crystalline waterfalls sparkling in the sun. Forests grow over the hills, populated by a great variety of wildlife. And trails run through the woods and meadows and past gentle brooks, trails that are waiting for you to explore.
Tennessee is a wonderful place for camping. We've picked out 15 sites of the best camping in Tennessee, but there are a lot more beautiful camping grounds and trails as well.
1. Greenbrier Campgrounds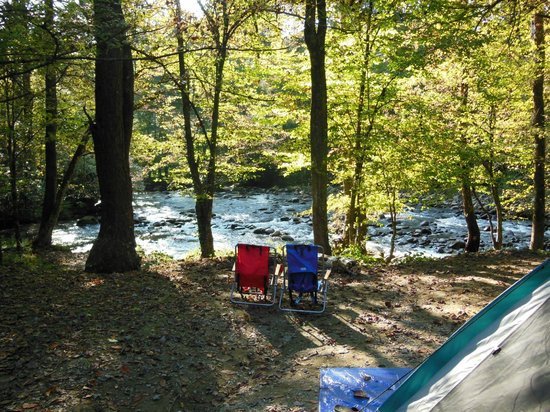 Not far from Gatlinburg and close to an entrance to the Great Smoky Mountains National Park, Greenbrier sits on an island in the middle of the Little Pigeon River. The views are spectacular, and the sounds of the river will lull you to sleep. This offers some of the best camping in Tennessee.
Hiking, biking, and equestrian trails run throughout the park. Dollywood and shopping are only a few miles away, and the trout fishing is exceptional in the Little Pigeon River.
The Greenbrier Campground has 120 campsites available for RVs and campers, as well as tent sites. There are also cabins for rent if you prefer a more comfortable bed.
Amenities
Water, sewer, and electric hookups.
Free Wifi
Picnic table and fire ring at every site.
Beach with private swimming area
Corn Hole, Bocce Ball, Badminton, Volleyball, and horseshoes
Luxury bathhouse
Fishing with license
Campstore
Pet friendly
Cable TV
2. Cades Cove
Deep in the Great Smoky Mountains National Park, Cades Cove is an immense valley rich in the beauty of nature and in wildlife. The valley was settled in 1818, and there are a number of early settlement buildings still standing. Carefully restored, the churches, mills, barns, and houses have their tales to tell. Herds of white-tailed deer and elk, along with black bears, coyotes, bobcats, and wild turkeys, are seen frequently.
Cades Cove Campground has 159 sites that are open all year long. Great hiking and biking trails run through the valley and the forest. One trail leads to Abrams Falls, a picturesque and powerful waterfall that drops into a 100-foot wide pool, perfect for swimming.
Amenities
Campstore
BBQ grills
Picnic tables
Firepit and fire rings
Visitor center
Flush toilets
Pet friendly
3. Spivey Cove Campground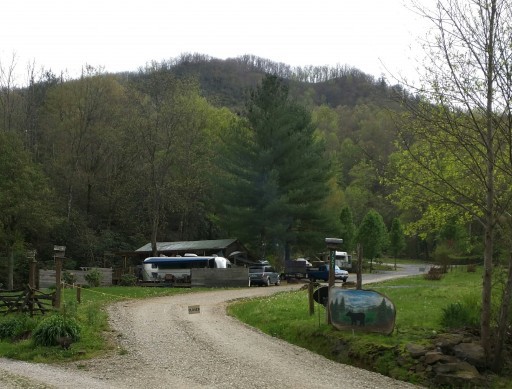 Hidden away in the Cherokee National Forest on a tributary of the Tellico River sits Spivey Cove Campgrounds. Hiking and biking trails wander through the forest and down to the river. Horseback riding is also available. Water sports, such as boating, swimming, and fishing, are popular during the summer and fall. Some skiing and other winter sports are possible, depending on the snowfall.
Many people enjoy birding and wildlife watching, and photography in the area. From beaches and caves, through the forest to waterfalls and hot springs, Spivey Cove has a lot to offer. Especially peace and quiet. Amenities are limited, but there is a cave and hot springs, waterfalls, and a swimming hole.
Amenities
4. Chilhowee Lake
This 10-mile-long lake is more like a large river than a lake, with a current running from one end to the other. Beautiful in all four seasons, photographers love the lake, which is part of the boundary between Great Smoky Mountains National Park and Cherokee National Forest. Fishermen, too, enjoy Chilhowee Lake. Large and smallmouth bass, trout, walleye, and crappie are plentiful. The fishing is good. Canoeing and kayaking along the lake and into some of the larger tributaries are fun. There are a lot of shores to explore.
Nearby McKamy Lake has a sandy beach, great for swimming as well as fishing from the shore. The area has a multitude of hiking and biking trails. The trail to Benton Falls, 1.5 miles each way, is an easy hike. The 65-foot-high waterfall at the end is well worth the effort. In addition, whitewater rafting is available on the nearby Ocoee and Hiwassee Rivers. Take your camera, wildlife is plentiful. You can check availability and rates here.
Amenities
Both tent and RV sites
Most have electrical hookups
McKamy Lake has sandy beaches for swimming
Picnic tables
Bathhouse
Group picnic site
5. LeConte Lodge
At an elevation of 6400 feet, LeConte Lodge is the highest guest facility in the eastern United States. It is situated just below the summit of Mount LeConte in the Great Smoky Mountains National Park. No roads lead to the lodge, only hiking trails. But this is no hostel. While you can only get there by hiking, once you arrive, you enjoy a luxurious experience, offering some of the best camping in Tennessee.
You can spend the night in a comfortable bed in a hand-built log cabin. They have multiple cabin sizes with up to 3 bedrooms to accommodate larger families. Wonderful meals are served in the dining room. The views, especially the sunsets, are spectacular.
Amenities
Free Wifi
Heated swimming pool
Pavilion
Full hookup sites with 20,30, and 50 amp service
Water
Sewer
Playground
Ping pong
Trolley service to downtown
6. Del and Marte's Lily Pad Campground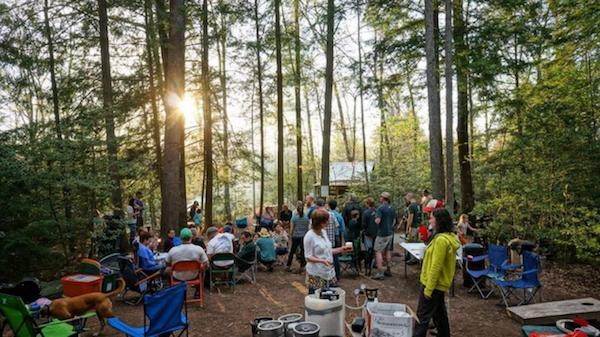 North of Knoxville, on the banks of the Obed Wild and Scenic River, is a unique campground. It seems that everyone knows each other. The guests keep coming back. Where Clear Creek and the Obed River meet, sandstone cliffs tower above the water. For rock climbers, this is one of the best places to go camping in Tennessee. The Obed cliffs offer world-class climbing.
Not only is this one of the best climbing spots in the southeast, but the bouldering is great as well. The river offers a chance for some difficult and demanding kayaking as well. The campground has 70 primitive campsites on 40 acres. Definitely bring your dogs. They are very welcome here. The campground is right next to the Lilly Pad Hopyard Brewery and a unique restaurant called the Sauced Frog.
Amenities
Pet friendly
Primitive sites
Water
Port-a-potties
7. Fall Creek Falls
Fall Creek Falls State Park has over 200 standard camping sites. There are also 19 sites scattered farther out from the main campgrounds, primitive and without electricity.
Fall Creek Falls is not far from the campground, a majestic 256-foot waterfall that absolutely has to be photographed.
The big falls is only one of seven waterfalls in the park. Coon Creek Falls is almost as high, although without the volume of water as its bigger neighbor. Hiking, biking, and equestrian trails wander through the park. An 18-hole golf course is located within the park. Fall Creek Falls Lake offers boating, fishing, and swimming.
Amenities
Picnic tables
Water
Grills
Electricity
Sewer is available at 92 sites.
Six bathhouses
Campstore
Coin laundry
8. Percy Priest Lake Island camping
Ten miles east of Nashville lies Percy Priest Lake (actually J. Percy Priest). The 42-mile-long reservoir was formed when the Army Corps of Engineers dammed the Stone River. The entire town of Old Jefferson was flooded when the dam was completed.
There are more than 30 islands in the lake, most of which offer campsites. But you have to get there early to get your site. Fishing, swimming, boating, and paddling are all permitted on the lake, which is 42 miles long with hundreds of miles of shoreline, giving you the opportunity to explore on many weekends or vacations.
Islands where camping is permitted are marked with a white post with a tent on it. Maps of the lake show tiny tents on those islands where camping is allowed.
Amenities
Island sites are primitive
Bring in your tent and supplies
Take out your trash.
9. Savage Gulf State Natural Area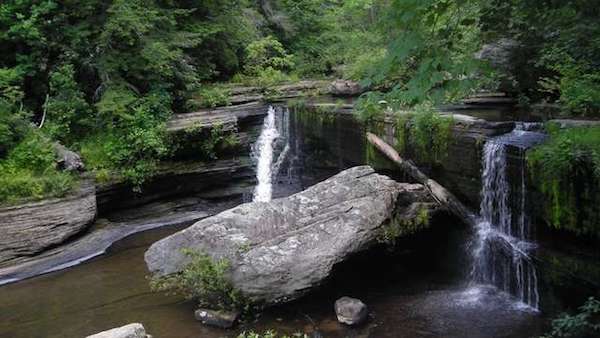 Savage Gulf covers over 15,000 acres of hills, canyons rimmed by limestone cliffs, rivers, and a multitude of waterfalls. It is some of the best camping in Tennessee. Many isolated camping areas are located within the Savage Gulf State Natural Area. Campsites are primitive, without electricity or water, but the sites are close to areas of incredible natural beauty.
Hiking and biking trails from novice to expert meander through the recreational area. Besides spectacular waterfalls, the Stone Door is a breath-taking geological feature. A crack, 10 feet high, opens into a limestone cavern running 100 feet into the cliff.
Amenities
Outhouses at backcountry camping sites
Toilets at parking areas
Picnic tables near parking
10. Piney Campground
Located in both Kentucky and Tennessee, the Land Between the Lakes National Recreation Area was formed when the Barkley Dam was completed on the Cumberland River in the 1960s. The Kentucky Dam already blocked the Tennessee River. The rivers are just about parallel, running south to north.
When the rivers were dammed, several towns were either inundated or enclosed within the Recreational Area. Now the lakes are connected by a canal, regularly traversed by river barges.
Boating, canoeing, and kayaking are all popular, with hundreds of miles of shoreline for exploring. The fishing is excellent, with crappie, several varieties of bass, bluegills, and catfish being plentiful.
Hiking trails add up to 261 miles. Seventy miles are available for mountain biking and 106 miles for horseback riding.
Wildlife refuges harbor elk and bison. Hunting is allowed during certain seasons. There are 384 campsites, 283 of which have electricity. Fifty-seven sites are primitive.
Amenities
Swimming beach
Archery range
Ballfield
Campfire theater
Two boat ramps
Campstore
Laundry facilities
Bathhouse
11. The Walls of Jericho State Natural Area
Located in southern Tennessee, close to the Alabama border, The Walls of Jericho State Natural Area is contained within the nearly 9000-acre Bear Hollow Mountain Wildlife Management Area. The 750 acres on the Tennessee side are heavily forested. They surround a natural amphitheater in the limestone. This area contains the largest concentration of caves in the United States.
The rare Tennessee cave salamander lives here. Davy Crockett wandered these forests nearly two hundred years ago. Hunting and horseback riding are prohibited. Campsites are for tents only in a gorge at the end of a difficult 3.5-mile hike. They are close to the natural amphitheater and are primitive.
Amenities
Campsites are primitive.
Pack in your supplies and water.
Pack out your trash.
12. True West Campground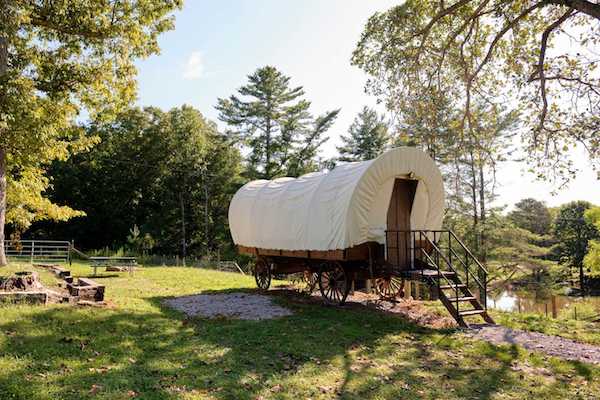 With a unique Wild West flavor, True West Campground offers some of the best camping in Tennessee, especially for horse people. Designed to look like a western town, the campground has 33 RV and camping sites. Or you can stay in the Marshall's suite, a Miner's Shack, or rent a camper.
Horses are available for trail rides, or you can bring your own horses and put them up in the stables. The campground specializes in trail rides. Hiking and biking trails run through Big South Fork National River and Recreation Area. Rock climbing is also available. Close to the Kentucky border, the camp is NNW of Knoxville.
Amenities
Campfire circles at sites
Dump station
Common area with picnic tables, games, and a large screen for movies
Bathhouses
Two stocked fishing ponds
Pet friendly
13. Meeman-Shelby Forest State Park
Thirteen miles north of Memphis, on the banks of the Mississippi River, the forest covers 13,000 acres. Most of the land is bottomland, with both a Bald Cypress swamp and a Tupelo swamp in the park. The facilities and campsites are on top of the Chickasaw Bluffs, high above the river. Many activities are on the water. Canoeing and kayaking through the swamps, fishing, and boating are popular. Hiking, biking, and horseback riding trails meander through the park. The birding is exceptional, especially during migrations.
You can learn more about the park, activities, and planning your camping trip on the Tennessee Stake Park website.
Amenities
Picnic tables
Grills
Electrical hookups
Water
14. Nathan Bedford Forrest State Park
The park sits on the banks of Kentucky Lake with a variety of water sports available. Eva Beach is sandy with no charge for swimming. The fishing is fantastic. Crappies, bluegills, and sunfish are the commonest catches. The fishing from the bank is good, but fishing from a boat is better. Kayaks and paddleboards are available to rent.
Birding is also better from a boat, especially during the migratory season. Twenty miles of hiking trails offer a multitude of scenic views. Thirty-seven campsites are available.
Amenities
Pavilions
Campstore
Museum
Picnic tables
Grills
Water
Electrical hookups
Wifi
15. Big Hill Pond State Park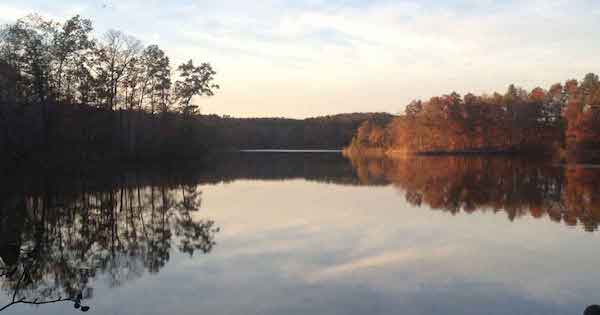 In 1863, battles were fought during the Civil War at Davis Bridge and Young's Bridge. Both of these sites are close to Big Hill Pond State Park. The pond is actually 165 acres, and the fishing is good, especially for bass, bream, and catfish. Hiking, mountain biking, and horseback riding are often on the same trails. Birding, canoeing, and kayaking are also popular sports in the summer.
Amenities
28 tent and small RV sites
Picnic tables
Grills
Bathhouse
Tennessee has a lot to offer campers and outdoors people. A beautiful state blessed with green mountains and crystal waterfalls, Tennessee is a wonderful place to spend your camping vacation.
Find Camping Locations in Other States
Check out the best camping in every state.