From the High Sierras to the barren desert and from the mighty redwoods to the sandy bluffs, campers will find many wonderful opportunities to camp in California. Everyone can find a style of camping in California that they enjoy, from glamping to tent-only campgrounds tucked away in areas that you must know are there even to notice them.
Table of Contents
Free Camping
Tent Camping
RV Camping
Free Camping in California
The great news about camping in California is that you do not need a lot of money. In fact, there are many places where you can camp for free.
Orr Lake Campground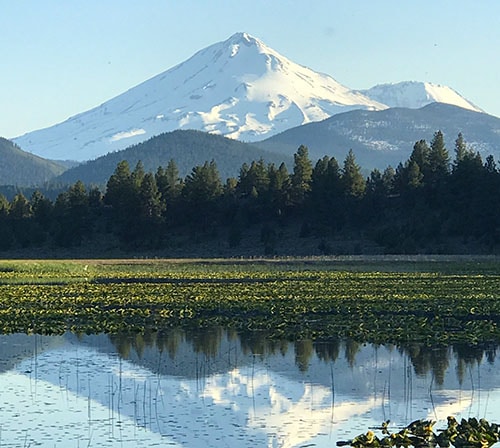 Located within Shasta Trinity National Forest, Orr Lake Campground is perfect for tent camping or for those who choose to boondock their RV. Orr Lake is a popular spot with anglers who often catch trout, bass, and catfish. A short distance away, find Volcanic Legacy Scenic Byway, which makes a pretty place for a scenic drive and offers several spots for picnicking.
While vault toilets are available, there are no other amenities at this campground that is first-come, first-serve, and open throughout the year.
Address:
37805 Highway 97, Macdoel, CA 96058
Amenities:
12 campsites
Discover larger campsites on the north side of the lake
Vault toilets
Picnic tables
Glass Creek Campground
If you are looking for free camping in California near Mammoth Lake, then head to Glass Creek Campground. You can stay up to 21 days at a time on the north side of the lake or 42 days at a time on the south side, which gives you plenty of time to explore the nearby hiking trails and fish in the lake.
This seasonally open campground offers vault toilets, but there is no water, so be sure to pack plenty along.
Address:
570 Glass Creek Rd; Mammoth Lakes, California 93529
Amenities:
66 campsites large enough to accommodate 45-foot RVs
10 vault toilets
No other amenities available
Alabama Hills Campground
The Bureau of Land Management Alabama Hills Campground, located just west of Lone Pine, California, offers unlimited camping for free. Enjoy easy access to nearby recreational opportunities, including off-roading, hiking, mountain biking, and more.
Over 300 sport climbing opportunities exist in this park.
Numerous rock arches make this a great place to take portraits. This beautiful location has appeared in over 50 movies, including the original Adventures of Captain Marvel, Firefly, Django Unchained, and Man of Steel.
You will need to bring everything with you and take everything out as there are no services at this campground.
Address:
Highway 395 & CA-136, Lone Pine, CA 93545
Amenities:
Unlimited free camping for rigs of any size
No services of any type. The nearest gas station is five miles away.
Emigrant Campground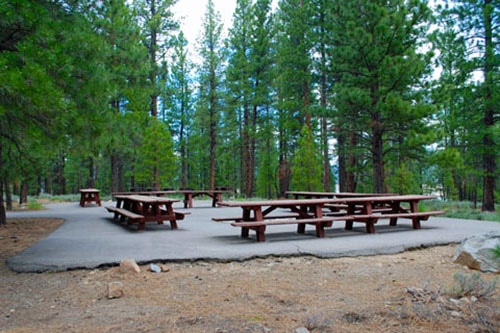 Located within Death Valley National Park, Emigrant Campground offers 10 spots for tents only. While you may have to pay a small fee to get into the national park, pay nothing to camp in these spots located at an elevation of 2100 feet.
Located near the entrance to Emigrant Canyon, this year-round campground offers impressive views of the dunes to the north and the nearby mountain.
Address:
Highway 190 Death Valley, CA 98801
Amenities:
10 tent-only camping spots
Flush toilets located nearby
Water available
No campfires
Grandview Campground
Consider making a $5 donation to help keep this campground in shape, but you will pay no fee for camping at Grandview Campground. This campground that does not accept reservations is the closest campground to the Ancient Bristlecone Pine Forest.
Skiers and snowshoers often visit this site which is open year-round. While vault toilets are available, you will have to bring all your water with you. Once you arrive at these level sites, you can use the fire rings and pits to warm up.
Address:
White Mountain Rd, Bishop, CA 93514
Amenities:
23 campsites
First-come First-served
Bring all water with you
Parker Flat Staging Area
If you enjoy off-roading, then the Parker Flat Staging Area within Tahoe National Forest may be perfect for you if you camp in a tent, toy hauler, or small travel trailer. Trash service is available, along with one vault toilet, but there is no water available at this site.
Enjoy access to numerous trails that are perfect for beginner and advanced ATV riders near this campground.
Address:
390744 Co Rd 1 Flathead, CA 93036
Amenities:
6 sites with fire rings
Access to ATV trails
Trash service
No water
Snag Lake Campground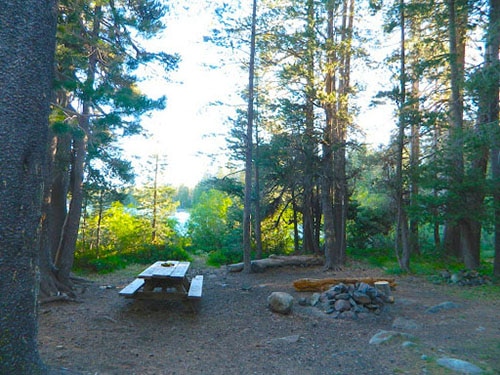 Snag Lake Campground is a great location for those looking for a smaller, less developed camping in California near a lake. This campground consists of 12 undesignated campsites that are great for tent camping as well as small trailers. This is truly one of the great places to go camping in California. This is a less developed campground and only offers picnic tables and vault toilets.
Address:
Sierra City, CA 96125
Amenities:
Picnic tables
Vault toilets
Lacks Creek
Lacks Creek is a beautiful dispersed camping area. This is a wooded area that is great for those who want a campsite that feels remote and yet is not too far from some conveniences. There are roughly 10 undesignated campsites, yet you can make camp where ever you like. This is a great location for those who would like to do some tent or small trailer camping.
Address:
California 95525
Amenities:
Grizzly Flat Dispersed Campground
Grizzly Flat Dispersed Campground within Mendocino National Forest is near big game hunting in the forest, so make sure that you stay visible. This area is also popular with those riding all-terrain vehicles and with dirt bikers.
Vault toilets are the only amenity found at this free California campground. Enjoy camping in tents under the old-growth forest at this campground, which is open from May to December.
Address:
825 N. Humboldt Ave. Covelo, CA 95428
Amenities:
Vault toilets
Campground is open May to December
Hunting, dirt biking, ATVs, and hiking are popular near here
Robinson Flat Campground
If you are looking to camp for free within Tahoe National Forest, consider Robinson Flat Campground. This campground along the Western States Trail offers beautiful views of the forest and the meadow. Get easy access to miles of hiking trails, including those on the Little Bald Mountain Trail.
This primitive campground offers no amenities except for vault toilets. Pack out what you bring into this campground. This campground is only accessible to two-wheel drive vehicles, and it is against the law to bring a motorcycle to this free California non-reservable campground, which is open from spring to fall.
Address:
Foresthill Road, Foresthill, CA 95631
Amenities:
7 family sites and 7 equestrian sites
Two vault toilets available
No other amenities
Tent Camping
If you are a tent camper, then there are many wonderful opportunities for camping in California.
Camp 4 at Yosemite National Park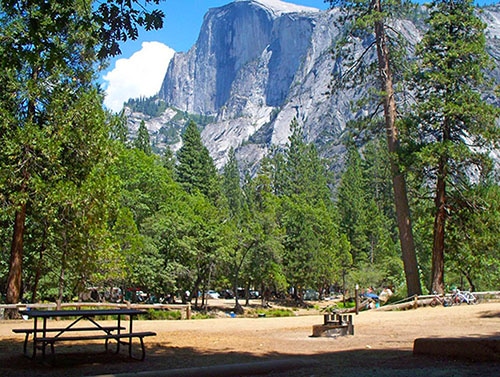 Camp 4 is on the list of National Register of Historic Places because of the unique role that it played in developing rock climbing as a sport. Nearby boulders still make this a popular activity for campers staying in tents at this California campground that usually fills up by noon.
From late May to early September, you will need to win a lottery to stay at this campground. The lottery costs $10 to enter. You must win on the day before you plan to arrive at this campground. Campers can stay at this campground on a first-come, first-served basis for the remainder of the year.
Address:
Lodge Dr And Northside Dr. Yosemite National Park, CA 95389
Amenities:
30 walk-in tent camping sites
You can stay 30 nights in a calendar year but only 14 nights between May and September
Ventana Campground
Tucked in under the old-growth trees near Big Sur, Ventana Campground offers only tent camping along with van and campers on pickup beds. Designers carefully prepared this campground so that it disturbs the area's natural beauty as little as possible.
Each camping site comes only with a fire ring. Purchase firewood at a Big Sur location.
Address:
48123 Highway 1 Big Sur, CA 93920
Amenities:
80 tent-only sites
Glamping also available at this location
Scorpion Canyon Campground
After arranging your ferry transportation or bringing your boat, you can land at Santa Cruz, which is the largest of the five islands making up Channel Island National Park. After a 1.5-hour ferry or boat ride, then you will need to carry your tent and camping equipment about one mile to the year-round Scorpion Canyon Campground.
One of the advantages of staying at this campground is that there are many nearby recreational activities, including hiking, swimming, snorkeling, diving, and kayaking.
Address:
Santa Cruz Island, Potato Harbor Rd, Ventura, CA 93001
Amenities:
13 individual and six group tent camping sites
No services are available at this primitive campground
Angel Island State Park Campground East Bay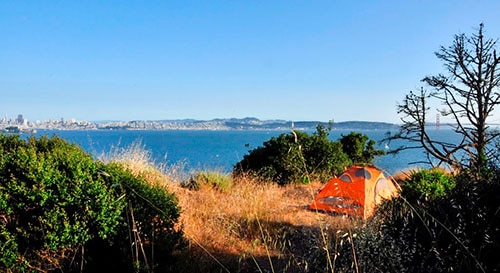 Located on Angel Island with amazing views of the Golden Gate Bridge and San Francisco, Angel Island State Park Campground offers seclusion. While you may have to pack your stuff up to two miles, you will feel like you have the whole island to yourself because each site is very secluded.
Campers must take a ferry or bring their kayak to reach this campground. You will find many things to do on Angle Island, including kayaking in the ocean, touring a history museum, and riding a tram. This site saw the arrival of many of the first immigrants to San Francisco, and you may enjoy digging for relics.
While this campground is open year-round, limited ferry service to the island is available in the winter. Reservations open six months ahead of time, and weekend reservations can be hard to get.
Address:
1120 Mar West Tiburon, CA 94920
Amenities:
11 tent-only sites
Use gas or propane stoves. No campfires allowed
Portable water available
Treesborn Resort
While Treesborn Resort is better known for its glamping opportunities, you can pitch your tent at Treesborn Resort. The tent-camping area has beautiful views of the Pacific Ocean.
When you stay at Tresborn Resort, you can participate in many activities, including yoga, massages, and ecoadventures.
Address:
71895 Highway 1 South Big Sur, California 93920
Amenities:
Two-night minimum stay
Maximum of two campers per tent
Self-serve breakfast
Restaurant available
Horse Meadows Campground
While technically, RVs shorter than 22 feet can camp at this campground in Sequoia National Park, most of the campers are tent campers, as the road up to Horse Meadows Campground can be tough to navigate. This is a great campground if you love camping with your horse, as horse corrals are available. Many nearby hikes and trail riding opportunities are available within the park. This primitive campground is open from May to November.
Address:
32588 Hwy 190 Springville, CA 93265
Amenities:
40 non-reservable sites
horse corrals
steep road to campground
RV Camping
Spread across the state, campers will find a wide variety of RV parks. This allows everyone to find one or more that they love.
Canyon RV Park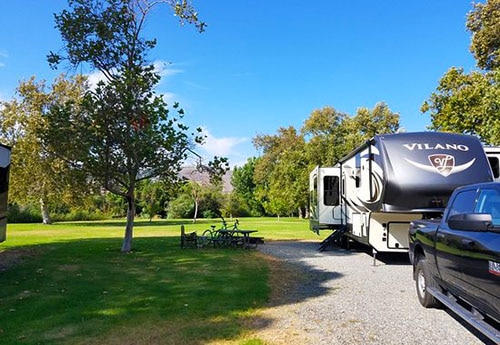 If you are visiting Disneyland and want to camp, then Canyon RV Park may be the perfect place for you. Many sites are large enough to fit 45-foot motorhomes. Sorry, tent campers, you need to stay elsewhere.
Watch outdoor movies, swim in the pool, hear concerts in the amphitheater, or play a variety of lawn games. Children will enjoy playing on the well-maintained playground.
Address:
24001 E Santa Ana Canyon Rd. Anaheim, CA
Amenities:
140 RV sites with full hookups
5 bathhouses
laundry facilities
organized activities
Campland on the Bay
For over 50 years, campers have been coming to Campland on the Bay in Mission Bay. Many are bringing back their children and grandchildren.
Families find a lot to do at this campground, including playing in the swimming pool, soaking in the hot tubs, renting sailboats, playing pick-up basketball, and more. Almost everyone will agree that one of the best parts of camping here is the beachfront campfires. You can also use this facility's 124-slip marina.
If you do not feel like preparing your meals, then visit the Catalina Café, where luaus happen during the summer, complete with outstanding shows. Listen to live entertainment on the patio almost every weekend, and you never need to miss the big game because the café boasts seven flatscreen televisions.
Address:
2211 Pacific Beach Dr., San Diego, CA
Amenities:
Marina
568 paved sites
405 sites with full hookups
One supersite including private jacuzzi, grill, restroom with shower, and unobstructed views of Kendall Frost Wildlife Sanctuary
Newport Dunes RV Resort & Marina
Newport Dunes RV Resort & Marina features 110 acres of beachfront camping opportunities. Newport Bay Nature Preserve to the east and Balboa Island to the west surround this campground. Sites are available for RVs, travel trailers, and tents.
Over 10 acres of saltwater swimming is available. Many campers choose to bring their standup paddleboards and kayaks along, allowing them to explore the area where you can often see bottlenose dolphins and California sea lions. You can also rent water sports equipment from this campground. The campground facility also offers an inflatable waterpark obstacle course.
Back Bay Bistro is the perfect spot for an upscale dining experience.
Address:
1131 Back Bay Dr, Newport Beach, CA 92660
Amenities:
472 full-hook-up spots for RVs
Nearby marina
saltwater swimming
walk to the beach and local shopping
South Carlsbad State Beach Campground
Back your RV or trailer into the sites on the bluff overlooking the San Diego coastline at South Carlsbad State Park Campground. Walk down the staircase, and you have arrived at the beach. Bring your kayak or rent one and enjoy exploring the water. Watch the surfers or join them for some fun.
At night, settle around a campfire to enjoy a beautiful sunset. Join the weekly Campfire Program led by rangers to learn more about wildlife and birds that call this area home.
Address:
7201 Carlsbad Blvd, Carlsbad, CA
Amenities:
223 campsites, with many having full hookups
Easy beach access
Great surfing conditions often exist
Jumbo Rocks Campground at Joshua Tree National Park
Find large rocks that are perfect for scrambling up and down by every member of your family near Jumbo Rocks Campground at Joshua Tree National Park. This campground's isolated location, about 45 minutes from the park's entrance, makes it a favorite place for stargazing.
You will need reservations to stay at this national park services campground that is open throughout the year. The busiest season for this campground is from October to May, so you may want to consider making your reservations up to six months in advance.
Address:
74485 National Park DriveTwentynine Palms, CA
Amenities:
124 sites for RVs or tents
No hookups are available
Site 122 is wheelchair accessible
Paradise by the Sea
If you and your family love playing on the beach, then Paradise by the Sea may be the perfect upscale RV resort for you. A short 3-minute walk will have you playing in the Pacific Ocean. You will want to challenge your family to games on the gaming system in the recreation hall.
Address:
1537 S Coast Hwy, Oceanside, CA 92054
Amenities:
Near beach
Recreation hall with games
Lots of activities for every age group
Mountain Gate RV Park and Cottages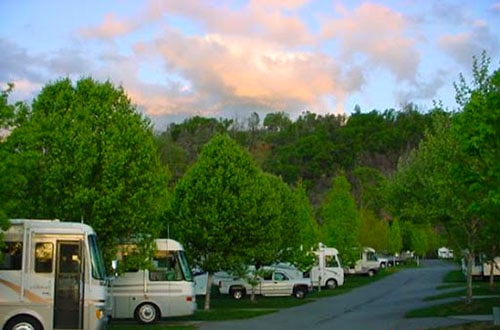 Campers with a Good Sam's card can enjoy a discount at Mountain Gate RV Park and Cottages that near Lake Shasta. This year-round campground in Redding, California, offers coffee and pastries in the morning to get everyone's day started with a little socializing.
All sites are pull-through, and this campground is pet-friendly. Your dog is likely to enjoy the spacious pet park.
Campers find a variety of things to do in the area, including visiting local craft breweries, hiking up Mt. Shasta, enjoying the nearby alpine lake, and visiting Burney Falls.
Address:
14161 Holiday Rd Redding, CA 96003
Amenities:
108 pull-through sites with full hookups
Swimming pool and hot tub
Wi-Fi and cable available
Lake Forest Campground
If you are looking for an isolated location at Lake Tahoe, consider Lake Forest Campground. Located on the north end of the lake, this seasonally open campground offers 20 camping spots for tent campers and travel trailers under 25 feet.
Each camping site comes with a grill for cooking and a picnic table. You can easily walk to Lake Forest Beach, where you can rent a kayak.
You cannot stay more than 10 days at this first-come, first-serve campground.
Address:
2504-2540 Lake Forest Rd, Tahoe City, CA
Amenities:
Portable restroom
Pump water
Gold Bluffs Beach Campground
Camp under the redwoods at Gold Bluffs Beach Campground located within Prairie Creek Redwoods State Park. This campground, located on flat dunes, offers tent and motorhome camping for rigs shorter than 27 feet.
You will find plenty to do at this state park, including a 19-mile bike loop, 75 miles of hiking trails, and several scenic drives. You will need reservations from May to September, but the campground is open first-come-first-serve for the rest of the year.
Filmmakers used nearby Fern Canyon as a backdrop in the filming of Jurassic Park. A nearby handicap-accessible trail encourages campers to use all their senses to explore it.
Address:
Davison Rd, Orick, CA 95555
Amenities:
24 sites available
One of only three state parks to give the Federal Access Pass
No electrical, sewer, or water services available
Mariners Point Shoreline Campground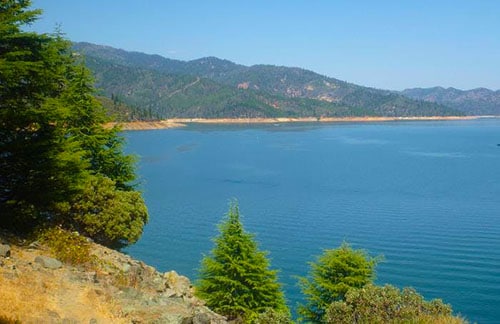 Located where the Pit and Squaw arms of Shasta Lake come together, Mariners Point Shoreline Campground offers picnic tables, grills, fire rings, and portable toilets. You can fish in the lake from shore or head to one of the nearby resorts to rent a boat. Water skiers love to play on Shasta Lake.
Campers can enjoy using this campground from mid-May to mid-September.
Address:
Silverthorn Road Redding, California 96003.
Amenities:
Fire rings and grills provided
Potable toilets
Sites are reservable
Motorcoach Country Club
A crew will inspect your motorhome's aesthetics before allowing you to stay at the Motorcoach Country Club in the Coachella Valley. If it passes, then you can do many different activities, including water aerobics, taking cooking classes, and playing golf tournaments. You can also swim in this resort's three swimming pools.
Address:
80-501 Avenue 48 Indio, CA 92201
Amenities:
30 sites
Open year-round
Numerous resort activities
State-of-the-art hookups
Cava Robles
There are many activities for all ages to enjoy at the Cava Robles Resort in the Paso Robles wine region. You may want to participate in the wine tastings as many great Californian wines are available to sample. Your children will enjoy their unique activities, including arts and crafts projects. Gather the whole family together for an outdoor movie night at this resort that is open year-round.
Address:
800 Golden Hill RD Paso Robles, CA 93446
Amenities:
Wellness center with lap tool
Special children's activities
Family movie nights
Pfeiffer Big Sur Campground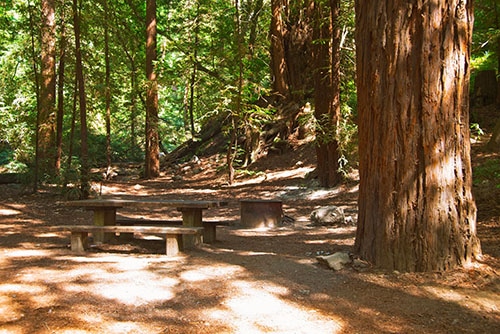 Located along the Big Sur River, campers at Pfeiffer Big Sur Campground often see a variety of wildlife, including bobcats, black-tail deer, gray squirrels, and raccoons, along with a variety of wildlife. Nearby hiking paths allow campers to enjoy the views at this campground located on the western slope of the Santa Lucia Mountains.
Pfeiffer Beach offers a sandy oasis and a great place to play in the Pacific Ocean, and it is only about two miles away.
Temperatures often stay comfortable at this campground throughout the summer because of the large shade trees.
Address:
Pfeiffer Big Sur Rd, Big Sur, CA
Amenities:
189 spots RV & tent sites but no hookups available
Easy access to Big Sur hiking trailers
Maximum trailer length is 32 feet for a motorhome and 27 feet for a travel trailer
Desert Shores Luxury Motorcoach RV Resort
While most spaces at Desert Shores Luxury Motorcoach RV Resort in Indio, California, are privately owned, there are some spaces where you can bring your 35-to-40-foot motorhome. Many sites come with private pools, and the clubhouse has an extensive media library. Participate in numerous activities, including taking tennis lessons.
Address:
48170 Hjorth St. Indio, CA 92201
Amenities:
Public and private owned spaces
Must have Class A motorhome
Many activities including cooking classes
Pin it for Later