The most beautiful thing about camping is giving up the modern-day lifestyle we've all become accustomed to for the beautiful outdoors. However, for a coffee drinker, a delicious coffee is essential. We can help you find the best camping coffee maker for you.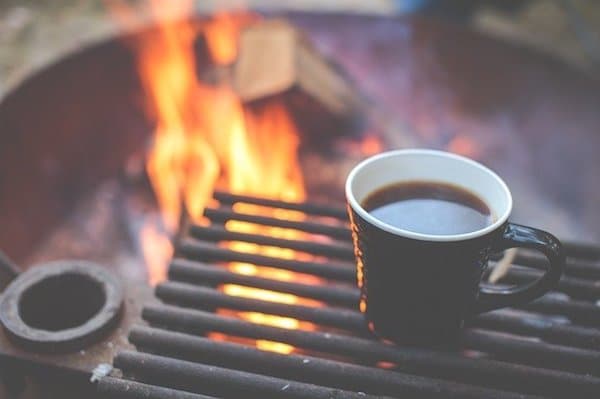 Luckily, camping enthusiasts have devised ways to make brewing coffee easy for caffeine lovers so they can relax and enjoy a campfire coffee. It doesn't matter if you're roughing it in a tiny two-person tent or cozying up in a sleeping bag under the stars; in the morning, you can still brew, and make, a cup of joe with a portable coffee maker.
How to Make Coffee While Camping
If you want to know how to make coffee while camping, you'll need to decide how you want your cup of brew. You can always boil water in an empty tin can over an open flame and add a pack of instant coffee, bypassing any need for coffee grounds, a coffee filter, or a Moka pot. But if that's not for you, you should be able to find in our list below a great coffee maker to use while camping.
No matter what type of camping coffee you want, there is an option for you. There are options for instant coffee, cowboy coffee, gourmet coffee, and much more. You can find coffee percolators, a french press, an espresso maker, and even options you heat over a camping stove.
We'll help you find the best camping coffee maker with this list of the top 7 options.
Using a camping percolator while one of the easiest ways to get a delicious hot cup of brew in no time. Some even prefer the taste to that of a cup of brew from a coffee pot instead of a typical coffee maker.
To use a coffee percolator, fill the provided top basket with your favorite coffee flavor, then fill the bottom of the pot with water.
After placing the coffee filter back on top of the pot, place the coffee percolator over a fire pit, on top of hot embers, or on your grill, and wait for the machine to do its job.
The trick to the percolators is the boiling water is pushed up through a tube into the coffee basket, dropping the water of the coffee beans multiple times until the coffee is brewed to your liking.
---
An aluminum kettle has a simpler design than a coffee percolator, but it's still great for a quick cup of coffee while enjoying some downtime with Mother Nature. Just fill the kettle with water, place it above your fire pit or grill and wait for the water to heat up.
The easiest way to make yourself a camping coffee with a kettle is by using packs of instant coffee. Fill up your mug, pour it in, and stir. A kettle is also a helpful way to warm up cold water to wash dishes, boil food, or clean up. This coffee maker is a great option for those wanting a simple solution.
---
Who says coffee while camping has to be hard? This coffee mug brews, boils, and cooks.
To make coffee, fill the mug with water and heat it over a flame. Add the ground coffee of your choice to the included filter and place it inside the mug.
The quality stainless-steel design makes this coffee mug durable and long-lasting. Plus, all the extra features mean less packing and more room for you and your passenger. This is a great coffee maker for those looking to save a little space.
---
Everyone deserves a delicious cup of french press coffee, even if you're camping.
To use the french press coffee pot, fill the canister up with water, add the coffee beans, place the press into place, and hang the pot over the fire. Once the water is hot enough, plunge the coffee down with the press provided, squeezing the coffee flavor straight from the beans.
---
This is another great camping coffee creation. Imagine your home-brewed coffee that comes directly from the drip coffee machine you know and love. These coffee pots work the exact same way, minus the plug-in cords.
You simply place the coffee pot on top of your grill, add coffee grounds to your filter basket, then add water to the reservoir. The grill's heat will cause the boiling water to rise through the tubes and pour hot water into the coffee basket and out of the drip into your cup.
---
No products found.
Bring along a small propane cylinder while traveling with this coffee maker so you can make coffee from just about anywhere you go.
This propane-fuel coffee maker works like your average coffee drip pot but has a slot in the back to connect your probate cylinder. Simply connect the propane line to the coffee maker, and the flame is ignited into the back compartment of the pot, heating the machine. It's quick, simple, and enjoyable, even in the great outdoors.
[lasso box="B01C4CYB9W" tracking_id="tnt_best-coffee-makers-20″]
---
There's nothing easier to get a quick caffeine kick while camping than this collapsible camping coffee dripper. These silicone, lightweight cups fit right on top of your mug to make a hot cup of coffee almost instantly.
Fill the coffee dripper with your favorite flavored grounds and place it on your cup. Now, simply pour hot water on top. The hot water will flow over the coffee, extracting the flavor and depositing it right into your mug.
Each coffee maker is an excellent option for any camper craving a caffeine fix.
Conclusion
Camping is a great way to escape our busy lives and spend time unwinding. However, you'll never need to forgo the great taste of your early morning cup of camping coffee while immersed in Mother Nature with the best camping coffee maker for you.
If you are a coffee lover and want to find the right camping coffee maker for you, there are lots of options, and we hope these camping coffee makers have helped you find the right option for you.