The Final Say: The Anker 757 Powerhouse truly lives up to its name. This is a real powerhouse and gives you a surprising amount of power. Not only can the power station charge your small electronics like your phone and tablets, but this also has plenty of power to run more power-hungry items like small fridges or even electric heaters.
If you plan to go camping off the grid, this power station is a great option that still allows you to have a reliable source of electricity. This is also a great option if you pair it with a solar panel for more extended trips. If you size the panels correctly and the sun shines, this can easily function as the heart of your own electrical power station.
Overall, this is a great product that will not disappoint. You will be surprised at the amount of power you get out of it, allowing you to have a reliable source of power even when camping in the backcountry.
The Full Review
Power Supply
This power station has lots of power and will provide you with more than enough in most situations. The Anker 757 Powerhouse can charge your phone 97 times, which is far more than enough for a typical camping trip. Additionally, you'll be able to recharge any flashlights or other rechargeable devices. This is very handy for us as most of our flashlights and lanterns are rechargeable.
Another aspect we tested out and were very happy with was the amount of time it would power a portable refrigerator. We tested it with our BougeRV portable fridge. We were pleasantly surprised that it powered the fridge for nearly 2 full days without any external power source. Throughout the test, we had the fridge set to freezer mode and opened it periodically, as you typically would do on a camping trip. This would allow you to fun a fridge/freezer for a few days with no need for ice.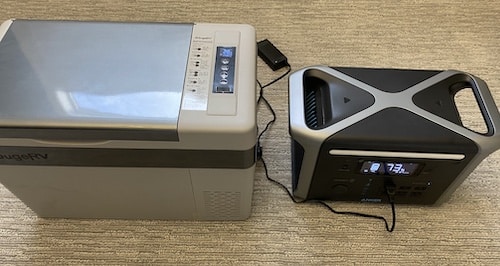 Additionally, we tested the power station with a standard-sized space heater. On the low setting, the 757 Powerhouse could run the heater for 2.5 hours. This might not sound like a lot, but in reality, it is. This is a great way to heat your tent for a short amount of time easily. We will use it to heat the tent for about 30 minutes before we go to bed and 30 minutes as we wake up in the morning.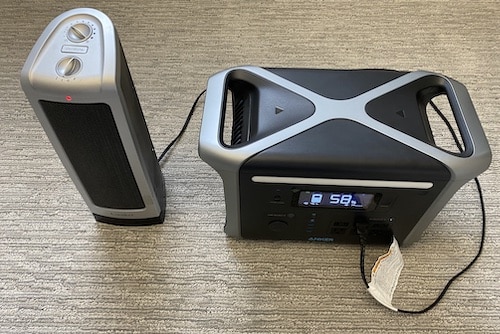 That makes the tent a lot more comfortable at the times when you'd be the coldest. With that strategy, we can fun the heater in the tent for a two-and-a-half-day camping trip.
Ease of Use
The power station is very easy to use. The display has everything you need. It tells you how much battery life is left and how long it will last based on the current power output. It tells you how many watts are going out as well as how many are coming in.
This is a very easy system to use and is the closest thing you can get to a plug-and-play system. Additionally, charging the battery system is very easy and quick. With just an hour of charging, you can get to an 80% charge on the battery, with an hour and a half getting you a full charge.
Durability
The Anker 757 Powerhouse is made from automotive-grade aluminum with an impact-resistant, shock-proof, anti-UV, and flame-retardant shell. The power station was intended to be used and to take a beating. When you pick up the battery, you can feel its sturdy construction and the quality parts that were used.
With that being said, I would be careful about dropping the 757 Powerhouse. It does have some weight behind it, and a fall from almost any height would most likely cause some damage.
Portability
This power station is designed to be portable and can be easily moved around. With handles on both sides of the battery system, you can easily pick up the power station and move it to where ever you need it.
That said, at a total weight of nearly 44 lbs, this is not the lightest item you will have with you at camp. While it is easy to move around, it is not something you'll want to carry for a very long distance. Moving it around your camp is very easy, but if you have to hike at all to your campsite, you won't want to bring this with you.
Extras
The Anker 757 Powerhouse does come with some nice extras. First, it comes with a 5-year warranty. This is actually a great feature. Many other power stations only come with a 3-year warranty, but Anker gives you an extra 2 years, making this one of the best warranties on the market.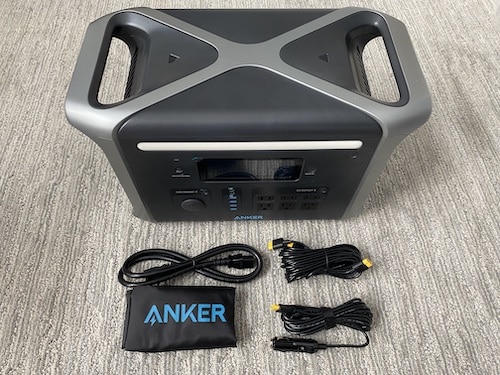 In addition to the warranty, the power station comes with all the cables you'd need for charging. It comes with a wall charger, a car charging cable, as well as a solar panel charging cable. This is a nice extra, so so will always be able to charge your power station no matter what situation you are in.